Philadelphia Daily News - April 7, 1980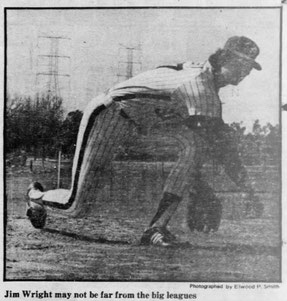 Jim's Career Making Wright Turn
By Bill Conlin
CLEARWATER – Jim Wright figured the first time he pitched on television it would be in a big league ballpark with maybe 40,000 people in the stands and he would be wearing a Phillies uniform.
One out of three ain't bad.
Wright pitched on TV yesterday in Jack Russell Stadium with maybe 200 freeloaders in the stands. He did wear a Phillies uniform, the one they let him take to the minor league complex the day he was cut in March.
And, happily, the 6-5 righthander, whose brilliant future was interrupted by a bone tumor which led first to surgery and then to a broken ulna bone in his forearm, showed signs that he might not be too far from really pitching on television in a big league ballpark with 40,000 paying customers on hand.
This was the Oklahoma City 89ers vs. the Camp All-Stars, hastily packaged for TV on an Easter Sunday when the Phillies and Pirates were scheduled for a dress rehearsal of the 1980 Eastern Division fight.
WRIGHT LOOKED nervous warming up in the right-field bullpen as the last of the striking varsity sauntered out of the ballpark. His fastball seemed to lack the velocity it had down here two years ago just before the onset of his physical problems. His rhythm was off.
He gave up a four-pitch walk and a line drive single in the early going. But in the third inning it started to fall together. Jim moved the fastball in and out on the knees, found the corners with his slider.
By the fifth inning, the Camp All-Stars, composed of highly rated prospects, most of whom will wind up in Reading this season, had no runs and one lonely hit.
Cott Deal, the Okie City pitching coach, was obviously excited when he trotted down to the bullpen to supervise Burke Suter's warmups.
"Get ready to go in after the next inning," Deal hollered to Suter. "Jimmy just swallowed his chew in the dugout and he's feeling woozy."
A couple of writers asked Deal if the Wright they were watching was a mirage.
"Naw," Cott said, "in my opinion Jimmy Wright could go north next week and pitch in the big leagues. He had some soreness after his first outing for us, then a little less the next time. Today, he's feeling great, throwing the ball right where he wants it. He's working the corners like it's mid-season. I'm real excited with what Jimmy's doing today. Hell, he's pitched five innings and thrown only 48 pitches. If he gets over swallowing his chew I'll let him go another inning."
WRIGHT WAS wobbly and weary in the sixth, but he finished his longest outing since August of 1978 with a two-hitter. He walked to the Jack Russell Stadium clubhouse. With a grin on his face that lit up a cloudy afternoon.
For the Phillies, long gone from the ballpark, it could have been the single biggest event of spring training, a windfall insurance policy.
If you haven't noticed, Dallas Green is going north with a starting staff apparently so unready for National League combat it would frighten a man of less faith. Steve Carlton is ready, but you wouldn't buy a used fastball from Larry Christenson, Dick Ruthven or Randy Lerch. With Nino Espinosa disabled and the rest of the starters behind Carlton struggling to find velocity, location, or both, it would surprise nobody to see an early Oklahoma City shuttle in action.
Green proved beyond doubt with his final squad cuts that he's not going to sit there and watch the Phillies fall 10 games off the pace, then pray for a miracle. "At this point in time," he likes to say, "I think it's too. early to say we've got a problem with our starting pitchers. But if it turns out we do have a problem, we've got some good, kids at Okie City and I won't be afraid to pick up the telephone."
Wright stood in the clubhouse semi-circled by a half-dozen writers.
THE LAST TIME he drew such a crowd, his arm had just snapped while throwing a fastball in a "B" game last spring and he was on his way to the hospital.
"I don't have everything together yet," Wright said, grinning a grin that told you he knows he's getting close. "My longest outing before this was three innings. By the third inning I was starting to hit spots. It took me some time to get loose but once I got loose I felt great Out of the last two years I've spent nine months in a cast, so it's a matter of breaking through a lot of tenderness in the rest of my arm, normal, healthy tenderness. You know, I didn't want them to beat us with the game on TV and all, but I stayed within myself, didn't push how hard l should be trying to throw right now."
Wright's career has suffered so many detours he's in no hurry to take Veterans Stadium by storm. He's a bright young man who knows his arm – and his psyche – have been through a lot.
"I still have to prove that I can do it up there," he said, "and I'm not overly optimistic that I can do it this season. Too many things have happened to me. My career has been like the pages of a book, everything following along fine toward a happy ending. And then a page turned and it was all headed downhill. The most encouraging thing is that I've always been a slow-starting guy in spring training. All the pitchers are ahead of me most years. I know I'll throw a lot harder than I did today. I didn't have good velocity, just one of those down days. But I pitched well, did the things a pitcher has to do on days when he's not really blowing the ball."
NOBODY IS worried about his velocity. "His last time out he threw hell out of the ball," Deal said. "Today he wasn't as fast, but his ball was moving super."
Wright is a religious guy who has never cursed a fate which has probably lopped away two of his prime earning years in a seller's market.
"All this could be a blessing in disguise, " said Wright, who is advised not to hang around wolves in sheep's clothing. "The Lord works in mysterious ways sometimes."
It would be nice if He had Jim Wright packaged, ready and in fine tune if and when Dallas Green is forced to send an SOS to Oklahoma City.
PHILUPS: Here's another name to remember for the future Alejandro Sanchez, a nifty 19-year-old right-fielder who slammed a two-run homer for the Camp All-Stars, who lost, 3-2, to Oklahoma City in yesterday's Channel 17 telecast "He can flat out play," said minor league instructor Tony Taylor. "Great arm, real good speed, good power. That was his sixth homer this spring." Sanchez first turned heads by saving a run with a throw to the cutoff first baseman that would have made any of the current Phillies outfielders blush... Red Sox refused to take Burke Suter back for $12,500 and he's been assigned to the Oklahoma City roster... Paul Owens says he has some feelers but isn't close to finding work for severed ex-Phils Rawly Eastwick, Doug Bird and Mike Anderson... Buddy Harrelson says he plans to give the Mets a call. Eastwick says he could have used more work than the Phillies gave him, that they didn't give him quite enough time to perfect his split-fingered fastball.