Pittsburgh Post-Gazette - July 14, 1980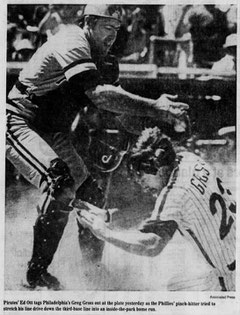 Robinson turns on power to black out Philly
By Charley Feeney, Post-Gazette Sports Writer
PHILADELPHIA – Don Robinson had this kind of day in his 7-3 victory over the Phillies yesterday afternoon at Veterans Stadium:
He achieved one goal. He hit his first big-league home run. He failed to go nine innings and he was disappointed because "complete games are very important to me." He left the game in the ninth because of a pulled muscle in his groin.
"It's not bad," he said. "The shoulder felt good. If something had happened to the shoulder, I would be worried. What's a slight pull in the groin. Nothing."
There is nothing awesome about Robinson's 3-4 record, but his manager, Chuck Tanner, says the 23-year-old pitcher is "a very important pitcher on our staff."
"When Robby is right, there is none better," Tanner said. "He will keep getting better and better. He can overcome adversity."
Robinson, who underwent shoulder surgery nine months ago and was on the disabled list when the season opened, overcame the Phillies with the help of solo homers by John Milner (No.3) and Tim Foli (No.2).
When Robinson left in the ninth with two on and one out, Kent Tekulve, in his 39th appearance, retired Bob Boone and Greg Gross on grounders.
It was Tekulve's 11th save, and it followed his fifth loss Saturday night when Boone singled through Tanner's five-man infield (Dave Parker at second) with one out in the ninth inning.
"I'm still not in my right groove," Tekulve said. "I need to pitch to get in the groove. The illness (virus) took a lot out of me. I haven't got my strength back the way I want I may be called a skinny right-hander, but I need strength to pitch."
The loss dropped the Phillies to second place, and Montreal took first with the Pirates two games back.
"It's going to be a dog fight into September," Phillies Manager Dallas Green said. "Every contender has had injuries, and that's why the bench people are so important."
Nino Espinosa, who tossed the three gopher balls to the Bucs, recently came off the disabled list. Warren Brusstar, who relieved and gave up an RBI single to Phil Garner in the eighth, was activated Saturday.
"Espinosa spotted his pitches well," said Foli, who was Espinosa's teammate with the New York Mets. "He just hasn't got the velocity back."
Foli powered his second homer of the season in the seventh. His only home run last season was hit last September – off Espinosa.
"No, I don't know anything special about him," Foli said. "I just whacked it, and the wind was on my side."
Robinson, who was tagged for back-to-back doubles by Pete Rose and Bake McBride in the first inning, capped a four-run second with a two-run homer.
Robinson, who is 11 for 28 this year, says he "loves to hit."
"Hitting," he said. "It's so much fun. I knew I'd get it sometime."
Last season, Robinson had 10 hits, and they were all singles. Yesterday, hit No. 11 for 1980 was home run No. 1.
Before Robinson connected, the Bucs scored two runs in the second on Garry Maddox' throwing error and an RBI single by Ed Ott, who in the seventh, made an outstanding block of the plate to deprive Gross of an inside-the-park homer.
Boone, who had walked, scored on-Gross' hit that skipped past Lee Lacy in left field.
Foli's strong relay to the plate; gave Ott the chance to block Gross from scoring a second run in the seventh.
Lacy, not known for his glove, dropped a line drive in the ninth, too.
Lacy had replaced Mike Easier in left-field because Bill Robinson has a severe bruise on the heel and his play is limited to first base.
"I will get an injection and be ready to start tomorrow (tonight)," said Bill Robinson, who enjoys battering his ex-Philly mates.
Maddox hit a home run in the fourth for the Phillies' second run.
The win was important to the Pirates, because a loss would have put them five games down in the loss column. Even at this stage, the loss column becomes a factor. No contender wants to have to make up bushels of ground in the loss column.
If the St. Louis Cardinals were closer in the loss column, they would be considered contenders.
"The Cardinals have put things together," Green said. "Now it's just a question of if they have the time to make it up."
NOTES – Greg Luzinski, the Phillies power-hitting leftfielder on the-15-day disabled list, may not play for the remainder of the month. He has a sore right knee. Last winter, Luzinski had surgery on his left knee.
Ott immovable guarding the plate
By Phil Musick
PHILADELPHIA – The catcher braced for the collision. The baserunner put his head down. Somewhere, a Richter scale jumped and, around home plate, the dust rose in tight little swirls.
The force had been irresistible, the catcher eminently movable, and a career all but ended.
Dave Parker thrust an 8x10 glossy into Ed Ott's hand yesterday after the Pirates had whipped Philadelphia, 7-3, partly on the strength of Ott's game-winning run batted in and his capacity for barricading the plate.
Ott looked and shook his head sadly. The picture showed Parker running over Phillie catcher John Oates here on opening day four years ago. The impact broke Oates' collarbone and caused shoulder damage.
"Oatsie did it wrong," explained Ott, whose ability to do it right has surpassed that of all other major-league catchers. Ed Ott, tough and stocky and fearless, is baseball's answer to the sound barrier.
In the seventh inning of a game still there for the taking, the wall that is Ott loomed in front of Phillie outfielder Greg Gross about 10 feet from the plate. Gross plowed into it and simply fell down. Ott tagged him, the Phils' fire was banked, and the Pirates, scoring more runs than they had in a month, won a game which could have been lost had he not held his ground.
Parker, though, said Ott had been lucky "it wasn't me running."
"You would've been out," Ott said.
"I don't know, man," Parker smiled.
"You would've been out," Ott said. He was not smiling.
"I've realized that if you give a little and roll, you're not going to get hurt," Ott explained, "no matter who hits you. Dave Parker or anyone. If you're tense, you'll take a really jarring shot. If you're nice and loose, there's no tension, and you'll hold the ball."
Ott held it yesterday. But, then, he always does. The last time he dropped the ball in a home-plate collision came in 1975 in Chicago, when the ball and 6-7 Dave Kingman arrived at the plate in the same instant. Ott considers the dead heat a mitigating circumstance.
"I take a lot of pride in holding the ball," he says. "After that one time, I decided I'd never drop one again. Knock on wood, I won't. There's a tremendous sense of satisfaction in holding the ball. I think I block the plate better than any catcher in the league."
Gross probably agrees. Pinch-hitting for Phillie starter Nino Espinosa in the seventh inning of a 6-2 game, he slashed a wrong-way line drive just inside the left-field line. Lee Lacy, a defensive replacement for Mike Easier, tried to make a shoestring catch and missed by about the length of a shoe. Kareem Abdul-Jabbar's.
The ball skidded by Lacy, and careened off, the fence and along the warning track toward center field. The Phils' Bob Boone scored easily from first base. Gross, trying for an inside-the-park home run, collided with Ott ten feet from the plate. The Phils had to settle for one run and two outs instead of vice versa and lost the handle on their finest opportunity of the beautiful afternoon.
"It was a crucial point in the game," Ott said. "They had picked up their momentum. But Lacy made a perfect throw to (Tim) Foli, and Timmy made a perfect throw to the plate."
Gross made an imperfect decision, deciding to slide just as he reached Ott "He hit my shinguards and he didn't even move me," Ott said. "That's a helluva long way to run for a guy who doesn't day every day. You get that far, you lose it between third and home."
Gross, indeed, seemed to lose it but history indicates the result would not have been different if he bad been running flat-out.
"He went down at the last second," Ott chuckled. "If he stays up, we probably collide, he hits my glove and I don't catch the ball. I probably would've gotten hit between the eyes."
Meanwhile, Ott has, figuratively speaking, been hitting the ball between the eyes. Easier is the only Pirate regular or irregular with an average higher than Ott's .289. His second-inning single through the box accounted for a run and his infield single in the eighth led to another.
"If I stay healthy, I should have a helluva year," he says. "I'm always a better second-half player, which means I should hit .300 and I consider myself one of the better defensive catchers in the league."
Certainly, Ott has no peer in denying the plate to baserunners.
"I feel the only way a runner is going to knock the ball loose is to kill me," be says. "And, then, only if I roll over and the ball falls out of my glove.