Pittsburgh Press - July 14, 1980
Robinson Muscles Bucs Past Phillies
By Dan Donovan, Press Sports Writer
PHILADELPHIA – The old smoke was there for 8⅓ innings.
Don Robinson hummed the fastball and snapped off the curveball for more than eight innings in the Pirates' pleasing 7-3 win over the Philadelphia Phillies.
But when he pulled a groin muscle blowing a fastball past Bob Boone in the mntn inning, it was Manager Chuck Tanner who winced.
"We need him," Tanner said. "He's a big man for us. I hope his injury isn't serious.
"I know he's a tough sonuvagun. He got us into the World Series when a lot of guys couldn't have pitched."
Robinson, pitching with a shoulder so bad it was operated on immediately after the season, didn't give up a hit while getting a win and a save in the first two tough playoff games against the Cincinnati Reds.
The shoulder was a major concern until two weeks ago when, while working in the bullpen at Montreal, he felt it "pop."
"He calls it a pop, but that's not really what it is," Pirate trainer Tony Bartirome said. "Whenever you have an operation, there's scar tissue in there. At some point, it stretches out to the full length so your muscle is back to normal."
Before the "pop," Robinson was a cute pitcher. He was as miscast in the role as Squiggy playing Darth Vader.
"I became a sinker-slider pitcher," Robinson said. "If I wanted to stay in the big leagues, I had to do something. 5o I tried to spot the ball."
Now that his shoulder is back in shape, Robinson has canned both the slider and the sinker, as well as the pitch he threw to Garry Maddox in the fourth inning.
"It was a pitch I never threw before, a sidearm curve," Robinson said when asked about Maddox' home run. "It's a pitch I'll never throw again."
Robinson fully expects to be pitching again soon, despite the groin pull that took him out of the game.
"You can't tell for sure for a day or so," Bartirome said. "He's susceptible to cramps, so I'm hoping that's what it is.
The injury did little to dampen Robinson's spirits, primarily because of the 400-foot home run he hit in the second inning.
The two-run homer capped a four-run Pirate inning, the first big inning for the Pirates, it seemed, since Rome burned.
"It ranks third on my list of biggest thrills," Robinson said. "First would be winning the World Series, second my first major-league win and third my first major-league home run."
Tim Foli also was thrilled with his home run, a shot deep into the seats in left. It was his second home run this season, and his only homer last season was against the same guy who pitched yesterday, Nino Espinosa.
"I was one-for-six last year against him and one-for-five this year," Foli said. "I'd rather chop those home runs into singles."
Foli occasionally switches into his "home-run" swing, going down to the end of the bat rather than choking up.
"This year I'm hitting the ball the same way, but it's carrying to the outfielders more," Foli said. "I'm trying to get more top hand into the ball, so when there's nobody on base I'll drop down and swing that way, just try to get the bat head on the ball."
John Milner also homered and forced a Phillies mistake by hustling from first to third on Mike Easler's second-inning single. The throw hit Milner in the back of the head and he scored.
"I'm in the game," Milner said. "I don't feel anything. But tonight I'll have a headache."
And if Milner gets hot, other teams will have a headache.
"I'd like to see Milner get hot," Tanner said. "When he is, he can carry a whole team. That was the first time we've scored seven runs since June 12. Maybe that's a good sign. Maybe the Pirates' bats will start smoking, too.
PIRATE NOTES – Bill Madlock broke an 0-for-11 slump, singling in the eighth... Randy Lerch pitches against Rick Rhoden tonight.
The Pirates will fly home after the game to begin a series with San Francisco tomorrow... The Pirates will pitch John Candelaria, Bert Blyleven and Jim Bibby; the Giants will pitch Bob Knepper, Ed Whitson and John Montefusco.
Foli's biggest home-run season was 1977, when he hit four... The Phillies drew 153,615 fans for the weekend, a stadium record.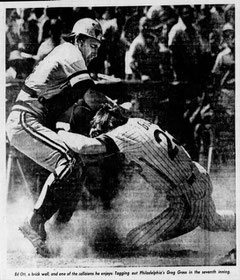 Ed Ott's Next Collision Could Be With Brass
By Dan Donovan, Press Sports Writer
PHILADELPHIA – Ed Ott takes pride in blocking home plate, but he doesn't usually enjoy the collision.
The one in the Pirates' 7-3 win over the Philadelphia Phillies yesterday was an exception, however.
The Phillies' Greg Gross hit Ott with all the force of a balloon losing its last gasp of air. Pinch hitter Gross was trying to leg out an inside-the-park home run that would have made the score 6-4 in the seventh.
But Ott did his best imitation of a brick wall, Gross hit him. shortstop Tim Foli's long throw from left field got there shortly thereafter, and Gross was dead, so to speak.
"I enjoyed that one," Ott said. "It was a crucial part of the game. That run could have gotten them back into the game. Gross ran out of steam and didn't really hit me hard. He just touched me and stopped dead. That's a long way for anyone to run, especially for somebody who doesn't play every day."
Ott can't remember dropping a ball in a collision, and his frequent collisions have merited him the reputation as the best in baseball at blocking home plate.
Which is ironic, because when Ott learned to catch, he was taught to avoid collisions.
He didn't have many in his minor-league career or during his first few years in the majors, but over the last few years, they've come fast and furious. And Ott has found they aren't as bad as they look.
"You have to give and roll a little," Ott said. "If you stand firm, you'll get hurt. I'll let anyone run me over now, even a Dave Parker. He may be coming with a full head of steam, but if you don't hold your ground, you won't get hurt.
While most of the post-game questions were about the collision, yesterday's game was significant for Ott in another respect. His two singles raised his average to .291, higher than any regular except those two part-time left fielders, Lee Lacy and Mike Easier.
"I took a lot of pride in my hitting when I was an outfielder in the minors," Ott said. "But when I became a catcher, I had to spend 85 percent of my time working on catching. Last year I was finally happy with my defense. Everything started to come naturally."
Ott thinks his value is high enough to warrant a long-term contract. He is one of five Pirates who would like to negotiate long-term contracts, but Pirate owner Dan Galbreath is delaying negotiations until he sees if he can renegotiate the Three Rivers Stadium lease.
Ott's old contract was renewed this year, with what he calls a "small raise," yet he says that's no reason to avoid collisions.
"I never think about contracts or owners or general managers while the game is going on," Ott said. "I just think about the other team. But when I get, back to the hotel, I do think about it. It makes me even more determined to have a good year.
"That way, the longer they wait, the more it's going to cost them. And then if they don't think I'm worth what I think I'm worth, I'll pull up stakes and go somewhere else."
Ott can go through the re-entry draft after the 1981 season.
"I have a good attitude abput baseball," Ott said. "I like to play the game and I am flexible enough to go anywhere. If they want (Pirate minor-league catcher) Tony Pena to come up and play for less money, that's fine. I'll go somewhere else."
Ott would like to sip a long-term contract.
"I'm looking for security," Ott said. "The way I'm being used here, I think I can last a long time. I'm platooned with Steve Nicosia and that saves a lot of wear and tear "
Which is important. All collisions aren't as enjoyable as yesterday's.