Camden Courier-Post - July 15, 1980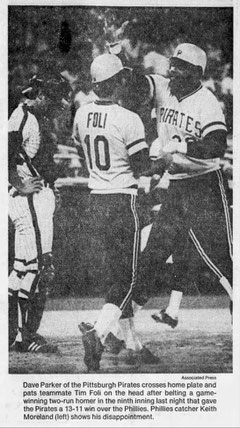 Bucs get madcap win over Phils
By Rusty Pray of the Courier-Post
PHILADELPHIA – The Phillies and Pirates went at each other last night like two rival collectors at an art auction. Every time one made a bid, the other topped it, escalating the tally at a whirlwind pace.
And, after Dave Parker's two-run home run in the ninth inning off reliever Ron Reed gave the Bucs an improbable 13-11 victory before 44,235 stunned fans in Veterans Stadium, it seemed only the most astute of auctioneers could have kept track of the proceedings.
"The Pirates open the bidding at two... Do I hear four? Yes, the fellow in the red pinstripes... Do I hear five?... Seven! I have a bid of seven. Do I hear – what's that 11? Going once, twice... 13? Sold to the man in the bruised-banana suit."
NOT SINCE Pete Rose became a free agent has the bidding been so furious. For more than 2½ hours the two teams raised each other for the right to claim one night's supremacy. The Pirates led six times, the Phillies twice. The game was tied three times, at seven, nine and 11. Had Parker not made a 2-1 pitch his second homer of the night, the score might now be 53-all with the Phils batting in the bottom of the 30th.
From the sublime to the ridiculous, this game had it all. For the first time in the memory of the official scorer, who had seen a game or two during his career, a hit was recorded in each half inning. The total of 36 hits – a season-high 21 for the Pirates – included eight doubles, three homers and one triple. There were also 11 walks, four errors, one wild pitch and a hit batter.
"When you got two teams like this, you kind of expect it," said Parker, who was among five players with at least three hits. "Both of us have good offense and good speed. When you get these two teams together, you don't know what's going to happen.
"WE PLAY them three times and all three could be 2-1, or all could be like this one."
Few games could offer more in the way of trivia and fewer still – last year's infamous 23-22 game is one – could offer the kind of scoring usually reserved for football. Indeed, both teams could have given the Eagles a run last night.
One of the more unusual plays came in the sixth, when Garry Maddox hit a sacrifice fly to shortstop. This oddball occurred because Tim Foli, the shortstop, crashed headlong into Lee Lacy (playing center field because Omar Moreno retired early with a jammed finger) as both raced for Maddox' soft pop to shallow left center. Foli hung on to the ball, but fell to the ground, allowing Rose to score and tie the game at nine.
Manny Trillo is the answer to the game's most interesting trivia question. He missed hitting for the cycle – a feat of some rarity – by not getting a single. He doubled in the first, driving in a run off starter Rick Rhoden that gave the Phils a 4-2 lead. Trillo picked on Rhoden again in the third, smashing his first homer of the year, to bring the Phillies within 7-6. And, Trillo tripled in the eighth off Grant Jackson, the last of 10 pitchers to appear and the game's winner.
ASTONISHINGLY, the three hits put Trillo in the National League batting lead. The second baseman is hitting .329, four points higher than the Dodgers' Reggie Smith.
Another Smith, the Phils' Lonnie, produced five hits – a team high for the season – scored three runs, stole a base and raised his average to an otherworldly .410. But he also made an error in left field and was caught trying to stretch a single into a double in the ninth.
Smith's baserunning gaff proved the more costly, coming as it did with one out in the ninth and Greg Gross arriving at third base.
"I think you have to mix aggressiveness with common sense in that situation," said Manager Dallas Green. "I'm sure Lonnie knows deep down he made a mistake."
SMITH'S mistake was glaring because it occurred in the ninth inning of a close game. But this was, from start to finish, hardly a perfect ballgame. Larry Bowa tried to go from second to third on a grounder... Mike Schmidt, the only regular for either team not to get a hit, broke too soon for second on an attempted steal and was caught by pitcher Enrique Romo... Parker let a ball drop from his glove for a double near the right field warning track... Moreno, the league's top base stealer, was caught for the third time in the series...
Said Green: "We just pitched horse. It's that simple."
Maybe not quite that simple. But it's as good an explanation as any.
PHIL UPS – Game featured 35 players... Only non-pitchers not used were Vance Law and Manny Sanguillen for the Pirates, and Ramon Aviles and Del Unser for the Phillies... Smith is seventh player this season to get five hits in one game... Parker leads all visiting players with 16 homers in Vet... Bill Robinson had four hits... Rose drove in three runs with two bits, making him 10-for-17 with 10 RBIs during five-game home stand. Pete was named National League Player of the Week yesterday after batting .571 in the games following the All-Star break. He had eight hits in 14 at-bats, including five doubles and drove in seven runs... Phils open three-city, 10-game road trip tonight in Houston with Dick Ruthven scheduled to pitch.
Trip to bullpen will give Lerch time to think
By Rusty Pray of the Courier-Post
PHILADELPHIA – Randy Lerch, the Phillies' resident enigma, took the mound at precisely 7:40 last night. His intention was to pitch against the Pittsburgh Pirates. But something – who knows what? – went awry.
By 8:33, Lerch was in the club house, having started the Pirates on their way to a wild and crazy 13-11 victory. He faced a dozen hitters, six got hits, one walked and five scored. He threw 43 pitches, worked five three-ball counts, despite consistently throwing his first pitch for a strike, and was gone before he could get an out in the third inning.
To be in the shower less than an hour after he started his 18th game was not Lerch's intention. Of course, Richard Nixon had no intention of leaving office, either.
Something always seems to go wrong when Randy Lerch pitches. On those rare occasions when he has thrown well, the Phillies haven't bit. And when the Phils hit, Lerch pitches with all the effectiveness of an American rescue mission in Iran.
Despite not being around long enough to get the loss, Lerch last night looked every bit the 3-11 pitcher he is. The turnaround that Manager Dallas Green has been patiently waiting for Lerch to execute did not come. That's why Green is sending his confused lefthander to the bullpen for the second time this season. Lerch's next destination may not be in the big leagues.
"I'm about up to here with him," Green said, holding his hand against his adam's apple. "We've tried everything to get him going. Maybe a trip to the bullpen will give him time to think. We'll stay with the five-man rotation. We'll rearrange something."
Lerch will have an opportunity to ponder what it is he loses between the sidelines and the mound. He'll have time to consider the fact that he has the kind of stuff – a searing fastball that can be contrasted nicely by a decent breaking ball – it takes to win in the National League. He'll have a chance to think about what he did right the three times he won.
"Herm (Starrette, the Phillies pitching coach) is enthused everytime he (Lerch) starts a game because he throws so well on the sidelines," said Green. "He's not throwing the same in games as when Herm sees him.
"I'm rooting for the kid. If he wins or pitches well, he's still in there (the rotation). I'm not rooting for him to go bad."
But Lerch has gone bad. In first innings alone, Lerch has given up 22 runs, 29 hits, 11 walks and five home runs – including the two runs, two hits and one walk he allowed the Pirates in the first last night. In his last two starts, Lerch has permitted 13 hits and 10 earned runs in seven total innings.
A closer look at Lerch's pitching last night reveals a schizophrenic pattern: He threw a strike with his first pitch 10 times, worked no 2-0 or 3-0 counts, but was 3-1 four times and 3-2 once.
The results of those self-defeating three-ball counts can be seen in today's boxscore.
"When you're pitching," said Green, "you have to think about what you're going to do. Any coach will tell you that the first pitch is important. The first pitch has got to be a strike because that sets the tone."
But Lerch set the tone properly. It was what happened alter he threw the strike that was so damaging.
"The problem there is, he's not going after the hitter – he's picking," said Green. "Randy should be a power pitcher, not a picker. Randy won't believe in his fastball. When he pitched so well in that Dodger game (a month ago in Los Angeles), he established his fastball. We didn't let him throw a breaking ball until the third inning."
Lerch said during spring training that he wanted this season to be consistent, to throw his breaking ball for a strike, to be a starter who could be counted upon for six or seven good innings. Instead, he has been as inconsistent as the price of gold. Hitters have ignored his breaking ball, knowing he will be, sooner or later, forced to come in with a fastball. And the six or seven good innings have been the exception rather than the rule.
Why this is so has everyone, including Lerch, baffled. Perhaps it is, as Green said, because Lerch doesn't believe in his fastball.
Or, maybe, it's because Randy Lerch has lost faith in himself.