Pittsburgh Press - July 15, 1980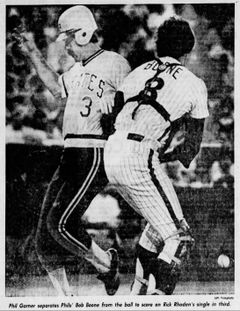 Parker, Pirates Pound Phils' Pitchers
By Dan Donovan, Press Sports Writer
PHILADELPHIA – There was noooo doubt about it. Sure, Lanny, and there's no doubt Carter will whip Reagan, and inflation will stop dead in its tracks and Darth Vader will become a good guy.
Dave Parker's second two-run home run, in the ninth inning of the Pirates' 13-11 bludgeoning of the Philadelphia Phillies last night, turned out to be the stake through the Phillies' heart.
But that didn't stop the Phillies from struggling right up until Tim Foli's throw nipped the final hitter at first base. Not until the umpire's hand was raised could anyone, even announcer Lanny Frattare, say, "There's no doubt about it."
Bats clanged as if they were laser swords and the Pirates and Phillies staged a hitathon that mattered not at all which pitcher was on the mound.
If you couldn't get through "War And Peace," don't start "How They Scored." The Pirates and Phillies tallied their 24 runs on 36 hits (the Bucs had 21 of them), 11 walks, three stolen bases, one wild pitch and one hit batsman.
The lead changed hands only five times, but it seemed about 50, as the game lacked only one thing: sanity.
"You expect this type of game every now and then when the Phillies and Pirates meet," Parker said. "Sure, we'll play a 2-1 game every now and then, but about two or three times a year we'll have this type of game."
Early on, when even the outs were hit hard, the players knew it would be that kind of game.
"It looks like it's going to be one of those games," Phillies outfielder Garry Maddox said between the first and second innings.
"Oh, no. Not again," replied Pirate Bill Robinson, who finished with four hits.
"It's an exciting game and an exciting game to play in," Pirate Lee Lacy said. "It was the type of game where no matter what the managers do or the pitchers do (it) isn't going to make any difference."
The game certainly removed the adjective "slumping" from in front of the words "Pirate bats."
Just about every Pirate fattened his batting average as the Pirates feasted on Philadelphia pitching for 20 runs in two games.
"It took 20 runs to get us going," Parker said, "but now we're going."
A 14-11 win in Philadelphia was a key part of last season, especially since the Pirates came from an 8-0 deficit. This was more of a see-saw, but the Pirates thought it also could be a key win.
"We haven't had a ho-hummer in a while," Foli said. "We've played a lot of close games and sometimes it drains you, but it does give a team character. We got a contribution from everybody tonight and we needed every one of them to win.
"It was like this the whole last two months of the season last year," the shortstop continued. Every game was like do or die. Maybe it's starting early this year."
The Pirates used 17 players, the Phillies used 18 and the only starter who went home without a hit was Mike Schmidt, who drove in two runs with two ground balls.
"We saw something about this team tonight," Robinson said. "Guys were picking up guys. We didn't leave runners on third with less than one out like we did before. It was a great, gutty performance. And we bad fun."
Well, everybody but the pitchers. There were no 1-2-3 innings and no Phillies struck out.
Grant Jackson was probably the most effective, somehow pitching two shutout innings while raising his record to 7-2.
The Phillies' Lonnie Smith had five hits, but was somewhat of a goat by trying to stretch a simple single to center into a double in the ninth inning.
Manny Trillo had a double, triple and home run, and Pirate pitcher Rick Rhoden drove home two very big runs with a bases-loaded single.
Ed Ott drove in a big run with a pinch-hit single in the eighth that tied the score at 11-11, thus serving notice to the Phillies that the Pirates were not about to give in easily.
Both of Parker's home runs were shots that "would have been out of Yellowstone Park," Dave said. But the second was more impressive, and not just for the way it quieted the hordes of Phillies' fans.
"You could hang a month's wash on that last ball Parker hit," Foli said.
"I like to hit with someone on base," Parker said. "I was going for the long ball in that situation, because I'd like to get Tim Foli over to third. Bill Robinson was coming up behind me and he's been hot. But I got a good swing and it was gone."
Parker has 16 home runs in Veterans Stadium, more than any other visiting player. It was the first time he had hit a home run against either Randy Lerch or Ron Reed. And all six of his game-winning RBIs have come on home runs.
Thus the Pirates left Philadelphia smiling and with the stereo blasting a song that may not replace "We Are Family" but certainly summed up one game: "Let's do it tonight if it takes all night; baby, we can do it right if it takes all night."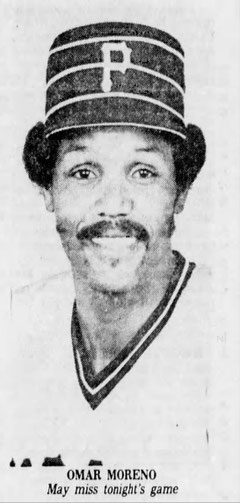 Moreno's 'Bad' Pinky Hurts Bucs
By Dan Donovan, Press Sports Writer
PHILADELPHIA – The collision made you cover your eyes and hope. The other accident you hardly even noticed. Yet the one most people missed hurt the most.
Center fielder Omar Moreno, perhaps the most irreplaceable Pirate, jammed the little finger of his left hand attempting to steal second base in the fifth inning of last night's 13-11 victory over the Phillies.
The finger was swollen and Omar summed it up in one word: "Bad."
Until X-rays are taken, there is no way to know the severity of Moreno's injury. Chances are he won't play tonight when the Pirates host the red-hot San Francisco Giants, who have won their last seven games.
Moreno was caught for the fifth straight time when he was hurt.
"I've been on base so little lately," Moreno said, "I just didn't feel comfortable."
"They're calling a lot of pitchouts on us," Pirate Manager Chuck Tanner said, "but we'll be running anyway."
Until Moreno is well enough to do some of that running, Lee Lacy will play center field. For a few seconds last night, it appeared as if he would be injured, too.
With runners on first and third and one out in the sixth, Garry Maddox hit a fly to no man's land, equidistant from Lacy, shortstop Tim Foli and left fielder Mike Easier.
Foli turned his back on the infield and ran, catching the ball over his shoulder in short center field just before crashing into Lacy.
Easier stopped just short of the collision as Lacy went down in a heap.
Foli held 'onto the ball, turned and threw it to the infield, then fell to the ground.
"I was knocked out," Lacy said. "I was dizzy for a while."
"If you've been hit by a car," Foli said, "you know how it feels. He smoked me. I have a bruise on my chest like the one a boxer gets after he takes a hard punch."
Foli said none of the three fielders was responsible for the pileup.
"With 50,000 people yelling, you can't hear anything," Foli said. "Lacy can't call for it until he knows he has it. I can't call for it until I know I've got it."
Foli's throw to the infield was far too late to get Pete Rose, who tagged up and scored from third, but it emphasized Foli's ability to play in pain.
"Foli is one tough player," Tanner said. "He keeps going no matter how much pain he's in."