Pittsburgh Post-Gazette - July 15, 1980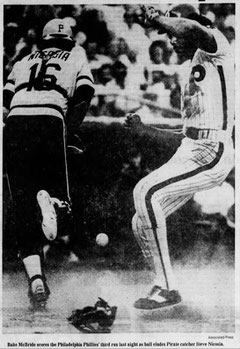 Parker's second homer caps 13-11 Buc win
By Charley Feeney, Post-Gazette Sports Writer
PHILADELPHIA – Until next time, this one will be the wild one of 1980.
The Pirates and the Phillies last night jarred each other with base hits – 36 total – and in the end it was Dave Parker's long-ball power that decided it.
Parker crashed his second two-run homer of the game off Ron Reed in the ninth inning to give the Pirates a 13-11 victory before a crowd of 44,245 at Veterans Stadium.
Parker's homer was the 21st Pirate hit of the three hour and 33-minute bat festival.
The Pirates scored in every inning except the fourth. It was give and take, bat for bat, hit for hit, and when it was over, there were some wounded players.
Pirates' centerfielder Omar Moreno left the game in the fifth inning after jamming a finger on his left hand sliding into second base. Phillies' third baseman Mike Schmidt left in the ninth with a muscle pull in his leg.
Shortstop Tim Foli and Lee Lacy, who replaced Moreno in center field, will be aching today. They remained in the game after a sixth-inning collision in short center field. Both hit the turf after colliding.
The 21-hit total was a high for the Pirates, who twice earlier in the season had 17 hits in a game.
Thirty-five players participated in the run-for-all, 17 for the Pirates, whose winning pitcher was Grant Jackson.
Parker hit his first two-run circuit in the third off starter Randy Lerch. Manny Trillo hit a two-run circuit off Buc starter Rick Rhoden in the Phils' third.
It was the first time in two years that Parker has hit two homers in a game.
Chuck Tanner used five pitchers, starting with Rhoden. Eddie Solomon, Enrique Romo, Kent Tekulve and Jackson, who is 7-2 on the year, followed. Lerrin LeGrow relieved Lerch after Parker's third-inning homer, and he was followed by Dan Larson, Dickie Noles and Reed, who is 6-3 in the win-loss column.
The Phillies, who missed a chance to tie idle Montreal for first place in the National League East, made three errors, two in the first inning. Bill Robinson rapped a single in the first and it was the first of four straight hits.
Robinson's swatting is a good sign because he hasn't been pounding the ball; and with Willie Stargell out because of a hamstring pull, Robinson's revived bat is a big asset to the offense.
Among the heroes was Ed Ott, whose pinch single in the eighth tied the game at 11-11. Ott's average is climbing near .300 and his value to the club, often overlooked by some members of the media, is evident.
Foli started his four-hit game with a first-inning double that scored Moreno, who had walked.
The Phillies racked Rhoden for four runs in their half of the first with Bake McBride and Trillo banging doubles.
Phil Garner's single in the second scored Lacy. The Pirates scored four in the third on Parker's blast and a two-run single by Rhoden.
The bat show continued throughout. Romo, who gave up two runs in the sixth, got angry at one of plate umpire Dick Stello's calls with two out in the seventh. Romo walked two and Tekulve was the victim of Smith's bad-hop single that filled the bases for Pete Rose. He put the Phillies on top, 11-10, with a two-run single.
The Pirates bounced back against Reed, who is the Phillies' best reliever.
Jackson was tagged for a two-out triple by Trillo in the eighth, and with one out in the ninth, Jackson walked Greg Gross and Smith lined a hit to center. Gross reached third, but Smith was cut down trying for second for a big second out. Lacy threw to Foli who flipped to Garner for the tag on Smith.
When Rose grounded to Foli, the Pirates got the precious 27th out.
The wild one of the 1980 baseball season was over... until the next time.
The Pirates, in third place, moved to within 1½ half games of Montreal and they're one-half game behind the second-place Phillies.
NOTES – After five innings, every Pirate starter had at least one hit... In the Pirates' fifth, Boone threw out Garner and Moreno trying to steal second base... Don Robinson, who pulled a leg muscle in the ninth inning of Sunday's 7-3 Buc win, will miss his next turn which was originally scheduled for Friday night against the Los Angeles Dodgers at Three Rivers Stadium. Solomon or Rhoden will replace him... Moreno thinks his injured finger will keep him from playing tonight when the San Francisco Giants open a three-game series at Three Rivers. Bob Knepper will face John Candelaria. Tomorrow night, former Buc Ed Whitson will start against Bert Blyleven... In Thursday's series finale, it will be John (The Count) Montefusco against Jim Bibby.
Better than a circus
By Phil Musick
PHILADELPHIA – There were 36 hits, 24 runs, and a spectacular collision. There were eight doubles, a triple and three home runs. There were 11 walks and 21 runners left on base. There was a guy with five hits, who still managed to become the goat, and two with four, who didn't. It took 34 players and three hours and 33 minutes to play, and there wasn't a 1-2-3 inning. Only one starter, Phillie Mike Schmidt, failed to get at least one hit. The Pirates led five times and there were three deadlocks before the Phils finally succumbed, 13-11, but not until Lonnie Smith had run his fifth hit into the second out of the ninth inning to take the heart from the Phillies.
There were all of those things, but first there was a little rightful indignation and, perhaps, some worthwhile inspiration.
"I can't agree with Moreland," simmered Dave Parker, whose second home run, a two-run shot into the right-field seats in the ninth, accounted for the final margin of difference.
Moreland is Phillie backup catcher Keith Moreland, and recently he relieved himself of the opinion the Pirates would not be a factor in the National League East pennant race this summer.
"I can't agree that it's a two-team race, them and Montreal," Parker said rather righteously, munching on a ham sandwich after producing three hits and four RBI. "And I can't agree we have any sort of internal problems.
"He might have woken us up. At least, you ought to have a little seniority before you pop off."
Inspired or not, the Pirates considered themselves fortunate to come away from last night's experience with no serious injuries. Omar Moreno stove a little finger being thrown out attempting to steal in the fifth, but nothing worse than Chuck Tanner's pulled eyebrows resulted from a spectacular three-way collision in the sixth.
Tim Foli went out chasing a Gary Maddox popup, leftfielder Mike Easier and Lee Lacy, subbing for Moreno in center, came in. They collided and all three went sprawling. Foli came up throwing, then collapsed again. But none of the trio was injured.
"Omar can bend his finger and he should be OK," said Tanner. Neither Foli nor Lacy was hurt and both remained in the game.
"I haven't been hit by a truck before, but I'll be OK," Foli smiled wanly after authoring four hits, the last of which came in front of Parker's ninth-inning homer.
As usual, the Pirates wrote the win off as nothing overly meaningful.
"We can't get too high," Foli said, "but it was a great ballgame for us. We know they're all going to be like this the rest of the year."