Camden Courier-Post - July 18, 1980
McBride helps Carlton to 15th
By Ray Finocchiaro, Gannett News Service
HOUSTON – Not too many people would like to make a living of hitting the Niekro Brothers' knuckleballs.
But Bake McBride says he wouldn't mind.
And the Phils' right fielder, who had two hits and scored both runs that beat Houston's Joe Niekro 2-1 last night in the Astrodome, will set his shot at older brother Phil tonight in Atlanta.
"I'VE HAD great success against both of them," said McBride as the Phils hurriedly dressed for a flight out of Houston's 100-plus degree heat. "I don't try to kill the ball. I just try to make contact. I try to hit the ball before it breaks."
McBride hit it well enough to collect two singles last night, then stole second both times and scored, first on two straight Niekro wild pitches in the fourth inning and then on Bob Boone's grounder in the sixth for the eventual winning run for Steve Carlton, who upped his record to 15-4.
"They're not easy to steal off because they've got great moves to first," said McBride, whose pair of thefts gave him 10 this season. "Most guys who steal off them are guessing.
"TONIGHT JOE started everybody off with a fastball and you didn't see anybody try to steal on the first pitch. But then he went to knuckleballs, and that's when I went."
The Phils, who remained a game behind the Montreal Expos in the National League East as the Astros dropped to second in the West, were happy that McBride was a good guesser last night.
Houston, which managed just five hits off Carlton in the first eight innings, bunched a pair in the ninth to threaten to tie the score.
LUIS PUJOLS, who was on base three times, opened the ninth with a single and stayed moored to the base as Carlton struck out pinchhitters Denny Walling and Bruce Bochy to run his total to 10.
But Rafael Landestoy tripled over left fielder Greg Gross' head to make it 2-1. Carlton came down to make-or-break time against Terry Puhl.
"Lefty made a bad pitch to Landestoy," said Manager Dallas Green, "but he reached back for everything he had for Puhl. If he didn't get Puhl, I was gonna bring in Tug McGraw."
But McGraw, who was reactivated when the Phils released Lerrin LaGrow before the game, just watched as Carlton got Puhl to pull a grounder to first baseman Pete Rose to end the game.
"A SLIDER," said Green. "Lefty had a super fastball tonight and he knows that he can't throw the slider 95 percent of the time. He threw it when he had to."
Boone said the Astrodome mound gave Carlton more trouble than usual.
"Steve was struggling with his control tonight," said the catcher. "The mound gave him trouble. It was like throwing uphill."
Green was grateful for Carlton's uphill struggle.
"It was a damn good performance when we needed it," he said. "We're a little bit hurt, but the guys we put in played like the devil."
EXTRA INNINGS – Carlton came in with a 27-9 lifetime record against the Astros, second only to Bob Gibson's 29 victories... The last time the Astros had four consecutive complete games pitched against them came May 14-1 7, 1976, and the pitchers were Larry Christenson, Jim Lonborg, Carlton and Atlanta's Andy Messersmith... Pete Rose needs eight doubles to tie Nap Lajoie for fifth place on the all-time list with 650 and nine more to tie Honus Wagner... Nino Espinosa will match his finesse act against Phil Niekro's butterflies tonight in Atlanta (7:35, Channel 17), with Ruthven and Dan Larson against Tommy Boss and Doyle Alexander in tomorrow's 6:05 p.m. twinighter... Bob Walk vs. Larry McWilliams Sunday night at 7:05.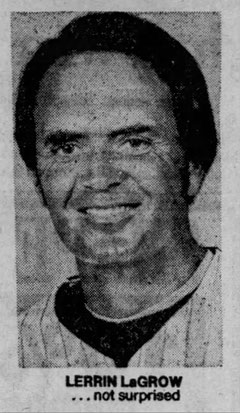 LaGrow axed as Tug returns
By Ray Finocchiaro, Gannett News Service
HOUSTON – Reliever Lenin LaGrow and the Phillies parted company here last night, and it wasn't a particularly amicable separation.
LaGrow, a right-hander signed as a free agent before the season began, was waived with the purpose of giving him his unconditional release, a process that takes six days.
LaGrow was dropped from the roster to make room for left-handed reliever Tug McGraw, who came off the disabled list yesterday.
The 32-year-old LaGrow had an 0-2 record and 4.15 earned run average in 39 innings, spanning 25 appearances. He allowed five homers, but it was his 17 walks that finally sealed his fate.
"I was disappointed that a veteran with his credentials couldn't come in and close the door for us in certain situations," said Phils' Manager Dallas Green, who relayed the not-so-expected bad news to LaGrow before last night's game with the Astros.
"Not that he was getting hit around, even though he gave up five homers in 39 innings," Green shrugged. "It was the base on balls that created problems. There's no way a veteran pitcher should walk so many people."
The Phils' other option with McGraw returning was to return Dan Larson to Oklahoma City, which would have made the out-of-options right-hander unavailable to be recalled without clearing waivers.
"I felt the other people in the bullpen were strong enough that we didn't need LaGrow," Green said. "We needed a starter (Larson) more than him. With Randy Lerch's inconsistency and Nino Espinosa just coming back, I wanted to have that extra starter available to maintain the five-man rotation."
LaGrow said he wasn't surprised that the ax fell. But while he claimed no bitterness at his release, LaGrow didn't sound as if this was business-as-usual for him.
"Quite frankly, I'm not surprised at all," said LaGrow, who accepted handshakes from grim-faced teammates before they took the field for pre-game warmups, leaving him behind.
"I've been expecting it. It was no longer fun to walk into this clubhouse or put on this uniform."
Paul Owens, the Phils' player personnel director, said he didn't try to make a deal for LaGrow because the pitcher now would be free to make his own deal and sign with another club in six days.
But it didn't sound as if LaGrow had intentions to go anywhere but back home to Phoenix, Ariz.
"I've lost my desire to play," he said. "I have no desire to go anywhere. It's time I gave some time back to my family."
The Phils will pay LaGrow the balance of his one-year contract and could pay the difference if LaGrow did sign with another club for less than his present six-figure salary.
But LaGrow, who has pitched for five big league clubs, sounds as if he's finished with basebal altogether.
"I'm tired of the inconsistencies, inequalities, judgements and attitudes of the people associated with baseball," he said, sounding disillusioned if not bitter.