Cincinnati Enquirer - July 23, 1980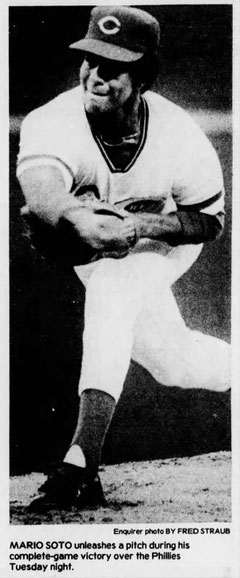 Reds Can't Explain 3-2 Victory As Soto's Pitching Baffles Phils
By Ray Buck, Sports Reporter
To beat Steve Carlton is one thing. Trying to explain it is another.
It was that way Tuesday night after the Cincinnati Reds kayoed Carlton and the Philadelphia Phillies, 3-2, at Riverfront. It happened. But nobody knew exactly how to explain it and Carlton doesn't talk to reporters.
Even Pete Rose, the Philadelphia first baseman, was curious enough to ask Johnny Bench during the game one of three times he reached base against Carlton (15-5).
"How do you hit him?" Rose queried.
"I don't know," Bench replied. "I just feel what's coming... then I seem to adjust."
"Well, you're the only one," Rose observed dryly. "These other guys are up there taking the worst swings in the world."
EXCEPT FOR Ray Knight and Dan Drlessen, who collaborated with Bench on this derailment of the National League's leading Cy Young candidate with carefully budgeted hitting in the second and sixth innings Tuesday night.
Mario Soto (4-4) pitched his first complete game since 1977, somebody covered the field with a tarpaulin for the night and turned out the lights, and that was it. But nobody could explain it.
"Carlton's slider is almost unhittable," Knight said afterwards. "But he threw me only two all night. I don't know why. Usually I see eight or 10 sliders. Maybe because he was behind on the count a lot tonight."
Whatever. But after third baseman Mike Schmidt's errant throw pulled Rose off the bag at first base and Bench reached in the sixth inning, Knight tripled into the right-center field wilderness to drive in Bench. Then Driessen singled home Knight.
That was the game.
BECAUSE ON this particular night, Soto was bigger and better than Carlton, the National League leader in victories (15) and strikeouts (173) and reputation. But Carlton was gone by the seventh inning.
And Soto pitched his way out of enough corners to stick around to the end. He hadn't done that since Aug. 7, 1977 when he beat the Pittsburgh Pirates, 6-0.
This was the Reds' second straight victory over the Phils and extended their winning streak to three games. Carlton's lifetime record against the Reds is now 9-16.
The Phillies scored first off Soto when Bob Boone ripped a "hanging slider" over the left-field wall in the second inning.
"It was the only bad pitch I make all night," Soto lamented. "Hanging slider in his eyes."
But the Reds drew even in the bottom of the second when Bench singled, moved to third on Knight's screaming double and scored on Driessen's sacrifice fly.
"IT'S FUNNY," Knight said. "But I hit good pitchers better than ordinary pitchers. Check my home runs. All of them have come off name pitchers. I do better against guys like Sutton, Carlton, Blue and Montefusco. I have trouble against guys like Ripley."
Another unexplainable.
The deadlock existed until the sixth when Bench reached on Schmidt's throwing error opened the gates for Knight's standup triple and Driessen's RBI single.
The Phillies added a run in the seventh inning when Rose walked, moved to third on Greg Gross' hit-and-run single to center and scored on Bake McBride's third hit of the game, a single to right.
The Phillies stranded four baserunners at third – including three of them with less than two outs; Garry Maddox flew out to George Foster at the center-field wall to lead off the eighth, and Gross singled with two outs in the ninth. But Soto finished what he started.
And he was bigger and better than Steve Carlton on this particular night.
REDS NOTES – Tom Seaver was eligible to come off the 21-day disabled list but says his sore right shoulder isn't ready. "It's not strong enough to come off," said the 35-year-old pitcher. "I don't believe the muscles are strong enough. I still feel something in there when I throw... (but) I think it's just (muscles) stretching." Seaver will join the Reds on their road trip, beginning Friday. "I hope I'll be able to pitch on the trip," he said. "But that's only if I'm ready. It's still day-today."... Johnny Bench remains firm on announcing his intentions for next seasons in mid-to late-August. For certain, he will not catch fulltime next season. How much is parttlme? "A couple times a week, maybe three times a week," he said. "That would be a possibility. But maybe they (Reds) will say no to that."