Philadelphia Inquirer - July 23, 1980
Doctor:  Luzinski is 'free of pain'
By Jayson Stark, Inquirer Staff Writer
Team physician Dr. Philip Marone examined Greg Luzinski yesterday and "found him free of pain, with good range of motion and no swelling," according to Phillies trainer Don Seger.
Seger said that Luzinski would start running straight ahead today. Then "if he hasn't had any negative reaction," Luzinski would do "starts and stops" tomorrow under Seger's supervision. After that, Seger said, "we'll shake him down and see if it rebels. If it doesn't, we'll sit him down and see when he can go."
Asked if Luzinski would be ready to go Friday (when it was originally thought that the Phillies might activate him), Seger said, "baseball-wise I would doubt if he would."
NOTES: Going into' last night's game, the Phillies' record in games that Greg Luzinski hasn't started is 10-9. In games Mike Schmidt hasn't started they are 7-5.... The Phillies have run out their Opening Day lineup exactly once this month July 5 in St. Louis.... The Reds expect to reactivate Tom Seaver by the time they get to Philadelphia next week.... Average number of runs each Phillies starting pitcher has gotten per start: Steve Carlton 4.3, Dick Ruthven 5.0, Randy Lerch 3.4, Dan Larson 3.8, Bob Walk 5.3, Nino Espinosa 3.3. Carlton's figure does not include last night.... Espinosa (1-1) vs. rookie righthander Bruce Berenyi (1-0, 9.75) tonight in the final game of the road trip. The Phils are off tomorrow, will host Atlanta in a twinighter Friday.... Channel 17 has added three telecasts to its Phillies schedule. The station will televise a three-game series from Chicago live at 2:30 p.m. each day, Aug. 11 through 13. They will repeat the broadcasts at 8 o'clock each night.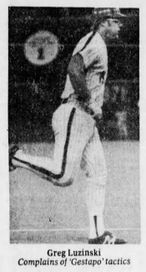 Is it a recurring nightmare?
Pressure and injury nag Luzinski again this year
By Frank Dolson, Sports Editor
The sound echoed through the corridors under Veterans Stadium, the unmistakable sound of a man hitting a baseball, and hitting it hard. Again and again and again Greg Luzinski, the beads of sweat starting to form on his brow, stood facing a dark green wall, some 15 feet away, stared at it, focusing on an imaginary pitcher, then switched his attention to a baseball sitting on a batting tee, swung with all his might, and sent a wicked line drive into the padded wall.
"Beautiful," Phillies batting instructor Billy DeMars would murmur. "Good, Bull. Super."
But to the man swinging the bat early yesterday morning it wasn't beautiful. And it wasn't good. And it wasn't super. His teammates were in Cincinnati, struggling to score runs, struggling to win games, and he was here, working up a sweat in the batting cage.
"It teels like winter," Greg Luzinski said, taking a deep breath between swings.
Not the temperature, of course. The day before it had been so hot, so humid in this corridor that it was almost unbearable. "He was sweating so badly," DeMars said, "it was pouring out."
He was sweating so badly that even now, 24 hours later, the blue wrist bands he had worn were damp.
Still, this scene had the feel of winter about it to Luzinski. Standing in this batting cage at 9:30 in the morning was something a man did in January, not July.
He was here because of a slide he'd made in St. Louis 2½ weeks before. At least, he thought that was when he hurt his right knee, jarring it against the bag. "Next day I played on it," Luzinski said. "It felt kinda funny. I said something to Seger (trainer Don Seger). I told him, 'Something's wrong. It doesn't feel strong on certain movements.' Next day it was like a balloon."
The balloon has disappeared. The pain hasn't. "I just feel it all the time," he told DeMars. "More like a toothache."
All part of the agony that has been Phillies baseball in recent weeks. The team that was supposed to live or die on its pitching has died, of late, more because of its lack of hitting. The team that led the National League in home runs on June 6, crushing 44 of them in its first 45 games, has hit only 21 in its last 45 games and skidded to seventh place in homers.
On June 15, the Phillies had the most feared one-two punch in the big leagues. Mike Schmidt had 20 homers, Luzinski 15. Now, five weeks and three days later, Schmidt has 23 homers and Luzinski still has 15.
"There were only two guys in the lineup that could hit the ball out of the ballpark before I got hurt," Luzinski said, "and I was one of them. That's the whole key right now. Schmitty's getting the same thing I was getting earlier, the same type feeling. You get tough pitches to hit. Pitchers pilch around you. It's not easy."
But what Luzinski has been going through lately is even tougher. His season had started with such great expectations. And now this.
"Right today I don't feel confident on it," he said, looking down at his right knee, the one with the big scar on it. "Maybe I'm expecting too much. I had surgery on it in 74. Maybe I had the same click in there, or whatever it is, before. I dunno. I just don't feel comfortable with it because I haven't done any running, at all. At times I walk and I hit a certain spot... and it doesn't feel right. That's telling me that something's not right.
"I'm thinking about playing another four, five years. I experienced enough last year to know that I'm not going out there not feeling the way I should. I did it last year, and it wasn't worth it."
Last season was a nightmare that Greg Luzinski had hoped to wipe out of his mind. But this season is threatening to turn into something almost as bad unless the club makes a quick about-face while the Pirates and Expos still are within range.
One thing is certain. If last year wasn't much fun for Luzinski, and many of his teammates, this year hasn't been a barrel of laughs, either. If anything, the pressure seems to have built up to a level that some of them, at least, are finding difficult to handle.
"I think he's hurting us," Luzinski said yesterday morning, nodding toward the manager's office. "He's trying to be a bleeping Gestapo. I stay at home and I read his quotes and it really disappoints me...."
He pulled a newspaper out of his locker, searched for some Dallas Green quotes to emphasize his point. "Here," he said, "listen to this. 'I hear us saying, we want to win. We're going to win. I hear us grinding it out, but I don't see it.' It ticks me off, putting quotes like that in the paper all the time. Lerrin LaGrow made some good points (after he was released), I think. Between the press and the people upstairs and the manager, there's too much pressure on the ball club."
He was sitting in front of his locker in the empty clubhouse, thinking out loud, searching for answers to a sea son that has taken a sharp turn for the worse, venting his frustration.
"Look," he said softly, "I like playing for the guy. Don't get me wrong. It's just that – well, the sign over there says, 'We, Not I,' but it's not that way. When we lose, he seems to be excluded from the we. It's always, 'He didn't make a good pitch, he missed a sign,' that type thing. I dunno. You get the feeling sometimes that he doesn't think we're trying. I'm sure everybody that goes out there is trying to win. I don't care if it's Lonnie (Smith) or Keith (Moreland) or Boonie..."
Greg Luzinski wants to win, too. Make no mistake about that. And he wants to win in Philadelphia, where he began his big-league career and where he would like to end it. But part of the pressure the veterans on this Phillies team surely feel is the threat, expressed repeatedly before the season even began, that anything short of a winning year would lead to a massive shakeup.
"I want to finish my career here," Luzinski said. "There's no question about that. But if you're not wanted, what good is it to stay? If he thinks wholesale changes are going to turn this thing around, I think he's mistaken. Maybe a few changes, fine. But just to go out and clean house ... I don't think it's going to work. Teams do that and they find themselves scuffling like hell to get back, like the Mets. I don't think this town is ready for that."
What this town is ready for is another look at the Luzinski of spring, the one-two punch that terrorized the National League for two months. Grind-it-out baseball is fine, in its way. Knock-it-out-of-the-park baseball is better.
Reds hand Phillies 5th straight loss
Carlton is beaten by Soto
By Jayson Stark, Inquirer Staff Writer
CINCINNATI – Bake McBride's two-out liner had just settled into the glove of Sam Mejias. And the Phillies' fifth loss in a row was history.
Underneath Riverfront Stadium, the door to their locker room would stay closed for a long, long time.
Every once in a while, the voice of Dallas Green could be heard through that door, through two stone walls, over the hums of the air conditioners. Dallas Green has a voice, see, that could drown out a tractor. At times like these it comes in handy.
"What can I do to change this? Oh, I don't know scream and yell, kick and holler," Green said later, after the pain of the Phillies' 3-2 loss to the Reds last night had faded a little.
Green was asked which of those four he had done while that door was still closed.
"Well," he said, "I didn't do much kicking."
Steve Carlton (15-5) was the victim of the Phils' third one-run loss in a row. The run that beat him was not earned. The pitcher who beat him, Mario Soto, has won 10 games in his career.
"Lefty pitched fine," Green pronounced. "He held them to one run. The team held them to three."
Carlton waded through trouble in five of the six innings he worked. He wriggled out of almost all of it, so it was 1-1 after five. But then came a critical sixth-inning mess.
The problems began with Johnny Bench's routine one-out bouncer to Mike Schmidt, who played all night in a mysterious funk. Schmidt fielded it, 82-pumped before letting go, then pulled Pete Rose off first with his throw.
It was a play Gold Glove third basemen are not supposed to make, especially on a guy who doesn't exactly get down the line like Willie Wilson.
Green rejected any theories that Schmidt had taken a 2-for-22 streak at the plate into the field with him. His interpretation was, simply, that "Bench outhustled him, that's all."
Carlton put his hands on his hips in annoyance. Then Ray Knight bombed his next pitch up the alley in right-cener for a triple, and it was 2-1.
So the infield moved up. Dan Driessen then stroked an 0-1 breaking ball past Schmidt, and it was 3-1.
"I know you could say that the triple and the single are legitimate runs," Green conceded. "But the sequence might have been different. So we don't know how he might have come out in that battle."
The Phillies got one run back with a two-out rally in the seventh, capped by Bake McBride's third hit, an RBI single. But Schmidt, who personally stranded five runners (including three in scoring position), lofted a soft fly to right. And the last of five great chances died.
Soto (4-4) used his sharp slider, exploding fastball and an effective change-up to strike out seven, including Schmidt and Rose twice. But he didn't exactly buzz through the Phillies like a power saw through cardboard.
The Phils had somebody on to plague him in every inning but the fifth. They had men in scoring position in five of the first seven innings. But their only run came on Bob Boone's sixth homer, in the second.
They even had runners on third with less than two outs twice and didn't get them in. Schmidt stranded both of them, striking out in the first, lining to Knight in the third.
"I think I made my best pitches on Schmidt," said Soto, who has 100 strikeouts in 102 innings this year. "I just really wanted to be careful with him with men on base. I tried not to give into him with anything. I just threw him fastballs and change-ups. And every time I threw him a change-up it was a good one."
A lot of the features of the previous losses in this streak repeated themselves – numerous guys left on, two-out hits, failure to make contact when contact was a necessity.
"It's the time of the year when we should not be doing the type of things we're doing, to beat ourselves 'or not get runs in," Green said. "OK, I can buy slumps. And nobody's really swinging great right now, except a couple of guys.
"But hell, we know that's gonna "happen over 162 games. So why get excited about it? It's a time to stay within ourselves, gear up, play some gul-damn tough baseball. I mean, if we can't gear up for a guy going for the Cy Young Award, who the hell are we going to gear up for?"
Green verbalized again his many frustrations with a team that does what it has to for spurts but never seems to sustain it over long periods. He talked again of character. He talked again of too much reliance on talent. He drummed home the same message he has been drumming home since Day One.
"If I just keep yelling and screaming, somebody is gonna listen sooner or later, whether they want to or not," he said. "And if I think they don't want to they won't be here.
"I'd like to think our character has improved this year. I think there's more sincerity, more aggressiveness, more wanting than there has been in the past.
"Hell, we all have peaks and valleys in this game. How we handle those really tests character. We're going into one of those valleys now. How we handle that is gonna test us."
But the old Ozarkian habits die slow. Green has found that out the hard way.
"Nobody said it would be easy," he shrugged. Then he paused and smiled.
"I can hear Danny chuckling now."