Cincinnati Enquirer - July 24, 1980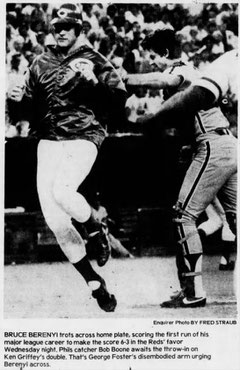 Reds Sweep Phillies For Fourth In Row
By Ray Buck, Sports Reporter
John McNamara went to the mound with the game on the line in the eighth inning Wednesday night and asked his rookie pitcher, Bruce Berenyl, how he felt.
Berenyi thought a moment and reported he felt a little like gelatin and McNamara pulled out his hook. Berenyl was done.
"I don't want any heroes," said the Answer Man of the Cincinnati Reds. "I Just want to win ball games."
Win, he did.
McNamara inserted Tom Hume, who has returned to his no-nonsense ways of last season, and the game promptly fell into the Reds' lap, 7-3. Thus they completed a three-game sweep over the Philadelphia Phillies at Riverfront.
With runners at the corners, Hume used six pitches to retire Manny Trlllo on a poppup and struck out Bob Boone, then mowed down the Phillies in rapid 1-2-3 order in the ninth for his 16th save.
HUME IS now only four saves behind National League leader Bruce Sutter of the Chicago Cubs.
The victory allowed the Reds to close out this 14-game homestand with a 7-7 split after a disastrous 1-6 start. It also gives the Reds their first four-game winning streak since May 26-30.
Berenyl (2-0) began the evening the way the homestand began. He loaded the bases in the first inning on a single and two walks – including a freebie for Pete Rose on four pitches.
"I was thinking how great a hitter he Is," said a momentarily star-struck Berenyi. "I didn't pitch to him the way I can. But when I got through that first inning without allowing a run, that really boosted-me.
"It's Just a matter of feeling more comfortable, more confident. I didn't feel much pressure. Once I got going, I just went out there and threw the ball."
THAT'S ALL McNamara expects of his pitchers. That and honesty. When he asks how they feel, he wants the whole truth and nothing but the truth in return.
"A week or so ago, that wasn't the alternative," noted the manager, referring to a pitching staff saddled with injuries, short-termed starters and an untrusty bullpen. "Remember, I had to leave Berenyl out there for nine walks one game."
But now the starters are lasting longer; Hume Is humming, and the Reds have won six of their last seven games to pull to within 3½ games of the first-place Houston Astros and one game of the second-place Los Angeles Dodgers – both losers Wednesday.
However, the Reds won because Joe Nolan socked a bases-loaded double In the fourth inning and Ken Griffey ripped a two-run double in the seventh.
Nolan poked Phlllie starter Nino Esplnosa (1-2) following three consecutive walks to George Foster, Dan Drlessen and Ray Knight.
IT DIDN'T matter that Nolan went against "the book" by swinging at Esplnosa's first offering after all those pitches outside the strike zone. It certainly didn't bother McNamara.
"I believe if the pitcher is going to throw the ball there, whack it," Mac shrugged. "I have confidence in these guys as hitters. That's why we swing so much on 3-and-0 (counts)."
Nolan, who continues to fill in admirably on Benchless nights, explained that Esplnosa is a control pitcher and he was due to groove a strike.
"It's unusual to see him walk three in a row like that," Nolan observed. "I've had some success against him (4-for-7 with two doubles, two triples the last two seasons)... and besides, you can't take too many pitches against big league pitchers or you're in trouble."
Nolan's two-run double tied the game, 3-3, and Junior Kennedy followed with a sacrifice fly to give the Reds a 4-3 lead that they never relinquished.
EARLIER, MIKE Schmidt socked a two-run homer in the third inning, the 259th of his career – tying him with Del Ennls for the Phillies' club record.