Philadelphia Daily News - July 24, 1980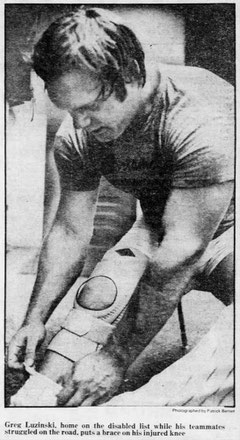 Bull Session
Luzinski Wants Green to Keep His Mouth Shut
By Stan Hochman
Greg Luzinski hit three buckets of baseballs yesterday. Played catch with Billy DeMars for 15 minutes. Jogged through 15 80-yard sprints. Soaked in the whirlpool for eight minutes. And struggled against the Tybex machine's resistance through 10 sweaty repetitions.
Today he faces a workout that will make that one sound like a day at the beach.
"I'm gonna talk to Dallas," he said. "About my knee... and about this other stuff.
"He says the door is always open. well, I think it's time we talked. For his good, for the good of the club.
"I've been sitting home reading all those quotes in the paper, about character, about grinding-it-out.
"AND I'VE BEEN talking to some of the guys. And I know that some of them have been affected by it. Anyone who's been around the club a while can tell who.
"There are some sensitive guys who are getting hurt by all that screaming, getting singled out for one bad pitch or one bad play.
"A guy like Garry Maddox, let's say. A play the other day, when we give up an extra run and Dallas hollers about him not throwing the ball in.
"He never mentioned that Lonnie Smith missed the ball in the first place. The thing is, he's, got these signs all over the place that say, 'We, Not I,' and he wouldn't want the players yapping to the press about mistakes he makes.
"I don't want to make a big thing of it, because I can play for the guy. I can play for anybody."
It is a big thing because Luzinski is a big guy, a big guy the Phillies depend on for power. He has been out of the lineup for two weeks and the Phillies have grumbled through a road trip on bent wheels.
Luzinski will run some stop-and-go patterns for trainer Don Seger today and if the exercises don't fold, spindle or mutilate the right knee, Luzinski will come off the disabled list.
"I'm not gonna rush it," Luzinski said, squirming into a Moose Detty-designed knee brace. "I went through that last year, coming back too soon. If I go out there worrying about it, I won't do myself or the team any good."
THE LAST THING Luzinski wants to hear, of course, is a sermon about playing with pain. That's the one Green declaimed earlier this year, before Nino Espinosa and Warren Brusstar pitched their way back onto the roster by way of Dixie.
"I know what he's thinking," Luzinski said. "Light a fire under somebody. Maybe he got those guys mad and they went out and pitched. But how many times can you use that?
"In spring training the atmosphere was different. He said, let's go out and have some fun. Just play baseball, have some fun.
"The minute the bell rang it changed a little. Whether he feels the pressure to win this thing or what? You read what he says and it 'sounds like the players don't care.
"Well. I don't care who he puts out there, whether it's Smith or Moreland or who... everybody who goes out there is try ing to win.
"Character, that's been overplayed. To me, character is when you're behind 6-1 and you come back to win. You're always driving, always pushing, and you're never out of a ball-game.
"I don't know. Maybe his theory is, he doesn't give a damn what the guys think, as long as they go out and do it and win.
"I KNOW BEFORE Lerrin LaGrow left, he sat down with Dallas, Herm Starrette and with Paul Owens. He told them that the pressure was getting to guys, the criticism, the singling guys out.
"Lerrin thought the front office might think he's right and that would help the players, because he liked a lot of guys on the team.
"You can be tough, criticize all the time, but if you try that and it's taking a reverse effect, you better stop and try a new approach.
"You know, he played for Gene Mauch and maybe that explains it. Mauch was tough, critical. But Mauch has never won a division, never been in a World Series.
"To me, the test is winning, whether you go about it like Tom Lasorda or Sparky Anderson or Walter Alston.
"Look at the Yankees and Kansas City. They're winning because of talent. Because they hit the hell out of the baseball.
"We've had some tough injuries. Schmitty has been out 12 games, I've been out 19. That's the two guys who can hit it out of the ballpark.
"When we're hot, when your home run hitters are streaking, you pick up runs in bunches. We can win it, no question about it.
"But Randy Lerch is 3-and-11 and Dallas keeps saying he doesn't have a baseball mind. What does that mean?
"I went through the same thing last year. Maybe a little different, the way Danny (Ozark) yanked me in and out of the lineup.
"I WAS THE ESCAPE for him that time. I've said I didn't like the way he managed me his last month. Being his escape. So I don't like to see what's happening to Lerch.
"The thing is, Dallas has said himself that he's got some shortcomings... and one of them is his mouth."
In Cincinnati yesterday. Dallas Green said he would be surprised if Luzinski follows through on his hankering for a dialogue.
"But I'd welcome it," Green said. "It just sounds like a typical Phillies' team reaction in that it goes right back to what I'm talking about.
"If you can't admit you've made a mistake and can't admit you've played a bad baseball game, it reflects on your character.
"I love these guys. You know what I think of Greg Luzinski. But that shouldn't make them immune from criticism that is honest... and given with the intent of making us better.
"If the criticism was just the 'knock' type, that would be different. But hopefully, it makes them look at and improve themselves."
Luzinski grunted against the cushioned arm of the Cybex, forcing the needle past the vital 60 mark. If he thought that took some effort, wait until he tries to move Green today.
Phils Army Returns Defeated
By Bill Conlin
CINCINNATI – You know the dog days, are here when they have to unlock the airport to get the team out of town.
You know it's the dog days when the leftfielder. 600 miles away, interrupts his recovery from a knee injury to tell a columnist, "... he's (the manager's) trying to be a bleeping Gestapo..."
Gestapo? Dallas Green?
•
For the sixth straight skirmish, Field Marshal Von Green was unable to sing "Phillies Uber Alles" or the "Horst Owens Song. "
The Red Army beat the knockwurst out of Von Green's elite troops, 7-3, despite Obergruppenfuhrer Von Schmidt's 24th kill.
Although outhit 8-7, Marshal Fyodor McNamara's Cossacks encircled Von Green's embattled Panzers and pounded them to their sixth straight loss of what was supposed to be the Great Summer Offensive, a pincers movement which gained ground on the Texas prairie, was thrown back in the Province of Georgia and routed in the steppes of Ohio.
"My orders are to stand and fight, not to surrender one inch of territory," Von Green said from his cellar headquarters command post in Fortress Riverfront.
A 3-7 trip is tough enough for the troops to take without morale problems on the home front. Von Green's once proud legions are hobbling barefoot through the arid steppes and some guy in an air-conditioned bunker hundreds of miles from the front is second-guessing the Field Marshal's conduct of the war.
•
It has been that kind of trip for this mirthlss, perhaps worthless, team. Maybe baseball really is a fun game, but you can't prove it here.
"I've been called on it a few times today," Green said of Greg Luzinski 's published critique of the manager's "putting undue pressure on us" remarks to the press.
"He's entitled to his own opinion. If he doesn't like what I've been saying about the performance of the team and certain individuals to the newspaper guys on several occasions he shouldn't read them. I don't want to comment on it any further until I've read the article."
Earlier in the day, Kentucky state Sen. Jim Bunning, another compulsive truth-teller, stopped by the team's hotel headquarters to visit his clients. Bunning serves as agent for several players, including embattled Randy Lerch.
"How can you stand to sit and watch these guys play every day?" the former Phils pitching ace asked a war correspondent. "It's time to break this team up, start subtracting. You don't have to be a genius to figure out that if a team that's been together nine years hasn't done it by now, it's time to re-tool."
SINCE MOST OF Sen. Bunning s clients are young players, you could say he's got a vested interest in the situation. But Beau James has always been brutally honest. And he may be right.
Green has made it abundantly clear since last September that there is pressure on this team to win, that the years have dwindled down to a precious few.
"Third or fourth won't get it this year," he said last night. "Second place won't get it. If that's pressure, then so be it."
"A lot of guys on this team don't know what real pressure is," said Paul Owens. "When you're blessed with ability like many of our players are, pressure shouldn't stand in the way."
"Trying to get hitters out in the big leagues with the crap I had, that was pressure," Green said.
Which is why the manager can relate to and empathize with Nino Espinospeak's current ordeal by fire. Nino gallantly tried to hit the cracks in the strike zone. But the Reds have diligent advance scouting and Espinosa's lack of velocity since coming off the DL was not exactly a military secret.
Walks, not base hits, led to the righthander's downfall. He was leading. 3-1, with one out in the fourth when he walked George Foster, Dan Driessen and Ray Knight to load the bases. Reserve catcher Joe Nolan, a career 4-for-7 against Nino, gapped a double to tie it, 3-3, and Junior Kennedy drove in the lead run with a sacrifice fly.
GAME, SET AND match. The Reds turned it into a laugher when Mike Schmidt tried to make a heroic and impossible force at second on a fine sacrifice bunt by rookie righthander Bruce Berenyi in the seventh. Everybody was safe and Ken Griffey made it 6-3 with a two-out double. Nolan drove in the final run with an eighth-inning sacrifice fly.
Murphy's Law took over from there. The traveling party sat in two non-air-conditioned buses in the sweltering tunnel under Riverfront for nearly a half-hour because everybody at the Greater Cincinnati Airport had gone home for the night and traveling secretary Eddie Ferenz couldn't find out the departure location of the club's United Airlines charter flight. At the airport, a security guard had to unlock the TWA boarding area United was using.
"Chalk up another career first," said Bobby Wine. "First time I've ever been to a major airport that was closed for the night."
Green ended the long, 'downhill road trip on a note of optimism.
"Hey," he said. "All this can turn around overnight. We're home for two weeks, home park, home fans, home cooking. A good series this weekend with the Braves and we can be right back in this thing."
PHILUPS: Mike Schmidt drilled his homer to dead center... Bake McBride, playing on two puffy knees, parted company with a 12-game hitting streak... Dallas Green gave Garry Maddox the night off. Greg Gross played center and collected a pair of infield hits... Larry Bowa continued his offensive resurgence with a pair of singles... Reds have won four straight to tighten the West race... David Concepcion revealed before the game he'll have right elbow surgery after the season... Phils are off today, then Braves will come in for the weekend with a twi-nighter tomorrow night.
Schmidt Makes Him a Believer
By Lorenzo Biggs
Butch Lasota, the latest $1,000-plus winner in the Daily News Home Run Payoff contest, found his unexpected jackpot hard to accept.
"Get the hell out of here," Lasota screamed when called at his Conshohocken home last night. "I don't believe it."
Lasota won $1,050 ($25 for each RBI) on Mike Schmidt's third inning, two-run homer.
A 29-year-old supermarket manager. Lasota says he was listening to the game at Cincinnati's Riverfront Stadium on the radio, when "I started to fall asleep because the Phillies were losing... You're not kidding me are you? This is the first time I've ever won anything. I don't believe this bleep!"
LASOTA ALSO FOUND it hard to believe his windfall came on behalf of Schmidt. "Mike Schmidt, he's been in a slump. My favorite player was (Greg) Luzinski, because I'm Polish. Now it's Mike Schmidt."
Sending in the Payoff coupons has been a ritual for Lasota for the past three years. "Just last week," he pointed out, "I sent in twenty-five in one shot."
With the Phils losing their sixth straight road game, it's not hard to understand why Lasota became bored. "They stink," he said. "I'm giving you my honest opinion. I've got news for you, they can win the division if they play together. But now, they're playing for individuals."
And what of Manager Dallas Green? "I don't like him, never did," Lasota stated. "I dont think he's of major league caliber."
As for the $1,050, Lasota would like to put some toward his brand new car and give a little to his mother. "Because," he said, "she cut out the coupons for me."
•
Also winners in the third inning of the Phillies-Reds game were Leila Cottman of Chester and Matt Barowski of Philadelphia, who won $10 plus four tickets to a Phillies game on singles by Pete Rose and Greg Gross, respectively.
Winners of tickets were Joe Meta of Lindenwold, Martin Linden of Philadelphia and Louise Scarpa of Vineland.
To date, the Daily News has paid out $13,410.
Today's coupon appears on Page 57.