Atlanta Journal-Constitution - July 28, 1980
Blowout:  Phils 17, Braves 4
Matula Loses 3rd In A Row
By Rusty Pray of the Courier-Post
PHILADELPHIA – In Dallas, the mystery of this summer is "Who shot J.R. Ewing?" In Houston, it's "Who shot J.R. Richard's arm?"
In Atlanta, they are wondering and worrying about another Texan, 26-year-old Rick Matula. After his first three starts, Matula was an impressive groundball machine, winning twice, shutting out Cincinnati and leading all National League starters with a near-invisible 0.43 earned run average.
But Sunday afternoon, Matula lost his third straight and raised his ERA to 4.99 as the Phillies established Veterans Stadium records in hits and runs during a merciless 17-4 massacre before 35,249.
Philadelphia (50-45) took the third of four weekend games with Atlanta (45-52) with more hits (21) and runs than it had scored in any game since The Vet opened in 1970.
Matula (6-9) allowed eight hits and eight runs, before walking off in the second. Preston Hanna gave up seven hits and two runs, Al Hrabosky's one inning produced three hits and three runs, and Larry Bradford allowed the record setters with three hits and four runs in the eighth. Bob Horner, who did not hit a home run for the third straight game, contributed heavily to Hrabosky's and Bradford's problems, committing two errors, while Glenn Hubbard had one.
"I'm not really worried about Matula because I've seen a lot of good pitchers have three bad games in a row," Manager Bob Cox rationalized. "If he would not have had good stuff, then I would be worried. He's still in the rotation, but his turn does not come up for a while (either Sunday or Monday), so I hope to use him in relief so he could get a couple shutout innings under his belt. A couple good plays behind Matula could have turned things around for him."
At least Matula unproved upon his previous start, against Montreal, when he did not get an out before leaving a 6-0 game. But the signs were ominous once again in the first when Lonnie Smith led off with his second career homer. Pete Rose and Bake McBride made it three consecutive hits with back-to-back singles before Garry Maddox singled for the first of his five runs batted in.
In the second, Matula had another chance to pitch even because the Braves tied it 3-3 in their half with a two-run double by former Phillie Bill Nahorodny and a sacrifice fly from Larvell Blanks. But with one out Matula gave up successive singles to winner Steve Carlton (16-5), Smith and Rose. A two-run double by McBride made it 5-3, and Cox had seen enough. Maddox, however, hit Hanna's first pitch for a three-run, opposite-field triple, and the rout was on.
"When we tied Carlton 3-3, 1 thought, 'All right we gotta game now,' " Cox said. "But then when they came back strong in the second, it was bye-bye baby."
Since June 25, Matula is 1-4, and over his last three starts he has not made it to the third inning once while giving up 23 hits and 19 earned runs for an unheard of 42.75 ERA. In his last 10 games, his ERA has been 8.62.
"I thought I made some pretty good pitches, but the hits just kept finding holes through the infield." said Matula, who said he was not disappointed that regulars Chris Chambliss and Luis Gomez were rested. "If I made a bad pitch, they jumped all over it and if I made a good one, it seemed it would just get by someone s glove.
"In Smith's case. I should have shook off Bruce (Benedict) because it was the seventh straight slider we threw to him, and I thought that might be one too many. The main thing is not to let this affect my confidence because I still think I can help this team. I'm throwing the same way I did early, except the balls that were being caught before are now going through.
Carlton, who tied Baltimore's Steve Stone for most wins in the majors, stopped Horner's 12-game hitting streak and Jeff Burroughs' seven-game hit streak. "I didn't swing the bat well, and I played bad in the field," admitted a solemn Horner, who remains one homer shy of the July record (15) with three games left in new York this month.
Hubbard gave Atlanta its fourth run, in the fifth, with his fifth homer – a line drive to left that made it 10-4. After Nahorodny's double and Matula's single in the second, Carlton allowed only Hubbard's homer and a single by Gary Matthews while striking out eight. The league's top left-handed starter retired his last five before turning it over to Dickie Noles in the eighth and Warren Brusstar in the ninth.
NOTES – Cox felt first baseman Chambliss needed a rest. "A day game after a night game and against a left-hander like Carlton, I figured this would be the day to give Chris off," Cox said... Chambliss (.303) will take a 10-game hitting streak to New York... Gomez also sat out, turning shortstop over to Blanks again. Despite contentions that Jerry Royster can field shortstop as well as Blanks and offer more offensively, Cox insisted, "There is no way Royster will play shortstop."... Brave pitchers Monday, Tuesday and Wednesday against the Mets: Doyle Alexander (8-5). Larry McWilliams (7-6), Tommy Boggs (5-5)... General Manager John Mullen returned to Atlanta Saturday because be said he had to be in Savannah Tuesday to watch three Double-A pitching prospects... The Braves are 6-20 on artificial turf, but the Mets Shea Stadium is natural grass, on which Atlanta is 39-32... Though be did not play Sunday, Brian Asselstine made the most of his two games against the Phillies, getting five hits, his third homer and raising his average to .274... After 97 games in 1979, the Braves were 40-57, 13 games out... Dale Murphy has two RBI and no homers since the All-Star break... Pinch hitter Charlie Spikes has struck out each of his last three at-bats... The Mets are 7-2 against the Braves, whose overall record against the East is 21-25.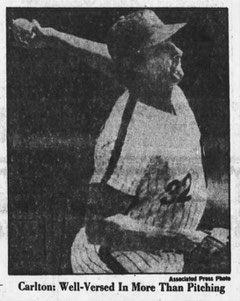 Carlton's Silent Act Has Lots Of Class
By John Schulian
PHILADELPHIA – Since the Philadelphia Phillies pay him to pitch and nothing else, Steven Norman Carlton, otherwise known as lefty, doesn't deem it necessary to caress sportswriters with bon mots, or any other mots for that matter. In an age when baseball clubhouses are filled with the sound of lips being zipped, this hardly stamps Carlton as extraordinary. And yet there is every reason to suspect his silence is like nobody else's. For one thing, he has thoughts worth expressing.
Granted, it might be great fun to by discussing "La Boheme" with speechless George Hendrick or to swap fishing stories with quiet Dave Kingman, but what would you talk about after that? Carlton, on the other band, has enough Intellectual irons in the fire to get him through an infinite number of cocktail parties, faculty luncheons and cross-country drives. He can discourse at length on wine, the vineyards of France, Oriental mysticism, Kung Fu as a form of exercise and the state of the 20th century American literature.
The people who have heard him offer such descriptions as witty, thoughtful, charming, gracious, introspective and classy. An arresting adjective, classy, because it also applies to his vow of silence.
The irrefutable proof that Carlton plays in a higher league than his mute brethren was delivered this spring. When the Phillies were working out their winter kinks, Ralph Bernstein, the Associated Press' intrepid Philadelphia correspondent, drew a bead on the pitcher who could one day present him with a writer's nightmare a quoteless no-hitter.
"My tape recorder is off, Steve, and my notebook is in my pocket," Bernstein said through his broadest smile. "I just thought we could talk informally about, you know, about what's i been bothering you."
"No," Carlton replied politely but firmly. "Policy is policy."
His choice of words suggests his stance is a business decision, nothing more, nothing less. "Lefty doesn't want any distractions" says catcher Bob Boone. "The only thing he thinks should matter to anybody is what he does between the lines. The rest of his life is private. It's not a vendetta or anything like that." It is just the way he is – a man of unshakable convictions.
After eight seasons of studying him in various stages of withdrawal, even the reporters who cover the Phillies have come to respect Carlton, if not to love him. "I think he's a great pitcher and a horsefeathers guy," says Bill Conlin, who cuts a Falstaffian figure in behalf of the Philadelphia Daily News. "But I'll tell you what: He's the best of the non-talkers. He does absolutely nothing to intimidate you." There are no attempts to keep teammates from talking to writers, no playing one writer off against another, no murderous glares across the clubhouse. Oh, Carlton may do an interview with an old teammate turned broadcaster – say, Mike Shannon in St Louis or Tim McCarver in Philadelphia – but that is the extent of his participation in the media. A newspaper column, in other words, is out.
"Lefty," says McCarver, "won't settle for the routine."
When he signs autographs, he signs them for everybody. When he was getting ready to travel through France, he learned the language by listening to Berlitz tapes until his ears were ready to fall off. And when he decided he was fed up with baring his soul in public, he shut up so forcefully that now Mount Rushmore seems talkative in comparison.
Silence really isn't Carlton's style, either. Indeed, he earned a reputation as a first-rate interview in 1972 after the Cardinals traded him to the Phillies, and he proceeded to win 27 games and his first Cy Young Award. "He was spending a lot of time studying Oriental mysticism then," Conlin says, "and he told several people, including myself, some of his innermost secrets." The next year, Carlton wished he hadn't been so friendly. Cursed by 20 losses and a marked disdain for conditioning, he found himself reading stories that suggested he should pay less attention to mystics and more attention to sit-ups. "I guess he thought I betrayed him," says Conlin. "I thought I was doing my job."
As far as the sporting press was concerned, Carlton's emotions were unmistakable. He wanted nothing to do with men and women who could only take bis mind off the winning of ballgames. So it came to pass that his last printed interview appeared on July 5, 1979, after he had thrown a one-hitter at the Mets. In it be talked to Stan Hochman of the Philadelphia Daily News about wine, pitching and a run-in with Danny Ozark, who was then the Phillies manager. A New York writer got wind of the story, reworded a few quotes and wound up with what was essentially a fairy tale.
"See?" Carlton said the next time he saw the equally dismayed Hochman. "That's why I don't talk to writers."
There is no comeback for something like that of course. There is only a sad appreciation of how policy becomes policy.
(John Schulian is a columnist for the Chicago Sim-Times.)