Camden Courier-Post - July 28, 1980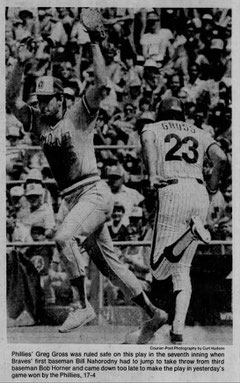 Phils win in rare romp
By Rusty Pray of the Courier-Post
PHILADELPHIA – Lonnie Smith, a man not usually given to displays of power, caught a hanging curveball and sent it careening off the black backdrop beyond the left field wall in Veterans Stadium.
That leadoff home run in the first inning, coming off an unfortunate Rick Matula, heralded the wildest offensive show by any team in the 10-year history of the Vet. By the time the onslaught ended, the Phillies had 21 hits and nearly as many runs in a 17-4 shellacking of the Atlanta Braves.
Not since the Phils' impossible 23-22 victory over the Cubs in May of 1979 at Wrigley Field has the club enjoyed such a productive day. The Phils' run total is a National League high this year and both the hit and run totals are Vet records.
AS 35,249 FANS looked on in astonishment, the Phils used a five-run second to take an 8-3 lead that, obviously, was never threatened. The Phils fattened the score with two in the fourth and seven more in the seventh and eighth to treat Philadelphia fans to the most potent display of hitting since Aug. 3, 1969, when the Phils lost, 19-17, to the Reds in old Connie Mack Stadium.
"Today's game turned into a freak game after awhile because everything we hit was a basehit or everything we hit had eyes," said Manager Dallas Green, who wasn't really complaining. "Those games are fun offensively, but they're not much fun if you're the team on the field."
True, the Braves were not having what you would call a good time. Matula, who – believe it or not – had a 2.30 earned run average a little more than a month ago, faced 13 batters and got only four of them out. He left in the second after giving up eight hits and being charged with eight earned runs, making his ERA for the game a hefty 54.00. In his last three starts, the beleaguered righthander has lasted a total of 3 innings, allowing 23 hits and 19 earned runs for a – you guessed it – 42.75 ERA.
But it wasn't all the fault of Matula and the three courageous relievers who followed him. The Braves, notably third baseman Bob Horner (two errors) and shortstop Larvell Blanks (one error), played the AstroTurf infield as if it were a minefield, stepping out of the way of ground balls whenever possible.
PRESTON HANNA, who hit both Manny Trillo and Larry Bowa in the head with pitches (neither was hurt seriously), could only shrug as he boarded a stadium elevator after the game. "It's the turf," he said. "Everything takes a high bounce or a funny hop. I was wishing they'd (the Phillies) hit something hard."
Hanna, who had the misfortune of relieving Matula during a second inning in which the Phils sent 10 men to the plate, had his wish quickly fulfilled, Garry Maddox tripling to right with the bases loaded on Hanna's first pitch.
Maddox, who singled home a run during a three-run first, added a sacrifice fly in the seventh to drive in five runs – his most productive RBI day of the season. The two hits raised Maddox' average – which hasn't been something to talk about this season – to .269.
"He got off to such a bad start," said Green. "When you get a lot of at bats like he did it's difficult to raise your average. But Garry has, and I wouldn't be surprised if he raises it some more. I wouldn't be surprised if he's hitting .280, .290 by the end of the season."
"THIS HAS BEEN my best stretch," said Maddox. "I've been more consistent, but it's still not satisfactory. I've been trying new stances almost every day up there to try to find something comfortable. I won't sacrifice my year with a stance that isn't working."
Inevitably, the question of pressure – real or imagined – surrounding the Phillies arose.
"My main concern," said Maddox, "is trying to play. I have some playing to do. I have to do everything right I can do right. Then, if I have time, I'll look for excuses. Until I get myself right, I can't sit back and put the blame on somebody else."
The beneficiary of all this offense was none other than Steve Carlton, who raised his record to 16-5 by pitching seven four-hit innings. Carlton's only trying time came in the second, when the Braves tied the score – yes, this game was actually tied – 3-3, on two walks, a balk, an error in left by Smith and an RBI double by Bill Nahorodny.
SO THE PHILLIES finished the first portion of their 13-game homestand with a flourish. They took three of four from Atlanta and made up a game on the Pirates in the National League Eastern Division standings.
Now, maybe they'll be able to find a way to recycle some of yesterday's offense for the Houston Astros, who are sure to offer better pitching and defense than the shell-shocked Braves.
PHIL UPS – Every Phillie regular had at least one hit except Trillo, who had to leave the game after being hit by Hanna in the fourth... Overall, 11 different Phillies had hits... Smith, Pete Rose and Larry Bowa led the way with three each... Carlton struck out eight, raising his major league-leading total to 181... Maddox' five RBIs are a high for him in a Phillies uniform... Carlton joins Baltimore's Steve Stone as major's only 16-game winners... Nino Espinosa opposes Houston's Gordon Pladson tonight
The excuse is there; will Phillies use it?
By Rusty Pray of the Courier-Post
PHILADELPHIA – Sometime today Dr. Phillip Marone was to have inserted his arthroscope into Greg Luzinski's right knee, peered inside, and determined whether or not the Phillies' slugging leftfielder will need surgery.
The doctor, who has been puzzled by the nature of the injury, figures there is a "75-80 percent" he will have to operate. Which means Luzinski and his formidible bat will be unavailable to the Phillies for up to six crucial pennant-race weeks.
"I'm not very optimistic from what the doctor has given me the last couple of days," Manager Dallas Green said after his club bombed the Atlanta Braves, 17-4, yesterday in Veterans Stadium.
It seems the Phillies, who effectively, have been without the Bull since he hurt the knee while sliding into second base during a July 5 game in St. Louis, will have to learn to get along without Luzinski's long-ball threat, without his run-producing power.
"We won't have that problem (of scoring runs) if all the guys hit," said Green. "We have guys capable of hitting the ball."
That capability was in evidence yesterday, the Phillies grinding out a stadium record 21 hits – only one a home run – and 17 runs. Naturally, the club is not going to score that many runs every day. But the blossoming of the offense pointed out that the Phillies can win as a singles-doubles team.
"It (the injury to Luzinski) is an emotional situation for the team," said centerfielder Garry Maddox, who had his best RBI day in some time by driving in five runs. "Teams can get by with good pitching and good defense. Teams have done it. You can survive. You can win without Luzinski if we get the pitching, but he's missed tremendously offensively."
The Phillies, really, have no one capable of filling the gap Luzinski's absence would create. But the club can compensate by doing all the little things – sacrificing, moving runners, taking the extra base – it should have been doing all along.
Some might go so far to say the loss of Luzinski could be a blessing in disguise; that it will force the Phillies to play the kind of "grind it out" baseball Green has been preaching about since spring training. It is a theory Green does not accept.
"When you lose someone of Bull's caliber in a dogfight of a pennant race, it's not a pleasant thought," Green said. "If I can't get them to do those things with Bull in there, I'm not doing my job. So I don't know if it's any blessing in disguise by any stretch of the imagination."
Green and Luzinski have not been the best of friends ever since Luzinski likened his manager to a "Gestapo" leader. The description, one that many of Luzinski's teammates might agree with, did not go over well with Green.
In fact, between games of Friday's doubleheader with the Braves, someone asked Green if he had talked with Luzinski. "I'm not supposed to talk to him," Green retorted. "He's supposed to talk to me."
Luzinski, a man not usually given to making rash statements, dutifully met with Green prior to Saturday's game. It was a meeting Luzinski termed "no big deal," and one Green dismissed with a terse statement.
"Bull had an opportunity to give me his ideas and opinions," Green said. "I, in turn, had the opportunity to give him my viewpoints. We understand each other better."
The entire episode can be attributed to unfortunate phrasing by a frustrated ballplayer. That is not to say it should have been ignored, or that Luzinski should be excused. It was, however, merely an example of one man allowing his emotions to rule his tongue.
Like the myriad of other controversies in this dour season, it seems to be a thing of the past. Perhaps now, at last, the club can concentrate on winning instead of ignoring the press, granting interviews to drug law enforcement officials and worrying about who will be the next afflicted by injury.
After yesterday's thumping of the Braves, the Phils remained four games behind the Pirates in the National League East Division standings with fully 67 to play. Plenty of time.
The task will be to adjust to a lineup without Luzinski in as few of those remaining games as possible. The injury to Luzinski may well have presented the Phillies with a good excuse to fall out of the pennant race.
It's up to them not to use it.