Camden Courier-Post - July 29, 1980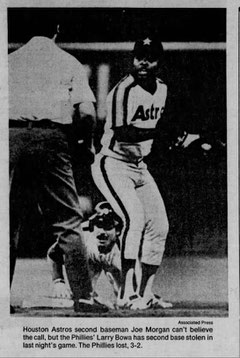 Typical Astros nip Phils, 3-2
By Rusty Pray of the Courier-Post
PHILADELPHIA – The Houston Astros are a team tailored to close games. They don't scare anybody with their lineup, but they pitch, run and, on most nights, play solid defense.
"The critics are always on our hitting," said lefthander Joe Sambito after he relieved Gordon Pladson and got credit for a 10-inning 3-2 victory over the Phillies in what can only be termed a typically Astro game. "It's not that we're hitting so bad. We're built to play in the Astrodome."
"They are," observed Phillies Manager Dallas Green, "a contact offense. They put the bat on the ball. It's tough to strike them out. They do what they have to do to win in the Dome."
HOUSTON WON an interesting, if imperfect, game outside the confines of the cavernous Astrodome before 30,181 Veterans Stadium fans last night primarily on only one of its strengths – pitching. Pladson, who went into the game with an 0-2 record after being called up from Triple-A July 14, kept the Phillies honest for eight innings. And Sambito, who hardly needs introduction, did the rest with a three-strikeout, one-hit performance.
The game was one that turned on two, nearly identical, 2-2 pitches that brought radically different results.
The first belonged to Sambito, who faced Mike Schmidt with two out and the game tied in the bottom of the ninth. It was a nasty slider that broke hard on the outside corner of the plate. Schmidt thought it was a ball. Home plate umpire Doug Harvey disagreed. Sambito had his first strikeout.
"IT WAS A slider that just got the outside corner," said Sambito. "It was a 2-2 pitch and I felt I didn't want to get anything over the plate. I wanted to just nip the corner. I thought it was a good call by Harvey."
The second belonged to Phillies reliever Ron Reed, who had pitched a perfect ninth and had two out in the 10th when he worked his 2-2 count on Jose Cruz. The pitch was a good one, close enough to be a strike. Cruz thought it was a ball, Harvey agreed, and Reed eventually walked Cruz. Three pitches later, Cesar Cedeno tripled into the right-field corner to win the game.
"You don't want to walk this team, but he (Cruz) was struck out, if you really want to know about it," groused Green. "But we didn't get the call... again. The pitch to Cruz was as good as the pitch to Schmitty. I didn't think it was much of a strike, but it was called a strike and the other one wasn't."
Actually, the Astros went out of their way to make sure their pitchers didn't have it too easy.
THE TWO RUNS the Phillies got tonight were just mistakes," said Sambito, who now has figured in 16 (six wins, 10 saves) of the Astros' 56 victories. "Both could've been avoided."
Pladson, who zipped through the Phillies order, allowing only a two-out triple by Manny Trillo in the first three innings, made the intitial error by walking Pete Rose to open the fourth. Bake McBride followed by lifting an eminently catchable ball to right center. Rightfielder Dave Bergman and Cedeno forgot to talk to each other and the ball dropped on the warning track for a double.
Garry Maddox, who must fill the RBI void left by the absence of Greg Luzinski, who underwent knee surgery yesterday, followed an out later with a ground ball to shortstop. It wasn't a pretty RBI, but it served the valuable purpose of tying the score, 1-1.
Larry Bowa got the Phils a 2-1 lead in the fifth by singling, stealing second, tagging and going to third on a fly ball and scoring on a botched suicide squeeze play.
PITCHER NINO Espinosa, who kept it close for 6⅓ innings, fouled off a suicide bunt attempt on Pladson's first pitch. The Astros pitched out the second time with Bowa holding. Pladson's third pitch to Espinosa, this time with Bowa charging toward the plate, was inside. Espinosa missed it and Bowa was caught in a rundown.
Bowa managed to stay alive, retreating once toward third, then going to the plate and sliding around Pladson's inert tag. Bowa missed the plate on his first pass, but alertly flopped on it for the Phils first steal of home this season.
"I knew I missed him," said Pladson. "But I didn't think Harvey knew it."
Espinosa, after Craig Reynolds tripled and Cruz singled to give Houston a 1-0 edge in the second, retired 11 in succession before walking catcher Alan Ashby to open the seventh. An out later, Bergman singled off the right field wall and Green brought Tug McGraw in to pitch to pinchhitter Art Howe.
Howe singled on McGraw's second pitch, tying the game and setting the stage for what would end as the Phils' ninth loss in their last 15 games.
PHIL UPS - Triple was Trillo's sixth of the season, a career high... Houston is 21-17 in one-run games, Phillies 16-20... Bake McBride, who had two of the Phils' five hits, has hit in 17 of last 18 games... Catcher Bob Boone threw out two of three Houston base stealers, the last coming in the 10th just before Cruz' walk... Randy Lerch goes against Joaquin Andujar tonight.
Nino Espinosa meets challenge on the hill
By Ray W. Kelly of the Courier-Post
PHILADELPHIA – It was still an hour to game time when Nino Espinosa draped his arm around his Phillies' teammate Ramon Aviles and wished both he and his wife a happy ninth wedding anniversary.
"I'll pitch a good game tonight. And, that will be my gift to you," said the bushy-haired righthander.
Aviles did not go home with the promised victory. But, he did not feel the slightest bit cheated. For, when Nino walked off the mound after 6⅓ innings, the Phils were beating the Houston Astros, 2-1, the result of a performance that had more courage and pitching savvy than anyone had a right to expect.
"He's a battler... a gamer... a guy who knows how to pitch and not beat himself," said Phils manager Dallas Green.
It was true. And, it was also ironic. Because 1980 will be the season that Espinosa will always remember as the time his intestinal fortitude was questioned, a time when no one really came out and said he lacked the guts to pitch with pain. Yet, you could almost smell the accusation in the air.
A man of immense pride and constant good will, the native of the Dominican Republic had bristled the day he saw the bold, ugly letters in the newspaper headline. It's message – "Pitch or Quit."
Second baseman Manny Trillo could only shake his head in sadness when he thought of the day those words and the inference they carried with them hit Espinosa like a runaway truck.
"You must understand," said Trillo. "Things are sometimes different for a player in the major leagues who comes from Latin America. It is difficult because there is always a feeling..."
He didn't finish the sentence. There was no need. Traditionally, only the most talented of Latin athletes were able to break into the big leagues. To falter was to be replaced. When it came down to a tossup between some homespun bonus baby and a guy from a foreign country, it was no contest at all.
In fact, a famous manager once went so far as to publically infer that Latin players were lazy and prone to hypochondria. He kept right on managing. Small wonder some people are sensitive to the way they are viewed and treated.
"Such things may not be true about certain teams" said Manny. "I don't believe it is the case with the Phillies. Still, it is something all Latin players live with. They are very sensitive about losing their place here in the majors."
There was a suspicion among several Spanish speaking players a few years ago that Danny Ozark had a tendency to stereotype them. Which might explain some of the doubletakes that occurred when Green talked about Nino's arm problems.
"At the time, all I was talking about was making a roster change while he got his arm back in shape," recalled Dallas. "That whole other thing... that pitch or quit business... was the product of a headline in a newspaper that has hurt more guys on this team with headlines than you can imagine. Not stories, headlines.
"Nino asked me about it. I told him what I said. I told him how I respected him. I've seen him do too much on the mound for me to feel any other way."
The reason Espinosa's arm began to ache in the first place is because he put the Phillies ahead of himself in 1979 and worked too hard too often. Too many people forget that.
Now, even though he's still working to regain his old form, Nino sees each trip to the mound as a chance to prove to anyone and everyone how much heart he has.
"The man came back this season, not against a team like Atlanta, but against the St. Louis Cardinals," said Trillo. "That is pride and guts. He is out there showing people what kind of pitcher he is... and, what kind of a man."
Aviles agreed. "There are some guys on this team who are a lot healthier and don't pitch as well as Nino does," he said. "He wants to win so bad. That is why I was hollering my brains out for him tonight. I prayed that I would get a chance to pinch hit and win the game for him."
Around the clubhouse, Nino Espinosa doesn't smile or talk much these days. At least not when the press is around. All he does is endure the pain and count the days until he gets yet another opportunity to walk onto the field and prove that courage isn't something you will ever find on a map.
Surgery on right knee idles Bull
By Rusty Pray of the Courier-Post
PHILADELPHIA – Phillies left fielder Greg Luzinski yesterday underwent surgery on his right knee at Methodist Hospital. Team physician Dr. Phillip Marone performed the two-hour operation to remove multiple loose cartilagenous bodies and a small portion of cartilage from the knee.
Luzinski, who was to have been discharged from the hospital by today, will be lost to the Phillies for approximately three to four more weeks. He will be on crutches, although the knee was not put in a cast.
Luzinski injured the knee while sliding into second base during a July 5 game in St. Louis. He has been on the disabled list since July 8, when Marone first drained fluid from Luzinski's knee.
Marone examined the knee Friday after Luzinski went through a workout and found it swollen. After again examining the knee on Saturday, Marone decided to have an arthroscope examination and surgery yesterday morning.