Corpus Christi Times - July 29, 1980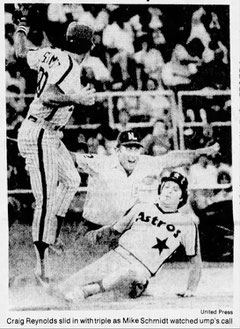 Rookie hurler covers up Astros mistakes
PHILADELPHIA (AP) – The Houston Astros live by making the fundamental plays. They almost died Monday night by cutting their lifeline.
The Astros, National League Western Division leaders, beat the Philadelphia Phillies 3-2 on Cesar Cedeno's two-out 10th-inning triple following a walk to Jose Cruz.
The winning blow came off reliever Ron Reed (6-4), and made a winner of reliever Joe Sambito (6-1).
The Astros never will win a division title with this team by knocking down any fences. They win on pitching defense and speed.
They almost left these attributes at home Monday night. Fortunately for the Astros, the Phillies' couldn't hit rookie Gordy Pladson, a customary thing when they see a new pitching face.
Pladson allowed just four hits in the eight innings he worked. Sambito replaced him in the ninth after Houston pinch hit for their starter.
Sambito gave up one hit, struck out three and walked off with the victory.
Houston manager Bill Virdon said that in his mind he gave the triumph to the rookie pitcher, who was recalled from Tacoma of the Pacific Coast league July 14.
"He pitched very well, better than that," said Virdon. "He threw strikes. He got his slider over. He's a good strong kid."
The Astros took a 1-0 lead in the third inning on a triple by light hitting Craig Reynolds, and Cruz' single.
The Phillies tied it in the fourth with the help of Houston's second of three crucial mistakes.
Pete Rose walked, and Bake McBride lofted a fly to right-center. Cedeno in center and Dave Bergman in right charged after the ball, but both stopped and it fell for a double. Rose advanced to third and eventually scored.
Cedeno said it was Bergman's, ball but since the right fielder hadn't played much this year, he (Cedeno) would take the blame for a ball that should have been caught.
"I heard Cesar yelling but I thought he was calling me off," Bergman said. "He was telling me I had plenty of room."
Houston's first mistake was on offense. They loaded the bases in the third, and Joe Morgan should have scored on a line drive out to center. But Morgan ran halfway home and couldn't get back in time to tag up.
Morgan said he thought the ball would fall safely and that he might be tossed out at the plate if he didn't get a jump.
Houston's third mistake came in the fifth and gave the Phillies a 2-1 lead. Larry Bowa was trapped when Phillies' pitcher Nino Espinosa missed a squeeze bunt attempt. Instead of running Bowa back toward third, the Astros allowed him to advance toward the plate and he slid home.
Bowa actually didn't touch the plate and had to lean back and get a piece of it with his hand, before being called safe.
Elsewhere around the league last night:
It finally happened. San Diego's loquacious manager, Jerry Coleman, was lost for words. Still, it seemed understandable after the bizarre double play the Chicago Cubs pulled off against his Padres.
It came in the 10th inning of a game eventually won 4-2 by San Diego Monday night. The bases were full of Padres when Dave Winfield tapped to Chicago third baseman Mick Kelleher.
Kelleher stepped on third to force Gene Richards and had a double play on his mind when he threw to catcher Tim Blackwell in an effort to get Dave Cash at home.
That's where things got muddled. When Kelleher stepped on third, he eliminated possible force plays at any other base but the plate. That rule seemingly escaped the memory of Cash, who simply stopped running when Kelleher's throw reached Blackwell at the plate.
Cash, assuming he was out, headed across the diamond toward the San Diego dugout and ended up being out for running out of the basepath.
"When you threw it tq me, I figured you didn't touch third," said Blackwell to Kelleher, citing one possible explanation.
"I didn't see the play. I just saw him throw home and assumed I was out," said Cash.
"It was a crazy play I've never seen it before," said Coleman, who then was asked if he said anything to Cash.
"I said nothing," said Coleman, who usually has something to say to everyone about everything. "What can you say?"
Coleman argued Cash would not have run out of the baseline if the umpire hadn't incorrectly signaled he was out. The Padres however did not file an official protest of the game.
In the other National League games, the Cincinnati Reds beat the Montreal Expos 3-2 in the opener before losing the nightcap of their twi-nighter 5-4, the Houston Astros edged the Philadelphia-Phillies 3-2 in 10 innings, the Atlanta Braves beat the New York Mets 6-3 and the Pittsburgh Pirates topped the Los' Angeles Dodgers 6-4.
Dale Murphy had three hits, including a seventh-inning homer, while Gary Matthews had three hits, including a two-run single in the fifth to back Doyle-Alexander's seven-hit pitching and carry Atlanta over New York.
Ed Ott hit two home runs to power-Pittsburgh's 13th victory in 16 games. Ott's long ball display gave the Pirates' Rick Rhoden his second victory in three decisions this season; both have come over his former Los Angeles teammates and both have come in the last two weeks.
The loss for Bob Welch, 9-6, was his fourth in five decisions