Camden Courier-Post - June 20, 1980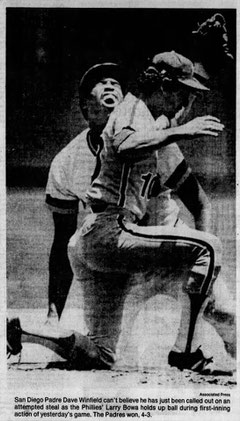 Bunt failure kills Phils' hope in loss
By Hal Bodley, Gannett News Service
SAN DIEGO – Bake McBride had already delivered a game-tying three-run homer, and now all he was asked to do was bunt.
Just one little bunt. That's all Dallas Green was asking for in the seventh inning during yesterday's sleepy matinee at San Diego Stadium.
But McBride couldn't deliver. He struck out, opening the gates for the Padres and Rollie Fingers to choke off the Phillies and stalk to a not-so-beautiful 4-3 victory.
THE JARRING setback, the script for which was written when rookie pitcher Bob Walk never did settle down in less than three innings of work, ending the Phils' six-game winning streak.
The Phillies, however, jetted upstate to San Francisco convinced this is one they should not have let the opposition take.
Dave Winfield's two-run single in the first inning put the Padres on top and they added another run in the third on Winfield's sacrifice fly off reliever Lerrin LaGrow.
LeGrow was summoned after Walk let the Padres put runners on first and third with one out.
IN THE fifth, McBride crushed his fourth homer, a shot to right field off reliever Dennis Kinney.
"I have said all season I like the way this team keeps coming back," said Green. "I was certain when Bake hit that one out we were going to take 'em."
Even after the Padres went ahead 4-3 in the sixth, the manager's thoughts were on target when Kinney walked Ramon Aviles and Pete Rose was safe on shortstop Ozzie Smith's error to start the seventh.
Up came McBride.
"ALL I wanted was a bunt," said Green. "We have Schmitty and the Bull coming up and a well-executed bunt would have put runners on second and third. I like that."
McBride looked at a called first strike, fouled off a second pitch attempting to bunt and struck out with a full swing.
As he slowly returned to the dugout, San Diego Manager Jerry Coleman waved in bullpen ace Fingers.
Fingers immediately threw a wild pitch to Mike Schmidt, and when the I count went 3-1, it was decided to intentionally pass the home-run leader and pitch to Luzinski.
THE BULL fanned and Bob Boone lofted a weak fly to left.
"We had them by the jugular and let them get away," said Green. "If Bake executes the bunt, it's a tie ball game because of the wild pitch. When you can't do little things like that you get burned sometimes. Today was one of those days. Fingers has an outstanding slider. He has gotten a lot of batters out with it over the years."
"I don't known what a fastball looks like," said Luzinski, who also fanned when Fingers punched out the side in the ninth. "I knew he wasn't going to let me beat him. He moved the ball in and out on me, mostly breaking stuff. He kept that slider away, I have to go for it. The only fastball he threw me was up around my eyes. I have seen him pitch better, but today he did a fine job. He didn't want me to beat him and came after me. You have to give him some credit.
"IT STARTED in Los Angeles," he said. "The pitchers are nibbling at the corners and it's difficult to stay in a good groove. You try to be too aggressive and get in trouble. You can't do that."
Green, whose bullpen has been doing an outstanding job, was disappointed Walk did not do a better job.
"When he was warming up, Herm Starrette (pitching coach) was concerned," said Green. "He felt like Walk didn't know what he was doing. Then, when he got in the game he was nervous. I know a lot of his family and friends were in the ballpark, but he has to get over that. I didn't like the way he was throwing from the beginning."
AFTER THE rookie right-hander was replaced, the bullpen did another outstanding job.
Only Kevin Saucier, who was tagged with his first loss after three victories, was scored upon.
That came in the sixth when Tim Flannery's flare hit dropped over Larry Bowa's shoulder in front of center fielder Garry Maddox, allowing Willie Montanez to score all the way from first base.
PHIL UPS – Rose extended his hitting streak to seven games with a single in the eighth... The Phils left immediately after the game for San Francisco, where they open a three-game set with the Giants tonight (10:35, Channel 17), Dan Larson against Allen Ripley.