Philadelphia Daily News - June 20, 1980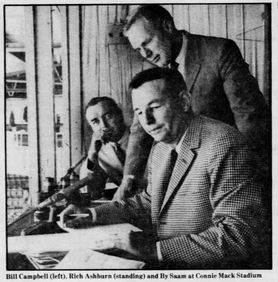 Campbell's Stats:  1 Title, 1,000 Memories
By Gene Quinn
Bill Campbell was at the microphone when the Eagles beat the Packers for the 1960 NFL Championship. A guy broadcasts games of Philly teams for 39 years and he's entitled to one championship. Right?
Right. But the rest of Bill Campbell's log as a sportscaster reads like the casualty list from The Last Days of Pompeii.
Here are some of Campbell's most memorable moments in – and out of – the booth:
•  Father's Day, 1964. Jim Bunning. falling off Shea Stadium's mound with each delivery, pitches a perfect game against the New York Mets. By Saam calls the play on TV. Rich Ashburn on radio. Campbell is back in Philadelphia because of a death in the family.
•  September, 1964.  For nearly an entire season. Gene Mauch has patched together a streaking Phillies club with rubber bands and chewing gum. Snap. A rubber band breaks as hot-hitting Frank Thomas is injured. The chewing gum goes stale as the arms of Bunning and Chris Short aren't strong anymore. Campbell describes each agonizing loss in a 10-game winless streak the last two weeks of the season. He cries with a city as the Phillies blow a pennant.
•  Fall, winter and spring of 1972-73. The seasons change but the 76ers don't. They stink. The laughingstock of a league and the sports world, they finish the year 9-73. Campbell sits at the mike every game – and hates every minute of it.
THE RECORD BOOKS of this town's teams show Bill Campbell was part of but one championship during an on-the-air career that began in scholastic ballyards in 1941 and ended this week when he took an office job with the Sixers. In his office at Vet Stadium yesterday, he wished he could relive more victory parades than crying sessions. He leaves broadcasting (because of health reasons) on the heels of yet another near-victory – the Sixers' loss to the Lakers in the NBA Championship series. But he says he's not a loser.
"Oh yeah, I've been second-guessing myself ever since I made the decision," said Campbell, who has yielded the mike to Matt Guokas and become director of broadcasting for the Sixers. "But I'll be 57 in December and I have two grandchildren, and I don't want to miss that. My wife had put up with this crap for so many years and never once complained. The only time she's ever said anything to me was the day we made the decision. She was thrilled.
"All I ever wanted to do was broadcast major-league sports in Philadelphia and I've achieved that. I don't regret anything. I wish I could keep doing it."
Campbell's first job in the business was broadcasting high school games for WTEL radio in Philadelphia in 1941. He worked minor-league baseball in Lancaster for WGAL radio. After a stint at WFBG in Atlantic City in 1942 and four years in the military. Campbell joined WIP radio for a summer, "doing relief work for John Facenda, Bob Horn, Howard Jones."
IN OCTOBER OF 1946, he moved to WCAU and fell in love with pro football, covering the Eagles for 16 years.  At WCAU Campbell worked with Bill Bransome, Tom Brookshier, Bill Sears and Jack McKinney. "I hired Brookie when he was still playing for the Eagles," said Campbell. "We did a show Monday nights reviewing Sunday's game."
"I went to the Phillies in 1963." he said, "but I did the Phillies and Eagles until 1966. I can remember doing a Phils game in Dodger Stadium Saturday night catching the red-eye to Philly for an Eagles game Sunday and back to California that night."
He continued with the Phillies through 1970, departing for the Sixers when the team moved to the Vet and imported Harry Kalas. Some say the wound Campbell suffered from that blow has yet to heal.
Campbell cannot conceal his affection for pro football, and the championship of which he was a part is no doubt one of the reasons.
"That 1960 team stands out in my mind as a team that worked harder to get the most of what they had than any other team I've been around. The big advantage I had, the guy who helped me learn most about pro football, was Norm Van Brocklin.
"We did a TV show together. We'd put the plays on the screen and I would do a voice-over. When I missed a play. Van Brocklin would jump all over me. It got to the point where I could tell what play he would call at the line of scrimmage.
"THE OTHER PERSON who helped me was Bert Bell. He was commissioner then, but he lived in Philly. He would let you know you did a good job or jump all over you. You didn't like it at the time. but now you appreciate it.
"I really enjoyed football broadcasting more than anything else I've ever done. It's the most difficult of all sports to describe accurately, but it's the most enjoyable."
And the Great Collapse of the '64 Phils was among Campbell's less enjoyable experiences.
"In some ways you could see it coming," he said. "And not just what everybody said about the way Mauch handled the pitching. Jim Konstanty was in something like 74 games, and it seemed like every time he came in he threw a double-play ball.
"During the 10-game losing streak, the payoff came when Johnny Callison hit three homers in one game against the Milwaukee Braves and we still lost. And losing Frank Thomas – when nobody could get him out – was a big blow."
Campbell remembers "The Little General" – Gene Mauch – a master tactician.
"Like everybody, when you get to broadcast the major leagues, you think you know everything about the game. But Gene taught me so much. Just being around him, in bull sessions, I learned so much. Little things, like hitting behind the runner to advance him.
"But Gene was not an easy guy to get close to. He was a little bit aloof. A lot of people thought he was a hot dog, very opinionated, very blunt, rubbed people the wrong way. But hell, so did Van Brocklin and I love the guy."
CAMPBELL, TRAINER Al Domenico, publicist Harvey Pollack, staffer Joan Kadlec and board member Irv Kosloff are the only members of the Sixers family left from the dismal 1972-73 season.
"That season was a lot like the last two weeks of the Phillies' "64 season," said Campbell. "Only it lasted four months.
"It was the only time in broadcasting that I really hated to go to games. Those guys really tried, but you knew they didn't have a chance. The remarkable thing wasn't that they lost 73 games, but that they won nine games. I don't know how they won that many.
"Matt Guokas. who was playing for Kansas City then, tells me how nobody wanted to be a member of the team that lost to the Sixers. It was the epitome of embarrassment. I remember we won our first game in Houston after losing our first 15. Don DeJardin was the general manager then and we threw a party."
Campbell came close to enjoying a championship with the Sixers in 1976. That was the ship that had so much talent – Julius Erving and George McGinnis – it sank under its own weight. Under Coach Gene Shue, the favored Sixers lost to Portland.
"This team is much better organized," said Campbell. "Billy (Cunningham) has really developed in three years as coach. The practices are better, there's a concerted effort to get coachable players, and the attitude is 100 percent better – even with the guys who didn't play.
"I THOUGHT ATLANTA would be a seven-game series and we blew 'em out. I thought Boston would be a seven-game series and we beat 'em in five. In the finals, the Lakers did a helluva job. Magic Johnson was just incredible."
Asked to number some of the greatest athletes he has seen, Campbell did not hesitate.
"Sandy Koufax has to be the best pitcher I've ever seen. I broadcast two no-hitters he pitched. The guy who was the best competitor is Jim Bunning.
"The most naturally gifted player I've ever been around is Richie Allen. He was strong, quick and ran the bases well. It's a shame he didn't use all his talents."
Campbell gets a twinkle in his eye when he talks about the Doctor.
"This is an era when relations with the press are bad," he said. "But Erving, besides being a great player, is the most cooperative, most reasonable, most compassionate superstar I've ever been around. A guy of his celebrity could be a first-class pain in the butt. But he's not. That's not commonplace in this business.
"When he came here the first thing I thought was, 'Just what we need, another superstar.' I couldn't have been more wrong.
"Erving has to be one the most exciting players I've ever seen. But another one who made things happen was Tommy McDonald (Eagles receiver).
"VAN BROCKLIN IS one of the greats, too. He made Pete Retzlaff. Retzlaff was a castoff fullback. We got Retzlaff from the Detroit Lions for 100 bucks. Van Brocklin was the first guy to recognize he could catch the ball."
You may see Campbell on an occasional PRISM cablecast, hear him once in a while on radio at home games. But for the most part – by his own choosing, he says – he's an office worker now.
"I've always done this (business end) by the seat of my pants," said Campbell. "Now I have time to do it right. But I'm going to miss broadcasting."
It's a shame he couldn't enjoy more championships.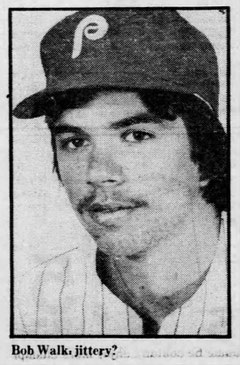 Padres Put Phillies To Sleep
By Bill Conlin
SAN DIEGO – Juan Eichelberger set the tempo, which was slow, stop and snore. It is not the best pace for the Phillies, who were lulled half to sleep by their own rookie righthander, Bob Walk.
When they woke up three hours after Eichelberger hypnotized them with his Statue of Liberty imitation and a live fastball, Rollie Fingers was striking out the side in the ninth to preserve a 4-3 victory which snapped the Phillies' winning streak at six games.
Eichelberger was called to the mainland from Hawaii when Randy Jones was placed on the 15-day disabled list. He sounds like a guy who would ask not to pitch on Yom Kippur and Cinco de Mayo for religious and patriotic reasons. But he's actually a big, strong dude from St. Louis. Nobody asked him if he's on speaking terms with the parents who named him.
ALTHOUGH HE PITCHED like an eight-day clock, Eichelberger kept the Phillies' attack shut down while the Padres chewed and nibbled three runs off Walk, who had his worst outing since being called up from the Oklahoma City Medivac program.
"I didn't like the way he threw from the beginning," Dallas Green said. "He looked nervous and jittery out there. He ought to be getting over some of that by now. I realize he had a lot of his family and friends here watching him and wanted to do good, but Herm Starrette said that even warming up he didn't know where he was."
Eichelberger allowed just two singles before Manny Trillo led off the fifth – was it only the fifth? – with a single to right. George Vukovich lined out to left and when Pete Rose walked, Jerry Coleman brought in lefthander Dennis Kinney.
Before the manager reached the bottom step of the dugout, McBride had poled a three-run homer into the right-field greenery.
That's where it stayed until the sixth, when the Padres scored the winning run with a wet-washrag attack. Jerry Turner led off the inning with a single to left. Kevin Saucier appeared to wriggle out of the jam when Manny Trillo turned a double play on Dave Winfleld. But Willie Montanez singled to center and rookie third baseman Tim Flannery lobbed a Texas League flare into no-man's land in shallow left-center.
GARRY MADDOX, WHO must play a little deeper with San Diego Stadium's cavernous center field behind him, had no chance. Larry Bowa fled into shallow left-center and the ball just ticked off his glove, rolling 15 feet past Maddox. He made a weak, off-balance throw that was cut off by Mike Schmidt. Montanez, running at the crack of the bat with two outs, would have been dead at the plate, but Schmidt couldn't get the ball out of his glove.
"It was a do-or-don't ball." Bowa said. "I got just enough glove on the ball to make it kick past Garry. Willie's dead if Schmitty gets the ball out of his glove, but he was making a real quick spin and just couldn't get a good grip."
Fingers, who has been involved in an incredible 20 games by either a decision or a save – he is 7-6 with 8 saves in just 40⅓ innings – pitched out of a bases-loaded, one-out jam in the seventh, striking out Greg Luzinski and getting Bob Boone on a fly to left. Fingers walked the tightrope again in the eighth, getting Pete Rose on a fly to center with runners on first and second.
The veteran reliever, the only success in Ray Kroc's disastrous quest for free agents, blew away McBride, Schmidt and Luzinski in the ninth.
"He was going breaking balls all the way," Luzinski said. "That's all I've seen lately. When the game's on the line, pitchers have really been finessing me. I forget what a fastball looks like and when I do get one it's a chest-high, waste pitch."
Well, it was a good run while it lasted.
"WE BATTLED LIKE hell," Green said. "They didn't exactly blow us out of the water. The guy hit the ball to a perfect place and we still almost got an out if Schmitty gets the ball out of his glove."
If it had to take three hours to score seven runs, the Phils and Padres picked a gorgeous day for it, a sun-washed afternoon that was the perfect backdrop for some copious beer-swilling by the barechested – both sexes in some instances – crowd of 16,342.
It turned out the crowd came one paper cup away from a forfeit. The fans behind first base rained steady abuse on first-base umpire Satch Davidson after several close decisions in the early innings, culminating in a thrown full cup of beer, which landed in front of Davidson in the eighth inning. Crew chief Ed Vargo asked the. PA announcer to warn the fans about further throwing of objects on the field and the guy made a tongue-in-cheek announcement which had the crew chief bellowing in anger. The next announcement was straight and threatened a forfeit if one more object was thrown on the field.
Pity. At least a forfeii would have provided the game with a hard angle but after three straight barn-burners on this trip, everybody needed a three-hour nap in the sun.
PHILUPS: Phils left after the game for a weekend series in San Francisco, where John Montefusco trade rumors have surfaced again after his bizarre punchout by Manager Dave Bristol Wednesday... Dallas Green will give the ball to righthander Dan Larson. Randy Lerch and Steve Carlton will pitch the final two games of the short West Coast trip... Dave Winfield played center for the Padres, drove in two runs and made several fine catches.
Payoff Winner Toasts McBride
By Lorenzo Biggs
As Bake McBride hammered out a home run in the top of the fifth inning of yesterday's Phils-Padres game, Joe Mareno Sr. of Upper Darby was unaware that it was the payoff inning. And, as he sat in front of his TV set watching McBride circle the bases, he thought to himself, "I wonder if that was the home run payoff inning?"
Yes it was, Joe, and you've just become $1,075' richer in the Daily New Home Run Payoff contest on McBride's three-run homer. Mareno received $1,000 for McBride's homer, plus $25 for each run batted in.
"NO KIDDING! I used to work at the Dolly Madison plant." said Mareno, now a bartender. "A friend from the plant called and told me. I was kidding that if it was me. no one from the Daily News has called."
Mareno, married and a father of four, says Mike Schmidt has always been a good third baseman and his favorite, but as he puts it, "McBride is my favorite ballplayer now. He's always been steady. If I ever see him, I'll buy him a drink."
Although Mareno thinks the Phils are doing great on their West Coast swing, he feels, in the race for the pennant, that they're still longshots. "The Phillies dont have pitching." he said, "but they have the potential. I think they have an outside chance... I like the long odds."
MARENO DOESN'T GET much of a chance to watch his team at the ballpark. "I work a lot of times on the weekend," he said. However, Mareno sends in the Home Run Payoff coupon religiously.
As for the money, Mareno will use it for a vacation. "Maybe go down to the shore. I had tickets to see Frank Sinatra," he said. "But he canceled out. When he comes back maybe I'll go down and see him. He's my man."
Other winners in the fifth inning were James J. Ferry of Philadelphia and Sandra Popick of Vineland. Each won $10, plus four tickets to a Phillies game, on singles by Manny Trillo and Mike Schmidt, respectively.
William Savage of Chester, Colleen Iannucci, R. and L. Mazur and George Maurer, all of Philadelphia, each won tickets.
So far the Daily News has paid out $6,400.
Today's entry coupon appears on Page 93.