Oakland Tribune - June 22, 1980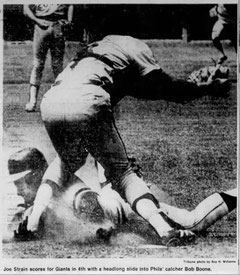 Giants rout Phils with Clark's help
By Ed Schoenfeld, Tribune Staff Writer
Red-hot hitting Jack Clark reached into his locker and pulled out a green and yellow batting glove... an old Oakland As glove.
"Billy North gave it to me," Clark said. "Maybe it still has some of that old A's World Series magic in it.
"It's not the most comfortable glove, and it's not our colors. But, Ive been wearing it the past few weeks, and I'm sticking with it."
Clark continued to rip the ball Saturday as he collected two more doubles while the San Francisco Giants won their fourth straight game in routing the Philadelphia Phillies, 9-3, at Candlestick Park.
The rightfielder is on a tear – 11 hits in 18 at-bats in the past four games – and so are the Giants, who have won nine of their last 12 games.
Saturday's victory gave the Giants a better record than the A's for the first time this season. They're 30-35, compared to Oaklands 30-36.
It's far from being a one-man Jack Clark show, however.
Joe Strain, who is filling in for the injured Rennie Stennett, got three hits, including two doubles, and drove in two runs Saturday. Darrell Evans chipped in with three RBI.
And, Ed Whitson allowed only seven hits and struck out five for his third straight win. It was the fourth complete game, for the righthander, who is now 5-7.
"Runs. That's it," Whitson said about the Giants' surge. Our guys have been throwing good all year, Now we're getting some runs. That's the name of the game.
"I'm looking forward to watching Vida Blue go against Steve Carlton Sunday. If we hit Carlton, then we'll know we've got all the momentum going..."
The Giants and Phillies were tied at 2-2 when after two were out in the fifth inning Clark doubled to launch a three-run, four-hit uprising. His first double was in the second inning.
Strain got his second double in the eighth when the Giants jumped on reliever Ron Reed for four runs and four hits.
Greg Gross had a double and two singles in his first three at-bats, and he came up in the eighth with Phillies on second and third. Manager Dave Bristol decided to stick with Whitson. "If I'd gone to a lefthander," he explained, "they'd have pinch hit with Greg Luzinskl. I'd rather have Ed throw to Gross."
"Gross had been hitting fastballs," Whitson said. "So I decided to go power against power and I threw him a fastball."
Gross flied out to end the threat.
"I could throw him (Strain) some bouquets," Bristol said. "They're calling him Wally Pipp on the bench."
Strain remarked, Winning solves a lot of problems, doesn't it? No more second guessing or guys blaming anybody."
"I think we've got away from a lot of the negative atmosphere," Clark added. "Now were trying to think positive."
Strain is looking for answers. One big one in particular.
"I've got to find out how good I can be... if I'm an everyday player," he said. "In my opinion I am. I've just got to work as hard as I can to be ready."
Clark isn't really giving that old A's batting glove all the credit for the way hes hitting.
"Basically," Jack explained, "I'm not worrying about hitting home runs. I'm a better hitter now with two strikes.
"Because I'm not really thinking homers I stay on the ball better. I'm letting my hands do the work instead of my body."
The Phillies took a 1-0 lead Saturday in the second inning. But the Giants came up with single markers in the third and fourth inning to lead 2-1. After the Phillies tied it in the fifth with the aid of a Whitson wild pitch, the Giants took command with that three-run rally in the fifth to lead 5-2.
Philadelphia wasn't able to score again until the ninth when Pete Rose's double brought home Lonnie Smith, a pinch hitter for Reed, who walked.