San Francisco Examiner - June 22, 1980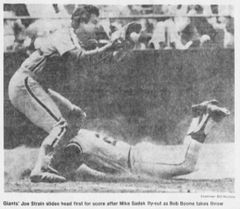 Giants win 4th straight
By Glenn Schwarz, Examiner Staff Writer
It is not like 1978 quite yet. For one thing, the Giants are in fourth place instead of first. For another, the home park stands are considerably less populated.
But these Giants lately have resembled those spirited sorts of two years ago. The pitching is consistently sharp. Jack Clark is one of the league's smoking hitters. And guys are bounding off the pines to contribute.
Yesterday the Giants maintained their ain't-we-got fun attitude with a 9-3 thrashing of the Philadelphia Phillies in plain view of 11,809 Candlestick screamers. That made it four victories in a row and nine in the last 12 games (or this revitalized bunch, who two weeks back could have auditioned for a mortuary commercial. The Giants now are five games below .500 (30-35) for the first time since May 25.
"I'm not saying we've got the Dodgers' talent," Jim Wohlford said. "But there is no reason we shouldn't play .500 or better ball. It seems we're finally pulling together."
Wohlford, as it turned out, was credited with his third game-winning RBI. This after Clark, who had the deciding hit in the three previous games, stroked his second double into the fifth inning.
Getting his third consecutive start in left field, Wohlford severed a 2-2 tie by singling home Clark. Then the club's hottest swinger behind Clark, Joe Strain, followed with his second of three hits, a two-run double off loser Randy Lerch. Neither Wohlford nor Strain may return to the bench for a while.
The Giants wrapped up their giddy afternoon with a four run eighth inning against reliever Ron Reed, giving Ed Whitson considerable margin for error in the ninth. But the Giants righthander was touched only for Pete Rose's RBI double before completing his third successive triumph, on a seven-hitter.
"What's the difference with me? Runs." said Whitson (5-7). "I've been throwing good all year, but the club is playing good now, scoring some runs and staying aggressive.
"I'm really looking forward to Blue and Carlton. If we can hit Carlton, we have a great chance to move up."
This afternoon the two-best lefthanders in the National League, 9-3 Vida Blue and 12-2 Steve Carlton, will trade nifty pitches in the most attractive matchup since Duran-Leonard. Considering the pitching the Giants have gotten the last six weeks everywhere (2.44 ERA) and all season in Candlestick (2.34 ERA), it may be one of the rare occasions when Carlton is an underdog.
"I don't like to make comparisons," Giants manager Dave Bristol said. "I just know we wanted to got our pitching staff back where it was in '78. That's what we hoped for since spring training.
"Our pitching staff wasn't all that bad early in the season. We had ragged defense and no hitting and put a burden on the pitchers. Our pitching now has been outstanding for a long time."
The Phils nicked Whitson for a second-inning run, on singles by Del Unser, Greg Gross and Manny Trillo. The Giants matched that in the third when Mike Sadek walked, Whitson sacrificed, Sadek went to third on a passed ball and home on Darrell Evans' surprise bunt single.
Strain's walk, Johnnie LeMaster's single and Sadek s sacrifice fly made it 2-1 in the fourth. But the Phils pulled even in the fifth on a strange play – catcher Sadek lost sight of Whitson's wild pitch to the backstop and Trillo scored from second.
Strain's double off the left field fence finished that three-run Giants fifth – kept alive after Clark's double by Rich Murray's infield hit. Finally, the busy Strain doubled in the eighth, was wild-pitched to third while Reed was – ready? – intentionally walking Sadek, then was singled across by Whitson. Larry Herndon's UBI pinch single (Billy North came out because of leg cramps) and Evans' two-run double concluded the Giants' scoring.
Speaking of runs, the once-impotent Giants have logged 26 during their four-game streak. How? Well, Clark has 11 hits (six for extra bases) in his last 18 at bats, and Strain is 9-for-16 and has scored seven runs since taking over for Ronnie Stennett (pulled groin muscle) at second base.
"I could throw some bouquets at him," Bristol said of Strain. "He's played well both stretches he came in for Stennett."
The bargain-basement second baseman with the .326 batting average is playing as though he, not Stennett. were the megabuck performer.
"I've got to find out how good I can be," Strain said. "I want to find out if I can be an everyday player. So far, I haven't failed.
"It's just so much more fun now that we're winning. There's no comparison to before when the pitchers were blaming the hitters and the hitters were blaming the pitchers for losing.
"I'm not worried about my average as much as helping the club win."
Something it has done five games out of six on this home stand, which winds up today. Blue vs. Carlton. And free kids T-shirts to boot.