Oakland Tribune - June 23, 1980
Schmidt settles duel between Carlton and Blue
By Nick Peters, Tribune Staff Writer
There were two letdowns at Candlestick Park Sunday: the pitching of Vida Blue and Steve Carlton along with the announcement that Willie McCovey's playing days with the Giants are dwindling down to a precious few.
A crowd of 28,185 paused for a moment when it was announced in the middle of the second inning that McCovey is retiring effective July 10. Following a standing ovation, it was back to baseball, the Giants making it a double disappointment by losing to the Philadelphia Phillies, 4-3.
The fans, in part, were lured by the prospect of a classic pitching duel between Blue and Carlton, two of baseball's most effective left-handers. Neither, however, was at the peak of his game.
Carlton, the majors most prolific winner at 13-2, nonetheless was good enough to go the distance after overcoming a three-run fourth in which the Giants drilled five of their eight hits.
Blue, now 9-4 following his second straight loss, admitted he "wasn't as dominant as I'd like to be." The Giants' ace said "he had good stuff, but my breaking ball wasn't consistent."
You wouldn't have noticed in the early innings. Bob Boone's run-scoring, double made it 1-0 in the first, but the Giants, who had won four in a row, were riding high when they roughed up Carlton in the fourth. Torrid Jack Clark lined a one-out triple off the fence in right and scored on Rich Murrays two-out double.
Successive singles by Joe Strain, Johnnie LeMaster and Mike Sadek added the final two runs for a 3-1 lead. Then Mike Schmidt, dormant In the-first five games between the clubs, suddenly came to life.
Manny Trillo's walk and Pete Roses single had runners on first and second with two outs in the fifth. Schmidt, one for 19 against the Giants, then ripped a run-scoring single to left to make it 3-2.
With Lonnie Smith on second base and one out in the seventh, Schmidt cracked a triple to the base of the fence in right for the tie and scored on Greg Luzinski's sacrifice fly for the go-ahead run.
"The Giants hadn't been giving any good pitches to hit," explained Schmidt. Today, the single was on a slider low and away, and the triple was on a sinker low and away.
Clark continued to wield a blazing bat against the Phillies. He tripled and singled in two official trips, lifting his average to .303. In six games with Philly, he's 11 for 22 (.500) with four doubles, two triples, three homers, nine runs and six RBI.
"I'm finding the gaps," said Clark. "I'm a gap hitter and I'm going good, so the hits are falling. But I'm disappointed. We had Carlton on the ropes and we couldn't put him away."
Billy North was safe on an error leading off the fifth and went to second on a wild pitch before Darrell Evans struck out. Clark was walked intentionally, but Jim Wohlford grounded out and Murray popped up.
North opened the seventh with a single, but quickly was erased on Evans' double-play grounded back to-the mound. Clark singled and raced to third when Wohlford was safe on a rare error by shortstop Larry Bowa.
Wohlford then was picked off first and, in the ensuing rundown, Clark was nailed between third and home, ending the inning.
GIANT NOTES: Bowa's error partially was caused by a bad hop. He suffered a contusion in his right thumb and had to leave the game… Mike Ivie, batting for the first time since May 28, struck out on three pitches as a pinch-batter in the ninth... The club is idle today, opening a three-game series at San Diego Tuesday night with Bob Knepper facing Eric Rasmussen... John Montefusco, who called in sick a second straight day, likely will miss his turn at San Diego, the nod going to spot-starter Allen Ripley... The Giants return to host the Dodgers per the weekend.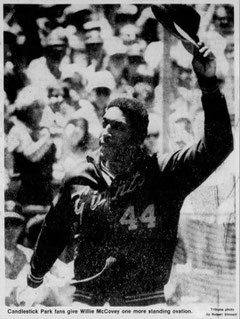 McCovey's ending 21-year career
By Nick Peters, Tribune Staff Writer
Willie McCovey, a giant among Giants, ended mounting speculation about bis future Sunday by announcing bis retirement as an active player, effective July 10.
McCovey, 42, sensitive to questions about his limited use in recent weeks, did an about-face after owner Bob Lurie made the announcement at Candlestick Park prior to the Giants game against Philadelphia.
McCovey was content to ponder his future with the club following 21 years of distinguished service. The popular first baseman will work in the Giants front office, as stipulated in the seven years remaining on his 10-year contract, signed in 1978.
Lurie, who seriously began discussing the retirement with McCovey last week, wasn't specific about the sluggers role with the club.
"We will present a few options to him," said Lurie. "For the remainder of tills season, however, Willie will probably do some public relations around the Bay Area and make some trips because some teams might want to honor him."
Lurie said the Giants will stage a Willie McCovey Day later this season. The owner met with McCovey when the team returned from New York last Monday.
"It wasn't easy for either one of us," the owner explained. "But once Willie got over the emotional shock, I asked him to think about it. He got back to me and decided this was the best thing to do."
McCovey is batting .198 with one home run in 41 games. Rookie Rich Murray became the regular first baseman two weeks ago.
"The topic has been on my mind for some time," McCovey said. "I knew in spring training : that it would be my last year. It was just a matter of time. Because of Rich Murray and his success, I felt this would be a good time.
"I've said all along that if a young phenom came along and forced me into an early retirement, I would step down. That young phenom has arrived," he said of Murray, who is batting .305.
"This isn't a sad day. I'm still a member of the club. How many guys have been able to play this long? Nobody is able to play forever."
McCovey, whose 521 homers place him in a tie with Ted Williams for eighth on the all-time list, did not face the Phillies Sunday, but he received the games only standing ovation.
The public address announcer informed the 28,185 spectators of McCoveys decision in the middle of the second inning. There was stunned silence at first, followed by a standing ovation which brought Willie out of the dugout.
"One of the highlights of my career was to be able to come back to San Francisco and have that big year (1977). I always wanted to be able to retire in a Giants' uniform and I'm glad I have that opportunity."
McCovey will suit up for the final time as a Giant at Dodger Stadium, Sunday, July 6 – the final game before the All-Star break.
"Being able to finish up in L.A. makes it fitting," McCovey said. "It has meant a great deal for me to play against the Dodgers over the years.  I don't think I'll be starting any more games, but hope to get a few swings."
McCovey, already the most prolific left-handed home run hitter in National League history, would like a crack at passing Williams, his boyhood idol.
"In a sense, it would be sad to pass Ted. Williams meant an awful lot to me when I was a young player coming up. But if that 522nd homer comes. I'll take it."
Noting that he hasn't had a summer vaoai5otv since he was 16, Stretch probably will take a few days off following his final game.
"I don't want to discuss a lot of the things I've been thinking about," he said, "because some people might think I'm after their jobs. I just want to be with the Giants and I'm looking forward to it."
McCovey said managing is "one thing I definitely wouldn't do in the future," but he did not rule out the possibility of coaching. He also plans to be in uniform next spring.
"The only thing I know for sure is that I want to work on the major league level," Stretch said.  "I'd like to go to spring training and work with the young hitters in camp."
Ironically, McCovey announced his retirement on a day when the Giants were playing the Phillies. It was against Philadelphia on July 30, 1959 that the willowy slugger made his major league debut at Seals Stadium.
Against Robin Roberts that day, Stretch hit two triples and two singles during a 7-2 victory. In his first seven games, he had 12 hits, including three homers. An overnight success.
"I remember that first game very well, but I forgot a lot that happened in between, said McCovey, who went on to earn Rookie of the Year honors in 1959, MVP in 1969 and Comeback Player of the Year in 1977.
A lot of memories.