San Francisco Examiner - June 23, 1980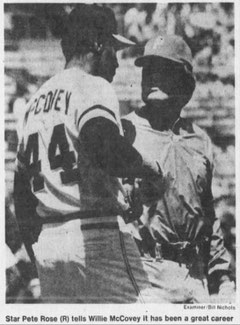 Giants' McCovey era ending
Minus Mac, they'll be 'new' club
By Glenn Schwarz
Life without Willie will be different, at the least, for the Giants.
"We'll miss his presence," Billy North said. "There's a presence that goes with being around that long, and he had it.
"What will it be like around here without Willie McCovey? That's like asking the Yankees how they felt when Mickey Mantle retired or the Cubs when Ernie Banks quit. We're talking about a guy going to the Hail of Fame.
"The man's had a great career. His accomplishments are awesome. He's not going out with 35 home runs, but he's leaving with dignity."
Similarly, if less fluently, Willie McCovey's other teammates praised him yesterday after he announced his July 10 retirement date. None of the Giants seemed shocked. They were stunned more by their first defeat in five games, 4-3, Philadelphia's Steve Carlton over the Giants' Vida Blue.
And once they ran out of superlatives for MeCovey and his illustrious career, there were Giant players looking ahead. At the most, they reasoned, life without Willie will be rewarding. For as great as McCovey was in his lengthy prime, he was not a leader in words nor action the last two seasons.
"It's the end of an era and that might be good for this team," Jack Clark said. "That era was over years ago. really, but we had guys caught up in the past when the great players like McCovey, (Willie) Mays, (Juan) Marichal and (Orlando) Cepeda were here.
"Just being here didn't make as one of them. Now we have a bunch of young guys trying to build up their own reputation. We've got a pretty good team.
"These are the new Giants, the 1980 Giants."
The late-model Giants gave a good account of themselves yesterday against the majors' top winner. They became only the second club this season to score as many as three runs in an inning off Carlton, posting a three spot in the fourth.
Then the presently peerless lefthander found his rhythm and fastball and waited for the Phils to overcome a 3-1 deficit. Which they did against Blue, Mike Schmidt singling home a run in the fifth, tripling across Lonnie Smith in the seventh and subsequently scoring the decisive run on Greg Luzinski's sacrifice fly.
So Carlton (13-2) left town with his winning streak (eight games) and no-print-interviews reputation intact.
"A three-run inning against him is tremendous," said the smoking Clark (.302), who kicked it off with a triple. "But he's the type of pitcher that when you get on the ropes, you've got to get him out."
The Giants gpt themselves out in the seventh inning, the only inning after the fourth in which they hit safely. North led off with a single, but Darrell Evans botched a bunt and rapped into a double play. A first-and-third setup on Clark's single and Larry Bowa's booting of Jim Wohlford's grounder was wasted, too. Wohlford was picked off by Carlton and while he got into a rundown, Clark was trapped between third and home and tagged out.
"It was a delayed steal and I got too jumpy and got out too far," Wohlford said. "It was my fault more than Carlton's move."
Blue (9-4) blamed the absence of a reliable breaking pitch for his second consecutive loss. During his seven-win jag, Vida made effective use of a slider dropping down and in to right-handed hitters. Unable to spot it yesterday, he pitched the Phils away and they adjusted; in the seventh, five batters poked the ball to right field.
When asked his reaction to McCovey's upcoming retirement, Blue said:
"It was surprising to me. I thought he'd play out the year. But when it appeared we would go with a youth movement – who knows, I may be next."
The kidding aside, Vida said some complimentary things about the retiree-to-be and then toddled off to discuss his schedule with Dave Bristol. Earlier, when the manager finished lauding McCovey, Bristol reflected on a 5-2 homestand.
"We should be very proud of the way we played." he said. "A lot of people right now are playing to the maximum of their ability. It's gratifying to see."
NOTES: Black-eyed John Montefusco stayed home with the flu the last two days. Upshot: he won't pitch in San Dieqo. Bristol said he would throw Blue Friday night against the Dodgers here and, tentatively, Montefusco Saturday. Pitchers for the Padres series: Bob Knepper-Eric Rasmussen tomorrow night, Allen Ripley-Juan Eichelberger Wednesday night, Ed Whitson-Steve Mura Thursday night... McCovey's high compliment to Murray in his retirement remarks did not seem to flatter the taciturn rookie... If Mike Ivie felt slighted by McCovey, he kept it to himself. Said the man who hit 27 homers and drove in 69 runs last year, "I want to slay away from controversy. He (McCovey) had a super career and I wish him well."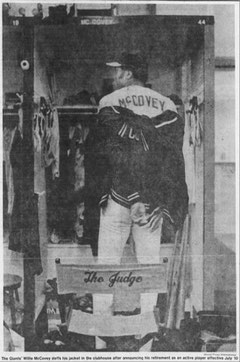 Giants' McCovey era ending
Dodgers will be last opponents
By Glenn Schwarz
Fittingly, Willie McCovey's last day in a Giants uniform will be July 6. His club's opponent will be the Los Angeles Dodgers, against whom McCovey had so many memorable games. Also, that is Old Timers Day in Dodger Stadium.
The Golden Oldie would have preferred to play out the year and make it 21 full major-league seasons. But this time when someone suggested he retire, McCovey was not offended. Dave Bristol and Bob Lurie – oh, yes, and Rich Murray – convinced the most popular player in San Francisco Giants history that he should consider his first summer vacation in 20 years.
So, after discussions initiated by the Giants' manager and owner the past week, and watching Murray hit and field a bunch, the 42-year-old McCovey yesterday asked to be put on the voluntary retired list. It is effective the day after the All-Star break. July 10. The strange thing was, the moment he seemed to dread did not hurl him into depression.
There was a press conference in the Candlestick executive office, one-half hour before the Giants' 4-3 loss to the Philadelphia Phillies. McCovey, appearing in full uniform, including black warmup jacket, managed a smile or two for the wildly clicking cameras.
Then, as the Giants were preparing to bat in the second inning, stadium announcer Ralph Nelson calmly informed the 27,315 funs of McCovey's decision. At first, they didn't know how to react, offering only a polite ripple of applause. However, no sooner did the last pair of hands stop clapping than people began standing and cheering. McCovey came out of the dugout, bat in hand, and acknowledged the ovation by removing his cap and twirling it over his head.
Thus did it become official. The six time All-Star, at his request, will remain active until the All-Star Game. Following. those 14 games, and a possible vacation, McCovey will start his second career as a baseball front-office type. For the Giants, of course.
"It was a difficult decision, but I knew two or three years ago that I would be in the organization. It's not like I'm retiring to nothing," said McCovey, who has a personal services contract with the club through 1987. "It had been in my mind a long time. With the recent and sudden development of Rich Murray, and his success, the time was right.
"I said I'd play a long time unless a young phenom comes along and forces me into retirement. Well, that young phenom has come along.
"I'm not that sad. I've had a long, productive career. Nobody can go on forever. And now I'll be able to retire in a Giants uniform.
"I'm still a member of this club. There's a possibility of going down today and still doing something."
He certainly will have more to do in his probable public relations job than he has had as a player recently. McCovey's pinch-hit appearance last Tuesday night was his only game exercise since June 6. Every time Bristol printed out another lineup card, McCovey saw the handwriting on the dugout wall.
He realized Murray would stick around. Then three days ago, the other first baseman, Mike Ivie, was activated. As long as only the injury-plagued Ivie was ahead of him, McCovey wanted to stay in uniform, knowing that he would have ample opportunity to play.
In the meantime, Lurie summoned McCovey upstairs and Bristol called him into his office downstairs.
"I said to Willie, 1 think it's time to talk about it and he said, 'Yes, let's talk about it,'" Lurie said. "He said he wanted to go to San Diego and LA.; he thought there might be a spot for him to hit another home run. He said after the All-Star break would be the appropriate time."
"I think the way he handled it was outstanding," Bristol said. "It just shows what a class guy he is.
"I had super talks with him this week. I said he gave so much dignity to the game and the city of San Francisco, I wanted him to go out that way. He has accomplished things nobody else comes close to."
McCovey will leave as the best left-handed home-run hitter in National-League history. His one pump this season, No. 521 career, tied him with Ted Williams for eighth on the all-time list. His career 1,552 RBI (13 this year) rank 19th. He is one of only 16 players who were active in four decades.
How many more times will we see that classic left-handed whip swing? Well, not too many, Bristol saying he will use McCovey from now until July 6 "just like I have been."
Lurie said the Giants will salute turn formally in a September ceremony. But before the second Willie McCovey Day in four years, the honoree may be a July man of leisure.
"I was talking to Billy North and he encouraged me to take some time off before I start working again," McCovey said. "He asked me when was the last time I had a summer vacation.
"I just might, take a few days or weeks. I haven't had a summer off since I was 16 years old."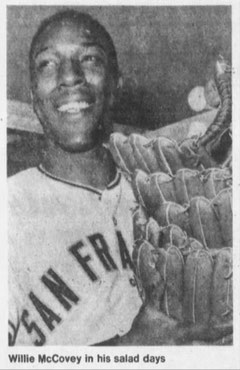 McCovey – Class with a capital 'C'
By Bucky Walter
Time didn't fly on winged feet for Willie McCovey. It moved patiently, but inexorably. Finally, after 22 years, most of them glorious testimonials to his wondrous skills, No. 44 announced retirement yesterday with predictable grace.
We were in the press coop at Seals Stadium on July 30, 1959, when McCovey made his memorable Giants' debut, buggywhipping a brace of triples and two smartly-cracked singles off redoubtable Robin Roberts.
However, our favorite remembrance of "Stretch" is of a day in Cincinnati when he launched two prodigious home runs into old Crosley Field's "Moon Deck." Alas, the Giants lost to the Reds.
Afterwards, we sought to Interview McCovey in the clubhouse. There was little we could pry from him.
At the airport, McCovey's huge arm circled our shoulder. "Bucky," he apologized, "I don't think I should brag about myself after the team has lost."
That was class, which Willie never lost.
Clark, Carlton win NL honors 
NEW YORK (AP) – Giants outfielder Jack Clark and Philadelphia pitcher Steve Carlton were named co-Players of the Week by the National League today.
Clark collected 14 hits in 26 at bats over the past week for a .518 average. He scored 10 runs, drove in four, had two homers and three game-winning RBI. He raised his season's average to .303 as the Giants won five of seven games during the week.
Carlton won both of his starts during the week, the second against the Giants yesterday, to increase his major league lead to 13 victories. The Phillies' left-hander increased his strikeout total to 135, another major league high.
Other National Leaguers who enjoyed outstanding weeks were St. Louis outfielder Terry Kennedy, Los Angeles outfielder Dusty Baker.