Camden Courier-Post - June 26, 1980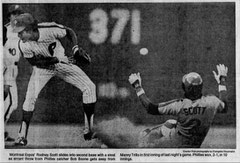 McBride key to Phillies' win
By Ray W. Kelly of the Courier-Post
PHILADELPHIA – When Phils' Manager Dallas Green went looking for a hero during last night's 2-1, 10th-inning victory over the Montreal Expos, it's a good thing he didn't ask for a show of hands.
Bake McBride, who cracked a home run, made a super catch and gunned out an Expos speedster at the plate to push his teammates to within 1½ games of the division leaders, would have never been able to get his dish rag of an arm above his head.
"We got one heck of an effort from Bake tonight," said Green. "And, it couldn't have come at a better time."
NOT THAT the much-maligned right fielder was the only Philly to come through on a crucial Veterans Stadium evening that began with stomach cramps that sidelined slugger Greg Luzinski and ended with Mike Schmidt breaking a 1-1 deadlock with a bases-loaded single.
Rookie Bob Walk finally lived up to expectations, checking the powerful Montreal offense on just four hits in a pitching duel with Expos hurler Bill Gullickson.
Reliever Ron Reed picked up the victory, closing the final two frames with goose eggs and setting the stage for a 10th-inning rally that began with a walk to pinchhitter Gregg Gross and a "fake out" play in which Pete Rose hinted he was going to bunt Gross to second and then moved him to third instead with a screaming double into the right field corner.
"YEAH, WE had the Bastard Play working," said Green with a smile. "We've used Pete to sacrifice bunt in that situation on other occasions, but there is no better guy to do it (fake a bunt and then swing away) than Pete. He can do what he wants with the bat."
Green also had praise for Schmidt, who watched the Expos fill the bases for him by intentionally walking McBride and then battled reliever Scott Bahnsen with a series of foul balls before stroking his game-winner over the "drawn-in" Montreal defense.
Circumstances don't usually dictate the walking of Bake to get to Schmitty. This time around, an open base to send McBride must have seemed like a blessing. Currently batting .307, the lanky outfielder seemed to be everywhere.
THE IRONIC part is that the whole thing began with the kind of play that has induced fans to complain each season about the big guy.
It happened in the fourth inning, when the Expos' Warren Cromartie ripped a sizzling grounder under the outstretched glove of Rose at first base and into right field, a different kind of hit in that, despite the hop-producing quality of Astro Turf, the ball hugged the ground all the way to McBride.
"Those kind of hits always hop up because of the turf," said Bake with a look of embarrassment. "That's why I was fooled and ended up with the thing hitting my foot and rolling all the way to the wall."
CROMARTIE ROARED into third base on the play. And, when Brad Mills followed by taking dead aim at the fence in right-center field, McBride made amends, crashing into the fence as he made a fine leaping catch of the ball.
Seeing Cromartie tag up and score on the catch hurt Bake almost as much as his right elbow, which went numb and completely limp after the impact.
"I thought about coming out of the game" admitted McBride. "When I got back to the dugout, I couldn't raise my arm high enough to scratch my nose."
A MAN with more pride than folks tend to realize, he wasn't about to invite all the complaints about his being fragile and not playing hurt. He stayed in there, crashing a solo homer over the right field fence in the sixth to tie the game.
A dandy fielding play by shortstop Larry Bowa, in which he went to the opposite side of the second base bag to rob Chris Speier of a hit, aborted an Expos rally in the seventh inning.
It was in the eighth, however, that Montreal's golden opportunity to walk off with a victory was stopped dead in its tracks. McBride threw the switch.
RODNEY SCOTT tripled to open the inning. Young Walk kept him at third by forcing Andre Dawson to ground out to Schmidt. But, when Gary Carter lofted a flyball to right field, the fleet-footed Scott braced for a dash to the plate.
Out in right, McBride was still wondering if he'd ever be able to brush his hair again. When he saw Carter's potential game-winning sacrifice fly, he lined himself up perfectly, caught the ball on a dead-run and prayed his arm wasn't about to fall off.
"I figured I had just one throw in the arm," recalled Bake as he sat in the trainer's room after the game, his elbow hooked up to a therapeutic device.
CALL IT deja vu. Two years ago, Bake did almost exactly the same thing, throwing out the potential winning run with a sore arm. He threw a strike to the plate on that occasion and he did it again this time.
Catcher Bob Boone almost had to wait for Scott before applying the tag, McBride's peg was so utterly classic. And, after that, the crowd of 31,416 knew it was just a matter of time before the Phils closed the gap between themselves and the leaders of the National League East.
That space may get even tighter tonight if southpaw Randy Lerch can crank up a solid pitching effort against Scott Sanderson in the finale of the three-game series with the Expos.
Walk comes of age in the nick of time
By Ray W. Kelly of the Courier-Post
PHILADELPHIA – The kid didn't know it was a "make-or-break" situation and that he was perhaps one lousy pitching performance away from a bus ticket back to the minors. Not that it mattered at this point.
Bob Walk had decided he'd done enough thinking and worrying about impressing the Phillies with his expertise on the mound. This time out, hotshot Montreal Expos or not, he was just going to quit fooling around and throw the dumb ball over the plate.
Oh, there was an element of risk in it. Montreal had battered the Phils' pitching staff for 18 hits the previous evening, a fact that made the rookie hurler wonder if he might be wise to use the "moving" version of his fastball.
He was committed, however. While loosening up bis arm in San Francisco, the tall, lanky youngster with the pencil-thin mustache had reverted to a more conservative grip on the baseball.
As expected, it clipped the wings on his fastball, but at least he knew where it was going. What good was a heater that sailed around the Cape of Good Hope if opposing hitters simply turned up their noses and let it become just one more ball on the scoreboard?
"That has been part of the problem," explained the 24-year-old California native. "I never thought of myself as having control problems until I got here and the batters refused to go fishing for pitches.
"Oh, they'll chase a slider low and away once in a while, but not as often as the batters do in the minor leagues."
Like Phils' pitching coach Herm Starrette said all along, it's all part of growing up. And, the 6-3, 185-pound Walk surely traded in his short pants last night as he dazzled the Expos with a four-hit, eight-inning performance that led the way to a 2-1 Phils' victory.
"Most important, Walk got the ball over the plate," said Manager Dallas Green, who was delighted that he wouldn't have to make a decision on the fate of the righthander. At least, not, right now.
"I'll admit that, after his outing in San Diego, Bob had me worried. I've been hoping all along that we'd get this kind of effort from him. From his statistics in Okie City, we knew he must have been able to do it.
"But, you can only wait so long. Tonight was make or break. Take that any way you want. "No, I didn't tell him. Would you?"
The possibility that his big chance was rapidly going down the tubes occurred to Walk. But, to dwell on it would have simply added to the pressures of adjusting to life in the majors,
He had heard all the horror stories about how young pitchers arrive in the big leagues full of fastballs and vinegar, only to fret their way into a confidence crisis that left them just one way to throw... up.
Imagine Walk's surprise when he realized he was falling into the same old traps of trying to play Einstein with his pitch selections, looking to nip the corners of the plate with pinpoint control and doing everything on the mound, but throwing the ball.
"They told me that they didn't want me to do too much thinking," he said with a smile. "They told me they'd show me films of myself fooling around out there. You know, walking off the mound, going for the resin bag. Once they made me aware of it, I realized they were right.
"When I do that, I usually get in trouble. A slider to the outside corner isn't me. I never really took that much time before. I always just threw the ball. I didn't do all that other stuff until I got here."
Blame Willie Stargell, who welcomed Walk to the big time by crunching a home run. Blame Bill Robinson, who hit the next pitch to the warning track. And Walk began to wonder, "Geez, how good are these guys?"
"Maybe I wouldn't have taken so long to get where I am tonight if that hadn't happened," he said with a grin. "I thought that if I got the ball over the plate consistently, I would stay here. After that, I wasn't so sure."
Walk can now see just how easy it is for a young pitcher to get into bad habits in the majors and how the resulting problems and pressure can make you wonder how you ever made it through Little League alive.
"If you let it get to you, it can snowball," he said. "Pretty soon, you're out of here."
Pretty soon was just around the corner for Bob Walk. But he passed his first survival test It's a good sign.