Montreal Gazette - June 26, 1980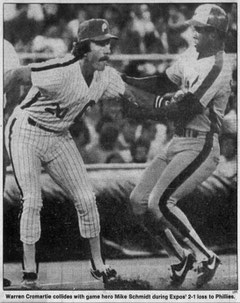 Gullickson razor-sharp again but Phillies squeak by Expos
By Ian MacDonald of The Gazette
PHILADELPHIA – Bill Gullickson pitched another excellent ball game but he still does not have a victory.
The 21-year-old right-hander has three successive superior outings to his credit, yet he owns a 0-1 record.
Gullickson turns this apparent misfortune into positive thinking and that figures really from a young man who discovered this spring that he is afflicted with a condition that will need treatment for life.
"I can't be discouraged," Gullickson said after his 7⅓ innings of one-run pitching became a no-decision on the way to an Expos 2-1 defeat at the hands of the Phillies in 10 innings. The Phils are now just 1½ games behind the Expos in the NL East
"I feel that I pitched well. I've been in three tough games and I'm certain that I'm a better pitcher because of this experience.
"If I had won two or three games by 9-5 or 6-1 scores or things like that, I still wouldn't know if I would be able handle the tight situations. Now I know that I can pitch in the close games."
Gullickson had to chomp on some sandwiches and sip a soft drink between the late innings but once more he refuses to suggest that he may have been tiring from after effects of the insulin shots which he must take every morning because he is a diabetic.
Meal routine
Among Gullickson's enforced procedures which are different from the ball players' norms, to say the least, is his eating of a full course meal just one hour before the start of these games.
"The meals have to be taken at identical times every day," explains Gullickson. "I take the shot at nine in the morning and the time for me to eat my evening meal is 6:30.
"Several of the players tell me that they would throw up on the mound if they had to followed my schedule. I tell that I probably would too except that I know that's what I have to do."
Gullickson made the Phillies look 'sick' through 5⅔ innings here last night. Indeed, even after Bake McBride had lined his 0-1 pitch over the right-field fence to wipe out an unearned run the Expos had scored in the fourth, he was the master.
Rookie Bob Walk was every bit as good as Gullickson and Ron Reed, who relieved him, was able to handcuff the Expos as well. That's why the series is tied at one apiece with the rubber match set for tonight.
Called on Fryman
When Gullickson walked pinch-hitter George Vukovich with one out in the eighth and Pete Rose followed with a line single, manager Dick Williams called on Woodie Fryman.
"I don't know if he was tired," Williams said. "I didn't ask him. He was coming up with his pitches. I had a fresh Fryman and he did the job."
Ol' Woodie sawed off McBride's bat, causing a roller to first. He then walked Mike Schmidt intentionally and struck out pinch hitting Lonnie Smith.
Unfortunately, the Expos weren't in the position to work such delicate strategy the next time that the meat of the Phillies order was at bat.
This was in the 10th and Stan Bahn-sen was pitching after Williams had pinch hit with Tommy Hutton for Fryman in vain.
"It wasn't Bahnsen's night," was the way Williams diplomatically described the work of the veteran who has been so solid.
Bahnsen walked pinch-hitter Greg Gross on four pitches. Pitching coach Galen Cisco rushed to the mound and told Bahnsen to throw strikes. Rose lined the first pitch into the right-field corner for a double.
The Expos had to walk McBride intentionally to load the bases. With everybody playing in tight, Schmidt lofted the ball over the outstretched glove of Dawson and the ball game was over.
"I threw a fastball to Rose," Bahnsen said. "I was sure that he was going to bunt."
EXPOSES – The start of Monday's game at the Big O against the Pbiilies has been put back to 8:30. The contest is the backup for ABC's Game of the Week...
The Pirates arrived ia Montreal early this morning. They will prepare for the start of the weekend series against the Expos with a team party at a downtown hotel tonight... Gilt-edge prospect Tim Wallach is finding the ranger with the Denver Bears where he is playing third. Wallach has 17 home runs and 51 RBIs…