Philadelphia Daily News - June 6, 1980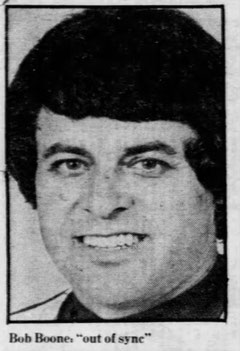 What's the Catch with Boone?
By Thom Greer
You perhaps hear the word more in baseball than in any other professional sport. "Mechanics." It refers to the checklist a player should follow to hit, throw and even catch well.
The mechanics of hitting might include the width of the batter's stance, position of his feet, his distance from the plate, position of his arms and head, manner in which he holds the bat. degree of concentration, ability to see the ball, length of stride into the ball, level and direction of the swing and follow-through.
Throwing the ball is just as complex, considerably more so for a catcher attempting to cut down a would-be base thief.
Talk to Bob Boone and it becomes apparent that most of his mechanics have been "off duty" since the season began.
"EVERYTHING IS out of sync," the Phillies' Gold Glove catcher was saying the other day. "I'm hot catching well, throwing well or hitting well."
Boone drags a woeful.226 batting average into tonight's series opener against the Chicago Cubs at Veterans Stadium. Boone, who swings out of the five spot in the batting order, has averaged.285 the past three seasons and was hitting.286 before struck down by a crippling knee injury last September.
Surely of equal concern to Manager Dallas Green has been Boone's virtual inability to throw out runners attempting to steal. The Pirates stole five bases against the Phils Monday night. Omar Moreno swipped four of them. Two of Boone's throws at Moreno and a third throw at Lee Lacy were wide to the left-field side of second base and in the dirt. Another effort to stop Moreno was high to the right-field side. And when Moreno stole third base, Boone never released the ball.
Granted, most of the established base stealers take leads and make their moves based on the actions of the pitcher. Seldom, if ever, do they steal on the catcher. Worthy of note, however, is that in 48 chances this year, Boone has thrown out only nine runners for a 19 percent proficiency. After 48 chances last year, Boone had cut down 19 runners. He ended last season throwing out 42 of 95 attempted steals. Based on his 19 percent, if he has 95 chances this season he will throw out only 18.
IT WAS SUGGESTED Monday night that perhaps Bob Boone has not fully recovered from the knee surgery. Maybe he has difficulty getting the balance and leverage necessary for accurate throws when he steps forward to throw on that surgically scarred left leg. Or, could it be that he is having difficulty with the finger that was broken on his throwing hand last year? Sure, he played with the broken finger, but maybe it's giving him problems now.
"No! Absolutely not," Boone said when asked about the possibility that injury may be hampering his performance. "My arm is very sound and my knee feels great. Heck, I played with the break in my ring finger. It doesn't really affect your throwing ability. I could have broken this one (he held up first finger of right hand) Sunday in Chicago. Same thing... another foul tip."
What it is, Boone maintained, is that his mechanics for making the quick move from behind the plate to come up throwing are off. His mechanics for hitting also were on leave of absence, but a lot of hard work extra batting practice and work off the hitting tee in a constant search for the flaw may have uncovered something Tuesday. He picked up two hits in the Phils' 4-3 win over the Pirates Wednesday and feels more comfortable than he has all year.
But his woes behind the plate are beginning to concern him. "I'm concerned and get angry at myself," he said, "but it's not the end of the world.
"A CATCHER KNOWS whether he has a shot at throwing out a base stealer or not. My problem was that I'd see the guy has the base stolen and I'd try to be a little faster. That's what puts the ball in the dirt. And before you realize it, you're rushing when you have a shot. That is when you know you're not staying within the mechanics."
Boone recalled the accepted belief that the late Thurman Munson rifled the ball to second as quickly as any, catcher in baseball. "Munson had bad mechanics," Boone said. "He was not really quick, but he could rush the ball down there on the outside (Boone pretended to throw sidearm). But when it comes from out here it always has a tail. That's not staying within the mechanics.
"I've been doing it lately. When, you have to rush three or four, then you start rushing when you really have a good shot. It's not a habit yet, but I know I'm rushing. It's a problem, but it's something you can get back with a lot of hard work."
Bob Boone has always believed that hard work will resolve most problems. He thinks he has again proven it by discovering the problem with his hitting.
"I hit extra and worked hard to try and find the key," he said of his hitting woes after the game Wednesday. "And then, it just clicks in. You work and work and all of a sudden, you know that's it. And when you find the key, the big thing is to keep it.
"The important thing is to try not to get depressed while you're struggling. It's easy when it's good. But it's tough when it's bad. The experience has helped keep me going and helped my confidence that I know I'll come back because I've done it before. And when I do, somebody will pay.
PHILUPS: Rookie Bob Walk, who has no decisions but has allowed 10 walks in the 8 innings, is scheduled to get his third start tonight. Walk will face the Cubs' Mike Krukow (3-5), The scheduled pitchers for the remaining two games are Rick Reuschel (5-4) vs. Randy Lerch (1-7) tomorrow night and Lynn McGlothen (2-1) against Dick Ruthven (5-4) in the finale Sunday.