Philadelphia Inquirer - June 6, 1980
Can Owens pull a pitcher out of the hat for Phils?
By Jayson Stark, Inquirer Staff Writer
You could look it up. The Phillies were eight games out on June 15, 1977, when Paul Owens grabbed Bake McBride from St. Louis just minutes before the clock gonged away the National League trading deadline. McBride hit .339 the rest of the way. The Phils went on to win the division by five games.
Things didn't look much better on June 15, 1978. The Phillies were 2½ games out -when Owens got Dick Ruthven from Atlanta for Gene Garber in another deadline-beater. Ruthven went 13-5 from then on. The Phils won the NL East by a game and a half.
Paul Owens now is nine days away from another trading deadline. His team is three games back of Pittsburgh. It has just come off a six-game road trip in which Steve Carlton went 2-0 and everyone else went 0-4. For the season, Carlton has 10 wins. The rest of the starters combined have nine.
Owens has heard his manager admit that that imbalance "certainly has to make me a little nervous."
"I've said all along we'll get our act together," Dallas Green said. "I'm not saying I've got any great master plan to do it. But I've got faith... as long as Steve just gives us that breathing spell every fourth or fifth day."
Nobody talks about what happens if Carlton ever stops providing those breathing spells, even for a start or two. But suppose he doesn't. Suppose he actually does win 30 games. The guy still had better get some help from somewhere.
Paul Owens concedes this. He would like to make his annual beat-the-deadline-win-the-division blockbuster. "I would like," Owens says, "to get another starter."
But the reality is, Owens doesn't think he can get one. And there is no evidence with which to argue otherwise.
Since Jan. 1, 1979, exactly seven starting pitchers of note have been dealt to other teams – Gaylord Perry, Dan Schatzeder, Tom Underwood, Jim Beattie, John Denny, Jerry Reuss and Rick Rhoden.
Owens tried to get Perry and couldn't. Reuss and Rhoden were traded for each other, and Owens can't afford to make a pitcher-for-pitcher deal like that right now.
Underwood and Beattie moved in related Yankees trades designed to fill needs the Phillies couldn't help with. Denny went for Bobby Bonds. Enough said there. And Schatzeder, the last time anyone looked, was 2-5, with a 6.19 earned-run average, in Detroit.
Beyond those guys, the only other people who have moved have been numerous shifty characters ranging from Wayne Twitchell to Mardie Cornejo, from Ray Burris to Don Hood. Green would rather have the Oklahoma City staff than any eight guys on that list. And who could blame him?
So back to the dilemma at hand. Owens knows the Phils have a definite chance to win it this year. Carlton has a shot at a once-in-six-life-times season. Mike Schmidt is seven games ahead of Roger. Maris' pace and still hitting nearly .300 after two months. Greg Luzinski and McBride are having their best years since 77. Teams that win don't let seasons like that go to waste.
And the only reason they might go to waste is starting pitching. But then, everyone from Ruly Carpenter to local TV reporter Lisa Thomas could have told you that six months ago.
"No question, if we could pick up another starter, it would really help us," said Luzinski. "We might have to take a chance on somebody. We might be in a position where we might have to go after a guy like (Joaquin) Andujar. You may have to give up a little more than you'd like to, to get a starter that could win this thing."
Andujar is 2-10 for Houston since July 4, 1979. But he probably could help. Trouble is, Owens says, "they say now they don't want to move him."
Owens says he still is talking, still hoping "something might change. Somebody might say, 'Ah, we're not going to do it this year.' So we could give up a kid and maybe get what we need for the present."
But if that doesn't happen, Owens sees three keys to the Phils' winning it: 1) a kid (Bob Walk. Jim Wright, etc.) coming along and really helping; 2) a Randy Lerch turnaround, and 3) Nino Espinosa coming back.
The problem with relying on kids is that "you'd like to break them in easier," says Owens, "where the pressure's not on them to do it. You like to give them some time to feel their oats, get a little experience. Then all of a sudden, a year or two later, they're able to take over themselves."
Phenoms like Britt Burns – who is 20 years old, two years out of high school and leading the American League in earned-run average for the White Sox – come along about once a decade. Bob Walk looks as if he could be a great one some day. But it's hard to count on that day coming in August.
"I think our key right now is Randy," said Owens. "If he can come back, and the way Carlton's going, we aren't desperate any more than anybody else."
The prospects on Espinosa's return are not good. The theory is growing that his shoulder problems are as much mental as physical. So Wednesday in Pittsburgh, he was told to throw everything as hard as he could for 25 pitches.
"There just comes a time," said pitching coach Herm Starrette, "where the guy realizes he has to throw hard sometime."
They will wait now and see what happens. But in the meantime, Owens will keep talking.
"Everyone you talk to now. they all kind of laugh," Owens said. "All they say is, 'That's what I need, too.'"
A look at the staff from the statistical corner:
•  Average number of runs each Phillies starter has gotten in support per start: Lerch 3.3, Carlton 4.9, Walk 5.5, Larson 6.0, Ruthven 6.2, Christenson 6.5.
•  Number of stolen bases permitted by Phillies pitchers per nine innings: Carlton 0.35, Lerch 0.59, McGraw 0.64, Noles 0.78. (Those are the only four to allow fewer than the league average about 0.90.) The rest: Walk 1.08, Reed 1.28, Saucier 1.29, Ruthven 1.32, LaGrow 2.66, Larson 3.24.
•  Total number of runners on base when each Phillies reliever has entered games vs. total number allowed to score: McGraw 9-0, 0 percent; Noles 5-0, 0 percent; Saucier 8-2, 25 percent; Reed 4-2, 50 percent; LaGrow 12-5, 42 percent.
•  Total number of 1-2-3 innings thrown by each Phillies starter vs. total number of innings started: Larson 4 of 9, 44 percent; Carlton 39 of 103, 38 percent; Lerch 20 of 65, 31 percent; Christenson 6 of 27, 22 percent; Ruthven 12 of 71, 17 percent; Walk 1 of 9, 11 percent.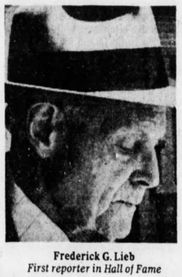 Frederick G. Lieb, dean of sportswriters
By Burr Van Atta, Inquirer Staff Writer
Frederick G. Lieb, 92, the first sportswriter inducted into baseball's Hall of Fame, died Tuesday in a Houston nursing home.
The dean of American sportswriters, the Philadelphia native spent much of his youth in the bleachers of the old Baker Bowl and Columbia Park. When he wasn't watching baseball, he was playing it – for the King of Peace Church team on the back lots around 22d and Moore Streets in South Philadelphia.
A graduate of Central Manual High School, he got his first job in 1904 as a clerk for the Norfolk & Western Railroad. His duties were light, he said, so he spent most of his time writing biographies of players for Baseball Magazine.
Seven years later, equipped with a reputation as the sport's premier biographer, he was hired by the New York Press and assigned to cover his first major league baseball game.
Flanked in the press box at the Grounds by Grantland Rice and Heywood Broun, Mr. Lieb said he "had no choice but to learn my trade quickly."
He went on to jobs with the New York Sun and the Evening Telegram. He became a columnist, first for the New York Post and then the Sporting News. And he wrote 18 books on the sport. The most recent, "Baseball As I Have Known It," was published in 1977.
He covered the first of Babe Ruth's 714 home runs in 1914 and was in the press box when Ruth hit his 60th of the season in 1927. He was the writer who labeled Yankee Stadium "The House That Ruth Built."
Mr. Lieb, who was better known as Fred, also covered the streak of 2,130 consecutive games put together by his favorite player, Lou Gehrig.
It was all part of the job, he told an interviewer a decade ago, "but you could hardly call it work.
"Baseball was my recreation and my profession. 1 loved to go to baseball games and when I was 23, they started to pay me for it."
He was the holder of the lowest-numbered card in the Baseball Writers Association. It was issued in 1911 for the first Giants game that he covered. He kept it in use.
Although age had slowed him, he daily walked the 10 blocks from the home he had purchased for his retirement in St. Petersburg, Fla., to Al Lang Field during spring training season. There, he would join the "young guys" in the press box to watch the St. Louis Cardinals and New York Mets in exhibition games.
He maintained his ties with his hometown, returning from time to time to work on one of his books. In 1953, he and the late Stan Baumgartner, a former Phillies pitcher and sportswriter for The Inquirer, collaborated on a book, "The Philadelphia Phillies."
At the age of 89, he said he was still hopeful that he would live long enough to "see another master shortstop who is the equal of Honus Wagner for all-around play. "Grand and marvelous will be the day when his equal arrives."
Phillies open 9-game stand
First the bad news – Steve Carlton won't be the pitcher.
But the Phillies will open a nine-game home stand, anyway.  Against the Chicago Cubs, who beat everybody but Steve Carlton when these two teams met at Wrigley Field last week.
The Cubs Will be the first of three teams to visit Veterans Stadium on this stand, being followed by San Francisco and San Diego.
BASEBALL
PHILLIES vs. Chicago at Veterans Stadium (Radio – KYW-1060, 8:05 p.m.)