Philadelphia Daily News - June 7, 1980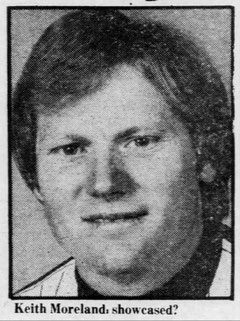 Lonnie Smith Shows Off
By Thom Greer
Would you believe rookie outfielder Lonnie Smith or first-year catcher Keith Moreland in a multi-player deal for the front-line pitcher the Phillies need as desperately as the human body needs oxygen?
Manager Dallas Green is adamant against the idea. He is on record as having voiced his displeasure with GM Paul Owens and the Phils' front office.
Nevertheless, with the trading deadline looming on the horizon a week from tomorrow, it is obvious the Phils have to do something quickly. How much longer can they survive on the mighty left arm of Steve Carlton?
So it was no great surprise that both Smith and Moreland were in the starting lineup last night... to be showcased, as it were, with numerous National League scouts among the 30,187 rain-drenched fans at Veterans Stadium.
AND IT WAS AN even smaller shock, certainly to Dallas Green, that Smith whacked out three hits in five times at bat, including a two-run triple in the fifth inning that provided the margin of victory as the Phillies outlasted the Chicago Cubs, 6-5, in a game that was marred twice by rain delays that totaled 78 minutes.
"Lonnie does just what I've always said he can do," beamed Green afterward. "He's a pretty good offensive player and he makes things happen. That's why I battled all winter against trading Smith and Moreland. They are the future of the Phillies."
Indeed, the future of the Phils may well have surfaced on yet another front as rookie pitcher Bob Walk, making his third start, battled his way to his first major league victory with 5 innings of work in which he gave up 10 hits and struck out five Cubs.
And to the utter amazement of everyone who had watched the first 8⅓ innings he pitched for the Phillies, Bob Walk did not walk a batter.
By no stretch of the imagination was Bob Walk's effort sensational. And perhaps Green permitted him to labor on the mound one batter too long. That was catcher Tim Blackwell, a lifetime.208 hitter, who lashed a two-run triple to deep right-center field in. the sixth inning to draw the Cubs to within the 6-5 final score.
BUT BY GREEN'S reasoning. "He gave us what we wanted. He battled out of a tough jam in the first inning – leadoff man Ivan DeJesus doubled and Mike Tyson singled, yet Walk escaped unscathed by popping out Larry Biittner and punching out Dave Kingman and Mike Vail – and showed some good signs the rest of the way."
Green was most impressed that Walk finally exhibited "better attitude, better approach on the mound and better demeanor... "
The manager insisted that Walk destroyed himself with his demeanor – his slow pace between pitches and indecision once he had the ball – in his last outing against the Cubs in Chicago last week.
"The offensive team (the Cubs) figured out quickly they had a good shot at beating him," Green said. "The defensive team (the Phillies) had to sit back on their heels, grumbling and wondering what was going on and the umpires didn't know what the hell was going on with him walking all around the mound cutting grass or whatever he was doing.
"But one outing, one victory, one game doesn't make a year and doesn't make a career. That's what we try not to get up too high or down too low about. And it (one outing, victory and game) doesn't give him a ticket to October."
To his credit. Walk admitted he had run out of gas by the sixth inning and probably should have been lifted. "My fastball (his best pitch) had lost its zip by the last inning," he said. "I had warmed up so many times because of the delays, I was just out of it. Earlier, I felt pretty good out there."
BUT AS FAR AS Green's tickets go, the general consensus is that there may be one soon in the offing for Smith. He was outstanding at the plate, scoring two runs after getting on with a single in the first and a double in the fourth and then driving in two. Indeed, his play in center field, while not to be construed as resembling that of Secretary of Defense Garry Maddox, was sound.
"Now, I'm feeling comfortable," Smith said. "I'm happy whenever I get the chance to play."
To be sure, Lonnie Smith has heard all the trade possibilities and was not oblivious to the fact he was on showcase last night.
"It doesn't bother me at all," he insisted. "There was a little of it (trade talk and showcase) in my mind tonight. I'd rather play in Philadelphia. I enjoy playing on a team like this. But if I have to go, I'll go.
"I have to admit that it does make me feel a lot better to know that Dallas is pulling for me (to stay with the Phils) no matter what happens."
PHILUPS: Pete Rose was hit by two Mike Krukow (losing pitcher) pitches, and the blow to the little toe on his right foot in the fourth inning upset him so he slammed his batting helmet into the dirt and knocked two big holes in it. "The balls just got away from him," Rose said, ignoring any suggestion that Krukow may have been telling him he did not appreciate Rose getting eight hits off him in the 11 times he has faced him since joining the Phils. "I was just hissed off that I got hit. The one on the toe hurt so bad, I couldn't even remember where I got hit the first time."... The game probably should not have been as close as it ended because the Phils hammered out three doubles, a single and were given three walks in the first inning but scored only three runs. One sure run was struck down when Bake McBride casually jogged from first to third on Greg Luzinski's double, realized he was being waved home and was thrown out at the plate by Mike Tyson's relay from Mike Vail... Randy Lerch (1-7) is scheduled to pitch tonight against Rick Reuschel (5-4).
5 Winners
There were five winners last night in the Daily News Home Run Payoff contest. In the fourth inning of the Phillies-Cubs game. May Wirth won $50, plus four tickets to a Phillies game on a double by Lonnie Smith. Mike Schmidt's sacrifice RBI won $25 and tickets for Nick Capozio. Winners of four tickets each were Peter Bianco, Emil Moskovitz, and Andrew Ziel.
All the above winners are from Philadelphia.
So far the Daily News has paid out $5,170. Today's entry coupon appears on Page 33.