Daily Oklahoman - May 16, 1980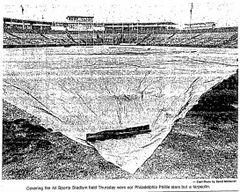 Phils Hoping To Make Up 'Lost' Game
By Rob Wiley, Staff Writer
If Thursday's rain clouds had silver linings, they must have funneled the silver straight from All Sports Stadium.
The Oklahoma City 89ers lost their most lucrative home date of the season when the rains washed away the exhibition game with the Philadelphia Phillies, although there is an outside chance the game will be rescheduled should the almost certain strike by major league players not occur a week from today.
"We were talking to (Phillies vice president) Paul Owens and (Phillies manager) Dallas Green, and they told us they would work on making it up later," said 89ers general manager Patty Cox Thursday after a downtown luncheon with the major league club. "It all depends on the strike. They're not going to even try to work it out until they see what happens on the strike."
Last year's exhibition drew 18,563 to All Sports on a warm August 16. Ticket sales for Thursday's game were in the 8,500-9,000 range and, with potential concessions money figured in, the 89ers eventual loss will be anywhere from $35,000 to $50,000.
"We really hate this, for the fans' sake," said Cox. "Our boys (the 89ers) wanted to play. They said they would play in the mud."
The Phillies were stopping over between series at Atlanta and Houston. Cox said it cost the major league club "about $20,000" for the flight diversion, with the players and coaches flying first class to Oklahoma City on a commercial flight. Still, Cox said, the Phillies management and some of the players indicated a willingness to play at a later date, if the strike doesn't make it impossible.
Should the makeup efforts fail, Cox said any box seat ticket holders for Thursday's game could exchange those tickets for two box seals at any 89ers regular season game. Anyone holding a reserved seal or general admission ticket can exchange those for two general admission tickets to any regular season game.
The 89ers, fresh from an 8-2 road trip to Indianapolis and Evansville, are scheduled to open an eight-day home stand tonight against the Indians, weather permitting.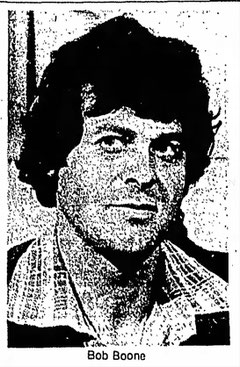 Boone 'Willing' to Strike
By Jim Lassiter
Nothing that Bob Boone did in a Stanford University psychology classroom nor on its baseball diamond fully prepared him for the problems he has been facing and the issues he has been explaining. But then where does one go to make himself into Samuel Gompers, or John L. Lewis?
Several years ago the Philadelphia catcher accepted the role as player representative in the National League. Most of the time it's a soft job. You talk with players, hear their gripes and if they're important enough, you take them to management. Getting an exposed nail removed from the dugout at Arlington Stadium was a biggie last year. Forcing the Braves to repair an Atlanta Stadium wall that had a tendency to fall in occupied his thoughts the year before.
But now we're talking apples and oranges. The petty stuff is in the past. Unless a bolt of straight thinking strikes both sides of the baseball labor argument betwixt now nnd May 22, ball players will know how it feels to walk a picket line. It won't be fun. They realize that, but they think it might be inevitable.
"I don't want to strike, none of us do," said Boone, "but we (the Major League Player's Association) will not be pushed backward. If it's necessary I'm willing to strike and I will strike."
Boone, of course, is a hard-liner. Marvin Miller, often times the phantom of this opera, is but a phone call away to him. To many of the other 600 major league players, Marvin Miller is little more than a name in the newspaper. Miller is their representative, the person who signs ail those directives from the Player's Association, but still a mystery. When the time comes those players may jump from Miller's ranks like frightened fawns. Bob Boone, though, juts his jaw and says his is a solid union.
The standard cliché is that baseball's catchers, by definition, are crazy. Their equipment is said to be the tools of ignorance. But that doesn't count for Boone, whose father Ray spent 13 years in the major leagues, mostly with Cleveland and Detroit. Bob Boone is a fine, articulate spokesman for the players. He is also a patient one.
Thursday the Phillies were scheduled to play an exhibition game against their Oklahoma City affiliate. The rain had taken care of that by mid-morning. A majority of the Phils went ahead and appeared at a luncheon and press conference just the same, even though the labor strike was on more minds than baseball. Boone never had a chance to eat, he was so busy answering questions. "It's been like this since November," said the three-time All-Star catcher.
Boone's remained a relatively simple job for the first five months of the question-and-answer fest. The strike was spoken of in "future" terms. But the future has nearly become the present. The situation is becoming more tense with each passing hour, and the two sides seem to be as far apart as ever.
The real hangup is free agent compensation. The owners maintain they must be compensated when one of their players plays out his option and sells himself on the open market. The players say that if the owners were to be compensated, given a player in return when they lose one to free-agency, the free agency system would die, and salaries would fall. They do not want salaries to fall. The owners agreed to the existing agreement in 1976 and the players do not want to return their benefits. They do not feel they must protect the owners from themselves.
Boone says it has not been widely reported, but that many issues originally placed on the bargaining table have been settled. He says the settled issues are largely cosmetic and maintains, "we're still apart on compensation and that is the root of it all."
Without directly saying so, Boone indicates he expects a strike next Thursday. The question then will become, how long will it last? Which side will give in first? Will there be any more baseball in 1980?
The owners, it would seem, are better prepared. The owners have themselves a $40 million insurance policy. Boone questions the figure, but even dismisses $40 million as "a drop in the bucket."
"I don't know how much profit they make because they don't open their books," he says. "But I'm sure if there is a strike, they will lose money just like the players. There will be no winner if there is a strike, but that will not keep us from striking."
There are so many sides to the issue, there are no simple answers. It is difficult to be on either side because neither the owners nor the players really seems concerned with the paying public. And their lack of regard for the ticket buyer makes you wonder. Would baseball fans really miss the game? Do we really need baseball? We have resigned ourselves to doing without the Olympics this summer. Can't we just as easily live without baseball, too?
Both sides in the argument are banking' that Americans consider baseball part of their lives. They look at a record-setting attendance pace in the face of exorbitant ticket prices and perhaps overestimate their importance.
Nothing in Bob Boone's Stanford psychology classes answered these questions for him. He believes he is correct. He believes the owners are wrong. It is the stuff of which strikes are made, and Bob Boone says his side is prepared. And if it happens, he can only hope we will miss him. Not even Gompers or Lewis could say if he is right about that.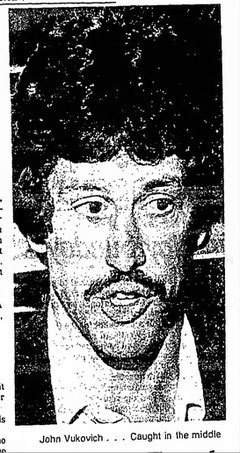 Vukovich Caught In Vise
Big League Shot Threatened by Strike
By Rob Wiley, Staff Writer
For John Vukovich, who measures his major league baseball career in bits and pieces, 1980 was a heaven-sent delight.
The roster read "John Vukovich, Philadelphia Phillie" when spring training camp broke, and Thursday's Phillies-OKC 89ers exhibition game was to be a day of triumph for the popular third baseman, who had spent all of 1978 and most of 1979 as an 89er.
Then the rains came and came and came.
"This brings back memories," said Vukovich in a downtown Oklahoma City restaurant, where the Phillies were ushered soon after landing in a downpour. "These are the games where the extra men play eight innings."
The rains prevented anybody playing anything Thursday, however, and the Phillies actually made the trip to talk to the local media and grab a quick bite to eat. For the estimated $20,000 it took to divert the Phillies from their Atlanta-to-Houston trip, it was an expensive lunch.
For Vukovich. who began the season 57 days short of enough qualifying time for the major league pension, the rain was a wet blanket on an opportunity to play more than a mop-up role with the Phillies, maybe the only chance he'll get since the May 23 strike date is just a week away.
"There's no strike yet," said Vukovich. one of the few cautiously optimistic voices heard in baseball circles these days/  "There's no need to look past today. If you look seven days down the road, you forget the fact that there are seven days in between, and a lot could happen in seven days."
Maybe finally sticking with the major league club after five years in the organization has painted Vukovich's eyelids rosy red. Or perhaps the birth of a second child, a son, 10 days ago has the 32-year-old thinking wistfully.
"Maybe I'm optimistic because I don't want it to happen more than anyone else," he said. "It took me five years to get to the big leagues on an opening day basis, and I sure as hell don't want to sit home this summer."
Vukovich is one of baseball's silent majority, the middle class players who don't make $500,000 a year and who figure to bear the brunt of any strike action. Losing even a week's salary can be devastating when you have no investment portfolios to cushion the fall.
And feeding a new addition to the family can't help.
"I'd rather draw my money," says Vukovich, simply.
Vukovich's dilemma is real. The only way he can continue drawing his salary is to get sent down to Oklahoma City and that before the strike could cost him valuable days toward his pension. And il the Phillies send anybody down in that situation, it could very well be younger players who need more playing time.
"That's a possibility," said Vukovich of possible player moves. "But I don't think they'll (management) do anything soon."
Playing time for Vukovich hasn't been abundant in Philadelphia. He's had five appearances in May, mostly late inning defensive maneuvers, and has only two official at-bats to show for it. His one May hit was a big one, though, against the Los Angeles Dodgers.
"Probably my biggest contribution to the Phillies was in a losing cause," said Vukovich. "We were down 9-0 to the Dodgers, but I hit a two-run single in the bottom of the eighth to tie it 9-9. We went on to lose (12-10), but we didn't die at 9-0. That was important to us."
And important to John Vukovich as one of the bits of his major league career he'll remember. It could be the only one of 1980.