Philadelphia Daily News - May 16, 1980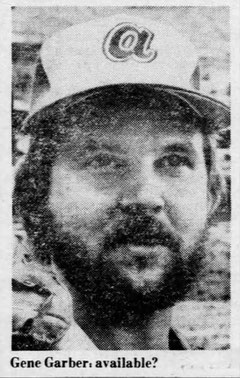 Garber May Come Phils' Way
By Bill Conlin
HOUSTON – Gene Garber is 1-2 with an 8.25 ERA for the troubled Atlanta Braves.
Gene Garber makes a lot of money – something in the $300,000-a-year range. The former Phillies relief ace also has a contract with a no-trade clause.
All of which makes him extremely available, depending, of course, on the changing whims of owner Ted Turner.
Turner wants desperately to unload his long-term, big-buck, no-trade players and go with more realistically paid organization-grown talent.
Paul Owens is extremely interested in reacquiring the sidewinding short man who helped pitch the Phillies to division titles in 1976 and 77. In 78, The Pope reluctantly traded Garber to the Braves for Dick Ruthven, the starting pitcher Owens felt he needed to repeat. Ruthven was splendid, the Phils outlasted the Pirates and everybody was happy, even Garber, who made up for the perils of pitching for the Braves by extracting a nice contract from Captain Outrageous.
"I THINK THEY want to get rid of of some of their big salaries," says Owens, who had a long meeting with Atlanta GM John Mullen Wednesday night. "I'd definitely be interested if I didn't have to give up a lot for him. We would be picking up a pretty big salary."
Mullen apparently is trying to nail down Turner to see if his boss has had a change of heart. Garber definitely would waive his no-trade clause for a chance to return to the team where he enjoyed his greatest big-league success. He has been stripped of his short man's role and relegated to long relief, a dead-end street for his type of pitcher.
"Gene has been pitching backwards," Braves Manager Bobby Cox said the other night. "He's relying too heavily on his off-speed pitches and not enough on his hard stuff."
Which is understandable. Atlanta Stadium is not a park where a pitcher likes to see the ball in the air.
Anyway, Owens would be willing to part with a minor-league prospect, possibly Oklahoma City catcher Don McCormack.
Garber had a bizarre record for the sixth-place Braves last season. He canceled out a 6-16 record with 25 saves, more than anybody in the league except Bruce Sutter and Kent Tekulve. Twenty-five saves and 22 decisions in 68 appearances is a full season for a short man.
The Pope is wearing his trading face. Don't touch that dial.
PHILUPS: The Phillies' scheduled exhibition in Oklahoma City last night was rained out.
Players Make Big New Offer
NEW YORK (UPI) – The Major League Players Association yesterday offered to withdraw its free-agent and reserve-clause demands if the owners and players could agree on other parts of the players" contract.
Marvin Miller, executive director of the players' union, said he thought the proposal might finally mean some progress in the slow-moving talks, with the possibility of a strike by the players – on May 23 – drawing nearer.
Miller said the union would modify its demands for no compensation free agents by asking for a two-year examination period, during which the ramifications of the system could be studied. If at the end of that time the owners were unhappy with the conditions, they would have the right to reopen the negotiations.
"Since we are reasonably close on issues outside of compensation and free agency," Miller said, "we have offered to withdraw all our proposals in these areas unconditionally."
The issues on which the parties are close to agreement include player pensions, health and safety questions and minimum salaries.
Ray Grebey, head of the owners' Player Relations Committee, met privately with Miller and lawyers after the meeting to study the proposals.
The entire question of compensation has been at the center of the owners' demands ever since talks began last winter. The clubs have said that under no circumstances would they sign any new agreement that did not include a clause providing for some way for teams losing free-agent play ers to be compensated with replacements.
The players have held the opposite view – that any compensation plan would emasculate the free-agency system – and have been just as adamant. The talks have been hung up primarily on this issue for some time.
Earlier this week, both sides presented new proposals. Though only modest changes from their original stands, they might have triggered yesterday's move by the players.