Pittsburgh Post-Gazette - May 29, 1980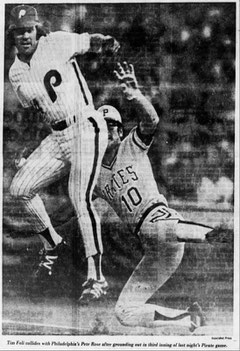 Phils Deck Bucs Despite Lacy's HRs
By Charley Feeney, Post-Gazette Sports Writer
PHILADELPHIA – Second place doesn't scare Chuck Tanner. The Pirates have been there before. They are there today after their 6-3 loss to the Phillies at Veterans Stadium last night.
Randy Lerch took an 0-6 record against the Pirates, and the Phillies were 0-8 in games started by Lerch this season.
If Lerch had to face Lee Lacy about 10 times last night, chances are Lerch would have taken an early shower.
Lacy, who is one of four leftfielders used by Tanner this season, accounted for all the Pirate runs with two homers.
Lacy outhomered Mike Schmidt, who hit only one last night. Lacy has three for the season, and Schmidt leads the league with 14.
Tanner knows the reason for the Pirates' skid from the top. They have lost eight of their last 12 games and it's surprising that the Phillies, who have won six of their last seven, are only percentage points in front of the Bucs.
"We're not hitting up to our potential," Tanner said.
Amen, says Dave Parker who since May 9 is hitting .200. Parker's average has dipped below .270. Phil Garner, who's hit even less In the first three games here, is following Parker's slide.
Both Parker and Garner are playing with body aches. Nothing serious. They refuse to alibi.
"We'll be all right," Tanner said.
Lerch, who was lifted after Lacy hit a two-run homer in the ninth, agrees with Tanner.
"The Pirates are an awesome hitting team," Lerch said. "I had a good defense behind me. You expect the Pirates to get their share of hits."
The Pirates hit some hard outs against the Phillies' left-hander, who is 5-4 lifetime against them.
One victory doesn't make a season, and Dallas Green, the Phillies' manager, was reserved in his comments about Lerch, who was 10-13 last year.
"We've seen Randy pitch some outstanding games before," Green said. "I'm looking to his next start. If he can put two good ones back to back, I'll be pleased. Until then..."
Lerch's next start will be against the Pirates next week in Pittsburgh.
By then, Parker and Garner and Omar Moreno may be swinging hot bats. If the slump goes into next week, there will be cause for concern. Not now.
If Parker can find Schmidt's groove, It will give the Pirates a big lift.
Schmidt, who hit a two-run homer off Jim Bibby Tuesday night, sent Don Robinson on his way to his first loss. After Pete Rose doubled and Bake McBride singled for a run in the first inning, Schmidt unloaded a 450-foot homer for a 3-0 Philly lead.
Lacy, who had never hit two homers in one game before, hit his first of the night in the second inning.
With two out in the fourth and Lerch on first base via a force out, Rose and McBride hit back-to-back doubles for a 5-1 lead.
After Rod Scurry did a nifty three-inning blank job on the Phillies, Garner's error and Lerch's suicide-squeeze bunt in the eighth off Andy Hassler gave the Phillies their sixth run.
Bill Madlock opened the ninth with his third hit, a double and Lacy belted his second homer.
Ron Reed replaced Lerch and retired three of the four hitters he faced to insure Lerch's first win of 1980.
Lerch in the eighth rescued himself after Manny Sanguillen's pinch single and Moreno's double with none out. Lerch got Tim Foil on a grounder, speared Parker's one-hop comebacker and struck out Bill Robinson.
In the fourth, second baseman Manny Trillo made a good stop of Robinson's sharp rap and turned it into a double play. In the third, Trillo made a one-handed grab to rob Foli, with Moreno on second base.
"I had the plays behind me," Lerch said. "You need them when you pitch against a team like the Pirates."
Lerch wasn't talking about the Pirates who have been slumping lately.
One bad spell isn't going to ruin the Pirates' reputation as hitters.
The Pirates will be "awesome" again, Lerch said.
He hopes they don't become awesome when he pitches against them next week.
NOTES – Tanner said he allowed Don Robinson to bat for himself in the fifth inning because "Robby is a good hitter." Robinson singled and Scurry came out to pitch the bottom of the fifth... Eddie Solomon is slated to start against Dick Ruthven in today's 12:35 p.m. game.