Allentown Morning Call - May 31, 1980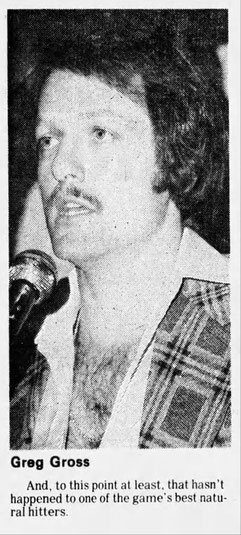 'Natural hitter' Greg Gross is having his problems
By Jack McCallum, Call Sports Writer
PHILADELPHIA – When Greg Gross was six-months-old, his father handed him a wiffle bat and he stepped out of the playpen and singled to left-center. 
Hitting came natural to him. He never had the strength or the kind of timing to hit home runs but nobody ever asked that of Greg Gross. Single to left-center or double down the left-field line was just fine. 
But these days Gross is being forced to THINK about hitting, to break down those subtle components that, before this season, were as natural as breathing to him.
"I've gone through streaks without a lot of luck," said Gross before Thursday afternoon's game against Pittsburgh at Veterans Stadium, "but this is the first time I KNOW what I'm doing but I can't feel it when I get to the plate. Before when I'd run into trouble, it was always because I was physically tired or something. It's never been a mental thing where I've really had to think about what I'm doing, or not doing. 
"When you've never had to get mechanical, it's a tough thing to suddenly start doing." 
What Gross is doing, hitting instructor Billy DeMars has told him, is overstriding." 
"I'm bringing my foot too far forward and that forces me to try and make up for it with my hands." said Gross. "And that's not good for a hitter like me. I'm not strong enough to flick line drives like a Schmitty (Mike Schmidt). I have to time the pitch. 
"The funny thing is that a guy like me who hits the other way (to leftfield) takes a shorter stride. I've always done that. But this thing – I don't know why I started it. And now it's become a habit."
Gross had none of these problems in spring training when he batted .333. In fact, if not for Bake McBride having an excellent spring, too. (McBride also hit .333) Gross could have earned the starting job. 
But he began the season on the bench and he's been struggling ever since. His average has been below .230 for the last month. And this from a man whose lifetime average is .298; only six active National Leaguers who have played as long as Gross have better averages and they have names like Rose, Parker and Garvey.
And he can hit like that playing on a regular basis. too – his average was .314 as a starter for Houston in 1974, the year he was voted Sporting News' rookie-of-the-year. 
"What bothers me the most, believe it or not, is not really the sick average," said Gross, a native of York who now lives in Berwyn, "it's the fact that I'm disappointing Dallas (Green, the manager). Dallas had faith in me to do a certain job and I'm not doing it. I'm not doing the things I'm capable of doing." 
Gross performed his "certain job" to perfection last season. He appeared in 111 games as a pinch-hitter, late-inning defensive replacement and spot starter and hit .333. He played so well, in fact, that he was tempted to test the free-agent waters, albeit with one toe. 
After being drafted by nine teams, the Mets made some overtures as did Montreal, though the Expos wanted him strictly as a fourth outfielder, his role with the Phils. In the end, he signed a four-year contract with the Phils for reportedly about $200,000 a year. 
"With the outfield we've got here I don't necessarily think about playing every day," said Gross. "Early in the year, Bake's knee was injured and I got the chance to play. I didn't do the job. Dallas will give Bake a blow or Garry (Maddox) a blow during the year and that's the role I'm supposed to fill. I guess Dallas has been a little reluctant to use me and I can't blame him for that. 
"Playing part-time never bothered me before. I've always been able to go in there and get my hits. But when things are going bad, the problem is obviously compounded by getting a start every 10 days or so. You can't hit your way out of it. You've got to pick your spots and come through in those spots That's the way you get your confidence back."
Blackwell's 'luck' means defeat for Phils
CHICAGO (AP) – "I always felt that someday I'd get lucky," said Tim Blackwell. "Even a blind squirrel stumbles over an acorn." 
Blackwell didn't stumble, but he did hit his first major league home run yesterday in his 563rd at bat to cap a six-run first inning and Mike Vail delivered a two-run homer among his four hits to lead the Chicago Cubs to a 10-7 victory over the Philadelphia Phillies. 
"I just hope I don't have to go another 563 times before I hit another one, said Blackwell. "I've come close before, but close doesn't count." 
A strong wind was blowing out of Wrigley Field, but Blackwell hit the ball some 10 rows up into the right field bleachers and said, "I hit it pretty good, and I'm not sure that the wind helped it all that much." 
Philadelphia Manager Dallas Green blamed himself for Blackwell's homer and felt he should have gone out and talked to pitcher Dan Larson. Larson balked with Blackwell at bat and the bases loaded as one run came across, leaving runners on second and third.
"With first base open and the pitcher up next, he Larson I threw four straight fastballs to Blackwell. I should have gone out there and reminded him that first base was open." 
Still Green wasn't worried about being down six runs in the first inning. "Not with the Philadelphia club in this ball park and the wind blowing out. We overcame those six runs, but they just happened to get some more." 
Rick Reuschel, 4-4, was the winner and turned in his first complete game despite yielding 13 hits. Larson, 0-1, suffered the loss and was the victim of four unearned runs in the first inning.
Lenny Randle opened the first by drawing a walk, stole second and moved to third on a single by Ivan DeJesus. Randle then scored when Pete Rose bobbled Larry Biittner's ground ball for his first error of the season. Vail singled to score DeJesus, and Steve Ontiveros walked to fill the bases.
Biittner then scored on a balk before Blackwell unloaded his first homer in 563 major league at bats. 
Bob Boone's two-run homer In the second cut the lead, but the Cubs scored a run in the bottom of the second on a single by Randle, another stolen base, an error and a sacrifice fly by DeJesus. 
Philadelphia added three in the third when Rose doubled and scored on a single by Mike Schmidt. Greg Luzinski doubled, and Garry Maddox followed with a two-run single. 
Schmidt's double and a sacrifice fly by Maddox gave the Phillies another run in the fifth.
Biittner walked in the Chicago fifth, and scored ahead of Vail's second homer of the season. Vail also doubled and had a pair of singles and scored another run in the seventh on a single by Ontiveros. 
Bake McBride homered for the Phillies in the ninth.