Chicago Tribune - May 31, 1980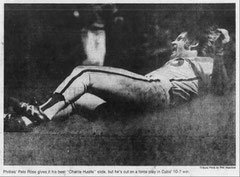 Vail (.403) slugs Phils, earns Cub job
By Robert Markus
IN BETWEEN the reality of thunder and the threat of tornadoes, Mike Vail played like a one-man storm Friday to lead the Cubs to a 10-7 victory over the Philadelphia Phillies in windy Wrigley Field.
The sparsely employed outfielder cracked four consecutive hits, including a two-run homer, to raise his average to .403-and, more important, to finally convince Manager Preston Gomez that he's an every-day player.
Vail, who had been used primarily against left handers, will be in the lineup from now on no matter who pitches for the opposition.
"I don't care if they pitch Cy Young against us," Gomez said. "Vail is going to be in the lineup until he stops hitting. The way he's playing, he deserves to be in it."
Another longtime utility man who's finally getting a chance to play, catcher Tim Blackwell, hit a three-run homer -his first in the majors -to help stake Rick Reuschel to a 6-0 first-inning lead. Four of those runs were unearned because of Pete Rose's first error this year.
REUSCHEL STRUGGLED to his first complete game of the season, yielding 13 hits, including a pair of homers.
"Considering the wind, that was a great job," said Blackwell, who also helped his battery mate by gunning down Garry Maddox on an attempted theft of third after Maddox had stolen second.
That was in the third inning, when the Phils had pared the Cub lead to 7-5 and had Reuschel reeling. "Maybe he [Maddox] was counting on a bad throw," said Blackwell. "I had just skipped one down there to second and was lucky it didn't go into center field."
"I was very surprised he went," said Reuschel, 'and I was glad Tim threw him out."
The portly right hander appeared to get stronger after that, stoically ignoring the wind and the presence of the most fearsome 1-2 punch in baseball this spring - Mike Schmidt and Greg Luzinski.
Although both got hits in the three-run third and Schmidt scored after leading off with a double in the fifth, neither could add to his home-run total.
THE PHILS' HOMERS were by Bob Boone in the second and Bake McBride in the ninth, both on pitches that "were up," according to Blackwell.  "That ball Boone hit was helped by the wind.  But, basically, Rick was throwing a good sinker and some good breaking balls.
Blackwell did not seem overly impressed with his homer, which capped the six-run first against Phils' starter Dan Larson. The wind was blowing out to left field and did not appear to affect Blackwell's shot, which he pulled to right on a 3-2 pitch after Larson had balked in the third run of the inning.
"I hit it pretty good," said Blackwell, who had gone to bat 551 times without a homer in a big-league career that includes parts of seven seasons. "I. always felt that if I played on a regular basis, I would hit.
"Now I'm playing [because Barry Foote is ailing], and the hits are falling. I need one of those lucky days to get my average up. But I can't have one as lucky as Mike Vail's. I tell you, he s a mash."
VAIL, WHO HAD been unhappy about sitting on the bench despite hitting .333 and .335 in his two years with the Cubs, was unaware that he had been promoted to fulltime starter.
"I've got a different feeling about things now," he said. "I feel I've had the chance to prove what I've always thought about myself - that I'm a good hitter and a decent fielder. If I don't play the next day, I can accept it now.
"When I come in tomorrow, I'll just see the lineup on the board and do whatever it says. Maybe I'll get to pinch hit with the bases loaded."
Saturday's card will tell him to go out to right field. Slugger Dave Kingman finally is scheduled to start in left, where Vail played Friday.
"Dave took a shot in his shoulder yesterday," said Gomez, "and he will be in the lineup tomorrow. But Mike Vail will remain in the lineup."
Luzinski quiets boo-birds
He's hero in Philly again
By Robert Markus
IT IS impossible to be an athlete in Philadelphia and be unaware of the city's famous Boo-Birds.  Greg Luzinski's eyes were opened two years ago when "I saw it happening to Schmidty (Mike Schmidt).  But you believe it can never happen to you."
If you're Greg Luzinski why should you?  In the previous two years, you had hit 39 and 35 home runs.  Twice, you have been runner-up for the National League Most Valuable Player award.
Out of your own pocket you have spent $20,000 a year to buy tickets for under-privileged children so they may share your love affair with baseball.
They'd boo the Ayatollah in Tehran before they'd boo Greg Luzinski in Philadelphia, wouldn't they?  Of course they wouldn't.  Luzinski, the Chicago-born slugger, found that out the hard way last year when he slumped to .252 and a paltry 18 homers.  The fact the was injured all year and still managed to drive in 81 runs apparently didn't matter.  Boo, Luzinski, ya bum, ya.
"IT'S NOT AN easy thing to handle," Luzinski said Friday when the Phillies came to Wrigley Field for the first time this year.
"I started to remember a lot of things Schmidty had said when it happened to him.  He said he couldn't wait to go on the road.  That's the way it was with me last year."
That's not the way it is this year.  Luzinski is a genuine Philadelphia hero again.  "A couple of hits in the right spot and they forget about it," he said.  "It's as simple as that."
Well it's really not quite as simple as that, because Luzinski has done more than get a few hits at the right time. He's off to the hottest start in his career, with a dozen homers coming into the weekend series in a park where any slugger's eyes get as big as grapefruits at the sight of the wind blowing out.
Greg has no ready answer for the inevitable question.  Yes, he has shed 20 pounds, but "I've had success weighing more."
Yes, he has shed his contact lenses in favor of conventional glasses, but "basically I need them more for playing the outfield."
YES, HE DID HAVE an air-clearing visit from Phillies' owner Ruly Carpenter over the winter.  And, yes, Carpenter did offer to trade him.
"We talked about the trouble I'd had with the fans, and he told me that it has affected a lot of careers," said Greg.  "He said if I couldn't cope with it and wanted to be traded, he'd trade me.
"But it was already straight in my mind; I felt I could handle it.  I realize that last year was a year of frustration for the fans.  With the acquisition of Pete Rose, they expected us to win the division."
The season was even more frustrating for Luzinski.  "Maybe all those other things contributed some to why I'm hitting better now," he said, "but basically I was hurt last year.  I pulled a muscle in my thigh in our first trip to San Francisco, and I never recovered from it.  I was out a while and came back to early, and it bothered me the whole year."
LUZINSKI BELIEVES the injury caused him to start over-striding.
"It definitely affected my swing.  During the offseason, I worked on trying to keep it short again.  I'm sure I was over-striding because the leg was bothering me.  There's got to be a reason; you don't all of a sudden start doing that."
During the offseason, he also started eating only one meal a day, got plenty of exercise running his three hunting dogs, and cut his weight from 238 to 217 on the theory that "it would prolong my career."
Luzinski says he harbors no grudge against the fans who turned on him.  "That's just them," he said.  "It's in the past now; they've been good to me so far this season."
Not as good as Greg Luzinski has been to them.