Camden Courier-Post - May 31, 1980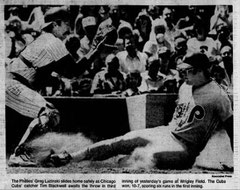 Six-run first spurs Cubs past Phillies
By Rusty Pray of the Courier-Post
CHICAGO – At Wrigley Field, baseball games are governed by a capricious wind that can turn the venerable park into a shooting gallery or a silencer.
Its whim yesterday suited the former, making the ivy-covered outfield wall a reachable target for even the most modest of hitters. The wind's velocity was announced to be a relatively-gentle 12 miles per hour. But the trees that swayed on Wayland Avenue and the starched flags on the foul poles offered evidence that it was something more than a spring breeze.
Under conditions quite similar, the Phillies and Cubs last year produced the now infamous 23-22 game that marked the beginning of the Phils' 1979 decline. A replay of that game would not have been out of the question.
AS IT turned out, though, the Cubs merely scored six runs in the first inning en route to a 10-7 win that halted some of the progress the Phils had made during their recent 7-3 home stand.
Oh, there was plenty of hitting. The Phils got 13, including home runs by Bob Boone and Bake McBride, off Cub starter Rick Reuschel, who somehow managed to survive all nine innings. The Cubs generated another 11, four by left-fielder Mike Vail, against five Phillie pitchers.
Vail, who also doubled, smashed a two-run home run off reliever Lerrin LaGrow in the fifth that gave the Cubs a 9-6 lead after the Phils had closed to within 7-6. But Vail's homer was not nearly as damaging as a three-run shot to right in the first by catcher Tim Blackwell. Not only did it give the Cubs a six-run lead with an out still to go in the inning, but it represented the first time Blackwell cleared a major league fence in his seven-year career.
"The hit that hurt us was Blackwell's," said Phillies Manager Dallas Green. "First base was open and Dan (Larson) threw him four straight fastballs. That's my fault. I should have been out there reminding him first base was open."
LARSON was the first pitcher sacrificed to the Wrigley Field wind. Yesterday was his second start since being called up from Oklahoma City. It was not a good one.
The bases were loaded with two out and two runs already in when Larson fed Blackwell his first 3-2 fastball. Blackwell fouled it back. It was then the Phils decided to try a pickoff play at second base.
"It's a daylight play," explained shortstop Larry Bowa. "The only bad thing about the play is, you got to know what you're doing."
And Larson was woefully unfamiliar with the play. In fact, Boone called time to explain it to his pitcher, tipping off the base runner, Jerry Martin, that something was afoot. Thus alerted, Martin cut his lead considerably, reducing the odds that a pickoff play would work.
"THE FIRST time, Larson could've gone over and tagged him out himself," said Bowa. "After Boonie went out (third base coach Joe) Amalfatano knew something was up."
Larson never got a chance to try the pickoff because he balked, allowing a run to score and opening first base for Blackwell with Reuschel scheduled to hit next. Larson might have given Blackwell something breaking off the plate. Instead, Larson served three more fastballs. Two were fouled off. One was not.
"I should have thrown to second and I just held the ball," said Larson. "When you come in with three, four fastballs, he's going to hit one of them. It was a play we hadn't worked on. When Boonie came out, they knew something was on.
"I haven't bad much, luck here (Larson pitched at Wrigley while with Houston), but today I got myself in a bind. I don't think the wind had much to do with the way I pitched."
BEING DOWN by six runs after one inning would be a disaster anywhere except at Wrigley, and the Phils struggled gamely back into contention, getting a two-run homer by Boone in the second and scoring three times in the third on an RBI single by Mike Schmidt and a two-run single by Garry Maddox.
"They got six, but I knew that wasn't going to be enough the way the wind was blowing," said Bowa.
It wasn't, but the Cubs managed a seventh run in the second off LaGrow when Lenny Randle beat out a drag bunt down the third base line, stole second and continued to third when Boone's throw went into center field, and scored on a sacrifice fly by Ivan DeJesus.
The Phils madeone more thrust at the Cubs' lead when Schmidt doubled and eventually scored on a Maddox sacrifice fly in the fifth. But Vail's homer and an RBI single by Steve Ontiveros in the seventh put the game out of reach.
PHIL UPS – Pete Rose made his first error of the season, booting Larry Biittner's ground ball in the calamitous first innning... Boone's error was his eighth, matching bis 1979 total… Steve Carlton was to start against Willie Hernandez this afternoon.