Philadelphia Daily News - February 1980
February 5, 1980
Baseball Facing Jet Lag
By Bill Conlin
First of two parts
There are 47,000 people in Dodger Stadium on Monday night, June 16, and early arrivals sense that something is wrong when the Phillies fail to appear for batting and infield practice.
As the 7 35 game time approaches, the fans would be shocked to know that the Dodgers' scheduled opponent is at Denver's Stapleton Airport, rapidly running out of time and options. What began as a routine flight from Philadelphia to Los Angeles at 5:55 the day before has turned into a nightmare.
In-flight mechanical problems have forced their wide-body commercial jet to land at O'Hare in Chicago. None of the overbooked flights from that busy airport to any of the Coast cities can handle a traveling party of 50. The airline representative does what he can, reserving rooms at an airport hotel and booking the party on a morning flight to Denver. Meanwhile, traveling secretary Eddie Perenz spends the night trying to charter a flight to meet them in Denver. It is a thankless task. The latest Arab oil embargo has put the nation's airlines on a crisis footing. Schedules have been cut by two-thirds and charter flights are almost non-existent – even those contracted months in advance.
DELAYED BY heavy thunderstorms in Chicago, the Phillies' flight arrives at Stapleton at 3 p.m. Mountain Time, five-and-a-half hours before game time in LA. By now Commissioner Bowie Kuhn has taken over the the emergency. He asks the Dodgers if the 727 jet they own is available to pick up the Phillies. The Dodgers explain that the aircraft is on charter until the end of the 10-day homestand and is currently in Hawaii.
At 7:15, the Dodger Stadium PA announcer makes the following statement: "Ladies and gentlemen, your Los Angeles Dodgers are sorry to announce that due to unforeseen travel difficulties created by the fuel emergency, the Philadelphia Phillies are unable to be here this evening. The Dodgers, therefore, are awarded a forfeit victory by the score of 9-0.
"However," the announcer continues amid a rising anthem of boos, "all rain checks will be honored at a future date. Thank you for attending."
An unlikely scenario? Perhaps. But major league baseball, a traveling circus which will use the airlines for approximately 884 flights this season, is finding it more and more difficult – and incidentally, more expensive – to move from point A to point B. Current shortfalls of aviation fuel have drastically curtailed charter availability. Commercial schedules have been cut back to most major league cities without a significant decrease in passenger demand. It wouldn't take much of a dislocation – another oil embargo, for example – to drop a major transportation crisis in baseball's lap.
MOST BALLCLUBS prefer to travel by charter, if possible. Although costs are higher, charters give them the scheduling leeway they need. And in many cases – getaways after night games in most cities – there are no commercial alternatives to prevent travel on the day of a game.
"I can hear the hissing and moaning if we ever have to go to NBA-type travel, where we have to overnight and fly out at 6 a.m. the day of a game," says Ferenz, who like his 25 colleagues spends much of his time poring through the Airline Flight Guide, waiting for confirmations on commercial flights requested months before and hoping a charter will somehow become available.
"The Phillies' operating procedure is to charter wherever possible and back ourselves up on all flights with commercial bookings." Ferenz said yesterday. "Things are bad, bad. As of today I dont have one charter. I've got quotes but no commitments. It appears to be a problem of aircraft availability and fuel allocations. A lot of airlines have been forced to curtail charters so they have enough fuel available to keep commercial flights intact. I'm also backed up on a lot of commercial fights, but I haven't heard back on a lot of them by way of confirmations."


THE ESCALATION of ballclub-support costs has been staggering. In 1970. the year Ferenz became traveling secretary, the Phillies' official headquarters in Clearwater was the rococo but elegant Fort Harrison Hotel. The club rate for a single was $13 a day. $19 for a twin. The Phillies were forced to move to the nearby Sand Castle Motel when the Church of Scientology bought the Fort Harrison. Last year the Scientologists, methodically buying up downtown Clearwater, purchased the Sand Castle and Ferenz was forced to move once again. With first-class hotels on the Gulf booked to capacity at rates averaging $65 a day, he was forced to move east to a four-lane traffic jam known as U.S. Highway 19. the Schuylkill Expressway of the Suncoast. Ferenz was able to get a $22 rate at a Holiday Inn, but there was a Catch 22.
"That's only for a limited number of players," he said. "The rest of the few rooms we were able to pin down are $38 for a single and $44 for a twin, plus the Florida tax. To get all the rooms we need for spring training, we've had to spread out to a Travelodge downtown and the Ramada Inn up by Dunedin."
The majority of a spring-training population – which varies from week to week as media members come and go, rookies are cut and various front-office people arrive – lives in rental properties along the Gulf beaches. Availability has dwindled year by year as cottage units are torn down and replaced by condominiums, many in the $150,000 range.
"I just received a bill from our charter bus firm in Clearwater," Ferenz said. "They've added a fuel surcharge of $17.90 for our exhibition with Toronto in Dunedin."
ITS A FOUR-MILE round trip from Jack Russell Stadium to Grant Field in Dunedin.
"The Phillies are hardly an exception," Ferenz said. "The logistics problems I'm having can be multiplied by 25 traveling secretaries. My colleagues are confirming my own experience – airlines are giving charter quotes without a commitment."
What are the alternatives? For one, major league baseball is uneasily exploring the feasibility of purchasing or leasing a fleet of 727s or 737s to meet its travel needs. Hertz Rent-a-727? Club representatives met in New York several weeks ago with the Air Division of Itel Corp. and submitted their schedules for study. The Dodgers have owned their own plane for years and Ray Kroc bought one for the Padres several years ago because the Coast teams have staggering travel costs.
The Players Association hasn't done much to help the crunch. Under the Basic Agreement which runs out this month, all players are guaranteed first-class seats where possible on commercial flights. But all except the wide-, body jets have cut first class down to 12-16 seats. Players forced to sit in humbling coach surroundings are guaranteed three seats for each two players. Which means clubs are forced to purchase anywhere from six-to-10 empty seats on many flights.
With seat belts securely fastened, major league baseball jets into the '80s. Thank you for flying United.
February 6, 1980
A Major League Air Force
By Bill Conlin
Second of two parts
Bowie Kuhn does a better job of swinging a champagne bottle for the TV cameras of 1982 than Bess Truman did in that classic christening footage recorded by motion picture cameras of the late 1940s. With one crisp flick of the wrist, baseball's commissioner bonks the nose of "Big Stick One" with a liter of California bubbly, which obligingly shatters on the first swing. Poor Bess broke Rich Ashburn's record for foul tips.
A new era is born. The Major League Air Force, six 727s strong, is ready for the airways, tail assemblies adorned with the National Pastime's red, white and blue ball-on-flag logo.
MAJOR LEAGUE Flying Service Charter No. 1147, taking the St. Louis Cardinals and Chicago White Sox home to begin the regular season, is cleared for takeoff. By midnight, all nine ballclubs training in the Tampa Bay area will be ferried north by a four-jet shuttle. When the Dodgers arrive in California, their private 727 will Join the Padres' plane and the two remaining MLFS jets to airlift the Cactus League teams out of Arizona.
By rigid application of a specially coordinated schedule, major league baseball will use its fleet of planes – purchased for a staggering $21 million – to account for 85 percent of its regular-season travel needs. Phillies executive vice president Bill Giles, who masterminded the scheme during the 1980 travel crunch, was only semi-serious when he said, "It's a helluva bargain. We got six planes for less than the contracts of Dave Winfield and Dave Parker."
•
Blake Cullen, National League public relations director, confirms that the major leagues are seriously considering alternatives to increasingly hard-to-secure charter and commercial flights. The above scenario, a radical view, could come to pass only if other, less costly, schemes fall through.
BUT A GAME PLAN for a Major League Air Force has proceeded past the point of fanciful speculation.
"Our studies show it would take six planes to take care of baseball,'' said Cullen, a member of Major League Baseball Promotions Inc, a subsidiary corporation which markets various products, including "This Week in Baseball," the highly-rated weekly TV highlights show. "It would mean a little staggering of the schedule and planes, but by applying the actual schedules for 1979 and 1980. we found it would have been possible to satisfy 85 percent of all our travel needs."
There is a mitigating factor besides the high cost of used jets that will probably steer baseball away from the actual purchase of a fleet.
"PRICES ON USED jets vary quite a bit," Cullen said from New York yesterday. "We've had prices quoted anywhere from $2.5 to $5 million, depending on number of hours flown, configuration and actual age. Buying a used plane is a lot like buying a used car – you've got to go out and kick some tires. But even if we bought the planes, the question becomes, would we find enough fuel available to keep them in the air? If the airlines are cutting back charters due to fuel shortages, what would happen to us?"
The same would hold true if baseball leased six jets. Fuel acquisition would be baseball's responsibility and they would probably pay a prohibitive price for it from independent suppliers.
"Leasing is not a whole lot different from buying as far as the cost and fuel availability factors are concerned," Cullen said. "What we would like to do – and what we're exploring the most – is to get into some kind of consolidating-type arrangement with an airline or charter firm. In any arrangement, it comes down to six planes. For example, one plane would take the Texas Rangers to New York, then turn right around and take the Yankees to Kansas City."
CULLEN USED TO BE traveling secretary for the Cubs and he knows baseball's 26 traveling sees are teetering on the edge of a 1980 transportation crisis.
"Nobody has come right out and said they can't get to a particular city this season – so far," Cullen said. "But I hear the same thing all over both leagues. Clubs are getting charter quotes, but no commitments. A lot of commercial bookings remain unconfirmed and we're coming up on the season. We want to avoid having to go to NBA or NHL-type rules where a club has to take the first available flight out on the day of a game. We like to think we'll be able to continue arriving in the next town at least the night before a day game, but we're feeling pressure."
Baseball had several embarrassing incidents last season where games were halted short of completion because of travel time limits. "It's terribly unfair to the fans," Cullen said. "We dont want to get into time limit situations, but it's become a definite problem, particularly on Sunday afternoons. What do you do when the last flight to Chicago is at 6 p.m. and you've got a Monday day game scheduled?"
GILES IS THE HEAD of M L Promotions. Any large-scale collective travel plan would probably have to be funded to a large extent by corporation funds. Can you hear Charlie Finley's howls after he's assessed $1 million for his share in baseball's air force?
"It's the marketing area of baseball and they have funds available through our national marketing program," Cullen said. "Bill Giles considers the travel problems today and down the road for baseball as an even greater threat to the health of the game than player-management contract problems."
Giles is currently trying to work out a full-season, all-flights arrangement with United Air Lines. But on of the problems with chartering with a group as small as a baseball traveling party of 50 is the high cost per passenger, the reason the NBA and NHL are forced to fly commercially. You could make the operation a lot more economical if you could fill the 40-to-75 empty seats a ballclub invariably winds up with on a 727-sized jet.
GILES WOULD LIKE to recruit all available non-club bodies, including the six writers who follow the club on the road. Four of those writers have morning paper deadlines and rarely travel on Phillies charters. It's impossible to write a coherent game, story in the hour or less the Philies allow between the last out and departure for the airport, particularly when you've got to wait a half-hour for the athletes to come out of hiding. Giles says he'd be willing to incur player wrath and increase the time to 1:15. That is still not enough.
Maybe Giles should consider the group tour business – put together a plane hotel-ticket package open to fans at attractive rates. Can you see it on the Vet message board: "There are still a limited number of seats available for the Phillies' next road trip to Cincinnati, Atlanta and Houston."
That kind of arrangement would create severe insurance problems.
Meanwhile. look for this ad in the classified columns of Aviation Monthly any issue now:
WANTED TO BUY OR LEASE – Six 727s (standard commercial configuration preferred) in reasonable repair. Will consider any aircraft built since 1970. No planes used for gun-running or migrant labor transport, please. Contact Air Marshal Bowie Kuhn, P.O. Box 1980. New York City.
February 7, 1980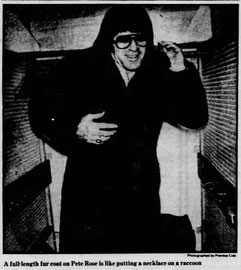 Rose's Life Is an Open Book
On The Road By Stan Hochman
First of two parts
The sportswriter was wearing one of those flat camel's hair caps. The kind Babe Ruth wore. And Ben Hogan. With the little button on top and the small visor. Only this cap was as big and floppy as an unbaked pizza.
It was supposed to be a press conference in the Versailles Room (lots of filigreed mirrors) of Gus Genetti's Inn in Wilkes-Barre. Drunks were yakking at the bar and kids were yanking on sleeves, and the sportswriter. the one with the floppy cap, asked Rose a question.
Pete did this doubletake and he stared at the guy and he said. "What size hat is that, anyway?"
And then he paused, and he said. "Putting a hat like that on you is like putting earrings on a hog."
The next day Rose explained the cruel needling.
"Ahhhhh." he said, "the hat was OK. But why'd he have to have it on indoors?"
PETE ROSE SETTING himself up as an arbiter of good manners, deciding what should and should not go on in motel rooms... it had to be the second funniest thing that happened on the first day of the Phillies Press Caravan.
The funniest thing? Well, it happened sometime before dawn Tuesday. Paul Owens, the general manager, had taken pitcher Randy Lerch on a scenic tour of the Wyoming Valley.
"We're in this bar." Lerch said. "And a fight breaks out. And The Pope' stops it by singing, 'Oh, Canada!' It was un-bleeping incredible."
"You gotta think fast," Owens explained the morning after, reaching up to tap his forehead and poking his finger in his ear. "The way people feel about Canada right now. I thought it would be more effective than The Star-Spangled Banner."
And how do you think the people of Mexico City feel about Pete Rose these days? He stiffed them last week, pulled a no-show at their big banquet, where he was supposed to give an award to their amateur athlete of the year.
"I didn't know I was supposed to present an award." Rose said, beginning an intricate alibi. "I thought I was one of four or five speakers.
"During the week I talked to my agent and he was getting bad vibes. They moved the date, and I couldn't get back from there, to Detroit, which was one appearance I couldn't miss, for an old friend.
"AND, BESIDES, IT was nowhere near the $5.000 somebody said it was."
He blew the Child Guidance Clinic bowling ("Nobody told me til two days before") and the Hot Stove dinner ("Bill Giles said he thought he put it on a memo, but he didn't"). but he made the rest of them, including the freebies.
"I don't worry about what people think." Rose said, during a lull in the caravan. "Some people are always gonna think the worst.
"Let me tell you about this guy. I did his banquet for free in Ohio last month. He sees my agent, and he says he's mad at me
"My agent says, how come, was he late?
"No. the guy says, he was 15 minutes early. I was. and I stayed afterwards, signing autographs.
"Did he cuss, my agent asks him. No. the guy says, he made a good speech.
"So he came early and he stayed late and you got him for nothing and he didn't cuss... so how come you're mad at him?
''Well, the guy says, he didn't look the kids in the eye when he was signing autographs. Some reporter was interviewing me. see, while I was signing 400 autographs.
"So. that's why the guy is hissed off. because I didn't look 100 kids in the eye."
So. he doesn't worry about what people think. Which puts him right there with Muhammad Ali. the most charismatic athlete of the 70's.
ALI USED TO say. "I don't have to be what you want me to be." Nobody told Jimmy Carter All used to say that, but that's another story.
Rose says, "My father told me. You only live once, but if you do it right once is enough."
Doing it right sounds like wine, women and song. Rose detests wine, dislikes song. Two out of three ain't bad.
"I'm not a hypocrite." he said defiantly. "What I do. I do in the open."
Which had to distress a lot of the Phillies' wives, including his own. which is why his marriage is on the shoals.
"Karolyn was a good wife, a terrific mother, a fine lover." he said. "What happened wasn't her fault, it was my fault But I never worry about what the wives think.
"Ill tell you one thing. If I did 25 percent of the things I'm given credit for. I'd be a helluva man.
"I'll give you a statistic Last season I did not go out one time in Philadelphia. Not to a bar. not to a disco. I've been in elan three times, once for breakfast twice for lunch."
Who's counting? Not Dallas Green, the manager.
"The bottom line." Green said, "is that last year he beat two of the toughest raps you can face, a paternity suit and a divorce action, and he handled his profession.
THAT HAS TO impress guys. We all get into our own scrapes, whether they're money, financial, husband-wife things, sickness. How we handle 'em is each guy's individual thing.
"But how Pete is able to handle 'em is amazing.
"When Pete first came here, there was a tendency by some of the players, some of the pitchers, to look down their noses at him.
"As they watched the man play, they had to come away with respect for him.
"When look over and hit him leadoff. you could see him setting his mind on getting 200 hits. And damn if he didn't do it.
"And that has to tingle you."
Rose went 53-for-125 that last month. That's.424. Wound up with 208 hits, a J3I average. You'd have to be half-dead not to tingle at the way Rose played in September.
That's why Rose doesn't want the Willie Stargell role on this ballclub. Not because he's got enough people calling him "Pops" already.
"I can't do that kind of thing, talk to guys, worry about guys, and still concentrate on playing the game." he said.
"My philosophy is. all I can do is lead by example. Anybody can sit and tell you the right way to play the game But the best way is to just watch me.
"If the guys don't see how you can be successful by hustling, playing hard, hey...
"IF A MAN ISNT smart enough to see the potential of what he can make... If he doesn't feel an obligation to bust his ass, he ain't got no pride.
"And if he ain't got no pride, it don't matter who it is. he won't follow you.
"My own personal opinion on what hurt the Phillies is one word, and it's what we're talking about. Discipline.
"Ruly Carpenter is such a nice guy. And he handles these guys in such a nice way. But where's the discipline?
"Grooming, the way guys dress on the road, the way they act on an airplane.
"Maybe it's because I was so used to Cincinnati. That's one thing I really appreciated, the discipline in Cincinnati. And because of that discipline, other problems weren't created.
"We didn't have jealousies. Look. Sparky (Anderson) had more rules than the Marine Corps. I didn't agree with all of 'em.
"Short hair. What if I had shaved my head and shown up at the ballpark? They wouldnt have liked that, would they? What's wrong with someone wearing a mustache?
"The little rules add up to big rules. I don't think you win a game because you're on time for the bus. or because you wear a jacket in the hotel.
"But if you become disciplined to those things, you become disciplined to bunting the guy over when you're asked to sacrifice.
"Sparky had one set of rules. But you need to know the personnel. How to get those rules across. Some guys you build up, some you tear down.
"YOU'D SAY something negative to a guy like Clay Carroll, and you'd lose him for a month. That's what makes a manager's job so tough.
"Sparky was lucky. He had a black superstar, a white superstar, a Latin superstar. That makes the job easier.
"But some guys, no matter who talks to 'em... the Good Lord himself could come down and talk to 'em and they won't run a ball out."
Rose has neither the time nor the temperament to apply mouth-to-ear resuscitation to those with fain't hearts, to guys who think tingle is a new mouthwash.
"Everything I've got" Rose said, "I've got through hard work. And that's why I appreciate it.
"And that's why people like me."
He does not mix with the wine-drinkers or the song-singers. But none of that really matters, if they shared some portion of Rose's swaggering pursuit of excellence.
And for all the slapstick comedy of the first two days of the press caravan, there was one glint of significant change. Rose, in his own earthy, awkward way, was showing some public awareness of the agonies of two teammates.
"Come out to the ballpark," he challenged the people in Trenton and Wilkes-Barre and Allentown and Hazelton. "But don't boo Greg Luzinski or Mike Schmidt. Boo me.
"Nobody expects a standing ovation when they strike out with a man on third and less than two out But some guys can handle the boos. Boo me, I can handle it."
LARRY BOWA SAT there, at the head table, shaking his head in wonder.
"Intimidate, that's what he does." Bowa said later. "He's going from first to third and he's two steps past second and the outfielder has the ball.
"And he goes anyway. And somehow he's safe.
"Garry (Maddox) or me, we try that and, pow, the guy makes a perfect throw and we're dead, out by a mile.
"And now, he's intimidating the fans. Boo. him, he tells 'em. Can you imagine anyone else saying that? Can you just see Schmitty telling the fans to boo him?
"They'd bury him. But Pete don't care."
Pete don't care. He don't care what the writers write. He don't care what the gossips gossip. He don't care if the stars grumble because he gobbled up all the endorsement loot in Japan by going over there a week early.
He don't care if people mutter about the potato chips he eats or the way he spends his winter getting on and off airplanes for appearances in Chicago (this week) and Vancouver (next week). Or how he looks in a full-length fur coat (like putting a necklace on a raccoon).
He remembers what his momma told him about removing his hat indoors, and he remembers what his daddy told him about only going around once, so he is very kind to pretty strangers.
He plays tennis three days a week, thrashing around the court chasing after everything, sweating under three layers of clothing, keeping those bulky legs in shape.
He will be ready when the starting gate clangs open. You can bet the bouse on it.
(Tomorrow: A different approach)
February 8, 1980
Green Wants Phils Thinking 'We'
On the Road with Stan Hochman
Dallas Green keeps telling people that the Phillies' theme this -spring will be "Repair and Prepare."  
Larry Bowa groans, throws up his arms like a guy tossing pizza dough, and hollers. "Repair and Prepare? What is this... PennDot? I feel like a pothole on the Schuylkill Expressway."
Bowa has a tongue like liquid Drano. just as caustic, just as scatological. But this was just a gag, a bit of comic business to help ease the journey between Tedium and Boredom, two Pennsylvania towns on the annual Phillies Press Caravan.
The shortstop has seen the manager's timetable for the first 11 days of spring training and he approves. It is more like Parris Island than Coney Island, and Bowa likes that.
"HE IMPRESSED ME," Bowa said over breakfast in Wilkes-Barre. "He's got a training program lined up. He's showing leadership qualities. I believe in giving the man a chance. Even if it turns out 100 percent wrong."
Is that the same Larry Bowa who jumped so high and screeched so loud when Green took the job last year and said he would use the final 30 games to find out "who wanted to win?"
If Green had been a doctor with cold hands checking Bowa for hernia, the shortstop would not have jumped any higher, screeched any louder.
"We're alike." Bowa said. "Well say things in the heat of anger. But he came to me, said he didnt mean for guys to take it personally. That showed class.
"And I've been watching him this winter. It looks like he knows the direction he wants to go."
The direction is up.
"It was embarrassing last year," Bowa said. "To have the talent we have and come in fourth."
Bowa lugged his frustration home with him. turning his marriage sour. This winter, he has worked at salvaging the marriage, and labored at rediscovering his batting stroke.
"He's at the ballpark every day at 8 in the morning." gushed Pete Rose.
"TEARING IT UP in the batting cage. Now, if we can find a way to start the games at 8 in the morning."
That's easy for Rose to say. He spends his winters taking bows, signing autographs, gobbling potato chips, playing some tennis, and all he does is hit 300 every year.
"I'm from the old school." Bowa said. "The older you get, the harder yon have to work.
"I've talked to guys like Carl Yastrzemski. Tommy John. It's unbelievable, how hard they work all winter.
"I've talked with Gus Hoefling and with the Eagles trainer, the guy rehabilitating Bill Bergey. He gave me a running program, the 330s, the striders. Plus, I run the steps at JFK Stadium every day.
"I'm gonna continue to do weights during the season, twice a week. To maintain strength. Up til now. I've been building up my body, only to tear it down all summer.
"AND I'M LOOKING forward to spring training. Under Frank Lucchesi, under Danny Ozark, I haven't had to work hard. Spring training has been cake.
"The hardest spring training was under Bob Skinner. Where we had to run. I had my best year. Stole 50-something bases.
"I hated the program while we were doing it. Called him everything but a gentleman.
"And if Dallas makes it tough, there'll be a lot of bitching. But you can't bitch too much when you came in fourth."
Bowa is a tough, wiry, little guy. a jackrabbit. There are bigger, bulkier guys who dread running. There are some pitchers who have abandoned running in favor of a flexibility program administered by Hoefling.
One of those pitchers is Steve Carlton. Will Carlton choose to run? If directed, will he swerve?
"I'm going to sit down with Carlton." grumbled Green, "one-on-one. With no media there, with no players there."
It is shaping up as the most intriguing one-on-one since Sadat and Begin, since Ali and Frazier, since Sonny and Cher.
"It will be important." Green said. "Because now everybody is looking at this thing... is that the crack in the wall of Dallas Green's discipline, his toughness?
"I CAN SEE THAT building up. Ammunition for people to say Dallas Green can't handle Steve Carlton.
"But when we sit down I will explain my part of it, what I expect him to do."
Man wins two Cy Young awards, can you expect him to do what a pack of under-achievers are doing, when what he's doing seems tougher, sweatier, more punishing?
"I'm an old school guy." Green, muttered. "I like a running program. But you guys think I'm going out there with a whip and a gun and have everybody run 14 laps. Not so.
"Ill say one thing about Carlton, he's one of the best-conditioned pitchers around. I went through the program with Gus.
"After a half-hour, half of you would drop dead doing it. I can't get 18 or 20 guys doing Steve Carlton's program. So I'd like to see Steve Carlton do our program.
"If we think about 'we' as a team instead of 'I' as an individual, well come a long way."
Slogans will get you just so far. Getting Carlton to conform has become a key issue, whether Green likes it or not.
"There's gonna be eyes on how he handles Carlton," said Bowa. "Not only media eyes. Player eyes too.
"HE'S GOT TO HANDLE it with an iron thumb. Uh, an iron fist. He just has to take the reins.
"You can't have two standards. I don't care if Lefty wins 25 and the other guys don't do bleep. You're not gonna win (a pennant) unless you establish something.
"Hey, if Carlton is in such good condition, it's not gonna hurt him to run 10 sprints. He does that, he can be a leader."
The Phillies are a team long on talent and short on leadership. Bowa is too volatile, Pete Rose is too self-centered, Mike Schmidt is too off-centered, Garry Maddox too shy. Bob Boone too wry, Greg Luzinski too introverted...
"Willie Stargell. he's an easy-going guy, and everybody likes him," Bowa said. "You look at our club and we don't have a leader like that. Each guy has his own little traits that some other guys dislike."
Maybe Green will become the leader, the way Earl Weaver leads in Baltimore.
"Players are certainly different now, in terms of desire," Green said. "But that becomes the key to managing. You have to drag it out. somehow.
"Through a program, or through belief in the organization. Tommy Lasorda tried that, with his 'Dodger Blue.'
"CHUCK TANNER IS USING the 'family' bit. The Orioles use an organizational thing, with Weaver the very big mahof. I'd like to see the Phillies take a little bit of everything."
You take a little bit of everything, you might wind up with hash. Bowa. who has an opinion on everything, has some guidelines for Green.
"There should be a closeness between manager and players." Bowa warned. "But if you get too close, the effect is gone. I hope Dallas doesn't get too close.
"That hurt Danny Ozark. Then, when he wanted to be a disciplinarian, he had gotten too close to key players. So, whatever he said, they just shrugged, and said, 'OK. he'll get over it.'
"Everywhere I go, people say we have a lot of jealousy on our club. Personally, I don't think there's jealousies.
"It's just that we kid in a manner, where if you don't know us, you'd think we're ready to go at it.
"I remember. Bake McBride came over here and we were needling and Bake said, 'You say those things in St. Louis, we've got to fight.'
"It's criticism and our guys can take it and dish it out. When we won the division three times, nobody said too much about it.
"We finish fourth and it becomes magnified. I think everybody gets along. Out of 25 guys, you're not gonna get everyone to love each other."
Perhaps familiarity has bred contempt. Perhaps that is why Green is contemplating a clubhouse shakeup. moving lockers hither and yon, at least in spring training.
"I'M NOT SURE he hedged. "It ties in with the "we" concept. It goes back to Danny's way of running things, where you knew where you stood on the first day, the 'good' guys over here, the 'bad' guys over on another field.
"I was always one of the 'bad' guys when I played. I didn't feel part of the team. And I was as much a part of the team as Jim Bunning.
"You take a guy like Larry Bowa. I'm gonna bat him eighth. He doesn't like it. He will bitch and moan about it.
"But then I know he will do his damndest to win each game. He will put the 'I' aside, and think about the team.
"I know his makeup. He's had to battle, grind, scratch, claw to get where he is. He doesn't want Dallas Green to take one inch away from him."
The manager will have other, tougher tasks, mending Luzinski's tattered confidence, finding a way to get McBride out of low gear, creating enough smoke to blow in Schmidt's direction.
Has he had time to notice Bowa's change of heart?
"Uh huh. he's changed 360 degrees," Green said, proudly. "Or is that 180 degrees. Whatever."
Some things change, some things stay the same.
February 12, 1980
Taylor a Rover
Former Phillies coach Tony Taylor will be a roving infield instructor in the team's minor-league chain, it was announced yesterday.
Howie Bedell, the club's director of minor leagues, also said that Scranton's Paul Carey will manage the Bend, Ore., team in the Northwest Rookie League.
"I offered Tony the Bend job and the instructor's position." said Bedell. "I had openings for both and gave Tony the option. We talked several times and Tony has notified me he'd prefer the instructor's position."
As a roving instructor, Taylor will work with the Phillies young infielders from the Triple-A level down to the two rookie teams. Hell also join Dallas Green's staff for spring training with the major league club until March 15 when 150 minor league players begin their training in Clearwater.
February 13, 1980
Baseball Owners Dealing With Well-Funded Union
Baseball By Bill Conlin
There are several bright sides to the Olympic boycott controversy.
Absnow hasn't surfaced yet; that is, Abdul the FBI Arab hasnt offered a USOC official a satchel of money to buy his nephew, Hareem, a spot in the luge finals.
Better yet, much better, the quadrennial mix of national interests and sport has served to submerge baseball politics, a subject which should have been drowned at birth.
But somewhere behind closed doors in the canyons of Manhattan, the Major League Player Relations Committee is glaring across an issue-laden table at Marvin Miller, the Dalai Lama of the Players Association.
Like the Olympics, the basic agreement – labor contract to you – between the owners and their former serfs seems to come up about every four years, regular as a plague of locusts.
IN 1972, A simmering dispute over increased pension contributions dominated the spring training news. The players hit the bricks on Good Friday, but the owners capitulated after six games of the regular season were canceled. Pete Rose doesn't exactly recall the strike with the zeal of a Molly McGuire. "It cost me another 200-hit season, that's what it did," Rose said after lashing 198.
The owners wobbled into the 1976 negotiations in a daze.  A Federal arbitrator, Peter Seitz, had sent them to the table with a whole new ball-game to botch. Seitz had declared Andy Messersmith a free agent, end-Hfrng a century-long run for the reserve clause which bound player to owner til death or an unconditional release did them part.
What followed was one of the rich jokes of baseball history – the Great Spring Training Lockout The owners closed down the Florida and Arizona camps and circled the wagons. While the Player Relations Committee haggled with Miller in the worst mismatch since Italian tanks vs. Ethiopian spears, the rank and file sat at poolside pounding beer. Two weeks into the scheduled exhibition season, the owners asked Commissioner Bowie Kuhn to throw them a rope.
Kuhn ordered the camps and the season to open while negotiations continued. Militants – there were some among the owners – felt the surrender came too soon, that if they had poshed the Players Association to the brink of unemployment a majority of the high-salaried stars would have broken ranks and sundered the union.
THEY SIGNED the agreement which expires next month in August of 1976, a contract which introduced the re-entry draft for free agents and forever changed the owner-player relationship, provoking an avalanche of long-term contracts and incredible salaries. Miller must have laughed uncontrollably to himself when both parties agreed the free agent and re-entry parts of the contract would be conducted on an "experimental' basis, subject to review by both parties in 1979.
There is about as much chance the players will let the owners toughen the rules of free agency as there is for the AFL to return to the 12-hour day. American Labor has a habit of clinging to victories won. The owners can look it up. And the sooner they come to the realization that they are dealing with a well-funded, superbly-led craft union with no equivalent replacements, the better they will be able to deal with the basic reality of their situation.
Free agency is a fait accompli So is some form of re-entry draft. And sports owners should concentrate on cutting future losses rather than trying to recapture territory solidly in enemy hands. Establishing a reasonable compensation plan to keep predators like George Stein brenner in check would seem to be a healthier road to take as the industry attempts to cope with the inflation of the "80s. There again, the owners seem more intent on breaking the system than improving it and learning to live with it.
THE OWNERS WANT to put in a salary structure which would pay star and donkey alike an equal sum during their first five years. Ecccch! Who's advising these guys. Calvin Coolidge?
Players are already trickling into spring training camps. The Yankees and Red Sox open informal spring training this week.
Will there be another lockout when the camps open in earnest around March 1? Probably not. Both sides took a media battering in 76. And the lockout itself became a travesty when many teams provided equipment and a warm blessing for players working out at makeshift sites.
Phillies players ran a disorganized but well-attended camp for themselves at Grant Field, a former Little League field in nearby Dunedin which is now the headquarters of the Toronto Blue Jays. The '76 Phillies ran away with the Eastern Division and their preparation during the three-week lockout contributed to a fast start.
There is little news from the owners' camp, understandable with a $500,000 fine facing those who reveal the game plan. But many management people feel that spring training will go on as scheduled while negotiations continue.
"I think it will be pretty quiet until the last couple of weeks," a baseball man said the other day. "Then we'll probably start calling each other names. The main feeling I get this time is that the owners are solidly united. I think theyll take a common stand."
THAT WILL BE a first, folks, like finding 26 Iranians with the same political views.
What both sides may lose sight of is that most fans are interested only in seeing a good game of baseball, that these palace revolts are a crashing bore. Amateur umpires had no effect on the gate whatever last spring. The owners, however, would be ill-advised to try to break a strike or orchestrate a regular-season lockout with amateurs or minor-league players.
Professional sports salaries – particularly at a time when the dollar is slowly strangling people forced to live in the real world – have created bitterness, awe and envy. But they are the sum and substance of a phenomenon the spectator has endorsed by his presence.
As Shakespeare wrote. The play's the thing."
February 14, 1980

Ruthven Rids Himself of Junk
By Bill Conlin
Dr. Frank Jobe, the Los Angeles-besed patron saint of lame arms, explained Dick Ruthven's elbow problem in layman's language.
"There's a lot of junk in there," Dr. Jobe told Ruthven at the end of a 1979 season Dick and his right arm would just as soon forget.
"Extra-osseous debris," Phillies trainer Don Seger said. yesterday, watching the pressure reading on a sleeve which was freeze-drying the righthander's elbow.
Dr. Jobe removed 14 pieces of extra-osseous debris in an operation which sounded like more of a job for San ford and' Son. While he was in there, the Dodgers orthopedist removed scar tissue from Ruthven's 1974 elbow operation which happened to be rubbing against the ulnar nerve.
OTHER THAN THAT, there was absolutely nothing wrong with the pitcher's arm. How'd Ruthven comb his hair last season, anyway, let alone perform like the league's best pitcher until the shrapnel started nipping at nerves and such?
Although you could get away with calling Ruthven's general condition "bone chips," the condition was a little more esoteric than that. Dick's bones were fine. The extra-osseous debris was actually caused by blood which, instead of being absorbed into his system, had calcified into hard flakes of assorted sizes and shapes.
So much for the anatomy lesson. All you want to know is, can Ruthven pitch? Will a talented athlete who has had two arm operations, back and rib cage miseries and a surgically-repaired broken ankle finally make it from March to October without becoming a medical bulletin? And what about a recent Philadelphia Magazine observation that the surgery left him with a lame arm?
"I started throwing last week," Ruthven said after his final Vet workout before he heads for Clearwater. "Thirty feet away for 15 minutes. I haven't been on the mound yet, but I'm throwing about 60 feet. Bob Boone's about 15 feet behind the plate and I'm on flat ground. I'm not lame. It feels good. I've even messed around with some breaking balls. That's when it bothered me the most last year and I don't feel it now."
DR. JOBE recommended surgery as a hedge against a day when one of those flakes of calcified blood floated into the elbow joint "He told me the discomfort I felt last season would go away and that I should expect a 100 percent recovery. I don't think I would have had it if he hadn't told me that. I think I could have pitched with it. It wasn't really the reason that I couldn't pitch at the end of the season."
He didn't pitch most of September because he blew a muscle in his back. "I don't know if it was from favoring the elbow, but it was the reason I couldn't pitch," Dick said. "That healed on its own in about three months and doesn't bother me at all. I don't know what the hell it was, but if I took a deep breath or coughed it really hurt."
Don't let Ruthven kid you. It also hurt when he pitched. "It was always generally tight; it never would get loose," Dick said. "On my breaking ball, a couple of times it stuck me so bad I looked down to see if I was bleeding. Then psychologically, when you go to snap a breaking ball off you tend to be a little sloppy with it. Subconsciously, I didn't win that particular battle and maybe my mind was telling me I shouldn't win that battle. That's when I started inventing stuff."
Ruthven fiddled while his elbow burned.
He became a master of the half-fast ball, the almost curve and the changeup off a changeup. If Ruthven's long, frustrating season had a positive aspect, it was the well of resources he discovered within himself.
"I THINK I learned quite a bit," he said, "trying to invent things to stay in the game. Boonie and I learned quite a lot about each other and I learned a lot about what I could make the ball do because I had to make it move, whereas before it would naturally move.  Now, I can do a few more things with my fastball.  I can turn it over a little bit. I learned a lot because I didn't have a whole lot to deal with. Trying to compete with what I had wasn't the most fun I ever had. The way it feels now compared to then I can look back on it as a positive experience, a learning experience."
Ruthven laughed wryly. "But it was a total pain in the ass," he said.
He will turn 29 next March and is long overdue for the big year a pitcher with his gifts should have, six solid months of the 13-5 form he flashed for the Phillies after they rescued him from Atlanta on June 15, 1978. Ruthven has often been a victim of his impulsiveness. And a man who knows him well winced a little when he talked about messing with breaking balls in his second week of throwing. Take it a little easy, huh, Dick?
"I don't think I'll push anything," he said. "I've gone through something similar before. This is the third surgery I've had. I feel like I'm in control. It would be kind of stupid to go out there and start firing like I might have done when I was 22 or something. If you're faced with something that could end your career you tend to be careful with it. That's why I went out to LA for a second opinion."
Scars criss-cross Dick Ruthven's elbow like the downhill trails at Lake Placid. But Dr. Jobe rebuilt Tommy John's crippled left arm with parts borrowed from his right thigh. After that bionic reconstruction, Ruthven's operation must have seemed like first aid.
February 19, 1980
Bill Fleischman's SportsPeople (excerpt)
Phillies' Preview
The first prediction on the Phillies' finish is in, thanks to good friend Peter Gammons of the Boston Globe.
Gammons, who must spend every waking hour thinking baseball, previewed the National League East recently. Among his capsule observations on the 1980 Phillies were:
•  Infield: "Few, if any better. Depth big problem, with only Bod Harrelson around."
•  Spring training keys: "(Dick) Ruthven's health, bullpen, rightfield, infield depth."
•  Outlook: "A flop last year, but should be back in it, and Dallas Green will push them (if some player doesn't shoot him first). Pitching is vulnerable, and age is showing; everyone in the starting lineup will be 30 by September."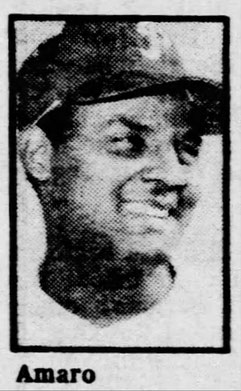 Phils Name Amaro Coach
Ruben Amaro, a veteran shortstop of four major league teams and 11 seasons, will replace Tony Taylor as the Phillies 1980 first base coach, manager Dallas Green said today.
Amaro, 44, the Phillies' coordinator of Latin American Scouting for the last six years, will join Billy DeMars, Bobby Wine, Lee Elia, Mike Ryan and pitching coach Herm Starrette.
"I am very happy that Ruben has accepted our offer to work with the major league club. He is an excellent baseball man and will be  a welcome addition to my coaching staff," said Green.
TAYLOR, one of the most popular players in Phillies' history, was recently named a roving minor league infield instructor for the Phillies.
A native of Monterrey, Mexico, Amaro was first signed by the St Louis Cardinals. Later, he played for the Phillies, Yankees and California Angels. His best major league season was 1964, when he batted .264 in 129 games. He retired after the 1969 season.
February 22, 1980
Phillies Still Seeking Bench Strength
By Bill Conlin
A year ago, Paul Owens made the Big One. He pried Manny Tnllo. Greg Gross and Dave Rader loose from the Cubs for Barry Foote. Jerry Martin, Ted Sizemore and minor-league pitchers Derek Botelho and Henry Mack.
Trillo was the missing piece in the Phillies puzzle, the star-quality second baseman they coveted, the man who would give them baseball's best starting eight In the game. Today.
A year later, the jury is still out on the deal. Trillo's left forearm was broken by a Rick Sutcliffe pitch during the Phils' only brush with 1979 glory, a triumphal West Coast trip. Manny was the third in a series of falling dominoes which began with injuries to Larry Christenson and Dick Ruthven and didn't end until it involved every starter but Pete Rose and every pitcher of note but Ron Reed.
THE ADDITION of a starting catcher, centerfielder and second baseman did nothing to rescue the Cubs from mediocrity. Foote was the clubhouse lawyer everybody in the Phillies front office knew him to be. Martin had a productive season but is screaming for the Cubs to pay him or trade him. Sizemore, a month that roared, criticized the Cubs' wine steward one time too many and was shipped to Boston.
Trillo is healthy, but the 1980 focus has shifted from the starting eight to a suspect, convalescing pitching staff and a bench which came up very short offensively from the right-hand side last year.
Owens has watched all manner of proposed deals fall through, including a major and possibly disastrous multi-player transaction with the Texas Rangers which was aborted by Sparky Lyle's $500,000 personal-services contract and indications by Bake McBride that he will play out his option if exiled to Arlington.
There were sighs of relief, including some from the front office, by people who felt that a young and still unfulfilled talent like Christenson and an offensive player of McBride's ability would be too high a price to pay for a mediocre package headed by a relief pitcher who will be 36. It bore an ominous similarity to the colossal 1966 disaster of a deal which sent a young pitcher named Ferguson Jenkins, outfielder Adolfo Phillips and first baseman John Hernnstein to the Cubs for elderly righthanders Larry Jackson and Bob Buhl.
IT WAS A MOVE which doomed the Phillies to nearly a decade of sub-.500 finishes. Phillips flamed out early and Hernnstein retired, but Jenkins swiftly blossomed into one of the' game's great pitchers, a man who could have had a Robin Roberts career with the Phillies. Hell, Fergie's still going strong 14 years later. Buhl's arm was long gone when he reported and Bob quit in '67 when he couldn't even get hitters out with his spitbalL Jackson has had a much better career in Idaho politics than he had pitching with the Phillies.
Owens probably ended his serious shopping for the bullpen hammer Dallas Green asked for in his Christmas stocking when he signed free agent Lerrtn LaGrow. LaGrow might be an echo of what Green has in overabundance – bullpen question marks – but at least the righthander widens the manager's range of choice. With Ron Reed, Tug McGraw, Warren Brusstar (please, Warren Brusstar!), Kevin Saucier, Dickie Noles, Doug Bird, Rawly Eastwick, Burke Suter, LaGrow and a handful of minor-league candidates, it will be standing room only in the bullpen this spring.
The search for bench strength continues and the latest name to surface is Mets leftfielder Joel Youngblood.
Youngblood, an underrated player who hit .275 with 16 homers and 60 RBI last year, told North Jersey baseball writer Marty Noble that hell be a Pirate or Phil by opening day.
THAT COULD BE wishful thinking on Youngblood's part. And his chances of becoming a Pirate diminished considerably when Bill Robinson failed to reach terms with Houston in a deal which would have added Joaquin Andujar to Bill Virdon's staff. Owens, however, is very interested in Youngblood, who, in addition to his power and ability to fill in at second base in a pinch, has the kind of throwing arm you'd like to see in left field in the late innings.
The Mets have been traditionally difficult to deal with, though, following each disaster of a trade with a period of conservative overvaluation of their modestly-endowed personnel. Starting with the Amos Otis giveaway and followed by the awful Tom Seaver plunder (Youngblood has developed into the best all-around player of that package), the less, of Jerry Koosman, Jon Matlack and John Milner, a blundering front office bulwarked – or hindered – by naive ownership drove a million fans away.
Doubleday, the publishing giant bought this cheap paperback novel of a team for $20 million, which might be the greatest literary heist since Clifford Irving.
But things are looking up with the hiring of Frank Cashen, an excellent executive in the best tradition of the Baltimore organization. Cashen will take over the front office operation after marking time in the commissioner's office waiting for somebody to ask him to rebuild their club. And if ever a baseball man dreamed of building something out of absolutely nothing, the Mets represent ground zero.
The long-proposed deal with Baltimore of outfielder Lonnie Smith for utility infielder Billy Smith apparently depends on the whim of Green, assuming it can be made. The feeling here is that Dallas is very reluctant to trade a former No. 1 draft choice who is a key yardstick of the manager's success as farm director. Trading the swift but so far defensively inept outfielder for a utility man would seem a repudiation of the Phillies minor league organization. On the other hand, Lonnie is out of options and if the Phillies feel they made a mistake, now is the time to try to minimize their loss.
The Pope arrived in Clearwater yesterday with an attaché case crammed with scouting reports. You can bet his line is busy.
February 29, 1980
Medical Bulletins Are Out
By Bill Conlin
CLEARWATER – Quiet, please. That sound you don't bear in the background is flesh and bone healing.
Phillies flesh and bone. Calcium working to build a better collarbone. Scar tissue thickening gradually like ice on a Minnesota lake. Repaired medial collateral ligaments getting a solid grip on a retooled capsulum.
Watching athletes heal is on an excitement scale with mail chess matches and Ted Kennedy TV appearances. Stealing a line from the Notre Dame Football highlights network, couldn't we move on to action later in the spring?
THE PHILLIES are still in the Repair phase of Dallas Green's Reeepair and Preeepare program. And the manager, whose normal speaking voice is enough to stop traffic on VS. 19, has said loudly and clearly that he doesn't want the literati to spend spring training – or any significant part of it – reminding the convalescents or the reading public of the club's medical misfortunes.
Each writer received a fatherly lecture from Green on his arrival here concerning the impropriety of dwelling too much on the rehabilitation of his athletes. Dallas seems particularly sensitive when it comes to right-handed reliever Warren Brusstar, whose absence most of the 1979 season with a shoulder injury was considered by many to be the Phillies' mortal wound. There have been some encouraging signs on the infernal machine trainer Don Seger uses to monitor strength in injured areas that Brusstar may have a chance to pitch this season. You would not, however, want to bet your 13 percent mortgage on it.
And Green seems reluctant to have that possibility rumored, discussed, introduced as a ray of hope or as a dominant theme in the stories written here.
"You guys would be doing me and the ballclub a big favor this spring if you didn't write a lot of stuff about Brusstar coming back," Green said the other day. "What I don't want to see is a lot of media pressure put on Bru. I don't want him reading that he's a big key to the bullpen.
"I DON'T WANT him reading that he's the key to the pitching staffs success or any of that crap. I'll say it right now. I'm not counting on him. If I get him back it will be a super plus. I don't want to put the pressure on him that without him we can't be successful. We don't want him out there overextending himself because he feels like he has to make the staff or get hitters out in exhibitions.
"I've gone that sore arm bit and it can be a twitch. I never had a chance to be super like Bru has, but I know the thinking involved."
Ah, you can forget the first-week medical bulletins anyway. They are as out of sync with reality as the price of gold. There's not a guy from last year's lengthy injury list you wouldn't write a SI million insurance policy on – as long as it didn't involve him throwing a baseball at high speed, blocking home plate or bouncing off a wall. Larry Christenson, Dick Ruthven and Brusstar show no signs of wincing while – combing their hair. Bob Boone's knee is not quite ready to deflect Dave Parker from home plate, but he's walking better than 175 million Americans.
Check back again in about a month, when the pitchers are starting to stretch out to five or six exhibition innings, when the hitters are starting to swing the bats with malice and the runners are starting to go for the jugular.
THE REHAB DRILL here is to get the injured players in superb overall shape so they don't blow out a muscle which went soft while an injured arm was in the quick-freeze sleeve. Green's approach is sound in that respect. Nobody ever won a pennant with a Feb. 29 fastball.
"These guys coming back don't have to win any exhibition games for me," Dallas said. "We've got a proved group of athletes who don't have to be judged on their performance down here."
Except for the rehabs, attendance at the informal daily workouts Billy DeMars has been supervising since early February is optional. But there are so many guys here on their own it almost looks like a full camp. Pete Rose, Manny Trillo and Bake Mc Bride are the only absent regulars.
"I like what I've seen of the attitude," Green said. "I think you'll see a change. There's a lot of dedication and determination to get this team back where it belongs. Everybody I've looked at has a flat belly and clear eyes."
Paul Owens has been busy negotiating contracts with kids who were at Oklahoma City last year. The Pope reports that traffic in trade talks has been light.
He refused, however, to completely close the Sparky Lyle file.
"Things seem to be up in the air town there with all the talk about the Rangers up for sale and Brad Corbett getting out of baseball," Owens said from command headquarters in the Holiday Inn last night. "I don't expect to hear from Eddie Robinson until they know what's going to happen."
WHAT ABOUT THE Mets, who should start wheeling and dealing now that Frank Cashen has been hired to rescue that foundering franchise from the rocks? Owens says he wasn't aware of Joel Youngblood's prediction – or devout wish – that he will be in a Phillies or Pirates uniform by opening day.
"I didn't hear that," The Pope said, skilfully avoiding any reaction that could be misread as tampering. "I think they want to take a little time for consolidation, give Frank some time to get his feet on the ground. I haven't done a lot of talking to anybody."
The best news of all, though, is you can't call them the "overpaid" Phillies anymore.
"With the Cardinals signings, I think we're down to about fourth or fifth-highest payroll in the league," Owens said. "The thing I admire about the Cardinals is they gave the big money to their own proved people, not to some guy who played out his option and signed for a helluva lot more than he's worth."