Wilmington Morning News - February 1980
February 1, 1980
Phils add right arm of LaGrow
PHILADELPHIA – The Philadelphia Phillies signed free agent Lerrin LaGrow yesterday in a move that could go a long way toward strengthening the bullpen.
LaGrow, 31, pitched for the Chicago White Sox and Los Angeles Dodgers last season while playing out his option. Only the Boston Red Sox selected the right-hander in the re-entry draft, so LeGrow was free to sign with any club.
"He's a pretty good pitcher," said Paul Owens, the club's Player Personnel Director. "He had a couple pf little physical problems last summer, but he came back with a very good September. I know two other clubs in our league were after him so I'm tickled we were able to sign him to a major league contract."
The Chisox dealt LaGrow to the Dodgers in early May, sending him over with an 0-3 won-loss record for 11 appearances. LaGrow came up with a bone spur in left heel – postseason surgery has corrected it – and then developed a sore arm. As a result, the veteran spent much of August on the disabled list.
LaGrow came back with an almost-perfect September. In nine appearances, he won three games, saved two and allowed one earned run. Overall, in 31 games for the Dodgers, LaGrow finished with a 3.41 ERA, a 5-1 record and four saves.
"He was very impressive in late-inning pressure situations in September," said manager Dallas Green. "We're gambling that he's back in the form he displayed with the White Sox. He could fit very nicely in the pen and help Ron Reed and Tug McGraw."
Indeed he could, if last September was an indication. In fact, for two years with the Sox, LaGrow was one of the better relief pitchers in the American League. In 1977, he saved 25 and won seven. In '78 he won six and saved 16.
February 12, 1980
Taylor, Carey to coach in Phillies minor system
Tony Taylor and Paul Carey have been named coaches for the Phillies minor leagues by Howie Bedell, Director of Phillies Minor Leagues.
Taylor, a former player and coach with the Phillies will serve as a roving infield instructor, while Carey from Scranton, Pa., will manage the Bend, Ore. team in the Northwest Rookie League.
"I offered Tony the Bend job and the instructor's position," said Bedell. "I had openings for both and Tony gave the option. We talked several times and Tony has notified me he'd prefer the instructor's position."
As a roving instructor, Taylor will work with the Phillies young infielders from the Triple-A level down to the rookie teams. He will also join Dallas Green's staff for spring training with the major league club until March 15th when 150 minor league players begin their training in Clearwater, Fla.
"During the season, he'll be directed to different clubs to work with specific individuals. With his experience, I'm also toying with the idea of having him do some work with outfielders and maybe even catchers," Bedell said.
Taylor was a coach for the Phil lies for the last three years. When Lee Elia was promoted from a minor league managerial position to a Phillie coach, Taylor was removed from the staff because of pension problems. Had the Phillies kept Taylor on the staff, Elia wouldn't have been eligible for the pension plan even though Tony had reached the maximum 20 years of service. The Phillies attempted to change the rule but were unsuccessful.
Carey, 26, was a catcher in the Phillies system from 1972 to 1975. He's been a coach in the minor league system since 1975.
February 14, 1980
Dallas Green 'roast'
Dallas Green, manager of the Philadelphia Phillies, will be roasted by the Delaware Chapter, National Multiple Sclerosis Society, April 14 at the Hotel du Pont.
Master of ceremonies will be Al Cartwright of the News-Journal papers.
Green was a baseball player with the Phillies, Washington Senators and New York Mets. He became director of minor leagues for the. Phillies in 1972 and was named manager of the team last year.
Green is a native of Newport, Del. Ticket information for the Dallas Green Roast can be obtained by calling the Multiple Sclerosis Society at 478-9736.
February 15, 1980
Guest speaker Gross, funny
By Matt Zabitka
Scheduled to be the principal speaker at last night's 32nd annual Salesianum Alumni sports banquet at Padua Cafetorium, Phillies' Manager Dallas Green was a no-show.
Toastmaster Wayne Rizzo, a Mork (of TV's Mork & Mindy) look-alike and act-alike, explained to the crowd of 580 that Green had taken ill. Rizzo read a telegram Green reportedly sent: "There are two things a manager must do – yell and talk. At this time I can do neither."
Green sent a "pinch-hitter".
"I was wondering what my role with the Phillies will be in 1980," quipped free agent outfielder Greg Gross, "and now I found out. Dallas let me know even before we get to spring training."
On a scale of 1-to-10 as an entertaining speaker, left-handed hitter Gross was an 11 at the affair which saluted 81 Sallies' athletes (and coaches) who participated in 11 sports over the past year.
"1979 was lousy," said Gross. "I already had my World Series money spent."
Going down the Phillies' roster, position by position, Gross commented:
"Bob Boone will be back as our catcher. Mike Schmidt will be our third baseman. Schmidt is the only guy I ever saw who can slide and never get his uniform dirty.
"Larry Bowa, our shortstop... well, he's a legend in his own mind. And Manny Trillo, we've been feeding him proteins over the winter so we could see him at second base.
"As for Pete Rose, there isn't much to say, except he's ugly.
Greg Luzinski has been on a diet all winter. Bull took a lot of abuse last year but the fault wasn't all his. He had 83 RBI. He's not a good outfielder, and I don't mean that to be facetious. He keeps me in the big leagues because I get to play some defense. I saw him at a tennis tournament last week and he looks in great shape. He has trimmed down considerably.
"I have no lines for Garry Maddox. He's the best center fielder. And Bake McBride in right field, I started rumors all winter to get him traded."
Of course, Gross, who is continuously referred to as the Phillies' "fourth outfielder," wanted it made clear his comments were in jest, even though he spoke with a "straight face."
Gross, wearing light-brown slacks, an eye-boggling sports jacket and a white shirt open at the collar, added: "We need some righthanders on the bench. If our pitching is healthy we'll do all right. If not, we'll finish a strong fourth again."
Philadelphia Eagles' linebacker John Bunting also impressed as a speaker.
The Eagles' 10th-round draft choice in 1972 noted that he had been with a football winner for so many years that he didn't know what it felt like to be a loser until he joined the Eagles.
"I was with the Eagles 6½ years and never on a winning team. Then when the Eagles became winners I busted a knee. That 1978 season, when I ruined my knee, was a blessing in disguise. It made me work harder to get back. I know the Eagles will go again and I want to be there."
Pointing his remarks directly at the 81 Sallie senior athletes seated in front of the dais, all wearing white coats, white shirts, bkek bow ties and black pants, Bunting said: "I became so caught up in coming back to football I ignored everything around me for about a year. There are things you should constantly re-evaluate. Doing things too much a time. Open those eyes, ears and minds in coming years."
Former Sallies' football captain Kevin Reilly, Class of '69, who went on to added stardom at Villanova and had pro stints with the Dolphins, Eagles and Patriots, gave a very moving oration. Talking about the loss of his left arm, which was amputated last fall, Reilly said: "I am not handicapped. I would like to look at this as a challenge. A lot of people are more handicapped than I am; the people hooked on drugs and alcohol.
"The underlying spirit was very much appreciated in my last operation. The support and prayers of the Salesianum people was very uplifting.
"Salesianumm is many things to many people. Where the common bond begins and ends is a mystery."
Reilly, who conducts a sports show over Radio Station WDEL every Saturday, was accorded a rousing standing ovation.
Others who spoke included William T. McLaughlin, mayor of Wilmington; Rev. James O'Neill, principal of Salesianum School; Dick Anderson, assistant football coach at Penn State; Steve "Sid" Cassidy, Sal grad who went on to set multi swimming records at North Carolina State; Loren Kline, Delaware soccer coach; Scott Thompson, Delaware's MVP last fall in soccer, Kevin Conlin, former Sal football player who recently completed his collegiate football career at Rutgers; Sidney Maree, Villanova's long distance runner from South Africa; and Justin Gause, representative for the senior athletes.
Francis Twardus was banquet chairman.
February 21, 1980
Rose envisions shift in Phils' style of 80's
NEW YORK (AP) – Pete Rose says harder work will bring a brighter year for the Phillies, who finished 84-78 in an injury-plagued 1979 season.
"All the guys we had injured have recuperated and are ready to go, said Rose about Philadelphia, which will be led by a new manager, Dallas Green. "We're going to be all right."
Rose, who switched to first base last season, conceded he "really neglected my offense in training camp last year and everybody pushed the panic button. But if I get in shape too soon I lose the edge of working hard every day."
Green, who took over after the Phillies fired Danny Ozark last August, prefers "a different type of ball – sacrifice bunting rather than running," said Rose.
Speed and defense, Rose believes, will characterize players of the future.
"Most owners are trading and concentrating more on pitching," he said. "Home runs are no good unless there are guys getting on base in front of them."
Rose said he is one of very few players who will get paid despite a strike, but is hoping negotiations don't come to a walkout.
"A lot of players make a lot of money," said Rose, whose four-year contract tops $3 million.
A walkout, he believes, would really hurt the game.
"...there are people who don't forget," Rose said. "But we have to stand together and I'd have to consider staying behind."
February 25, 1980
Gregg fulfills his 'major' fantasy
By Matt Zabitka
Eric Eugene Gregg was a 5-foot-9, 180-pound baseball catcher for Coach Joe Goldenberg at West Philly High in the late 60s. His fantasy, though, was to be a football quarterback for Coach Bear Bryant at Alabama, in the mold of his idol Joe Namath.
Instead, Gregg wound up as a major league baseball umpire. And today, at the age of 28, standing 6-feet-3 and weighing 255, the Philadelphian already has two years of umpiring in the majors, six in the minors and one in the Dominican Republic behind him.
This winter, the big guy with the infectious laugh and the demeanor of a used car salesman decided to branch out; try his hand and voice as an after-dinner speaker on sports' rubber chicken circuit. It was in that capacity that I first came eyeball-to-eyeball with him. Happened at the 31st annual banquet of the Wilmington Sportswriters and Broadcasters Association at Hotel Du Pont, Jan. 14.
Gregg was a smasheroo at the WSBA bash, using just the right voice inflections in speaking about true life experiences.
Pete Rose had ribbed Gregg about a call he made at the Vet during a Phillies-Pirates game last season and Gregg came back with the last word and laugh.
"That game was the night of Sept 25," he said. "Keith Moreland (Phillies reserve catcher) drilled a long one headed toward the left field foul pole. I lost sight of the ball in the overhead lights. I was hesitant about calling it foul or fair. But I looked down at Mary Sue Styles (Phillies' ball girl stationed near the left field foul line) and saw her jumping up and down, yelling 'It's a home run.' Well, that was good enough for me, so I called it a home run."
What surprised me was that Gregg said his stint at the WSBA affair was his first crack as an after-dinner speaker.
"I was nervous as hell before the banquet," Gregg recalled. "I wanted to impress the people. Pete (Rose) was aware of my nervousness. He told me to be myself and everything would turn out fine. And it did.
"Three months ago, I told my wife I'd like to take a shot at speaking at banquets. I felt I had good stories, a good voice and could do it. I called up Bill Pettit, Larry Bowa's agent, for a luncheon date. I told him I'm not super star or anything of the sort, but I could speak, and I had a movie I could show. Nothing came out of that luncheon. I got the WSBA job on my own. That WSBA job led to a speaking engagement at the Philadelphia Sportswriters dinner. From there, things began to happen for me.
"Then Pettit got me a big one, the Dapper Dan in Pittsburgh, Feb. 1-2. At the luncheon on Feb. 1 they allotted me three minutes. I was so good they invited me to speak at the banquet the next night. It was supposed to be for three minutes, but they stretched it to five for me.
"I've also taped a TV program (Captain Noah's Show) that'll be aired March 1, 10:30 a.m., on Channel 6. The last banquet I have before going to spring training will be on March 12, for the IBM people in Warminster, Pa."
Gregg got into umpiring working kids' (7-9 years old) games in Philly, getting $10.00 a game for handling the bases as well as balls and strikes. He then took and passed an officiating course at Southern High, qualifying him to work high school jayvee games for $16.50. He then graduated to scholastic varsity games at $18.20 a game. At 18, he was working Legion baseball games for $10.00.
"The first pro game I worked was in 1971 in the New York-Pennsylvania League," he said. "I remember Jimmy Rice was playing in that league then, with Williamsport. We got paid $550.00 a month and 10¢ a mile for traveling. I didn't drive. I went everywhere with my partner. He had a Volkswagen. We worked together that entire season. We lived on hot dogs and hamburgers at the ball park, and on Sundays we had the special – Kentucky fried chicken."
He spent 1972 and the first two weeks of the 1973 season in the Florida State League, after which he jumped to the Eastern League.
The winter of 1973-74, he umpired in the Dominican Republic. "It was a big thrill for me," he said, "as there were many major leaguers playing in the league. One game I worked behind the plate when Juan Marichal was pitching for Escogieo, managed by Felipe Alou. Marichal was one of my boyhood idols."
Gregg put in three years (1974-77) in the Pacific Coast League before being promoted to the majors.
"Being an umpire is a very lonely life," he said softly, "especially on the road. I've watched so many soap operas on TV I can tell you the plots of just about every one. My favorite one is 'The Young and Restless.' I also like 'Days of Our Lives' and 'General Hospital.' On the road, from 11:30 a.m. until about 3:30 p.m., that's all I do every day, watch soap operas. Even follow the soaps when I'm at home. Oh, once in a while I'll take in a movie if anything good is showing."
His big ambition as an umpire is to work playoff and World Series games. "Oh, All-Star Games are nice, but they're nothing like the playoffs and World Series," he noted.
In all his years as an umpire, Gregg, a black, confessed that he has never been the victim of racial slurs. "Oh, maybe a couple times from fans in the low minors, but never in the majors."
Being in the biggies has its advantages in other things besides pay.
"Umpires are given two brand new suits, hats, ball bags and shirts every two years, at no cost to us. We also get our special shoes free, through a deal with a shoe manufacturing company.
"This year, for the first time, umpires in both the American and National Leagues will be wearing identical uniforms."
Does Gregg have any advice for aspiring umpires?
"I'd tell them to first work as many games as possible, and try to get advice from senior umpires who've been at it a long time. And they should never try to copy umpires they see on TV."
Gregg hopes to umpire until he's 55. Longer if they give him an extension. He's getting his gear ready now for spring training. He'll be leaving for Florida March 12.
"I'll be mostly in the St. Pete's-Tampa area, working Pittsburgh, Phillies, Mets, Cards games."
Now that his fantasy of being an Alabama quarterback has totally evaporated, he has another fantasy. But this one has a much greater chance of bearing fruit. He's like to do a regular sports show on TV: And judging from the way he handled himself at the WSBA banquet, he's ripe for the tube, or maybe as a one-man nightclub act.
February 26, 1980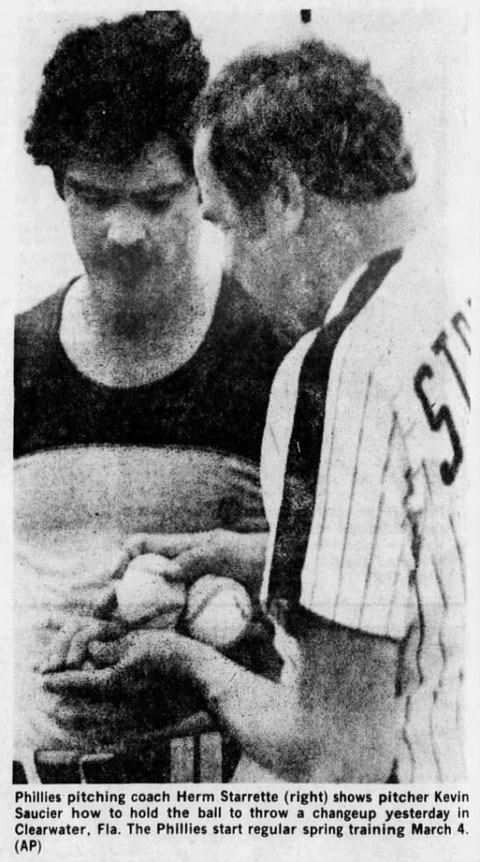 February 29, 1980
Phillies schedule a sale
PHILADELPHIA – Tickets to this season's Phillies games and an assortment of souvenirs will be available at Veteran's Stadium tomorrow and Sunday. Fans will be able to purchase Phanatic dolls, records, Phillies clothing and yearbooks at the sale.
Windows open at 9 a.m. tomorrow and close 4 p.m. Hours Sunday are from 10 a.m. till 3 p.m.