Philadelphia Inquirer - February 1980
February 1, 1980
Sports/People
Peoplenotes
The Phillies signed veteran relief pitcher Lerrin LaGrow to a one-year contract. LaGrow pitched for the White Sox and Dodgers between various ailments last season before trying the free agent market, where he was drafted only by the Red Sox. He "had a pretty good September," said GM Paul Owens.... Rookie center Bill Cartwright of the New York Knicks has replaced injured Boston Celtics center Dave Cowens on the Eastern team for Sunday's NBA All-Star game at Landover, Md.... Eagles guard Wade Key is recovering after surgery at Paoli Memorial Hospital to remove a calcium deposit in the hamstring area.
February 3, 1980
For Phillies, whole new bag
By Frank Dolson, Inquirer Sports Editor
Hey, quit shivering. Stop thinking about how it's going to feel this morning when you stick your head put the door and the first blast of cold air hits you. Think warm. Think spring.
Here, I'll help you. Even now, with the temperatures plummeting into the teens, it should be comforting to know that baseball is in the air, that boxes of equipment are already stacked up in the Phillies clubhouse for shipment to Clearwater, Fla., that the players are working out at the Vet, that the manager – believe it or not – is working out, too, that even now, as we sit here in this quick-frozen winter wonderland, everything is being put in readiness for the April 11 opener against the Montreal Expos. The bats are being ordered. The gloves are being oiled. The punching bag is being installed. The....
Whoops. Run that through again. Yeah, the last part... about the bats and the gloves and did you say punching bag?
You heard me. Punching bag.
Last year's model
Now I know there are folks who will insist that the Phillies have had a punching bag in their dugout since 1973. Fellow named Ozark, who spent most of his waking hours ducking lefts and rights from the press. But this is a real punching bag, the kind you'd find in Joe Frazier's place up on North Broad Street. Only a couple of days ago, Dallas Green ordered it installed in the Phillies dugout, where it will be opening night, ready to take the hardest shot the angriest Phillie can give if after, say, popping up with the bases loaded.
Don't laugh. A lot of thought went into that. It's all part of the new look, the new approach, the changing of the guard, so to speak. The old punching bag, is gone, exiled to the third-base coaching box in Los Angeles, so his successor has brought in a summer replacement.
"I told Gus (Hoefling, the Phillies' physical-fitness expert), 'Put one of those suckers right m the dugout,' " Green was saying the other day. "Maybe then we won't beat the hell out of the bat rack or whatever we beat the hell out of. It'll be fun to see what happens. I just hope somebody doesn't miss the damn thing and hit the top of it (where it's attached) or something and bust their hand.... Anyway, I'll probably use it just as much as the guys."
Will they need it?
If the 1980 Phillies have the same kind of season under Dallas Green that the 1979 Phillies had under Danny Ozark, the new manager may work out hard enough on that bag to qualify for a shot at the heavyweight championship, or at least a six-rounder at the Spectrum. But these are optimistic times at the Vet. Last year's injured are walking again. Even running. And throwing. Management remains convinced that the talent is first-place caliber, even if it contrived to wind up a dismal fourth in 79.
It's up to the new man in the dugout to squeeze the most out of that talent when the team gathers in Clearwater a month from now. The Phillies tried it Ozark's way... the low-key, they're-big-boys, let-'em-play way. They got three division titles out of it, but always staggered into – and very quickly out of – the playoffs. Now they're about to try it Green's way.
His is a no-nonsense approach. A visit to the Vet these days underlines that fact. In the past, Phillies players have always worked out on their own, and worked hard. But this is the first winter that the manager has been working out, too, running up the stadium steps, getting in shape for the long grind ahead. Already, Green is down to a slim, trim 24S. The man means business.
"I think it's kind of good to lead by example," he said. "I just want to show them it's not all that tough to work hard."
Last year's fourth-place finish should help Green put his message across. "I'm counting on that," he said. "They got their tails beat.  They got kicked around pretty good by the press and by the fans, as well they should.  And I kicked them pretty good for the 30 days. I kept reminding them that they were the ones that got Danny fired. Not me. I didn't fire Danny. They did. And they didn't like to hear that because it's true."
Under Ozark, the Phillies seemed to get lazy, seemed to think that the sheer weight of their talent would put them on top. At least, that's the feeling general manager Paul Owens and Green seem to share.
"Danny started out pretty good," Green said. "He ran a pretty good camp (in his early years). But I think Danny accepted the fact that the guys were pros, and that they were winners. We won three years on talent and Danny just kept saying, 'Oh, we got good talent. They know what to do.' Well..."
Well, they didn't know what to do last year. At least, they didn't do it.
"I'm not that strict a disciplinarian," Green said. "I'm not a cop. But the only thing I say is that, if I say something, I expect it to be done, and I'm not going to let it slide if it's not done. If that's discipline, yeah, I expect that because that's why Paul Owens has put me down there, to give direction. And if I give direction and nobody follows, what the hell good is it? There's got to be a meeting of the minds."
The meeting is not far off because, despite the plummeting temperatures outside the Vet these days, baseball's spring is about to start. So get those bats, those gloves and, oh yeah, that punching bag, in readiness.
Maybe the new approach will do the trick. Maybe it won't. The only safe prediction seems to be that the punching bag won't make it through the season. "Somebody'll take a bat to it and that'll be that," Green forecast.
"It'll be lucky to see May," predicted pitcher Warren Brusstar, laughing. "Heck, it'll be lucky to see April 12."
Gee, the Phillies' last punching bag lasted almost seven years. They just don't make punching bags the way they used to.
February 4, 1980
Sports/People
Phils lose another
What was Chicago Cubs broadcaster Jack Brick house doing hanging out in a bar near Wrigley Field in the third week in January, wearing a Cubs beret and a Cubs tie, and welching a baseball game on TV? Well, Brickhouse was watching – and listening – to himself do the play-by-play of the legendary 23-22 game between the Phillies and Cubs last May. WGN-TV in Chicago rebroadcast the game the day after the Super Bowl. But there was one slight twist. After Mike Schmidt put the Phillies ahead, 23-22, with his 10th-inning homer, the station showed an old clip of Ernie Banks coming to the plate. Banks drilled a home run, and an announcer said: "The Cubs. win, 24-23. (Pause) We can dream, can't we?"
February 6, 1980
Sports/People
It's called inflation
Pete Rose of the Phillies does not resent the big salaries of today's younger athletes. But he is quick to point out how long it took him to become an $800,000-a-year man. "I know the buck isn't what it used to be, but do you realize I had to put in seven big years to reach six figures," Rose told Si Burick of the Dayton Daily News. Rose said he reached six-figure class after five straight .300 seasons, two batting titles and four 200-hit years. "Now, I hope young guys-like (Cincinnati Reds) Ray Knight and Dave Collins get a hatful when or if they go to arbitration over their $100,000 demands, but it does make a guy think of how tough it was to get there a few years ago," Rose observed.
February 8, 1980
Sports/People
'Bull' seeks donors
Phillies slugger Greg Luzinski has sold 60 tickets at $250 apiece for the celebrity tennis and racquetball benefit he is staging for the American Cancer Society tomorrow at his indoor courts in Cherry Hill. Now he is looking for 10 persons who would like to contribute their $250 to the cause to fill the last 10 slots. Luzinski has lined up managers Tommy Lasorda of the Dodgers and Dallas Green of the Phillies, as well as pitcher Jim Palmer of the Baltimore Orioles, outfielder Bill Robinson of the Pittsburgh Pirates, members of the Sixers, Eagles, Phillies and sportswriters and broadcasters to play against the donors.
February 9, 1980
Sports/People
Rose opposes strike
Pete Rose says a baseball players' strike this spring would be harmful to all concerned. The Phillies star, who was interviewed by an Akron, Ohio, radio station, said, "A strike or a lockout would hurt us all, players and owners, and would turn the fans on us. We're all in this business together. I hope a settlement can be reached." He said most players opposed a strike even if a new collective-bargaining agreement had not been reached by the time the season started.
February 10, 1980
Lyle slipped away, but Green's fishing again
By Allen Lewis, On Baseball
The month-long inter-league trading period begins Friday, and several deals may be announced that day. Don't be surprised, in fact, if the Phillies reveal that they have traded for Texas' Sparky Lyle, the lefthanded relief pitcher manager Dallas Green feels he needs to regain the National League East title. The deal just missed being completed at the winter meetings.
Also look for the Indians to swap outfielder Jerry Mumphrey, who hit.295 for the Cardinals last season before going to Cleveland in the Bobby Bonds deal, for lefthanded pitcher Bob Owchinko, who had a 6-12 record and a 3.74 earned-run average for the Padres.
•
Hank Aaron does little for his image when he says things like, "I think (Pete) Rose's nose is longer than mine. I've never brown-nosed a sportswriter in my life.... I'm sure Rose being (named) the player of the decade was just a matter of him being more of the sportswriters' favorite."
Aaron added he doesn't think he's a cinch for the Hall of Fame when he becomes eligible after the 1981 season. "Who knows, they might not vote for me," he said.
I wonder if Aaron will have mellowed enough by the time of his election to match Duke Snider's elation over his last month.
"How sweet it is – even sweeter, I guess, because of the long wait," said Snider, who waited 11 years. "The suspense kept building I think it means more to me this way."
NOTES: Red Sox manager Don Zimmer thinks the return of catcher Carlton Fisk would be the greatest tonic his team could receive. "I'd swim the ocean for Fisk to catch 125 games," he said. "Every time someone asked me about wanting a 16-game winner, I said first I want a healthy Fisk."... If you like sure-thing wagers, bet that Cubs first-baseman Bill Buckner hits.300 this season. Starting in 1971, when he first went to bat 200 or more times in the major leagues, he has batted .319, .314, .301 and .323 in even-numbered years,.277, .275, .243, .284 and .284 in odd years.... "What the Reds were in the 70s, we'll be in the '80s," recently predicted that renowned pessimist, Tigers manager Sparky Anderson. "We'll be the winningest team in baseball for a decade."... The Angels already have broken the American League record (held by the Royals) for season-ticket sales and expect to pass the 15,000 mark by opening day.... Things I read but don't believe: "I don't intend to come back to baseball. I own several country-and-western shops, and I'll be spending a lot of time in the business. I've got a home in Dallas near Mickey Mantle, and I'll play golf, fish and spend time with my family. It's the first time I've been out of baseball in 33 years. I'm not bitter, I'm just tired of being hurt." They are Billy Martin's words, but the first time the Rangers fall into a slump, owner Brad Corbett will fire manager Pat Corrales, make an offer to the former Yankee, and Martin will come running.
•
The answer to last week's Trivia Question: Babe Ruth hit 68 of his 714 career home runs in Shibe Park, Philadelphia, the most he hit in any city as a visiting player. William Koch of Oaklyn, N. J., was first with the correct answer. This week's question: Which major league team, operational in every season from 1901 to the present, has produced the fewest no-hit, no-run games?
February 11, 1980
TV/Radio Talk (excerpt)
By Harry Harris, Inquirer TV Writer
Tim McCarver, the Phillies' retired All-Star catcher, is being added to Channel 17's Phillies telecast team. He'll join Richie Ashburn, Harry Kalas, Andy Musser and Bob Bradley.
February 12, 1980
Sports/People
Taylor appointed
Tony Taylor, a former player and coach for the Phillies, will become a roving infield instructor in the team's minor league organization. In another appointment, Paul Carey was named to manage the Bend, Ore., team in the Northwest Rookie League. As a roving instructor, Taylor will work with young infielders from the triple-A level down to two rookie teams. He also will join the Phillies for the beginning of spring training. Taylor, 44, a native of Cuba, has 20 years experience in the major leagues. He was a coach for the Phillies during the last three years and coached and managed the Zulia, Venezuela, team during the last two Winter League seasons. Carey, 26, of Scranton, was a catcher in the Phillies system from 1972 to 1975, and a coach in the minor leagues since 1975.
February 14, 1980
Phillies eye Baltimore's Billy Smith
By Jayson Stark, Inquirer Staff Writer
Another one of those fun-filled baseball interleague trading periods begins tomorrow. But the Phillies seem unprepared to do anything more monumental than dealing for a utility infielder.
The particular utility infielder in question is Baltimore's Billy Smith, a switch-hitting, three-position type who hit .249 in 1979 and even started three games at second in the World Series.
Paul Owens says his American League scouts tell him Smith "can swing the bat pretty good from either side." And there doesn't seem to be much doubt that he can play second, third and short at least as well as Rudy Meoli.
The Phillies also would be able to obtain him without depleting the number of people named Smith on their roster, because what the Orioles would settle for in return is rookie outfielder Lonnie Smith.
"To me, it would seem like an even-Steven thing," said Owens, whose biggest deal of the off-season so far has been Pete Mackanin for Paul Thormodsgaard. "They're looking for a righthanded-hitting outfielder. We're looking for improvement in our offense in the infield."
So what's the holdup? The holdup is that Owens is leaving it up to Dallas Green to decide whether he wants to do it.
"I think Dallas is still torn about what to do," Owens said, speaking for his manager, who presently has a case of Green flu that is unrelated to budget cuts in the police department. "He likes Smith (Lonnie), as we all know. Dallas has always been a big Lonnie Smith man. It's just going to boil down to whether he feels Lonnie Smith is going to help us more or whether another infielder could help us more."
Though there have been some reports that the trade is a virtual certainty, Owens said firmly, "it isn't foregone." But he did admit: "We could make it real easy. The key points are there."
The Phillies apparently will have a lot of time to contemplate whether Smith (Billy) is the utility man of their dreams, because, as the second trading period of the winter begins, they have practically nothing else going.
According to people in Texas, the Sparky Lyle deal is about as dead as the Committee to Elect Alexander Haig. Owens says the Rangers have never informed him it is officially off, but club owner Brad Corbett reportedly called Lyle in December and told him he was glad the Phillies deal had fallen through because he had "definitely" decided not to trade him.
Also, the Rangers have a trade all set to acquire Padres righthander Gaylord Perry (for Willie Montanez). And that would certainly negate their need for Larry Christenson, a key man in the Lyle deal as it was proposed at the winter meetings.
Corbett, of course, might shift gears at any moment and decide to trade Lyle for Dan Larson, Harry Kalas and three groundskeepers to be named later. But Owens seems weary of dealing with an organization that capricious.
February 17, 1980
Cheer up:  It's time to play ball!
By the Associated Press
While most of America and the world concentrates on the Winter Olympics in Lake Placid this week, major league baseball will quietly begin spring training.
The Atlanta Braves, who finished last in the National League West in 1979, will be first in official camp openings when pitchers and catchers report to their West Palm Beach, Fla., site on Tuesday and begin workouts on Wednesday.
The New York Yankees' camp in Fort Lauderdale, Fla., opens on Thursday, and four more camps – the Cleveland Indians in Tucson, Ariz., the Oakland A's in Scottsdale, Ariz., the Detroit Tigers in Lakeland. Fla., and the Minnesota Twins in Orlando, Fla. – open Friday.
The Phillies will be among the last to set up shop. Players are to report to Clearwater, Fla., on March 3. The first workout is scheduled for March 4.
Playing time and money can't buy happiness
By Allen Lewis, On Baseball
When outfielder Jerry Martin and catcher Barry Foote were with the Phillies, all they wanted was to be traded to a team that would let them play regularly. They got their wish when they were traded to the Cubs a year ago. But playing regularly hasn't brought happiness.
Foote wants his $150,000-per-year contract renegotiated, and Martin Is incensed because the Cubs have offered him a one-year contract instead of meeting his demand for a $1 million, five-year deal.
Martin, who contends the Cubs have reneged on promises made at the time of the trade, says he can't stand the organization and wants to be traded. "The whole situation stinks. They are in the dark ages, and they are not going to win anything unless they change," he says.
Still, Foote and Martin are better off than second-basemen Ted Sizemore, who was also included in that trade. The Cubs tried to make Sizemore happy by giving him a $26,000, interest-free loan and a $600-per-month apartment in addition to his salary. But Sizemore popped off so much that then-manager Herman Franks traded him to the Red Sox late last season for almost nothing. Sizemore made $155,000 last year, but his 1980 salary is not guaranteed, and the Red Sox expect Jerry Remy to return as the regular second baseman this season.
How quickly they become disenchanted.
NOTES: Nolan Ryan blames Angels general manager Buzzie Bavasi for his leaving the club and signing with the Astros for $1 million a year. He said Bavasi didn't respond soon enough to the club's many 1979 injuries, and appeared less interested in winning than in making money. Ryan says there was a rift between Bavasi and manager Jim Fregosi, and that former general-manager Harry Dalton should get the credit for building the club.... Jose Cardenal, the former Phil now with the Mets, believes the Phillies made a mistake when they signed Pete Rose. "If they were going to spend the kind of money they spent on Pete, they should have spent it on pitching," he says. "They needed it more then, and they still need it. I'm not taking anything away from Pete. He had a super season.... I never saw a man hustle like him. They went after him be cause they were looking for a leader, but what they needed was pitching." Cardenal, incidentally, is down to 140 pounds because he's been on a liquid diet since a throw to the plate broke his jaw last August.... Buddy LeRoux, one of the Red Sox owners, also heads a charter-airline company that plans to acquire two DC-8s for use by the Red Sox and other big-league teams.... Former Phillie Jim Lonborg, a 1964 pre-med graduate from Stanford, will begin studying to become a dentist at Tufts this summer. He is also expected to pitch batting practice for the Red Sox this season.... Braves season-ticket sales are up almost 40 percent, an increase traceable to interest in the club's off-season player acquisitions..
•
The answer to last week's Trivia Question: Detroit Tigers pitchers have produced only four no-hit, no-run games, fewest of any major league team in operation frem 1901 to the present. George Mullin pitched the first in 1912, Virgil Trucks had two in 1952, and Jim Bunning pitched the last in 1958. Albert Welsh of Coatesville was first with the correct answer.
This week's question (submitted by Jerry Van Horn of Philadelphia): What pitcher lost the most games for a post-1900 pennant-winning team?
February 19, 1980
The Scene
In Philadelphia and its suburbs (Excerpt)
Baseball:  Reading between the months
We don't pretend to have any inside knowledge about which player the Phillies' front office may have designated as trade bait, but the handwriting on the wall says rightfielder Bake McBride is the man. Actually, it's not so much handwriting on the wall as it is the calendar – the official Phillies calendar for 1980. McBride is the only one of the eight starting fielders from last season of whom an action photo is not used to illustrate one of the months of the year.
February 20, 1980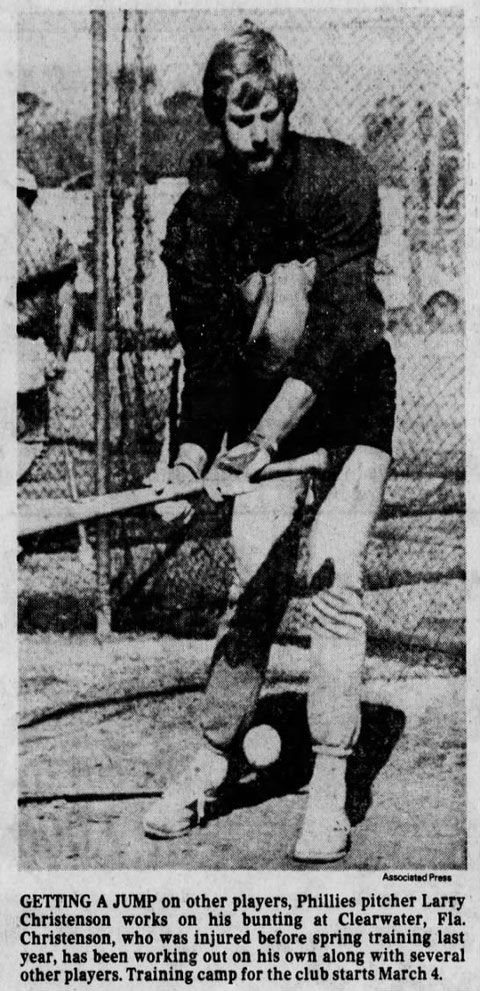 Sports/People (Excerpts)
It's Amaro on first
It's Amaro on first Ruben Amaro will replace Tony Taylor as the Phillies first base coach this season. Amaro, 44, was a shortstop for 11 years with the Phils, Cards, Yanks and Angels. He has been the Phillies' coordinator of Latin American scouting for the past six years. Taylor recently was named a roving minor league infield instructor for the Phillies.
February 22, 1980
February 24, 1980
Sports/People (excerpts)
As Rose sees it
Pete Rose concedes he is "one of a very few players who still get paid if they (the players) strike," but he hopes contract negotiations "don't come to that (a walkout)." Rose, whose four-year contract tops $3 million, said a strike would "really hurt the sport because there are people who don't forget. But we have to stand together, and I'd have to consider staying behind" with teammates who decided to strike.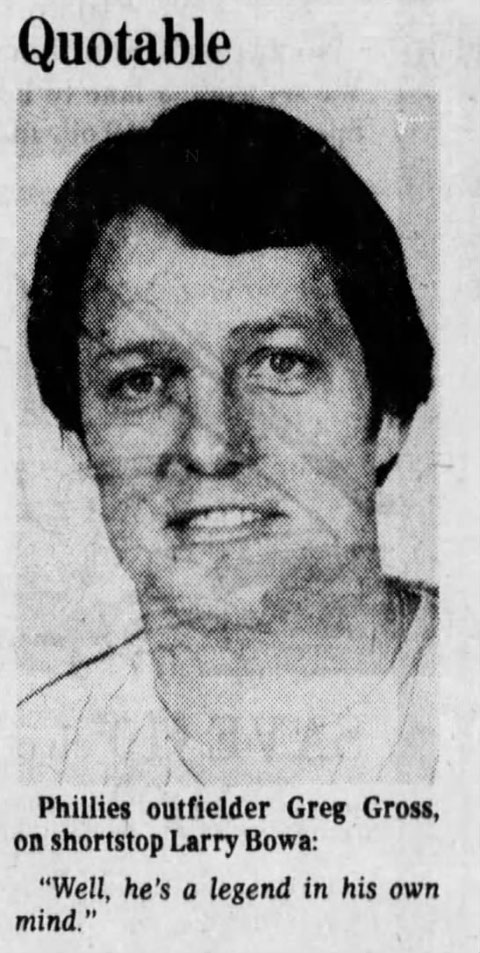 Undeserved pacts cloud future
By Allen Lewis, On Baseball
There are many who believe that baseball is seriously mortgaging its future with unrealistic, multimillion-dollar player contracts. Even previously hard-line owners like Gussie Busch of the Cardinals have joined the trend.
St. Louis signed catcher Ted Simmons to a six-year contract for $665,000 per year before the start of last season. This month, it gave first-baseman Keith Hernandez a five-year pact for $750,000 a year. Neither contract is realistic, and both are indicative of baseball's flight from reality.
Simmons rates as only a fair catcher, although the position is one of the game's more difficult to fill, but he is neither a .300 hitter nor a power hitter. His 1979 figures (.283 average, a career-high 26 home runs and 87 runs batted in) attest to that.
Although Hernandez had an excellent 1979 season – .344 batting average and co-Most Valuable Player – this was his first outstanding year and the first time he has hit .300 in his 4½ seasons in the majors. What's more, he has little power (11 homers last year and 105 RBIs, 14 above his previous career high); like Simmons, Allen Lewis on baseball he can't run a lick, and he plays a position that is relatively easy to fill with a competent defensive performer.
Most important, however, is the fact that Hernandez is colorless, and the next fan who buys a ticket because he will get a chance to watch Hernandez play will be the first.
It may be argued that players such as Pete Rose and Rod Carew are similarly overpaid, but at least the Phillies and Angels received large and immediate financial returns in the form of increased ticket sales (and, in Rose's case, television revenue) after their signings.
Aided by recently announced ticket-price increases, plus increased TV fees, it's possible that baseball can survive its tremendous salary burden for a while. But, as the energy crisis worsens and almost surely brings gasoline rationing and possibly a large decrease in night games, will the red ink flow? We may see clubs that now routinely hit the two-million mark in attendance struggling to reach one million, especially in California, where public transportation is minimal.
If that happens, pay television may become mandatory for survival.
•
The answer to last week's Trivia Question: George Mullin of the 1907 Tigers lost 20 games, the most by any pitcher on a post-1900 pennant-winner. Mullin also won 20 games that season, compiling a 2.59 earned-run average. The biggest loser on a National League pennant-winner was Larry French, who had a 10-19 record and a 3.80 ERA for the 1938 Cubs. Gregory Yagle of Wilmington was first with the answer.
This week's Trivia Question (submitted by Jerry Orloff of Philadelphia): Name the winning and losing pitcher in the game in which Hank Aaron broke Babe Ruth's career home-run record.
February 27, 1980
Bill Giles is cleaning house (the attic, not the players)
Want to buy a Liberty Bell? Bill Giles will sell it to you. The Phillies vice president in charge of productions is holding a clearance sale Saturday and Sunday at Veterans Stadium.
He is going to get rid of many things in the stadium attic, including the Liberty Bell replica that was mounted on the fourth level in center field, along with figures named Philadelphia Phil and Phyllis. They all went into mechanical action when a Phil hit a home run. But the Phillie Phanatic has put them out of business.
Giles is replacing the figures with a new home-run spectacular, the nature of which he is keeping secret for the moment.
In addition to the three figures, Giles garage sale in the 200-level concourse behind home plate will include that ever-popular disco record, "We Love You, Phillies," some Phillie Phanatic dolls, Tastykake tote bags, ski caps, Phillie mugs and puzzles and usherettes' hot pants uniforms.
But Giles is featuring the big figures of Phil, Phyllis and the bell.
"These three items stand about 15 feet tall," his pitch for his cash-and-carry sale goes. "If somebody is looking for an unusual item to decorate their front yard, Philadelphia Phil would be perfect."
But how much do they weigh?"
"Just a little more than I do," Giles said.