Camden Courier-Post - March 11, 1980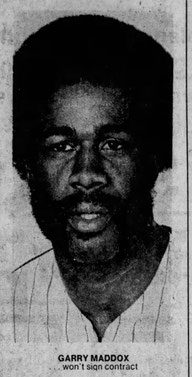 Phillies might trade Maddox
By Rusty Pray of the Courier-Post
CLEARWATER, Fla. – There is a strong possibility that, sometime prior to the June 15 deadline, the Phillies will trade centerfielder Garry Maddox.
The concept of the Phillies trading Maddox, all but unthinkable as recently as nine days ago, has been strengthened by the suspension of contract negotiations between the Phillies and Jerry Kapstein, Maddox' agent.
"We're just too far apart," said Phillies General Manager Paul Owens, "It's to the point where I have to begin looking around. I'm not going to let him go at the end of the year and get nothing in return. (Owner) Ruly (Carpenter) feels the same way."
IT HAS BEEN a long-standing policy qf Owens to trade players he cannot sign. He feels, with some justification, that he would rather acquire someone in a trade than lose a player eventually without compensation on the free-agent market. Maddox, whose present contract expires at the end of the season, will become a free agent in the fall if he does not sign.
And, Maddox does not plan to sign with the Phillies during the season.
"Negotiations have reached an impasse," Kapstein said by telephone from his office in San Diego. "We began negotiations in January of 1979 and they went to March 2. 1980. We are going to talk to the Phillies again, but not until after the 1980 free-agent draft.
"There's no bitterness at all because Paul Owens and Ruly Carpenter have bargained in good faith. It's just an honest difference of opinion. I just felt, after 13 months' time, we knew where the parties stood."
THE PARTIES stand diametrically opposed on the issue of salary. Maddox is reportedly seeking a multi-year, multi-million dollar contract that would make him financially secure for the rest of his life. The Phillies are quite willing to sign Maddox to a long-term pact but not at the price he is asking.
"I guess it was a communications problem," said Maddox, who has not taken part in the club's spring training drills the last two days because of a strained muscle in his lower back. "I thought that the figures they (the Phillies) were thinking about were the one I was also thinking about under the current market standard. But really the figures they were talking about were something different."
There seems to be few avenues remaining for either side. The Phillies want to keep Maddox because of the defensive dimension he adds to center field. Indeed, few teams would part willingly with a player who has won five consecutive Gold Glove awards and is a lifetime .293 hitter. But they will not keep Maddox if he plans -to go through the season unsigned.
Maddox would like to remain with the-Phillies. He has become a member of the nucleus of players around which the front office built three straight National League Division champions. Maddox also has become a part of the Philadelphia community, donating countless hours to raising funds for the city's Child Guidance Center. But he is committed to testing his value in the free-agent waters if the Phillies do not meet his terms.
"I HAVE to be concerned about what the current market is paying and the Phillies have to be concerned about the direction of salaries overall," said Maddox. "Everyone knows I don't want to be traded or go to another team. The team and the city are perfect for me.
"I'm really the first guy on the team to have my contract come up again under the new market standards. I've dealt with them (the Phillies) pretty closely m the past, but I guess the Phillies feel they have to draw the line somewhere and they've drawn it.
"Ruly has said what I'm asking for is not unreasonable in terms of the entire market. He knows I have to look after my responsibilities, but I guess he's concerned about the way the game is going."
Owens readily admits replacing Maddox will not be an easy task. Under the circumstances, acquiring a player with even remotely the same value would seem, at best, difficult. That, however, will not prevent Owens from making the best deal he can.
MORE THAN a few teams would be interested in Maddox. San Diego tried to pry him loose from the Phillies during the Winter Meetings, but Owens didn't like their offer. Cincinnati would be willing to make a deal. The Reds reportedly would like to trade outfielder Ken Griffey, but his knee problems and his unsigned status make him an unlikely candidate for a Phillies uniform.
The Phillies may even try to get pitcher Craig Swan from the Mets, move rightfielder Bake McBride to center and platoon Lonnie Smith and Greg Gross in right.
Whatever the logistics may be, it seems inevitable the Phillies will trade Maddox.
Phils troubled over Espinosa
By Rusty Pray of the Courier-Post
CLEARWATER, Fla. – It is far from a panic situation, but right now the Phillies are concerned over the slow progress being made by pitcher Nino Espinosa.
Espinosa. while not one of the many Phillies pitchers to undergo off-season surgery, nevertheless came up with arm troubles toward the end of last year. The righthander, unaccustomed to pitching every fourth day, experienced soreness in his pitching shoulder and returned to his Dominican Republic home prior to the end of the season.
The Phillies were hoping a full winter of rest would cure whatever ill afflicted Espinosa's shoulder, but the results of his work through the first week of camp have not been encouraging.
Espinosa is well behind the rest of the Phillies pitchers, having thrown off a mound only three times and he has not pitched batting practice at all. Yesterday, he threw woodenly for 10 minutes, then pronounced himself "feeling better."
"I don't have that much on the ball, but I'm only throwing half speed," he said. There's no pain, but I don't want to rush since there's plenty of time."
Espinosa began last season in style, winning five of his first six starts and not allowing an earned run between April 15 and May 10. "Last year I got off to a real good start because I was pitching super – not good – super. I was winning, 2-0, 2-1 games. Then things started to going bad for me."
Most likely, the things that went wrong for Espinosa were the injuries to other pitchers and an evaporation of offensive support. With Larry Christenson, Dick Ruthven and most of the other pitchers missing time, former Manager Danny Ozark pressed Espinosa into a four-man rotation. Espinosa had been used to working with the five-man rotation of the Mets.
"Last year I was forced to pitch more because of the injuries," Espinosa said. "There's not too much you can do when you lose three starters in one day (Christenson, Ruthven and Randy Lerch).
"Before last year this ballclub scored five runs a game. But last year in nine of my losses we only scored three runs (six of his losses were shutouts). The run never did show up."
The Phillies advised Espinosa not to pitch winter ball this year. He attempted it anyway, pitching a total of nine innings in two Dominican games before realizing his "arm was tired. I was better off resting it."
In January, the Phillies brought Espinosa to Philadelphia to be examined by club physician Dr. Phillip Marone. It was decided then that Espinosa needed more rest and should not report to camp a week early with the other players coming off injuries.
"I've talked to different doctors and they say it's nothing serious," Espinosa said. "It's just my arm is weak because of so many innings (pitched) over the last three years."
PHIL UPS – Christenson was unable to throw Sunday because of muscle spasms in his lower back... Christenson is scheduled to resume throwing today... Don Newcombe is scheduled to speak to the players on alcohol abuse today... Phillies hold their first intra-squad game tomorrow at Carpenter Complex... Louis Arroyo, Jose Martinez, Ruthven and Jim Wright are scheduled to pitch... Another intra-squad game is scheduled for Thursday, when the camp is moved to Jack Russell Stadium... Rawly Eastwick, Kevin Saucier, Lerrin LaGrow and Dan Larsen are to pitch... Pitchers scheduled to work Friday's Grapefruit League opener against Detroit are Steve Carlton, Scott Munninghoff, Doug Bird, Burke Suter and Ron Reed... Reds may be interested in catcher Dave Rader... General Manager Paul Owens says, he would accommodate Rader in a trade... Centerfielder Garry Maddox is among the nominees for the Roberto Clemente Award, which is given annually by Major League Baseball to the player who does the most for the game on and off the field. The winner will be announced Thursday at the Governor's banquet in St. Petersburg.
Major League umpires are given the safe sign
By the Associated Press
Now that he has the clout of the National Labor Relations Board behind him, Richie Phillips, attorney for the Major League Umpires Association, expects to see the so-far secret umpire evaluations of the National League.
And, for that matter, the American League's, too.
"I think they'll comply, given the politics of the situation," Phillips said after the NLRB notified the league that it should supply the union with the requested information.
The umpire evaluations were one of five issues over which Phillips filed unfair labor practice charges with the NLRB last September. The other four have either been remedied or found to be without support and will be dismissed by the NLRB if not withdrawn by the union, according to Peter Hirsch, director Of the board's Philadelphia office, which handled the complaint.
Hirsch said the National League would have about two weeks to comply with the preliminary administrative determination. If no action is taken in that time, a formal complaint could be issued.
Phillips was elated with the NLRB position.
"This is a big, big win for us," he said. "I think it's sensational."
Both leagues routinely evaluate umpires with supervisors and clubs forwarding their assessments. Phillips said American League President Lee MacPhail had agreed to turn the ratings over to the union last year but then changed his mind when the National League balked.
"Now I'll go after the American League evaluations, too," Phillips said.
"I don't know what course we'll take yet," said NL President Chub Feeney. "In cases where umpires have been discharged, we've given the information to the union, but we haven't discharged any since Phillips took over. When he asked for the evaluations, I said, 'I don't see that you have any need for them.'"
Phillips feels that replacement umpires who worked during the 1979 strike were rewarded for that by being retained after the work stoppage ended and that the evaluations will show that other umpires promoted for brief periods and then returned to the minors had higher ratings.
"According to the contract we signed May 18, they were to remain on merit and merit alone," Phillips, said. "Others who refused employment as strike-breakers were not to be discriminated against in any way."