Wilmington Evening Journal - March 11, 1980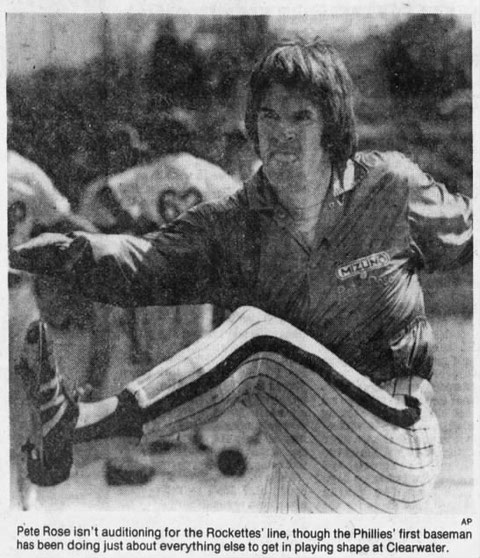 Phils' Maddox feels he'll be traded by opening day
By Hal Bodley, Sports Editor
CLEARWATER, Fla. – Not too long ago, Garry Maddox was an untouchable. No, the Phillies' center fielder didn't have leprosy; he just couldn't be had in any manner of trade or deal.
Maddox is now very touchable. And the Phillies seem to be treating their fleet outfielder as if he, indeed, did have a terminal case of some dread disease.
Once again, that disease is... money.
The Phillies, you see, are trying to trade their Gold Glove center fielder. Maddox's contract expires at the end of the season and negotiations on a new one have stalled. So, rather than risk losing Maddox in the free-agent sweepstakes, the Phils are seriously considering trading him.
Maddox knows a trade is very possible.
"Trading me is one of their options. They have told me that," said Maddox, who has not worked out for several days because of a slightly strained back. "We have been negotiating in good faith and I can't say the Phillies have been giving me the runaround. The thing that puzzles me is that they have always given their players the money before and now they are pulling back.
"I probably will be traded, probably before the season starts. They have told me they want to reach some kind of decision before we leave spring training."
The Phillies haven't been reluctant to discuss the impasse.
"The Pope (Player Personnel Director Paul Owens) is talking right now to American League clubs," said owner Ruly Carpenter from his home near Wilmington last night. "We have until March 15 to deal with that league. After that, we'll talk to teams in our league."
Carpenter agreed with Maddox that negotiations have been amicable and that there is no bitterness, even though the sides are far apart.
"Negotiations have been suspended at their request," added Carpenter. "I told Jerry Kapstein (Maddox's agent) that we had no alternative but to make a deal. There is always the chance we will not be able to trade him. The other owners are no dummies. They know if we are unable to sign him, they might not be able to sign him, either."
Kapstein reported from his San Diego office that "negotiations with Philadelphia on a contract for Maddox are at an impasse. The negotiations began in January, 1979, and continued until March 2, 1980. We will not discuss a new contract until after the 1980 re-entry draft."
Maddox, 30, is on the final year of a five-year guaranteed contract he signed following the 1976 season. Originally, the salary called for $100,000 the first year, graduating to $225,000 in 1980. When it became obvious he was underpaid compared to other center fielders with his ability, Carpenter gave him a raise. He will earn about $375,000 this year.
Carpenter refused to talk about the specifics of Maddox's current demands, but it was learned that Maddox is asking for a four-year package that would be in excess of the $3.2 million the Phillies gave Pete Rose in December, 1978.
The Phillies, meanwhile, have offered Maddox a total package over four years in excess of $2 million.
"Our offer is extremely fair in light of today's market value," said Carpenter. "Garry Maddox is certainly a quality player, but we cannot handle his demands."
Maddox, who hit .281 last year, admits that it will tear his heart out to leave Philadelphia where he has played since the beginning of the 1975 season.
"There is no question I want to stay in Philadelphia," he said in the virtually empty Phillies' clubhouse. "I have gotten along well with the press, well with the fans, my teammates and especially the front office. You can imagine what kind of a position I am in and how it bothers me emotionally to have to do this. In the long run, I have to do what I think is best for Garry Maddox.
"The Phillies are not saying I am out of line and I am not saying they are out of line. It's just that we cannot get together. The one good thing that can come out of this is that if I leave, no one is mad. That's the best way to end a relationship."
At present, the Phils are attempting to see who might be available.
The Cincinnati Reds quickly got in the bargaining line. The Cincinnati Enquirer said that Reds President Dick Wagner had contacted the Phillies about Maddox, a native Cincinnatian.
The Reds have indicated they would like to trade Ken Griffey. Like Maddox, Griffey becomes a free agent after this season.
"I was talking to Dick Wagner a couple of days ago and we regard Maddox as Griffey," said Paul Owens. "Garry and Kapstein both know that I do not intend to lose him for nothing. I've told them and they know."
Manager Dallas Green would prefer not to do it, but there is always the possibility he could move right fielder Bake McBride to center. That's the position McBride played before coming to the Phils from St Louis on June 15, 1977.
Maddox, who has won the Gold Glove each of the past five seasons, injured his back the other day working on cutoffs and relays.
I went to get a ball in the gap and slipped," he said. "I suffered a slight strain, but it's nothing serious. You know, if the Phillies stay healthy and play the way we are capable of playing, we can beat any team."
The only trouble is Garry Lee Maddox probably will not be part of the "we."
EXTRA POINTS - Left-hander Steve Carlton will start the Phils' first spring training game Friday against the Detroit Tigers... Carlton will be followed by Scott Munninghoff, Doug Bird, Burke Suter and Ron Reed.