Philadelphia Daily News - March 11, 1980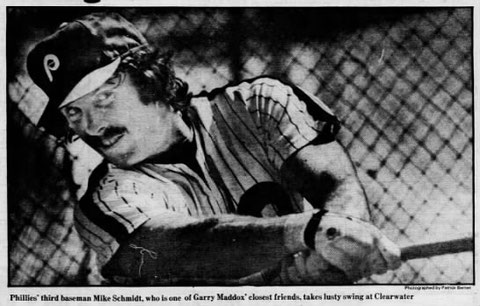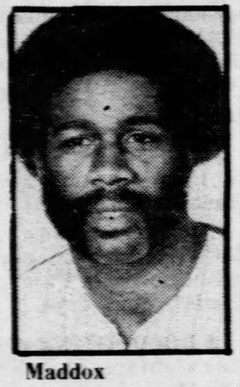 Who Wants Maddox?
By Bill Conlin
CLEARWATER – Garry Lee Maddox wants $3.6 million to play center field for the Phillies for four years starting next season.
As a folk group named The Weavers sang back in the '50s. "So long, it's been good to know you."
The first genuine bombshell of a Phillies camp interrupted only by an occasional yelp from Larry Bowa and a good try by the press to make an issue out of Steve Carlton's running philosophies burst without as much as an airraid siren. Jerry Kapstein, the attorney who helped start the ball rolling by winning Catfish Hunter's free agency, issued a statement yesterday. Negotiations between his client and Phillies President Ruly Carpenter, talks held over the space of more than a year, have reached an impasse.
"These negotiations," Kapstein said, "began in January of 1979 and continued until March 2. 1980. We have informed the Phillies that we will not attempt to reach a new contract agreement until after the 1980 re-entry draft.."
That's another way of saying that Maddox. who is on the last year of a five-year contract which has been renegotiated once, will play out his option.
Paul Owens, who rarely discusses on-going contract negotiations in public, had an immediate and easily interpreted reaction.
"I don't negotiate contracts openly." Owens said, "but in response to a statement by Garry's agent, Jerry Kapstein, I feel compelled to say that money we're offering and the money he's asking is so far apart Ruly and I have to be concerned with him walking away from us next year. We've got to start entertaining ideas of possibly moving him. I'm not going to take a chance of losing him for nothing. Length of contract has nothing to do with it. We're apart on money. Far apart."
So there it is. Baseball's best centerfielder. the Phillies' Secretary of Defense, is on the block. But don't expect a stampede for a lifetime.293 hitter who has won five straight Gold Gloves.
MADDOX MUST APPROVE any trade Owens can make for him. The 30-year-old outfielder has a no-trade clause in his contract and he is asking the Phillies to pay him more than they currently pay Pete Rose. Try $900,000 a year on for size, a bargain rate, perhaps, when you consider that Dave Winfield is demanding a $25 million deal from San Diego.
Maddox signed a five-year contract in 1976, a package which started at $125,000 and increased to $225,000 through $25,000 increments. Ruly tore that one up two years ago. His salary this season is $375,000, less than Bake McBride will make in the second year of the contract he negotiated last summer.
The outfielder, who has been out of uniform the past two days nursing what has become an annual early spring back problem, sounds resigned to the clear possibility that his days as a Phillies star may be numbered.
"I'm not going to let my contract status interfere with my season," Maddox said before Owens' reaction. "I dont want to worry about this until I'm a free agent. I'm aware they might trade me before the season starts; that is one of their options. We've been negotiating in good faith and I'm still confident some kind of decision can be reached before the season."
OWENS SOUNDED LIKE a man who is ready to start melting the telephone wires. "I haven't heard from anybody yet." The Pope said. "I don't even think the other clubs have heard about it yet. I've got no hard feelings in this. But I don't like to go into the season with this over our head."
Over their heads... That's the likely destination of a lot of fly balls if the Phillies are forced to replace the finest defensive outfielder in the club's history. And it might not be any easier for Owens to trade Maddox than it will be for Manager Dallas Green to replace him.
The word is out that Maddox is playing out his option. A club like the Dodgers with a 'compeling need for a centerfielder might be willing to go after Garry Lee now. A George Steinbrenner might feel a slight stirring in his loins at the thought of Maddox patroling the vast acreage of Yankee Stadium. Houston might be willing to swap him for Cesar Cedeno. The Pope must seek out a club in a win-now situation and the clock is remorselessly ticking away the final five days of the inter-league trading period. After midnight Saturday, he'll be effectively limited to dealing with the six clubs in the National League West.
It seems inconceivable that Owens would trade Maddox to an Eastern Division contender and unlikely that Maddox would agree to play with the Cubs or Mets.
MADDOX ISNT EXACTLY coming off a $900,000 season. He batted.281 in 148 games and took the firing of Danny Ozark harder than most players. He resented it deeply when Dallas Green told the club on his first night that all players shared equally in Ozark's demise.
A sensitive, introspective man whose closest friend and confidante is Mike Schmidt. Maddox has worked tirelessly for the Child Guidance Clinic and has been nominated for the Roberto Clemente Award. He says he is not bitter about developments which may end a five-season Phillies career that began in 1975 when Owens got him from the Giants for first baseman Willie Montanez.
"The one good thing." Maddox said, "if I leave nobody's mad. That's the best way to end a relationship."
Nobody's mad? What's the baseball code for SOS?
On one hand, Owens faces the prospect of going into the season without the game's best defensive centerfielder. On the other, if he lets him stay to piay out his option, all he'll have to show for Maddox next November is an empty locker.
Ruly could solve the dilemma by coming up with the money. To measure that possibility, the source to contact is Larry Bowa.
PHILUPS: Paul Owens says he's reopened talks with Baltimore concerning utility infielder Billy Smith. "Dallas Green doesn't want to give up Lonnie Smith," Owens said, "but we think we have a few other ways to go with them. We're discussing some other names that might interest them." Catcher Dave Rader is sure to be one of them... The Pope says Montreal is interested in dealing utility infielder Jim Mason and reliever Stan Bahnsen, whose contract expires this season. "I thought Bahnsen did a good job for them last year," Owens said. "I like him a little better now than I did when he was a starter in the American League."... Don Newcombe, an alcoholic whose habit shortened his pitching career with the Dodgers, will be in camp this morning giving a seminar on the evils of drinking… Steve Carlton will start in Friday's exhibition opener against Detroit at Jack Russell Stadium.