Camden Courier-Post - March 20, 1980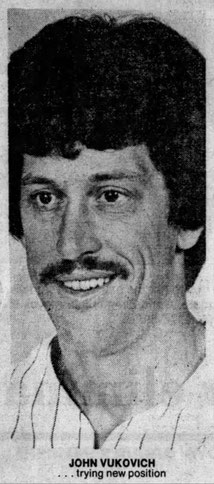 Catching can't be taken for granted
By Ray W. Kelly of the Courier-Post
CLEARWATER, Fla. – A lot of things are taken for granted in baseball, but none quite so much as the art of simply catching a big league pitcher.
No one knows that better than two members of the Phillies who took turns behind the plate at Jack Russell Stadium yesterday.
One of them, veteran All-Star Bob Boone, didn't have to prove he knew his way around a backstop. He just had to show folks that be could squat down in front of the home plate umpire without his recuperating knee coming apart.
For despite all the chatter about the intensity of Bob's conditioning program, there was a percentage of people who suspected he would have to do most of his catching this season from the standing position.
The task of merely surviving behind the plate without taking a curveball in the windpipe was left to John Vukovich, a likeable guy who was attempting to apply his dandy glovework as an infielder to an entirely new position.
"Oh, John caught a little when he was in Milwaukee," said his lovely and very pregnant wife, Bonnie, who thought for a few moments before adding, "very little, come to think of it.'
"Yeah, I'm an old hand at this," said Vukovich. "Listen, do the guards go on the back or front of the legs?"
He was kidding, of course. Making the transition was imperative to John. For, if he was able to add catching to his repertoire, he stood a good chance of making the team as a utility player.
There is, however, more to the job than wiggling a finger or three toward the mound and presenting a target for the pitcher to hit. There can be communication problems, as Vukovich quickly discovered during the Phils' 11-1 rout of the Montreal Expos.
It's politely called 'crossing up" the catcher. And it can make the guy behind the plate feel in one frantic instant like a hitchhiker standing in the middle of rush hour traffic with his pants around his ankles.
A catcher calls for one pitch and the pitcher throws another. Which doesn't sound like high treason until you realize that in the major leagues, it takes a little mental preparation to be on the receiving end of a 90 mph rocket that might decide at the last moment to sail, tail, rise, drop, sink, hop or simply disappear in a cloud of dust several feet in front of the plate.
You get psyched up for the fastball, prepare for all eventualities and end up being confronted with a white blur that travels two thirds of the way home before deciding it isn't a fastball at all, but a slider.
A slider is a fastball with a split personality. It looks like a fastball, sounds like a fastball and (as some crossed up catchers will tell you) tastes like a fastball. Only it moves like a ball rolled across a barn roof.
Reliever Tug Mcgraw threw a slider to Vukovich. And Vukovich, who thought for the life of him that he'd called for a fastball, got religion real quick.
"Yeah, I did it," said Tug. "But I didn't mean to."
Vukovich laughed. "Thank God the batter hit it," he said.
"What do you mean?" shouted Tug, pretending to be mad.
Boone, who was standing nearby, grinned widely. There are few pleasures in this world as rewarding as seeing A someone else discover how hard your own job can be... just ask the next truck driver, cop or waitress you meet.
It has taken Bob a lot of years and a lot of lumps to learn how to defuse the explosive offerings of Randy Lerch's 97 mph lightning, Steve Carlton's gravity-defying slider, McGraw's mind-boggling screwball and other people's split-fingered, knuckling, curving creations.
"The only thing is, I don't expect to be comfortable behind the plate all year," said Boone. "I figure it'll be another year before I can catch without knowing that I bad knee surgery.
"Oh, if the season started tomorrow, I'd : be ready. I've got no qualms about that. But there is a tightness in the knee that just can't be avoided.
"When I set down behind the plate, it may look like I'm set in… but I'm not. I can't put as much weight on the leg and I can't hold the squat as long. I can feel it pulling.
"I guess the best way to explain it is to say that if you got down in a squat position for about 10 minutes, you'd feel it. You could deal with it. But you'd feel it.
"Well, when I get down, from the first time on, it feels like I've been squatting those 10 minutes."
Boone figures he's lucky. He has experienced no fluid on the knee. His leg strength is such that he can overcome the strain. He felt he proved that during the three innings he worked yesterday.
"It is what it is. I can't change that. Only time will do that," he said. "I don't forsee any problems."
If only Vukovich could say the same.
Phils explode, pound Expos
By Ray W. Kelly of the Courier-Post
CLEARWATER, Fla. – Mike Schmidt cracked a solo homer and matched the three hits of teammate Greg Luzinski as the Phillies pounded the Montreal Expos, 11-1, in Jack Russell Stadium yesterday.
Lefthander Ross Grimsley of the Expos suffered all of the damage during a four-inning barrage that had to share the limelight with the return of Phillies catcher Bob Boone to his position behind the plate.
Just to add a bit of good measure to his afternoon, Boone doubled home a pair of runs during a first-inning rally that saw Schmidt lash a homer down the right field line to get the Phillies rolling.
Luzinski and Garry Maddox followed with singles, scoring on Boone's double as teammate Dave Rader told the media, "Well, Bob's okay."
Luzinski and Schmidt each doubled in runs during the third inning. Then the lid blew off in Grimsley's face in the fourth.
During the six-run. outburst, Pete Rose, Schmidt, Luzinski and Mike Anderson all picked up RBIs. A walk with the bases loaded and an infield error accounted for two other runs.
The Phils, who are now hitting close to .290 as a team, were to travel to Lakeland today to play the Detroit Tigers. Larry Christenson is slated to face Mark Fidrych.