Philadelphia Daily News - March 20, 1980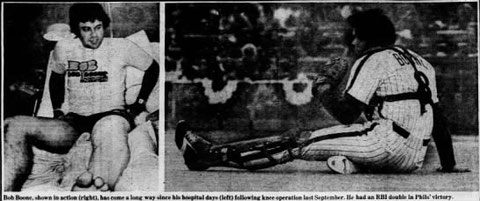 Bob Boone Takes a Giant Step
By Bill Conlin
CLEARWATER – To paraphrase Neil Armstrong, it was one small step for an All-Star catcher, a giant step for the Phillies.
Bob Boone was behind the plate for three innings yesterday, his first live combat since knee surgery at the end of last season.
He assumed the proper variety of crouches without undue discomfort, was not forced to throw to a base, run down a foul ball or block the plate. Offensively, Boone lashed an RBI double on an afternoon when the Phillies lit up rag-armed lefthander Ross Grimsley for 11 runs on 13 hits in just 3͔⅓ innings.
"IT FELT GOOD, nothing I didn't expect." Boone said after the Phils crushed the Expos, 11-1. behind strong pitching by Randy Lerch. rookie righthander Bob Walk, non-roster righthander Paul Thormodsgard and Tug McGraw. I'm still not real comfortable, but I don't expect to be real comfortable all year. It's functional. It was nice to just be in a game situation. I felt good standing there at the plate. It was the first game situation I've been in, so it was good to hit the ball sharply."
The Big Green Machine hit the ball a ton, including a bristling 3-for-3 for Mike Schmidt, who drove in three runs with an opposite field homer, double and single.
"Boone was satisfactory, no setbacks," Manager Dallas Green said. "I'm very happy. All actions are normal behind the plate. Well see how he reacts tomorrow, how much stiffness sets in. The only plan right now with Bobby Boone is to have him as ready as he can be by April 11."
PHILUPS: "Ross Grimsley didn't have bleep today," chirped Larry Bowa. "Nothing." "Ross has had excellent stuff his first two outings," Manager Dick Williams said before the game... Pete Rose lashed a double and single, Greg Luzinski fired a pair of two-strike singles... Latest trade rumor has the Cubs trading Bruce Sutter to the Phils for Garry Maddox. To reiterate, if Ruly Carpenter won't pay Maddox his contract demands, there's no way he'd give Sutter a long-term contract starting at $700,000 a year. Paul Owens denies a Maddox-for--* swap is in the works, "It would defy logic to trade for a guy asking $1.3 million for 10 years when we can't get together with Garry, wouldn't it," The Pope said yesterday... I shouldn't dignify my aging doubles partner Rich Ashburn's cheap column shot in the wake of our startling collapse (up 5-2, holding two match points in the third set of a best-of-five match after burying Mike Schmidt and Pete Rose, 6-2, 6-2, in the first two sets.) I'll let Rose's quote the day after their comeback victory suffice. "Our strategy was to go after Conlin, but he was killing us," Rose said. "The match turned around when we started concentrating on Whitey. I had heard he was a helluva tennis player. Maybe he just took us lightly after they had us buried and couldn't get back into the flow of the match. Ill bet he was really tough when he was my age."