Wilmington Evening Journal - March 20, 1980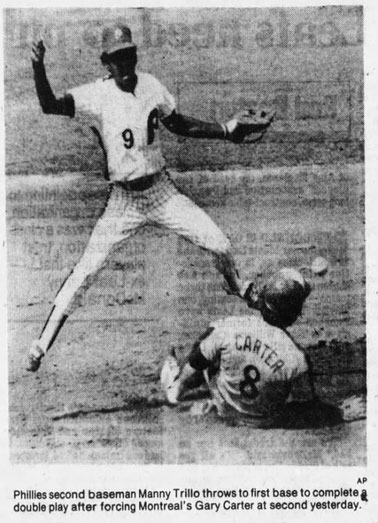 Schmidt stronger, packs neat swing
By Hal Bodley, Sports Editor
CLEARWATER, FLA. – While Greg Luzinski deprived his body, melting pounds away during the off-season, Mike Schmidt took the opposite approach.
"I gained 12 pounds over the winter," Schmidt said, patting his flat and firm stomach. "Only four were by eating. Hopefully, the other eight came from weightlifting.
Mike Schmidt says he's never felt stronger and after a few exhibition games, nobody's disagreeing.
Yesterday at sun-drenched Jack Russell Stadium, the Phillies pounded Montreal 11-1 with a firestorm of 16 hits. Schmidt had a single, a double, a homer and drove in three runs. That shot his spring batting average to a lusty .700.
"What a swing he has right now," Manager Dallas Green said after the laugher. "I wish I could box it and sell it."
So does Michael Jack Schmidt. He says the Grapefruit League games are important, but he'd prefer to be on a tear like this when the statistics count.
His homer yesterday came off totally ineffective starter Ross Grimsley in the first inning. Mike waited on a 1-1 pitch and "flicked" it over the right-field fence.
"I had a good swing," said Schmidt. "I'm trying to get a little stronger so that maybe as many as 15 of those fly balls to the warning track make it over the fence. You never hit those just-miss balls well, so I figure with more strength I've got a chance to hit 'em out with sheer strength. What I'm talking about are the long, high fly balls that are caught."
About this time two years ago Manager Danny Ozark, obviously groping for leadership, made Schmidt the team captain. It was strictly an appointment. It made several of the players unhappy, but Schmidt did his best to handle the role to Ozark's liking.
During the off-season, he told Green he was giving up the title.
"I went to Dallas and said, 'Look, why don't we put this captain thing in limbo. You're the manager now. You should be able to decide whether or not you want a captain.'"
Green, who privately told people he knew Schmidt was uncomfortable with the bars, did not argue.
"Dallas said later on, maybe after the season starts, that he would ask the players if they wanted a captain," said Schmidt. "If they do, then an election will be held. It will not be an appointment like the way Ozark handled it."
During the past six seasons, Schmidt has averaged 36 homers and 101 runs batted in. Throw in an average of 104 runs scored and his 103 walks and you can see how important he is to the Phillies.
Last year, for example, he set a Phillies' home-run record with 45 and led the team with 20 game-winning RBI. He tied the National League record for most home runs in five consecutive " games, seven. Over July 6 and July 7, he blasted four consecutive homers.
BUT MIKE SCHMIDT has a .255 lifetime batting average and this bothers him. There was a time when he thought he would be able to hit .300 or better consistently. Now, he wonders if he will ever have a .300 season.
A lot of people are still waiting for the third baseman to reach his potential. Others say, at 30, he is not going to accomplish too much more.
"You know, I get on base as much as any .300 hitter," he said. "I don't get many cheap hits so my .250 doesn't reflect many thinkers or flares. I think I could change my particular style and hit for higher average, wait on the ball as long as Dave Parker does. I don't think I would hit nearly as many homers. I used to feel I could hit .320 and still hit 40 homers. I've changed my mind on that some."
A healthy and well-conditioned Luzinski hitting behind him should help. Last year, with the Bull hurting and in a horrible slump most of the time, the pitchers were able to go right at Schmidt because they were not too fearful of Luzinski.
"You can check the records," said Schmidt, "but not very often on this team have guys had two bad years in a row. I think Greg is proving that a lot of things went wrong last season. I have never seen anybody so dedicated.
"Personally, I don't see how I can ever forget last season. We got off to a great start, then we got all the injuries. We started scuffling, then Ozark was fired. So much was said, so much was written about us. Everybody had a different opinion about what we needed. We are working now like a team; we all have something to prove."
Schmidt admits Green is pushing the players more, yelling and screaming mere than Danny Ozark did in seven-plus years.
"I'm not saying all that is important," said Schmidt in his typically low-profile reasoning. "What is important is the fact we are working harder and enjoying it more – a lot more."
Boone is set to go after spring debut
By Hal Bodley, Sports Editor
CLEARWATER, Fla. – Yesterday was a red-letter day for Bob Boone.
Boone, the Phillies all-star catcher, played in his first game since tearing ligaments in his left knee against the New York Mets last Sept. 13.
Boone caught the first three innings as the Phils pounded the Montreal Expos 11-1 in an exhibition game. Boone underwent surgery and spent the winter in a strenuous rehabilitation program. He doubled in his first turn at bat against pitcher Ross Grimsley.
Boone, 32, who won his second consecutive Gold Glove last year, said that the important thing was that the operation and his tough rehabilitation program produced positive results.
"There is no fluid buildup. I have a complete knee. I'm able to do all I have to do without any swelling or fluid. I feel this thing is solved," Boone said.
He added: "I have enough strength in the leg to do my job and I'll have enough spring training action so that I'll be ready to catch nine innings in the last week of camp
"We're bringing him along about the same as we would a pitcher who had off-season surgery," said Manager Dallas Green of the Phillies. "He'll have Thursday off, then catch a few innings on Friday. In between, he'll continue his program with Gus Hoefling."
The Phils collected 16 hits on the hot afternoon, with 14 of those coming off starter Ross Grimsley. Montreal Manager Dick Williams had planned to have the bearded lefthander work four innings, but he was finally rescued in the fourth when the Phils scored six times, sending 11 batters to the plate.
Mike Schmidt, who is hitting .700 so far, led the Phils' assault. He blasted an opposite-field homer, doubled, singled and drove in three runs. Greg Luzinski, who is impressing his severest critics, had a double and a single in three at-bats and drove in two runs.
"I'd like to be able to box that stroke (Schmidt's) and sell it," Green said. "I would make a fortune. And what about the way the Bull is swinging the bat? He has that nice, quick, short stroke down. I would be willing to bet anything you want that he is going to come back and have a fine year.
"We're really swinging the bats well right now. I think one of the big reasons for this is the fact everyone came to spring training in outstanding shape. Nobody has to worry about playing himself into shape. Instead, everybody has been concentrating on baseball and I think that showed today."
But for all of the booming bats, it was Boone who drew the most scrutiny. The seven-year major league veteran showed no signs of the injury that threatened his career as a regular catcher. It was his second time in knee surgery. His right knee was operated on after the 1977 season.
Asked why he started yesterday, Boone replied, "It was their (the Phillies') decision. I've been ready to go."
The catcher insisted that he had no qualms or worries and that he could have played longer against the Expos.
"If the season opened tomorrow, I'd be ready," Boone said.
Boone hit .286 with nine home runs and 58 RBIs in 119 games last season, and started for the National League All-Star team.
His health is an important ingredient in the Phillies' hopes of regaining the National League East division championship. Green plans to carry only two catchers, and it appears Boone's backup will be rookie Keith Moreland, a promising young receiver with only 15 games of major league experience.
"I felt fine," said Boone after being lifted from the game following the third inning. "It was nice to hit in a game situation."
The Phillies had been bringing along their first-string catcher very cautiously. This was the sixth exhibition game of the 1980 spring training camp and Boone is expected to work briefly for another week or 10 days and be ready to go the full nine innings the last week of camp.
Boone, however, admitted that he wasn't completely comfortable squatting behind the plate to receive the pitches from starter Randy Lerch.
Randy Lerch was the winning pitcher, working four strong innings. He allowed three hits and no runs.
"I had good control today," said the young left-hander. "I felt like I knew where the plate was. Against Toronto on Saturday, I couldn't get the ball over the plate."
Boone said that his one problem was that he couldn't put as much weight on his left knee as he could on the right.
"I get in the squatting position but I can't hold it as long," Boone explained. "It's sort of like warming a pitcher up on the sidelines. You sit in that squat position for 15 or 30 minutes. Now I get that same feeling as soon as i get down."