Philadelphia Daily News - March 21, 1980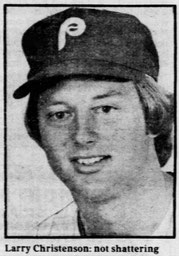 Christenson Just Eludes Major Injury
By Bill Conlin
CLEARWATER – Dallas Green can control how many wind sprints the pitchers run, how many minutes they throw batting practice, how many pitches they throw in an exhibition outing.
But a manager can't control line drives caroming at high velocity off a pitcher's anatomy. That's the Russian roulette part of baseball, and last season, the Phillies were the Deer Hunter of the National League.
Green and the Phillies had a full-scale moment of panic yesterday afternoon in Lakeland. Jason Thompson, the Tigers home run-hitting first baseman, scalded a third inning line drive off the inside of Larry Christenson's left knee.
Christenson has been out with bad backs, groin and hamstring pulls, broken collarbones, bone spurs and bone chips in his elbow. And when he was carried off the field on a stretcher to a waiting ambulance, the hard-luck righthander looked like he was out for the season.
THEY RUSHED HIM to the Watson Clinic for X-rays. This time Christenson was lucky. The ball missed the patella – kneecap to you – which, probably would have shattered like a light bulb. It deflected off a fleshier part of the inside knee hard enough to leave what trainer Don Seger called "a contused abrasion."
Early indications are that Christenson will miss from five to seven days of action – one outing on the spring training calendar.
"It could have been a lot worse." Green said after the Phillies buried the Tigers and poor, probably finished Mark Fidyrich, 10-4. "It's a setback for Larry but nothing that can't be overcome."
Suddenly, it might be a little more important to get Nino Espinosa, easing slowly into pitching condition alter shoulder problems, into the flow.
PHILUPS: Keith Moreland continues to look like a fine offensive catcher. He paced another big Phils attack with a single, homer and double. Pete Rose almost killed Mark Fidyrich (46 pitches, five hits, four runs, 2.1 innings) with a leadoff screamer The Bird reflexed just short of decapitation and later drove in three runs with a bases-loaded double... Larry Christenson wasn't sharp before his injury, allowing three runs and five hits in 2.2 innings... A tremendous bullpen battle is shaping up. The relievers, even the rookies, refuse to allow any runs. Rookie lefthander Carlos Arroyo and impressive Lerrin LaGrow both worked scorelessly yesterday... Maybe they feel the hot breath of Bruce Sutter. Paul Owens seems to have revised his thinking on a Garry Maddox-Sutter deal. Under the current free agent rule, Sutter can't become a free agent for three more seasons and is said to be willing to scale down his $700,000 current salary for a five-year contract at perhaps half that amount And that's in Ruly Carpenter's price range. "Pirates, Cardinals, Expos or Phillies," a National League executive said the other day. "Sutter would mean the division for any one of them."... A key to a possible deal may be what turns up in the free agency guidelines when and if the Players Association and owners hammer out a new basic agreement.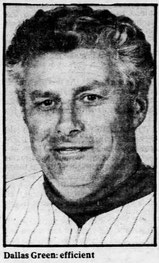 Green Runs a Good Camp
By Bill Conlin
CLEARWATER – No matter how you slice it, spring training is governed by two basic truths: The hitters have to get in their hitting and the' pitchers have to get in their throwing. Who doesn't know that?
Whether a spring training camp is a rewarding, fruitful experience for the athletes or a dull, repetitive grind depends on organization.
GENE MAUCH RAN an orthodox Phillies camp, which meant tbe hours were long and a lot of guys stood around shagging flies waiting for their turn to hit. Fundamentals were crammed into the two weeks before the exhibitions and quickly forgotten once the season began. The traditional ritual was broken up the year a guy came into camp and sold Mauch a bill of goods on a Stone Age predecessor to the Nautilus-type weight-training system called the Exer-Genie. The Exer-Genie was a vest-pocket time bomb waiting to go off in inexperienced hands. Before the spring was over, seven players including infield starters Bobby Wine and Tony Taylor and ace lefthander Chris Short were nursing back injuries. Wine's is with him to this day.
Bob Skinner ran a camp so heavy on running and calisthenics it was like a cross between Parris Island and high-altitude training for the Ethiopian marathon team. Unfortunately, the Phillies were rarely engaged in hand-to-hand combat, the season was only 162 games long and they finished last. Skipper Lucchesi's camps were constantly obscured by the smoke he was blowing at the press-media, as he called us. The athletes had everything but beach umbrellas and a sitdown meal during the halfway break.
Danny Ozark's early camps were colored Dodger Blue. Baseball was taught the Dodger way, whatever that is. His camps got a littla easier and more disorganized each year and it turned out that idle hands made work for a lot of devils.
I DONT KNOW if Dallas Green can manage a baseball game. That phase of his career will begin April 11. Or that date. Big D will be a manager, not an evaluator, which is what he was last September.
But Dallas Green can run one hell of a major league training camp, maybe the best anybody has ever seen down here.
It is professional, efficient, intelligently planned, impartial, executed without flab or dead spots. It is not a particularly long day as baseball camps go. But it is intense.
Green's camp is so thorough, so dedicated to improving every player in every phase of his game, that Larry Bowa has yet to say, "Won't the season ever start?"
"I do my thing with 'em, then the coaches do their thing with 'em. I've never seen a training camp with less wasted motion," says strength-and-fitness guru Gus Hoefling, who normally hands out accolades like manhole covers.
Del Unser's list of major league baseball stops reads like a Rand-McNally Road Atlas. Washington, Minnesota, Philadelphia, New York Mets, Montreal Expos, Phillies again. An intelligent, observant man, Unser could probably write a book on spring trainings he has seen. This one would occupy the lengthiest chapter.
"THIS IS THE best camp I've ever seen," Unser says. "For one thing there's never a set team out there now that the exhibitions have started. Everybody is made to feel a member of the club, even the guys you know aren't going to make it. You'll be there for three days for the games and then one day you're gonna get your workout early and be off for the afternoon. That doesn't mean you're going to have an easier day. Your workout is going to be a lot harder. Then, each day some kind of fundamentals are being stressed. One or two days of fundamentals in spring training are not enough. Everybody knows where everybody is."
Yesterday was a typical one in the Green program. The varsity was playing an exhibition with the Tigers in Lakeland and left by bus at 10:15 a.m. Green stayed back to work all morning with the half-squad which stayed to work out at Jack Russell Stadium. He would drive to Lakeland in time for the game.
Lee Elia put the non-pitchers through a drill designed to improve their footwork breaking from first to second. Green did the throwing in a bunting drill for pitchers. Only after a solid hour of fundamentals did hitters hit and pitchers pitch. Everybody was out of there in plenty of time to spend a gorgeous afternoon on the beach or the golf course.
"I've always been a fanatic for organization," Green says. "As farm director running a minor league camp for 150 kids you can't be any other way. You can't afford a wasted minute. You've got to run things by the numbers."
OK, IT'S NOT like watching an NFL team run through a full-scale scrimmage. But baseball is a game of small details which have a habit of breaking down if they haven't been deeply etched in the brain.
"One thing that's made what we've been able to accomplish so far is the excellent condition everybody was in when they got down here," Green says. "It's a lot easier to work guys when they're in shape to do the work."
And Green doesnt believe in having guys sit around trying to look busy.
"I've always liked spring training," Mike Schmidt says. "It's a special time for a ballplayer, especially a guy like me who likes to get a little sun, play a little golf and tennis. You work hard, you should have a little time to play. This camp has been absolutely outstanding. Dallas really has it together when it comes to organization. The emphasis on fundamentals has been exceptional, particularly the way we work in small groups so there's plenty of repetition. Hey, big league ballplayers fall into sloppy habits and forget things, too."
On April 11, Dallas Green will start showing us how he does with tactics, how he handles the hit-and-run, uses the bullpen and the care and psychological feeding of 25 diverse personalities.
He has proved one thing already: He can run one helluva spring training camp.