Philadelphia Daily News - March 28, 1980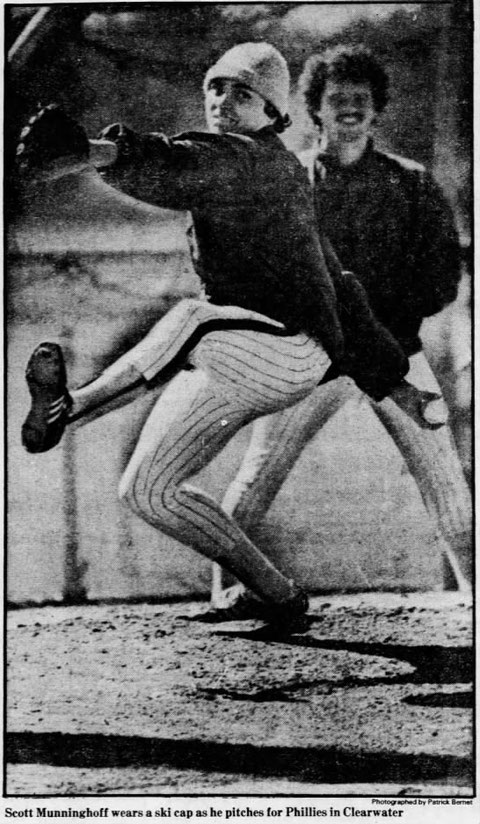 Baseball's Labor Front Is Gloomy
By Bill Conlin
CLEARWATER – Larry Bowa figures the owners are willing to sit on the sidelines for a while if a player strike shuts down the game.
"They wouldn't have set aside that little two percent kitty they all gathered up last year," the Phillies player rep said yesterday.
Two percent? Little kitty?
"Yeah," Bowa said. "Each club set aside two percent of their gate receipts in a strike fund. If you ask the owners they'd say no. Believe me, they did it. Oakland and teams that don't draw can all get into the kitty. And believe me, two percent of the Phillies gate is a nice hunk of change."
Well, the saber-rattling is starting in earnest. The only ray of hope on the gloomy labor front is that the owners and Players Association have agreed to the services of a federal mediator in Palm Springs Sunday. All a mediator does is try to keep the parties negotiating. And the man they send to Palm Springs may stagger out of town suffering from future shock.
"He may find it hard to believe that guys averaging $150,000 a year are threatening a strike," Ruly Carpenter said dryly.
Bowa figures if a strike is called April 1 most of the Phillies will stay in Florida and find a place to work out, at least until the leases run out on their spring training rental properties.
After April 9. it figures to be every man for himself, including Bowie Kuhn, who hasn't made many optimistic statements lately.
PHILUPS: A nine-run fourth inning highlighted the Phils' 12-5 victory over the White Sox. The big blow was Mike Schmidt's three-run homer, his fifth of the spring... Steve Carlton allowed three runs and 10 hits In six innings, but after the fourth it hardly mattered. Garry Maddox hit a two-run homer in the big inning... Rawly Eastwick gave up the other two runs on a Lamar Johnson homer. Lerrin LaGrow finished with two scoreless innings... Scott Munninghoff was strong again, allowing just one run in a five-inning "B" game stint against Toronto.
Schmidt Has His Game Together
By Bill Conlin
CLEARWATER – The hands holding the bat are back. The head is screwed on straight. The glove is flicking out with the speed of a snake tonguing an insect out of the air.
You'd like to freeze-dry the athlete Mike Schmidt is right now and package him for summer distribution. You'd like to be able to reproduce the athlete Mike Schmidt is today in July or August when he's lunging at the ball and when his mind is racing like Herb Clark's elapsed-time weather camera.
IF IT WERE possible to clone a Mike Schmidt, Dallas Green would order a gross of him.
When he's got it all going the way he does fight now, Mike Schmidt is the best player in baseball. You can have Dave Parker, Dave Winfield, Jim Rice, Rod Carew, Don Baylor, yeah, even Pete Rose.
Schmidt put two balls into orbit Wednesday in St. Pete, drove in six runs. Yesterday, in the fourth inning at Jack Russell Stadium, Schmidt fired a three-run homer off White Sox lefthander Richard Wortham that was airborne longer than an Eastern flight from Tampa to Orlando.
"I'm keeping my bat back," Schmidt said wearily after going through a brutal workout at the minor league complex before the Phils' 12-5 exhibition victory. "On that 3-0 pitch I didnt jump at the ball. If I keep the bat back like this I know I'm a good hitter. If I keep it back all year I can accomplish some great things. A baseball game's a baseball game. It's fun to hit the ball. It ain't no fun to make outs whether it's a spring game or a regular-season game."
One of the features of Dallas Green's remarkable camp is that fundamental drills have intensified during the last week, rather than slacken in tempo. It takes a lot to tire Schmidt. He's a horse, who for all his cool demeanor, is not afraid to sweat like one.
"AT THE COMPLEX this morning we did our exercises with Gus, ran four sprints to loosen up, then we threw long," Schmidt said, ticking off the events of a morning in the sun that would have fatigued Lawrence of Arabia. "The pitchers threw to all the bases, covering first, double play at second, bunt plays to third. Then we had game situations, cutoffs and relays and rundowns. We did a whole segment on rundowns. Then we had two rounds of batting practice off live pitching and one round off Mike Ryan and Hank King. Then we had four rounds of infield practice. A lot of times teams go home after doing that much. Then we had to come here and play the game. It's hard work. It's a long day for us, but it's good in that everybody is happy to put it in, take those fundamentals seriously in the morning. We're serious, we're winning. We came from behind in the game today. We're doing great as a team.
"Anybody can put as much stock in how a team does in the exhibitions as he wants. It depends on how an individual feels about exhibitions. But a baseball game is a baseball game, for a team or an individual and you want to do good in that game. What doing good means, I don't know. If you're doing bad there's a tendency to say, well, everything is zero on opening day and you have to start over. But that old business about working on something in an exhibition is a bunch of baloney. Once a pitcher gets to the mound he might say he's working on something, but I guarantee you he's working on trying to get hitters out so they can make the ballclub."
THE TEAM GREEN has put on the field so far has been the most impressive in Florida – until you look at the pitching stats.
"Some of the starters I've seen so far. they haven't been all that pleased with," Schmidt said. "There's some guys recovering from injuries who haven't come out and given us a real strong effort yet, where they're throwing the ball hard. Dick Ruthven yesterday got behind a lot of hitters. When he tried to throw the ball hard he was wild. He'll say he was working on his changeup, but you've still got to go out and keep the momentum in his mind of trying to get hitters out. If I'm a pitcher I might be working on something, but sooner or later I've got to start testing my arm and trying to get hitters out. Randy Lerch has thrown the ball good all spring, he's trying to learn a breaking ball, trying to leave here with confidence in his breaking ball, but he's not getting many hitters out. This is the first day Carlton has been hit but we went out and scored 10 runs for him. I don't want to say Nino hasn't pitched well because he hasn't been well enough to pitch.
"As I look around the clubhouse, Scott Munninghoff looks like he's the most ready. But he's a young kid and he's trying to make the ballclub. The bullpen looks good. I don't think that's a big concern right now. Potentially our pitching staff is as good as any of baseball, but potentially means nothing. Potentially, we've been the greatest team in baseball for seven years. We haven't done it out there on the field. Our team spirit is very good now, different than any we've had before."
LAST SEASON. THE Phillies pitchers were the Hatfields and the hitters and fielders were the McCoys. There was so much finger-pointing it looked like a 25-year reunion of FBI informers.
Schmidt said the strongest link of team unity has been forged around the endless rounds of fundamental drills.
"I think team spirit has come from the unification of laboring over those fundamentals out there," Mike said. "You know, I see a guy take it serious, so I take it serious, then somebody else sees us two and takes it serious. Today for example, the pitchers were working on a ground ball back to them on a squeeze, trying to barehand the ball and give it to the catcher. Of the first eight guys, only one of them barehanded the ball and made the play. A couple of us infielders got in there and actually helped them out and told them the proper way to bare-hand a ball – watch it into your hand and don't look up until you're almost ready to throw it. Then they did like nine in a row. Every one of them did it barehanded. There wasn't a feeling of, 'Who are you guys to tell us how to field on the mound?" like maybe there used to be.
"The feeling we had out there today was one we haven't had around here in a long while. I think everybody's hungry to carry this kind of spirit into the game."
Or into the strike.
"My opinion, a lot of young guys who need some paychecks to pay the rent will get hurt if we strike next Tuesday," Schmidt said. "My gut feeling is the season will open on schedule. After that, I don't know."