Wilmington Morning News - March 28, 1980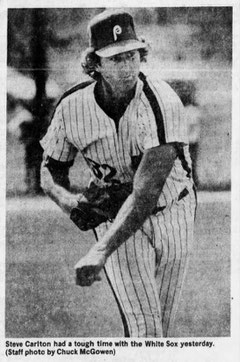 Pitching hammered, but Schmidt nails Sox
By Hal Bodley, Sports Editor
CLEARWATER, Fla. – Steve Carlton was hammered. Rawly Eastwick was hammered. And Lerrin LaGrow was ineffective.
Even with that, the Phillies out-slugged the Chicago White Sox 12-5 yesterday at Jack Russell Stadium, but from a former pitcher's standpoint there wasn't much to cheer about.
Except Michael Jack Schmidt.
The third baseman continued his awesome Grapefruit League batting show with his third homer in two days, a rocket shot with two runners on in the fourth inning when the Phils scored nine runs.
Schmidt now has five homers and 14 runs batted in nine spring games.
Manager Dallas Green, the former pitcher, says there is no way he is going to try to slow Schmidt down even though the scheduled National League opener is two weeks away.
"I don't believe in that," Green said when somebody suggested Schmidt might leave everything in Florida. He is strong and has a good stroke; I'm not about try to slow him down."
Green, however, was waiting for his question-mark pitching staff to hit the bottom and it apparently did yesterday.
Carlton, who had allowed just one earned run in 11 innings, gave up three runs on 10 hits. Eastwick, who had pitched extremely well his last time out, gave up three hits, including a two-run homer by Lamar Johnson in one inning of work.
"I was talking to Paul Owens and Ruly Carpenter this morning," said Green. "I told them we hadn't hit that downslide yet of being 'logy' and fed up with spring training and that type thing. I felt that maybe because we were in such good physical condition we won't hit it, but it happened today. This is just about the time when you expect it."
Green used the term logy to describe Carlton's mediocre performance.
"I think he was a little lazy. I knew he didn't pitch well and he knew it," said Green. "Lefty will pitch a few of those games.
"We had an full day today before this game even started. We worked the hell out of them over at the complex on cutoffs and relays and pop-ups. We had catchers blocking the plate and also had the 'B' game. You probably saw some guys walking on their knees and it figures."
Lonnie Smith had two singles as the Phils upped their Grapefruit League record to 10-4 and Green all but said the young outfielder has made the team.
"I've said all winter I am a Lonnie Smith man," said Green. "I honestly feel he can make things happen on the baseball field. I think he is a very exciting player and fits in with the style of play I like. He can steal a base in key situations almost at any time. He may not play everyday and he not play a heckuva lot, but I think he'll be a big part of our team."
With about 10 days of spring training remaining, Green must devote most of his time to choosing his pitching staff and extra players.
"The day before yesterday I had a team meeting," he said. "I told them we are going North with 25 people and we have 36 here, so it doesn't take a mathematician to figure out there are 11 guys who are not going to be with the club. I told 'em it's up to them to show me who wants to play and who doesn't want to play. That's why we're having 'B' games and using as many people as we are. We still haven't played the line-up as we will play it."
EXTRA POINTS – Scott Munninghoff pitched five innings in the Phils' 3-2 victory over Toronto in the B' game... The rookie allowed one run and six hits before he tired... You can just about count Warren Brusstar out of the pitching picture... The reliever, who has been bothered by shoulder problems for more than a year, was in agony yesterday after throwing some balls at a concrete wall... "I know what he's going through because I went through that type of thing, too," said Green. "It's crying time for Warren Brusstar."... Reserve infielder Buddy Harrelson pulled a groin muscle in the morning game and will not work out for several days.
…And the players just keep asking for more
By Matt Zabitka
Say you're an oil refinery worker, or an assembly line person at General Motors, or a truck driver for a construction company, or a desk jockey at the Du Pont Co.
And suppose, just suppose, you approached your boss and reprimanded him for not throwing more work your way. Work, that is, without any additional remuneration.
What would your boss say, or do, if you told him: I'm tired of sitting on my can doing nothing and getting paid. If you don't give me more work to do then I'll quit."
What would your beloved boss do?
(a)Immediately put in a call to the Delaware State Hospital.
(b)Faint on the spot.
(c)Put in a call for the house physician.
(d)Ask you if you've been out in the sun too long.
Or (e), report the conversation immediately to the people who put together the Guinness Book of Records.
But yet, in essence, that's what major league baseball players do – they, oft times blatantly, demand to be given more work (playing time) or be traded. They don't want to get paid big bucks for sitting on their duffs. Everyone wants more playing time. But their requests for more work never register the shock that would be experienced by a boss in industry if one of his employes would make the same complaint – "give me more work or I'll quit."
It just goes to show you how "tough" it is to play baseball. And your average major league player, for playing this kids game, will pocket $150,000. And there's a fist-full of major leaguers making more, much more, than the president of the United States. Pete Rose, for example, could buy the White House and refurbish it to his taste. But Rose might tell you that he deserves more money than the president, since he had a better year than Jimmy C.
Larry Bowa makes more money in one year than most physicians and surgeons who save lives, but he still wants more.
Mike Schmidt, I feel certain, makes much, much more than Fidel Castro, who runs Cuba.
And pitcher Nolan Ryan makes more money in one year than Irving Shapiro, who runs the Du Pont empire.
But the players still keep asking for more. Bowa, for example, appeared satisfied with his $300,000 a year until he heard Gary Templeton earns more than he does. Bowa then put the squeeze on the Phillies to boost his paycheck.
Among the reasons projected for all the greed is that a player's "life" in baseball is limited, that a couple bad years or an injury could abruptly terminate a playing career, and a player has to have a cushion of $1,000 bills to fall back on.
Well how about the stiff working in a plant and trying to make ends meet on a couple bills a week? He also can have his "career" abruptly terminated by failing to punch the time clock on schedule a few times, or by having a ton of bolts fall on his head accidentally. And he's lucky if he has a few $1.00 bills to fall back on.
It intrigues me no end to hear the baseball talk at Sneaky Pete's Greasy Spoon Diner or at the Gestapo Barber Shop. Guys in grimy clothes and dirt under their fingernails, guys with eight-nine mouths to feed, guys making maybe two bills a week, arguing the cases for the likes of Bowa, Garry Maddox, et al, listing reasons why Bowa should be paid $600,000 a year and why Maddox deserves to be paid a million a year.
But that's baseball. That's why it's referred to as the national pasttime, because you can "pass time away" all-year around. When the season is over, there's enough fodder to chew on throughout the other months.
If the guys in the diner and the barber shop didn't have players' salaries to talk about they'd probably be out stealing hub caps are at home beating-up their wives.
The inflated baseball salaries are the best thing that ever happened to baseball, when you come right down to the nitty-gritty of it. It has given the people in this country something to talk about. It has given baseball millions of dollars more in publicity than the owners are are going to shell-out to players. It has taken the peoples' minds off the fact that unleaded gasoline costs $1.22 a gallon (pump it yourself) and Folger's instant brand coffee costs $6.99 for a medium-size jar. It has lessened the public's interest in the boycotting of the Summer Olympics in Moscow. And the hell with the Russians in Afghanistan. And – what hostages?
Baseball mania is here and, thanks to the salary debates, it never left us, even after the conclusion of the 1979 World Series.
Hey, about a million for good 'ole Schmitty, just to keep the hot-stove league burning? Yeah, and buy me some peanuts and crackerjack, I don't care if I never get back.