Philadelphia Inquirer - March 28, 1980
Arbitrator makes Phils optimistic
By Jayson Stark, Inquirer Staff Writer
CLEARWATER, Fla. – A lot of baseball players might not know a federal mediator from a fielder's choice. But whatever one is, it might just be the key to avoiding a players' strike next week.
At least that's the way Bob Boone and Larry Bowa viewed baseball's latest labor news yesterday.
The news was that both sides in the game's labor talks will meet Sunday with the Federal Mediation and Conciliation Service in Palm Springs, Calif. It wasn't immediately certain exactly how much weight the mediator's recommendations would carry.
"But I'm sure both sides are going to listen," said Bowa, the Phillies' player representative. "If a mediator says, 'This is it,' and the other guys go against it, that's not going to look too good, is it?"
The meeting with the mediator will come two days before the executive board of the Major League Players Association is scheduled to assemble in Dallas to decide if, and when, to call a strike.
There had been increasing indications until yesterday that the players might have voted then to strike immediately. But now maybe they won't, Bowa theorized.
"The chances we'd go out on the first (of April) right now look a little bit remote," Bowa said. "I'm not sure exactly how this is going to affect our But I'm sure Marvin (Miller) will sit down and tell us what went on, and we'll go from there."
Boone stopped short of predicting the entrance of the mediator would avert a strike. But he said that even though he didn't know all the details, "from the sound of it, I like it."
"You know, in the past two negotiations, we've offered from the beginning to send any dispute to impartial arbitration," said Boone, the player rep for the National League. "So I think anything like that would probably be a positive thing.
"We might be at the point where we need some outside person to say what he thinks is fair and what isn't fair. I say that and take my chances with it. I just think it's a positive move on the owners' part to agree to do something like that."
It was the owners, in fact, who requested the meeting with the arbitrator. But clearly, both Boone and Bowa believe a mediator would decide in the players' favor.
"I don't see how any arbitrator is going to take away something we've already achieved through negotiations, unless they're really ignorant of what's happening," Bowa said, a reference to the owners' demands for a tougher system of compensation for free agents than the one agreed to in 1976.
"I don't see what basis they would have. The pennant races have been tight. Interest is up. Attendance is up. I don't see what grounds there are for taking something away."
The owners certainly would see some grounds. But Phillies owner Ruly Carpenter was declining to make any specific comments yesterday.
What the owners' chief negotiator, Ray Grebey, did say was that his side was "not seeking a strike." And despite the players' united front on walking out, not many are anxious to do that.
"The feeling from our side is that this is what we want – to get this thing settled," Boone said. "We've made our stand now by voting to strike.... We're really trying to make some kind of good-faith negotiations and get an agreement."
Both sides have talked a lot about not wanting a strike for all of these last 20 weeks. But their agreement to meet with a mediator is the first sign that either really means it.
NOTES: Paul Owens said he spoke with the Cubs about reliever Bruce Sutter last week and "gave them a few names" he might be interested in dealing. None, however, included Greg Luzinski or any other "names names," Owens said. The Pope said he had not heard anything since, but he has the feeling Chicago is serious about trading Sutter because "they're mad."... Owens said the only other trade talks he had going involve lame-duck catcher Dave Rader. "We've got two or three clubs talking with us about him," he said. "I know it's late, but catchers are not that easy to come by. I just wanted to make sure Boony was 100 percent first. I'm just skeptical about injuries any more."... Owens also said he had given "some new ideas" to Garry Maddox' agent, Jerry Kapstein, and was hoping to hear something back last night. The sides have talked "three or four times" since Kapstein declared the contract discussions at a stalemate more than three weeks ago, Owens said.... The Phils used a nine-run fourth inning to beat the White Sox, 12-5, in Clearwater yesterday. Mike Schmidt crushed his third homer in two days, and fifth of the spring – a 42S-foot shot over a palm tree beyond leftcenter. Maddox lined his first spring homer, a two-run number, later in the inning.... Steve Carlton pitched the first six innings but was not really effective (10 hits, 3 runs, a lot of deep counts). "It wasn't a good day for Lefty," Dallas Green said. "He knew it. He'll pitch a few of those. He was just a little loggy, a little lazy." A little loggy?... Green fiddled with his lineup combinations, batting Maddox second and Manny Trillo seventh.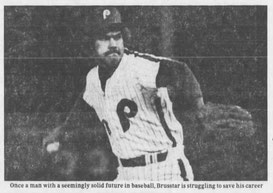 Is there no tomorrow for Phillies pitcher?
By Frank Dolson,
Inquirer Sports Editor
CLEARWATER, Fla. – Larry Bowa looked across the clubhouse, his eyes searching out Warren Brusstar's locker. Everything looked the same. Brusstar was sitting there, wearing his Phillies uniform with the number 40 on the back. To look at him, you'd never guess anything was wrong.
"I don't care when you go by him," Bowa said. "You say, 'How do you feel?' and Bru says, 'Great.' The man never complains. I've gone over and asked him how his arm was, and he'd say 'It feels good.' That's the way he is. He doesn't want to take anybody down with him mentally."
Yesterday, though, Warren Brusstar couldn't bring himself to say he felt great or good or even fair. The pain was back in his right shoulder... the same pain that threatened the By career of one of the National League's fine, young relief pitchers in 1979.
All Warren Brusstar could say yesterday was, "The arm blew out on me again."
Actually, it happened throwing batting practice a couple of days before. "I don't know what happened," he said. "Just all of a sudden...."
That's the way it can happen to pitchers. All of a sudden.
The list of pitchers who are struck down by arm trouble, of one kind or another, is almost endless. Nobody feels for them much more than Dallas Green. Once a great prospect himself, he had to live with arm trouble, too.
So the Phillies manager sat there yesterday knowing exactly what was running through Warren Brusstar's mind.
"The frustration of knowing you've got everything right there at your front door and then not being able to compete any more is something people can't understand unless they've been through it," Green said. "I've been through it, and it's a damn frustrating thing. There's nothing you can do. Doctors can't help you. You really can't help yourself. It's crying time."
Brusstar isn't the crying type. But that doesn't make it any easier to handle a sudden, rather mysterious, and very painful injury that is threatening to end what had been a most promising career.
"If he was 34 or 35 and had put his 10 years in, he could adjust," Bowa said. "But here's a guy, when he's right he's as good as anybody – I mean, I'm not talking about (Bruce) Sutter or (Kent) Tckulve, but Bru will come in and give you a ground ball when you need one."
Which, after all, is the trademark of a top relief pitcher. Now 28, Brusstar has compiled a 14-5 lifetime record in the majors.
"He's a guy who could be here 10, 15 years," Bowa said. "But he doesn't even know what it is. It could be something very minor that could heal, and then again...."
"Let's face it," Dallas Green was saying. "I don't know that any doctors know about pitching arms."
All they know, and all Green knows, is that pain and pitching frequently go hand in hand. Dallas pitched nine years with pain – "every single day, every time I picked up a ball," he said. "You learn to do something about that or compensate for it or live with it if you're going to stay in the game."
Unless, of course, the pain is simply too great.
"Bru can stand pain and has stood pain," Green knew. "There's just some pain that won't let you throw. My pain, at least, I could throw the ball and I wasn't hurting my arm more. When Bru throws he hurts himself more. It's just a freak of nature. I don't know what else to call it. The Man Upstairs just doesn't want him to pitch."
So the tall, soft-spoken righthander who could have been one of the stoppers in the Phillies bullpen has been stopped again. You hate to see anybody going through what Warren Brusstar is going through, especially a young man with his attitude, his love for the game.
"If you're a regular player with status and you get hurt, at least you can go out maybe and pinch hit or pinch run or play defense to stay on the team," Green said. "But if you're a pitcher and you can't throw, you're not part of the team, and that's part of the frustration, too, because you know what you could do when you were sound. You think, 'Would somebody please get me sound so I can do it?' I know the cry. He'll wake up at night screaming it.
"I'll tell you one thing. It'll test him as a man…."
That test he's already passed with flying colors. Warren Brusstar, the man, has impressed everybody. It's Warren Brusstar, the pitcher, that the people in this camp are worried about.
Owners look to union to bail them out, Miller says
By the Associated Press
SCOTTSDALE, Ariz. – Major league baseball owners "have admitted to me that they don't see any way to control each other," so they are seeking the support of the players' union to help keep salaries and costs down, the director of the Players Association said yesterday.
Players' union boss Marvin Miller and Ray Grebey, the chief negotiator for the owners, are in the midst of talks aimed at formulating a new four-year basic agreement and avoiding a threatened players' strike. The Federal Mediation and Conciliation Service, at the owners' request, yesterday agreed to become involved in the talks.
The federally mediated meeting will take place Sunday in Palm Springs, Calif., said Kennedy E. Moffett, deputy director of the service.
Miller said the talks so far have been stalled by owners' demands that should not even be on the table.
"They came in with a demand that no player can be offered more than a one-year contract if he has less than five years service," Miller said. "They don't have to offer more than that now. They want us to take over management's responsibility."
Miller said it is for a similar reason that owners are seeking a change in the free agency system.
The owners, he said, want to "change free agency to a trade. The free agent (in some circumstances) could not be signed by a club unless that club gives up a regular."
Such a change would "break the back of the free agency system, (and) the savings to the owners would be in the tens of millions of dollars," Miller said.
Grebey has repeatedly refused to comment on the specifics of the negotiations, but said the owners see no reason why the season should not open on time (April 9) even if an agreement has not been reached.
The players, though, fear that if they perform without a contract, the owners could declare an impasse and invalidate the old agreement under which baseball is continuing to operate.
Miller said he is concerned about the image of the players' union, since many fans find it hard to believe that players would dare to strike in light of the huge salaries many receive.
"Don't the players have enough?" Miller said he has been asked. He responds with the question, "Don't you realize we've just met for 19 weeks on owners' (not players') demands?"
As for the huge salaries, he said. "They were not negotiated by the Players Association; they were negotiated individually. And except for an occasional error, an experienced businessman never pays more for the services of an employee than the employee is worth.
A meeting of player representatives is scheduled for Tuesday in Dallas. If an agreement has not been reached by then, Miller said, the starting date of a players' strike will be discussed.
The San Diego Padres yesterday became the 22d team to vote to authorize a strike. In all, more than 800 players have now voted to support Miller, while only one player has dissented.