Andrew J. Musser
Born: December 28, 1937

Died: January 22, 2012

Phillies Announcer: 1976-2011

Announced for the Philadelphia Eagles, Philadelphia 76ers and Villanova Wildcats

Announced the World Series, Super Bowl, NCAA Championship and Masters for CBS Television.

Elected to Broadcast Pioneers of Philadelphia Hall of Fame, 2011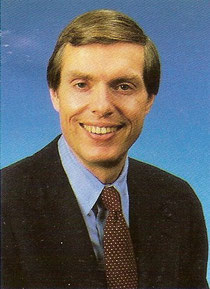 Remembering Andy Musser
By Richard Summers, site administrator
This week the Phillies family suffered the loss of longtime announcer Andy Musser. Musser, 74 at the time of his death, was a Phillies announcer from 1976 through the 2001 seasons.
Not solely the property of the Phillies, Mr. Musser also performed announcing duties for the 76ers, the Eagles and the Villanova Wildcats during his tenure in Philadelphia. He also did a stint as lead broadcaster for the Chicago Bulls of the NBA before joining the Phillies' broadcast booth.
For his long, distinguished career in calling Philadelphia sports, Musser was inducted into the Broadcast Pioneers of Philadelphia Hall of Fame in 2011. The entirety of that career with the Phils was in the shadows of two of the giants of Phillies – and baseball broadcasting – history: Harry Kalas and Richie Ashburn.
I know that for many, myself included, Harry Kalas was THE voice of the Phillies – the one we all think of when we reminisce about our childhood, playing wiffleball and listening to "Harry and Whitey" on the radio with our grandpas. Hardly ever do we think of Andy Musser – the career backup to the Hall of Fame broadcasting duo.
And yet…
Perhaps my one favorite call of all time – the one that ultimately led me to a lifelong passion for all things baseball and the Phillies – was from one Andy Musser. That wet, frigid October day in Montreal, when the Phils and the Expos bumbled their way through to the tenth inning, the Phils trying to clinch, the Expos dearly hanging onto that thin thread of hope, Andy Musser stepped from beyond the shadow of His Whiteness and Harry, and made perhaps the call of his career:
"He buried it! He buried! Way outta here! Home run Mike Schmidt! Puts the Phillies up six to four! What a drive by Schmidt! Unbelievable!"
Musser, the ultimate professional, had the announcing spotlight in that most glorious of moments, when Schmidt, and the Phillies themselves, shed the moniker of "choker" and took that important first step towards immortality.   It was a moment for Schmidt to shine – and for Musser to provide the sun.
Mr. Musser, thank you for a long, steady career of broadcasting my favorite baseball team. Thank you for narrating such an important even in Phillies history. And, most of all, thank you for providing part of the framework on which the tapestry of my childhood can rest.
Rest in peace, Andy.