Frank Edwin McGraw, Jr.
·          Born:  August 30, 1944, Martinez, California
·          Died:  January 5, 2004, Brentwood, Tennessee
·          Career record 96-92
·          Career ERA 3.14
·          Two-time All-Star (1972, 1975)
·          Two World Series wins (with Mets 1969, with Phillies 1980)
·          1980 Babe Ruth Award
·          Member, Mets Hall of Fame (1993)
·          Member, Phillies Wall of Fame (1999)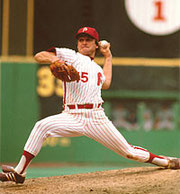 A Tug Of The Heart- Gone But Not Forgotten
By Richard Summers 1/5/2004
Note:  Tug McGraw, the effervescent relief pitcher who struck out Willie Wilson to clinch the 1980 World Series for the Phillies, died of brain cancer on January 5, 2004.  Below are some thoughts about Tug from site webmaster Richard Summers.
A 33-year-old boy cried tonight.
I cannot believe that the man who, in many ways, made my childhood complete is gone.
Tug McGraw, only days after the loss of Phillies icon Paul Owens over the Christmas holiday, succumbed to brain cancer on Monday, January 5, 2004.  He was 59 years old.
The image of McGraw, enraptured by the sheer pleasure of getting the final out in the World Series in 1980, jumping off the mound while his teammates began to run towards him in triumph, is forever engraved in my memories.  To a nine-year-old in Honey Brook, Pennsylvania, McGraw gave me a memory that I have cherished ever since.
Frank Edwin "Tug" McGraw was born on August 30, 1944 in Martinez, California.  He broke into the major leagues with the New York Mets as a 20-year-old in 1965, going 2-7 with a single save in 37 games in his rookie season.  He played a role in the 1969 "Miracle Mets" by going 9-3 with 12 saves and a 2.24 ERA in 42 games.  He pitched three scoreless innings in the first National Leauge Championship Series (NLCS) against the Atlanta Braves, which the Mets swept in three games.
Tug was traded to the Phillies after the 1974 season along with Don Hahn (who played all of nine games with the Phils) and Dave Schneck (who never played with the Phillies) for Del Unser, Mac Scarce and John Stearns.  Unser, of course, would come back to the Phillies in 1979 and played a key role off the bench for the Phillies' World Series campaign in 1980, pitching in 9 of the Phillies' 11 games in that postseason.  The Mets had given up on McGraw after an injury-riddled 1974 season in which McGraw went 6-11 with only 3 saves after posting 52 in the previous two years.
McGraw was a key member of the Phillies' golden years, in which they won five divisions, two pennants and one World Series from 1976-1983.  McGraw earned as many as 20 saves only once (1980), and more than 15 only one other time (1979), but he was an inspirational leader in the clubhouse as well as the main closer in the bullpen.  His free-spirited antics were a favorite among the hard-bitten Phillies fans.  He retired after the 1984 season having earned 94 saves for the Phillies in the regular season, three in the NLCS (1980 and 1983) and three more in the World Series (2 in 1980, 1 in 1983).  Overall, Tug was 96-92 with 180 saves and a 3.12 ERA in a career that spanned two decades.
After Tug retired, he worked for Action News for a while, was a motivational speaker, and in recent years came to the Phillies' spring training complex in Clearwater to work with the team.  It was here that I was lucky enough to meet with Tug a couple of times as a fan.  Unlike many of the players today, Tug came out and mingled with the crowds, signing multiple autographs, telling stories about his baseball days along with numerous jokes, and sending everyone home happy.
My final interaction was this last spring training.  I don't believe that any fan in attendance that day had an inkling that Tug was as sick as we learned he was in the next few days.  As I watched the practice and a short inter-squad game, Tug was talking and joking with the other players.  Afterwards, he came out and signed dozens, maybe a hundred autograph, including for my teenaged nephews and one for myself.  He was older, maybe a bit worn from his 59 years, but the smile, the twinkle in his eye, his love for life was still evident that warm Florida spring day.  I stared in disbelief as I read the story on my computer screen just a week later that Tug was in the hospital with brain cancer.
And I sit in disbelief once more tonight.  The little boy that still lives in the depths of my soul cries tonight.  A few tears even escape through the tough-man, adult façade that I have managed to build over the raw emotion, the mourning, the hurt that all who were young in that magical summer and golden autumn of 1980 when a goofball lefty with a tired arm willed himself, his team and an entire city to defeat a hundred years of history, the demons of playoffs lost and the Kansas City Royals, to allow a normally wretched team to, if only for that one season, that one day, to sit on top of the baseball world.  
Tug McGraw, the man, is gone from this world.  But Tug McGraw, the person, the spirit, is still alive in the heart of every Phillies fan.  He may be gone, but he'll never be forgotten.