Harold Norbert Kalas
Born: March 26, 1936

Died: April 13, 2009

Phillies Announcer: 1971-2009

Recipient of the Ford C. Frick Award for broadcasting excellence by the Baseball Hall of Fame, 2002

Inducted into the National Sportscasters and Sportswriters Association Hall of Fame, 2008

Person of the Year by the Broadcast Pioneers of Philadelphia, 2004

Legacy of Excellence award from the Philadelphia Sports Hall of Fame, 2004

Pennsylvania

Sportscaster of the Year 18 times between 1978-2002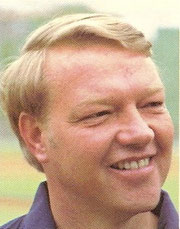 An original article from Richard Summers, site administrator:
In Memoriam - Harry Kalas
By Richard Summers 4/13/2009
High hopes!
As a child, I had the distinct privilege of listening to what I consider to be the finest duo to ever announce a major league baseball game: Richie Ashburn and Harry Kalas. Now, I am certain that there are baseball fans that will argue for their favorite announcers, but for this Phillies fan, nothing will ever compare to listening to Harry the K and Whitey over the duration of my formative years.
He's got high hopes!
Harry Kalas announced many of the historic moments of Philadelphia Phillies history. While his immediate hall-of-fame predecessor, By Saam, withstood three decades of mostly losing baseball, Kalas was the lead announcer during four pennant-winning, and two World Series-winning, seasons for the club best known as the franchise with the most losses in professional sports history. Harry Kalas' tenure in the Phils' announcing booth was the harbinger of the golden age of Phillies baseball.
Hot apple pie
From Mike Schmidt to Ryan Howard, from Steve Carlton to Cole Hamels, from Dallas Green to Charlie Manuel, from Pete Rose to Chase Utley, Harry Kalas' smooth baritone put an indelible vocal stamp on many of the greatest stars of Philadelphia baseball history. Anyone old enough to have watched Schmidt play can still hear Harry Kalas' melodious "Long drive… deep left field… watch that baby… OUTTA HERE! Home run MICHAEL JACK SCHMIDT," like it was yesterday. Even for players of a lower stratosphere, Kalas' calls bring back memories of yore. Who can think of the name Mickey Morandini without hearing it in Kalas' Midwestern drawl?
In the sky hopes!
One of the great controversies of the 1980 World Series was that the Phils' local accouners, including Kalas, Ashburn, Andy Musser, Tim McCarver and Chris Wheeler, were not allowed to announce the games. Both television and radio were to be done by national network announcers. Philadelphia fans protested loudly (since when do we do anything quietly?), but Kalas and Co. had to watch that World Series from the sidelines. After the Series was over, Kalas and the other announcers created a local broadcast of the fait accompli, voicing over the action on videotape. For many Phillies fans, though we actually listened to Joe Garigiola for the final out, can remember "hearing" Harry's voice announcing that nearly century-long drought was finally over in 1980. Even though his recording came after the final celebrations of the Phils' first championship, his is the voice that we subconsciously remember when thinking about Tug McGraw, Willie Wilson and that magical moment when the stars finally aligned for the Phillies.
It was only fitting that Harry should, at what would be the end of a hall-of-fame career, get one last chance to announce a championship for the Philadelphia Phillies. In 2008, local announcers were now calling the game for their markets (and nationwide via the XM radio satellite service). Harry was where he belonged, in the announcing booth, smoothly painting a verbal picture of the Phils' second championship run, twenty-eight years after the first was denied to him. This time, Harry's call was live. His voice may have aged – like fine wine, some say. His memory may at times have faded with the years – though he could regale an audience of three decades of Phillies' seasons. As the primary author of the oral history of Phillies history, it was not only proper that Harry get to call one more championship – it was right.
Somewhere in heaven, you can almost hear Richie Ashburn's welcome to Harry Kalas: "Hard to believe, Harry!" Rest in peace, Harry Kalas, and thank you for a lifetime of baseball memories. Thank you for being a voice of my childhood. Thank you for helping a young boy develop a passion, both for baseball and for the Philadelphia Phillies.