Philadelphia Daily News - April 11, 1980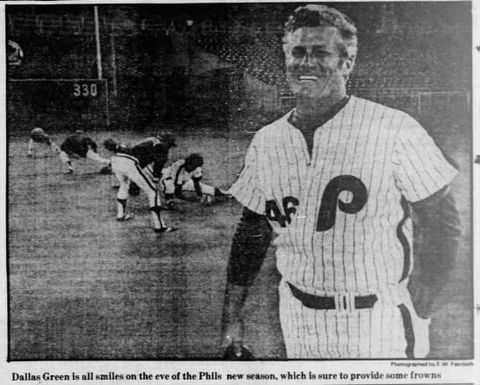 Maddox, Phils Near Agreeing
By Bill Conlin
Garry Maddox is optimistic. Jerry Kapstein, his agent, is optimistic. Paul Owens, who is apparently out of the negotiations, says he's tired of commenting.
"Why don't you go fishing," The Pope told one inquisitor yesterday.
Maddox did his talking between batting practice rounds last night. The centerfielder says, yes, there's been definite movement in the past two days and, yes, the opening day deadline has been lifted to permit continued negotiations.
Kapstein had said when an impasse was reached in early March that his client would become a free agent if he didn't have a contract by opening day. "We've come down some, they've come up some," Maddox said last night. "I feel we're close to agreeing."
MADDOX AND Ruly Carpenter were about $400,000 apart when talks broke off last month. Both sides probably have compromised their positions about $150,000 since talks resumed just before the Players Association struck the last 11 days of the exhibition season. Ruly probably has come up to about $650,000 a year for a five-year deal. Maddox is probably down to about $750,000. That's close enough for a man who says he loves playing baseball in this town and an owner who loves to have the game's best defensive centerfielder to each move another $50,000 and shake hands.
"I don't want $800,000," Maddox said, adding with a grin, "but I'll take it."
Both sides have been realistic. Maddox knows he can get a lot more than he's bargaining for if he declares free agency. Carpenter also knows he can get it.
But he's got Greg Luzinski coming up next year and Mike Schmidt in "82. So what he pays Maddox in this contract will set the tone for all the big ones to come. If Maddox gets a $4 million deal and Schmidt has a couple more 45-homer, Gold Glove seasons, what does Ruly tell Mike? Sorry, I gave it all to Maddox?
At the same time Maddox doesn't want to let sentiment pull him too far below what he knows he can get in November.
"I wouldn't want to sign for a certain amount of money now and then be hissed off about it later," Garry said.
PHILUPS: Pete Rose says he heard that the strobe lights in the new home run spectacular are so bright that, "If you happen to be looking at them when a guy hits a home run, you're half-blind for the next five minutes." Maybe Dallas Green ought to issue blindfolds to his on-deck hitter. Or instruct Bill Giles to set the thing off when the opposition homers... You knew things were out of hand at last night's free-to-the-public workout when young fans started running down balls in the alleys. And they were definitely out of hand at the end when several hundred jumped the box seat railings and engulfed the field, causing players about to run windsprints to beat an early retreat to the clubhouse... Waivers have been asked on Rawly Eastwick and Doug Bird. If they clear, both will be released, except on the 1st and 15th of the month, when they will still be very much a part of the Phillies. Mike Anderson has been optioned to Oklahoma City... Frank Pastore and Pete Vuckovich pitch dazzling shutouts and J. R. Richard no-hits the Dodgers for six. See how much the pitchers have missed the last week and a half of exhibition action... Dick Ruthven vs. Bill Lee tomorrow and Larry Christenson vs. Scott Sanderson Sunday. Christenson threw hard on the sideline last night.. The Phils are looking for their first opening game victory since 1974, when Mac Scarce beat the Mets and Tug McGraw, 5-4. And whatever happened to Mac Scarce?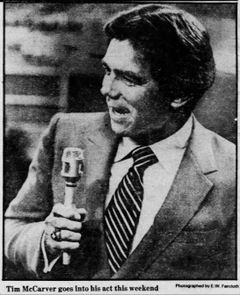 McCarver Catching On to New Career
By Gene Quinn
One trivia question didn't appear in any of this week's information-packed baseball guides.
What former Phillie catcher broke into local television because of a broken hand and into network television because he agreed to climb a tree? Answer Tim McCarver.
"It was in St. Louis. 1970," McCarver remembers. "Lou Klein was in charge at Channel 6. Mike Ryan and I both broke our hand in the same inning (in series against San Francisco, another bit of Phillies trivia). Against the Cardinals, I was on the air with By Saam."
This spring, McCarver was contacted by NBC about replacing Wes Parker as "Game of the Week" analyst.
I WAS DOWN in Vero Beach at the Dodgers camp," says McCarver. "They had me climb up in a tree, and there were all these wasp nests. It was really a stinging report."
McCarver's Mimosa Memoirs may never flash across your television set because yesterday NBC announced umpire Ron Luciano will join the regular broadcast team. While McCarver has been told he may appear on the network from time to time, his first full-time job as a baseball broadcaster will be as part of the Phils team that includes Harry Kalas. Rich Ashburn, Andy Musser and Chris Wheeler.
Wheeler and McCarver are scheduled to cover 30 home games on PRISM, the cable network. On KYW radio (1060-AM), McCarver will work the seventh inning of home games and the fourth and fifth innings on the road. On WPHL-TV (Channel 17), heading into its 10th season as the station of the Phillies, McCarver will handle the seventh and either eighth or ninth innings with Ashburn. That figures to be an adventurous jaunt through the team's history books. And it starts tonight at the Vet when the Phils open against the Expos.
McCarver's 18 years in the big leagues and reputation as a locker room wit precede him into the broadcast booth. In recent years with the Phils, McCarver was Silent Steve Carlton's personal catcher and press spokesman. McCarver handled the latter thankless job with poise, yielding to reporters' probing questions about Lefty when at times he felt he was the story.
McCARVER BEGAN his baseball career as a Cardinals farmhand at Keokuk, Iowa, in 1959. Last year, he closed his career batting.241 in 79 games for the Phils. In between there were: 21 games in three World Series with the Cards (he still wears the 1967 World Championship ring); a lifetime.272 batting average; a high school stadium in his native Memphis, Tenn., being named after him; two All-Star Game appearances during the St Louis years; and the memorable grand slam in Pittsburgh two years ago that turned into a three-RBI out when he passed Garry Maddox between first and second.
Plenty of material to call back during a rain delay. But, says McCarver, not enough to cement his career as a broadcaster.
"The anecdotes will wear out in five or 10 years," said McCarver, sounding as if he intends to be in the business for awhile. "I'd like to add more than the relationships I had with the players. But I guess I can't be totally objective until five years from now when there's a turnover of players."
McCarver brought up the question of objectivity. He said it's impossible for him not to feel for players who were his teammates less than one year ago. The key, he said, is balancing personal feelings – which fans want – and professional objectivity – which fans also want
THE OLD KNOCK on athletes-turned-announcers is that we wouldn't be objective about the people we played with," he said. "But I don't want to soft-soap someone. You can root without being a homer.
"The fans know the game. I've been to hundreds of banquets in this area and they ask tough questions. They want to know the truth. I don't want to go to the extent Howard Cosell does to 'tell it like it is.' The whole thing is being yourself. Don Meredith turned that whole thing around, gave it luster. Joe Garagiola is like that He's just there. He presents himself and his experiences. That's what I want to do."
How about some answers to fans' questions...
•  Compare the Phils of '79 and '80: "The unfortunate circumstance last year was that there were so many injuries you couldn't ignore it. When you bring up injuries during the season people think you're alibiing. There's no way the (1979) team could come back.
"This year there's a pitching problem. The players' strike affected our team. Pitchers like Dick Ruthven and Randy Lerch, who are struggling, and Larry Christenson, who was injured, didn't get a chance to see much game competition.
"It's so important to get off to a good start In 1973, the Cardinals broke out of the gate 3-18. We were 5-20 and lost nine of our first 10. And we lost the pennant to the Mets by a half-game.
•  On the Phils' youngsters: "(Pitchers) Dickie Noles, Kevin Saucier and Scott Munninghoff are unawed, they've got the guts of a cat burglar. (Catcher) Keith Moreland has improved on defense. There's no question he can hit. You watch his approach to the ball and see his minor league average and you know he can hit.
•  On the Phils' regulars: "I tell Mike Schmidt he's the second-best athlete I've ever seen in basebalL The best? Bob Gibson, but not by far.
"You look at the starting eight and you can't help but be optimistic. Larry Bowa is upset about hitting seventh or hitting eighth or hitting second. The only reason he is where he is today is because he gets upset. He's the only guy I know who can further his career by being upset.
"Pete Rose takes every game like he's engaging the Soviets. Bake McBride can lead the the league in hitting... It wouldn't surprise me to see him hitting.350 in August. Garry Maddox is a career.294 hitter. And Bob Boone, the guys who pitch to him, the people who see him every day, the people outside the game who know him, know he's a helluva man. You can't boil it down to one or two guys; it's the pitching that has to come through."
•  On Dallas Green, the taskmaster manager who replaced Danny Ozark late last season: "A lot of juries were out on Dallas Green when he took over, including me. But he made a believer out of me. He's earned the players' respect. He's dead set on winning. That's no slur against Danny, because he made this team a contender."
McCARVER SAYS some areas of his new game need work. "I hate cliches," he said. "I say, 'That's a good point,' too much. I'm scared to death of keeping score. That's the hardest thing keeping score, we never had to do that down in the dugout."
Throughout spring training, McCarver says, he felt comfortable working with Kalas, Ashburn, Musser, Wheeler and the production people. He feels comfortable talking about the game from behind home plate, which is where he squatted for 18 major league seasons. Now the trick is making the viewers and listeners feel comfortable.
"I'm going from a very old baseball player to a very young announcer," he said with a smile. "I really don't know what the right combination is, but this group of people I work with has it I just hope I can add something to it"
There's little question he will. Providing he doesn't fall out of a tree.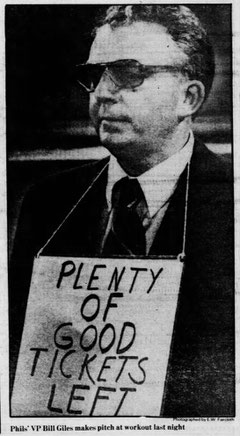 Urban Renewal In the Outfield
By Bill Conlin
The Montreal Expos cursed the Logan Square Fountain yesterday. And they said unprintable things about tlie Society Hill neighborhood.
What's going on here? Don't those guys know the Logan Square Fountain is already a holy shrine, site of Pope John Paul's historic mass? Don't they know Society Hill is a symbol of the town's renaissance?
Dick Williams says if Bill Giles doesn't tear down the whole Philadelphia skyline – from Art Museum to Ben Franklin Bridge – by 8:05 tonight he may file a protest.
"I had to do something to get people's minds off a strike, so well have a protest to start the season." Giles said last night before a Phillies workout witnessed by about 4,000 spectators, most of them unsupervised youngsters who rushed onto the field at the end, forcing Manager Dallas Green to cancel windsprints.
THE PHILLIES open the season against the Expos tonight and despite a vintage pre-game production number scheduled by baseball's Cecil B. DeMille, Giles expects no more than 35,000-40,000 fans to be on hand. Which is why he showed up at the workout wearing a placard around his neck which said, "Plenty of good tickets left." Really.
The man in charge of bread and circuses at the Vet got rid of Philadelphia Phil and Phyllis over the winter. They wont have the Liberty Bell to kick around anymore. The bell, part of a home-run spectacular which functioned properly maybe three times in nine seasons, was also crated away.
Replacing it is a giant Philadelphia skyline, which resembles a mural Peter Max cranked out on a bad night. But behind the mural, which is rendered on black see-through panels, is the guts of the display.
"The thing is supposed to do all sorts of tricks with strobe lights," Giles said. The guy who does all the production lighting for The Who, Gabe Felding. designed it. I haven't seen it in action yet, but it's supposed to be spectacular."
Almost from their first batting-practice swings, the Expos began grumbling about the background posed by the busy skyline, particularly the white base of Logan Square Fountain. The left-handed hitters were complaining that right-handed fastballs came at them out of the white area. And right-handed hitters moaned that balls coming out of Society Hill were difficult to pick up.
"I STOOD RIGHT behind Dick Williams during batting practice," Giles said. "He never said a word to me about the display. Then I heard he's threatening to protest the game. I called (National League President) Chub Feeney and he said as far as he knows there's nothing against it in the rules. Hell, we went the whole '76 season with "Happy Birthday America" on the center-field fence."
With a strike looming, that's probably just the phone call Feeney needed a ballclub checking if its home-run display is legal. "Happy Birthday America," by the way, would only have been a problem for hitters if midgets had been pitching. The ball came out of the backdrop . above the fence when a normal-sized pitcher threw it.
"I've torn down the fountain and Society Hill," Giles said, pointing to a pair of gaps in the display. "They'll paint the fountain a dark color. I frankly don't know what to do about Society Hill."
There is better news on Kiteman III, intrepid Cypress Gardens, Fla., soarer TJ. Beatty. TJ., a nine-year veteran, mounted a 16-by-8 platform in the 600 level in center yesterday and made a successful test flight. According to unconfirmed reports, Beatty made it all the way to tonight's destination, the mound. But he says the real thing will be at the mercy of the capricious Vet wind currents.
"AN UPDRAFT WOULD help," he said. "I've got a 20-foot overhang to clear. That's the biggest worry. Once I'm out in open space I've got it made. The first guy who tried it here had a lot of disadvantages. For one thing, my kite has about 100 square feet more area."
A baseball game will follow, Steve Carlton vs. Steve Rogers. Except for some batting order changes, the Phillies will start the samenine that was favored to storm to the East title last year. The Expos, in the race until Carlton shut them out on the final day of the season, are the early-line division favorite. The new face in their lineup belongs to leftfielder Ron LeFlore, a splendid offensive player who should steal 70 bases on the fast National League tracks. Warren Cromartie, who played left last season, will open the season at first base.
Dallas Green has moved Larry Bowa to the seventh spot in his batting order and inserted Manny Trillo in the eighth spot. "It will give me a chance to hit-and-run with Manny." Green said. "Bowa likes to run on his own and he'll have more chances to do it batting seventh. He was a little reluctant to run batting eighth with the pitcher coming up."
Giles said the strike talk already has had a negative effect on business.
"It's really dropped off the last 10 days," he said. "It didn't hurt our season ticket sales that much, although they dropped off toward the end. We still sold 18,000, second-best in the majors, but we were well ahead of last year's pace in January. Where we're being hurt now is in group sales. A guy planning to charter a bus in July is saying, 'Why bother if they're not going to be playing. I'm predicting it's going to be a lousy April and a great September and October."
And what if his center-field skyline is torn down?
"Next week," Giles said, "I'll apply for a job with HUD."