Camden Courier-Post - April 14, 1980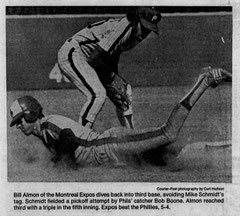 Phils waste comeback as Valentine lifts Expos
By Rusty Pray of the Courier-Post
PHILADELPHIA – More than a few folks connected with the game of baseball believe the mark of a truly good team is its ability to come from behind, to win when it has no business winning.
Yesterday, the 28,132 fans in Veterans Stadium were presented with an opportunity to test the Phillies against that formula. The results, however, were less than definitive.
The Phils did, indeed, come from behind, rallying for three runs in the bottom of the ninth inning to tie the Montreal Expos in the final game of their opening-weekend series. But, having gone to all the trouble of forcing an extra inning, the Phils wound up losing anyway, 5-4, when Montreal's Ellis Valentine led of f the 1 0th with a home run off reliever Lerrin LaGrow.
"TODAY," said first baseman Pete Rose, "was a perfect example of executing in the beginning and middle of games because, going into the ninth, it's 4-1 and it ends up a one-run ballgame."
For the most part, the Phillies executed well during the game. They scored their first run off Expo starter Scott Sanderson in the fourth because Mike Schmidt turned a pick off attempt into a steal of third base, and because Larry Bowa hustled down the first base line to avoid a potential inning-ending double play.
But the Phillies did not get the game's most crucial run in the ninth because Garry Maddox watched reliever Elias Sosa pump two straight strikes past him to end the inning with the potential deciding run in scoring position.
The stage for such an anticlimactic ending was set in the first five innings. The Expos took their first lead of the three-game series, 1-0, in the first when lead-off man Ron LeFlore was walked and balked to second by Phillies starter Larry Christenson. LeFlore reached third on a sacrifice by Rodney Scott and scored on Andre Dawson's ground ball to shortstop.
THE PHILS tied it briefly in the fourth when Schmidt scored on Bowa's grounder, but the Expos made it 4-1 in the fifth when shortstop Bill Almon tripled and scored on Roland Office's pinch-hit sacrifice fly, and Dawson ripped a Christenson slider for a two-run homer to left.
"The thing that pleased me was we didn't die 4-1," said Manager Dallas Green. "We kept coming at them.
Stan Bahnsen, who took over for Sanderson in the fifth, had the Phillies all but buried until the ninth, when Greg Luzinski and Bob Boone began resurrecting the club with singles. The rally seemed on the verge of aborting itself when Bowa followed by forcing Boone and Manny Trillo bounced meekly to the mound – after Bahnsen had wild pitched Bowa to second.
Indeed, the inning should have ended one batter later when pinch-hitter Greg Gross lined to third baseman Larry Parrish. But the ball miraculously skipped off the webbing of Parrish's glove for a two-run error and suddenly the score was 4-3.
MONTREAL MANAGER Dick Williams brought in southpaw Woody Fryman to pitch to Rose, a switch hitter, and – if necessary – Bake McBride, a lefthander. It was necessary because Rose promptly singled to left and Lonnie Smith, pinch-running for Gross, used his considerable speed to go from first to third on the play.
Actually, Smith made a base-running blunder, reaching third only because the Montreal outfield seems incapable of making a throw beyond 30 feet or so.
"The only reason it wasn't a mistake was because he (Smith) was safe," said Green.
It turned out to be a good play because McBride shot a single to center, sending Smith in with the tying run. Williams replaced Fryman with Sosa, who responded by fanning Maddox before surviving a 10th that included a line drive to center by Luzinski and a fly ball to the wall in left by Boone.
PHIL UPS – Reliever Warren Brusstar was examined by Dr. William Granna, an orthopedic specialist, in Oklahoma City on Thursday… The results were less than encouraging, Granna finding nothing new wrong in Brusstar's sore right shoulder... Brusstar will continue to undergo a series of exercises designed to stretch and strengthen the shoulder... Almon, who started at short because Chris Speier bad an abscessed tooth, went four-for-five with a triple... Boone had three hits... Phils open five-game road trip in St. Louis tomorrow.
Middle-inning pitchers battle for recognition
By Rusty Pray of the Courier-Post
PHILADELPHIA – As a group, middle-inning relievers are a lot like trash-men they perform a valuable service and people just turn up their noses.
Middlemen go largely ignored by fans and media alike simply because they're rarely around when baseball games are decided. Starters get recognition because they're often in a position to win or lose. Late-inning relievers are known because they can save or blow a game with one pitch. Besides, the late-inning guys are traditionally half crazy, with such fascinating habits as chewing paper or sitting on birthday cakes.
Really, the identification problem can be at least partially attributed to the middle-inning relievers themselves since they are, well, about as colorful has half a glass of water. When, for instance, was the last time you heard of Stan Bahnsen eating a book for lunch?
The job of the middleman is to neither win nor lose. It is his function to hold the fort until the cavalry arrives, keep the team afloat until the lifeboats are safely in sight.
That kind of work does not lend itself to the limelight In fact, the actors who do Spic and Span commercials are better known than baseball's middlemen. Not since the pyramids were built have so many toiled so hard so anonymously.
"It takes," says the Phillies' Pete Rose, "a different kind of personality for a pitcher to be a middle relief man. You don't get the wins, you don't get the saves...
"There's not much glory in being a middle relief man. You usually pitch the sixth, seventh and eighth and your top man comes in and pitches the ninth and gets the save. Or the guy who started the game gets the win."
Such was the lot of a couple of young Phillies pitchers who worked the middle innings of yesterday's 5-4 loss to the Montreal Expos in Veterans Stadium.
Scott Munninghoff, a 21-year-old righthander and one of spring training's best kept secrets, made his major league debut in the eighth and ninth innings, allowing just one hit. Dickie Noles, a name more familiar to Phillies fans because he was used as a starter last season, made his first appearance of 1980 with two shutout innings.
"I was pleased with the way Dickie and Scott handled themselves," said Manager Dallas Green. "They kept us in tight and that's all we asked of them."
Noles, who may eventually inherit the fifth starting spot from ailing Nino Espinosa, was presented with a 4-1 deficit when be relieved starter Larry Christenson in the sixth. Noles gave up two singles and two walks in a worrisome sixth before retiring the Expos in order in the seventh.
Munninghoff was not expected to be. among the Phillies 10 pitchers when the club broke camp. After all, this is just his fourth professional season and last year he was with Reading, the Phils' Double-A farm team.
But Munninghoff had the kind of spring that raised more than one eyebrow among the Pbilly brass. The righthander allowed only one run in nine exhibition innings. And, in the club's final intra-squad game, Munninghoff faced the Phillies regular lineup, getting seven ground balls and a strikeout.
That apparently, was enough to convince Green to promote Munninghoff right from Double-A ball to the big leagues – a move considered a quantum leap in baseball.
"I started throwing with when we had runners on in the sixth," Munninghoff said. "If we scored, Lerrin (LaGrow) was going in. If we didn't I was going in."
As it turned out, Noles went in, giving Munninghoff that much more time to to think about what he would have to do to I get the Expos out.
"I was ready to pitch," he said, "but I was a little too anxious in the first inning. I was rushing a little bit. But then I settled down and got my pitches where I wanted them."
It might have been a storybook beginning for Munninghoff, who was the pitcher of record when the Phillies rallied for three runs and were within a hit of pulling the game out in the bottom of the ninth.
But it wasn't to be. The game went into a 10th inning and LaGrow immediately served up a game-winning home run to Ellis Valentine which, in turn, served to take the spotlight away from the performances of Noles and Munninghoff.
So it goes for a middle-inning reliever. If you do your job, nobody knows your name.